Services on Demand
Article
Indicators
Related links
Cited by Google
Similars in SciELO
Similars in Google
Share
---
Print version ISSN 0122-9761

Bol. Invest. Mar. Cost. vol.25 no.1 Santa Marta Jan./Dec. 1996
NOTE:
FIRST RECORD OF THE PIGMY SQUID, PICKFORDIATEUTHIS PULCHELLA (CEPHALOPODA: MYOPSIDA: LOLIGINIDAE), FROM THE CARIBBEAN COAST OF COLOMBIA
PRIMER REGISTRO DEL CALAMAR PIGMEO PICKFORDIATEUTHIS PULCHELLA (CEPHALOPODA: MYOPSIDA: LOLIGINIDAE) PARA LA COSTA CARIBE DE COLOMBIA
Claudia P. Arango and Juan M. Díaz
Instituto de Investigaciones Marinas y Costeras, INVEMAR, Apartado 1016, Santa Marta, Colombia.
---
RESUMEN
Se registra por primera vez para el Caribe colombiano el calamar "pigmeo", Pickfordiateuthis pulchella, a partir de cuatro hembras colectadas en cercanías de Santa Marta. Aunque esta especie no era conocida de la costa continental del norte de Suramérica, el alto grado de dispersión de los pocos registros conocidos sugiere que su distribución en el Atlántico occidental es bastante amplia.
---
The type species of the small squids genus Pickfordiateuthis, P. pulchella Voss, 1953, was described from the Florida keys also as the type species of the family Pickfordiateuthidae, and, according to Voss (1953), it was probably geographically confined to this area. Despite the fact that this small squid was reported later from other areas in the tropical western Atlantic, the species has recently been reported as endemic to the Florida keys and the Gulf of Mexico (Salcedo-Vargas, 1991) appearing this as a bewildering circumstance. A recent revision of the genus Pickfordiateuthis, Brakoniecki (1996) placed it in the family Loliginidae, added further records of P. pulchella in the Caribbean, and called attention to the existence of at least one other, unnamed species of the genus in this region. However, none of the species of Pickfordiateuthis has so far been recorded from Colombian waters.
Pickfordiateuthis pulchella has been recorded from off Miami, the Florida Keys (Voss, 1953; Brakoniecki, 1996), Bonaire (Moolenbeek, 1984), off Rio de Janeiro and Sao Paulo, Brazil (Haimovici et al., 1989; Perez and Haimovici, 1991), Pedro Bank, off western Panama, off Nicaragua, and Saint Martin (Brakoniecki, 1996) (figure 1). The present record is based on four females (mantle lenght 11.5, 10.9, 8.7 and 7.9 mm), collected from bottom-trawl samples (December 1994, March and September 1995) at depths ranging from 13 to 16.5 m on muddy bottoms, at Ensenada de Pozos Colorados (11° 10'N; 74° 14'W), near Santa Marta (figure 1). Although the Caribbean coast of Colombia may fall within the known distribution range of the other, yet unnamed species of Pickfordiateuthis (Gulf of Honduras, west Venezuela to Guyana, see Brakoniecki 1996), the morphological features of the four specimens collected near Santa Marta correspond very well to those of P. pulchella. The material has been deposited in the Colección de Referencia of the Instituto de Investigaciones Marinas y Costeras at Santa Marta, Colombia (INVEMAR Mol-1098).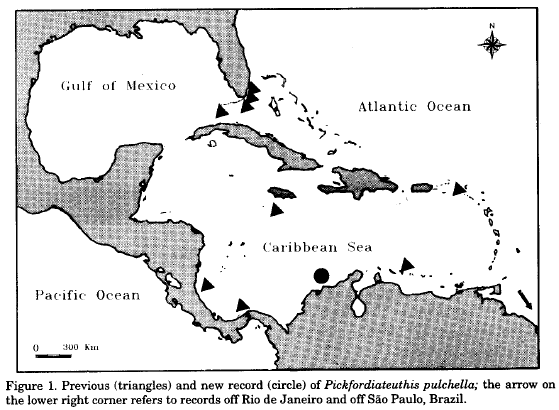 Despite the fact that P. pulchella is a large-egged species supposedly lacking a planktonic larval stage (Voss, 1953), the scattered pattern of known records suggests that it has a wide but discontinuous range of distribution within the tropical western Atlantic. Including the present record, the number of reported cephalopod species from the Colombian Caribbean (cf. Diaz and Puyana, 1994) now increases to 18. However, this number is very low compared with those reported from adjacent Venezuelan waters, where 28 species do occur (Arocha et al., 1991). Thus a substantial increase is expected when further studies are conducted.
ACKNOWLEDGMENTS
We are indebted to the Empresa Colombiana de Petróleos, ECOPETROL, for financing the trawling program during which material was collected.
LITERATURE CITED
1 Arocha, F.; L. Marcano and R. Cipriani. 1991. Cephalopods trawled from Venezuelan waters by the RA/ Dr. Fridtjof Nansen in 1988. Bull. Mar. Sci., 49(1-2): 231-234. [ Links ]
2 Brakoniecki, T.F. 1996. A revision of the genus Pickfordiateuthis Voss,1953 (Cephalopoda Myopsida). Bull. Mar. Sci., 58(1):9-28. [ Links ]
3 Diaz, J.M. and M. Puyana. 1994. Moluscos del Caribe Colombiano: un Catalogo Ilustrado. Colciencias- Fundación Natura-Invemar, Bogota, 291 p. [ Links ]
4 Haimovici, M.; J.A. Perez and P.A.S. Costa. 1989. A review of cephalopods occurring off Rio de Janeiro with four new records. Rev. Brasil. Biol., 49(2): 503-510. [ Links ]
5 Haimovici, M. and J.A. Perez. 1991. Coastal cephalopod fauna of southern Brazil. Bull. Mar. Sci., 49(1-2): 221-230. [ Links ]
6 Moolenbek, R.G. 1984. Pickfordiateuthis pulchella (Cephalopoda: Myopsida): range extension to Bonaire (N.A.). Stud. Fauna Curacao Carib. Isl., 207: 104-106. [ Links ]
7 Perez, J.A. and M. Haimovici. 1991. Cephalopod collection of Museu de Zoologia da Universidade de Sao Paulo, Sao Paulo, Brazil. Pap. Avulsos Mus. Zool., 37(16): 1-8. [ Links ]
8 Salcedo-Vargas, M.A. 1991. Checklist of the cephalopods from the Gulf of Mexico. Bull. Mar. Sci., 49(1-2): 216-220. [ Links ]
9 Voss, G.L. 1953. A new family, genus and species of Myopsid squid from the Florida Keys. Bull. Mar. Sci. Gulf Carib., 2(4): 602-609. [ Links ]