Introducción
Hereditary Hemorrhagic Telangiectasia (HHT) or Osler-Weber-Rendu syndrome is a dominant inherited genetic vascular disorder that affects approximately 1 person every 5 000 to 10 000 individuals 1-5, although higher prevalence figures have been reported in several regions due to a founder effect. 6,7 HHT is characterized by recurrent nasal and gastrointestinal (GI) bleeding associated with anemia and the development of telangiectasias (vascular abnormalities made up of arterioles directly connected to dilated postcapillary venules and surrounded by a lymphocytic perivascular infiltration) in the lips and fingertips; besides when telangiectasias are large enough they are known as arteriovenous malformations (AVMs) 8, which may affect different organs and systems such as the lungs, the GI tract, the liver, the pancreas, the marrow and the brain. 9-11
HHT diagnosis must be based on the Curacao criteria, namely, epistaxis, telangiectasia, AVM, and family history 9,11, since if 3 out of 4 criteria are met then diagnosis is confirmed. Nevertheless, when diagnosing this disorder other conditions must be considered, for in some cases it has been associated with pulmonary arterial hypertension, juvenile polyposis, pulmonary hypertension caused by high-output heart failure secondary to hepatic AVMs, thrombophilia associated with elevated plasma levels of factor VIII, and potential immune dysfunction, among other conditions. 9
GI bleeding occurs in 25-33% of HHT patients, causing severe anemia cases in this population and making necessary frequent blood transfusions. HHT treatment is based on laser and pharmacological-induced cauterization made through an endoscopy, however, this procedure may pose several challenges for sometimes telangiectasias can be found throughout the GI tract. In recent years, there have been several studies reporting successful outcomes in patients with HHT that have been treated with bevacizumab, a medication that has been used for treating epistaxis and hepatic bleeding in people with this disorder. 12-15 Also, use of bevacizumab has been described as a therapeutic alternative for treating refractory GI bleeding in HHT patients. 12,16-18 The case of a patient diagnosed with HHT and who was prescribed bevacizumab to treat refractory GI bleeding is presented here. 19
Clinical case description
A 67year-old male patient , truck driver and father of four children with a history of chronic obstructive pulmonary disease, hypertension, diabetes mellitus, hypothyroidism, right-sided heart failure and diffuse GI angiodysplasia, the latter being diagnosed 11 years before his admission. Initially, HHT was characterized by epistaxis, skin telangiectases and occasional GI bleeding. The patient had undergone repeated nasal and esophagogastric cauterization procedures, which at first produced a positive response, but during the last year prior to his admission response to this treatment was poor and recurrent blood transfusions were necessary.
In addition, he had been administered iron and tranexamic acid via parenteral routes, as well as given frequent transfusion support for managing an anemia clinical picture caused by GI angiodysplasias. First, response to treatment was good, but then he had to visit the emergency service of the hospital due to low hemoglobin levels (between 4 to 6 mg/dL), since treatment response during the last three months had been poor. Once in the emergency service it was necessary to give him a transfusion of 2 to 4 units ofred blood cells every 2 weeks.
After the patient's condition was managed at the Emergency Service, he was referred to the external consultation service of the Hematology and Oncology Unit of Manuel Uribe Ángel Hospital. There, by means of an upper GI endoscopy layer oozing bleeding telangiectasias were found at the palate, the esophagus, the stomach and the duodenum, and cauterization was not possible in many of them (Figure 1). Bone marrow pathologies and intra or extravascular hemolysis were ruled out. In addition, other medical tests showed that the patient had hepatic and pulmonary AVMs causing a moderate pulmonary hypertension.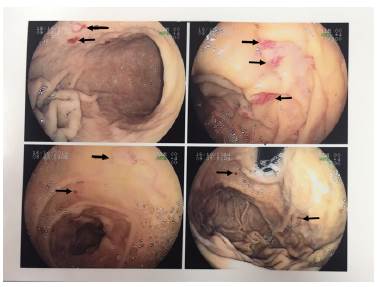 Source: Document obtained while conducting the study.
The patient was administered thalidomide (200mg/day) (orall)y and iron (200mg) (parenterally) 3 times per week for 2 months, but his iron or hemoglobin levels were not stabilized, so that he had to constantly go to the emergency service due to heart failure caused by severe anemia , making necessary the transfusion of many units of blood that in turn caused frequent adverse transfusion reactions.
Due to the severity of the course of the disease, the patient was prescribed with a pharmacological treatment consisting of bevacizumab 5 mg/K/week biweekly x 6 applications. After one week of starting the treatment, hemoglobin levels increased to 14 g/dL.
Six weeks after administering the last bevacizumab dose, the patient suffered a stroke in the right side of the middle cerebral artery. After performing an echocardiogram a patent foramen ovale, as well as right carotid artery stenosis (36%) and left carotid artery stenosis (52%), both with low emboligenic potential, were observed. As a consequence of the stroke, the patient developed mild aphasia but he had a progressive recovery in this regard.
Given the hemoglobin levels stability achieved with the use of antiangiogenic drugs, secondary prophylaxis consisting of the administration of acetylsalicylic acid (100mg/day) was started, but after one week severe anemia reappeared. Bearing in mind the recent cerebrovascular accident the patient had suffered, platelet antiaggregation therapy was suspended and frequent transfusion support was provided.
The patient was discharged after suspending the treatment, but he attended the emergency service multiple times with a clinical picture of severe anemia and critical hemoglobin levels (3g/dL), so after considering that the risk of death due to severe anemia was greater than the potential risk of experiencing a new cerebrovascular accident, bevacizumab therapy was restarted by administering the same dose (5mg/kg), yet only 3 doses every 2 weeks were used. Normal hemoglobin levels were reached immediately, but every 4 to 6 weeks they are critically low, so that so far it has been necessary to administer 3 biweekly bevacizumab cycles for the patient to maintain normal hemoglobin levels and achieve blood transfusion independence (Figure 2).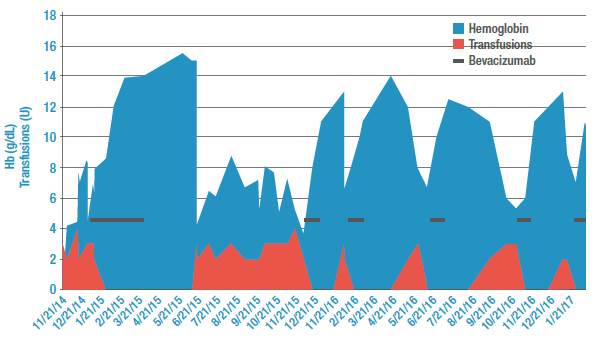 Source: Own elaboration.
Currently, the patient is receiving infusions of bevacizumab every 4-6 months based on his hemoglobin levels, which have been maintained at an average level of 12mg/dL. When hemoglobin descends to approximately 10mg/dL, an infusion of bevacizumab 5mg/kg EV, 3-4 doses, every 2 weeks is ordered. So far, the patient has remained stable and has not required blood transfusions.
Discussion
HHT is a highly penetrant genetic disease that manifests with varying symptoms depending on the age of the individual at the time of its development. If HHT occurs during the first years of life, some of the symptoms are only observed in 50% of HHT patients, yet in people 40 years old or older, 90% of the cases patients met the diagnosis criteria (epistaxis, telangiectasia, AVM, and family history). 20 At younger ages (<30y) the occurrence of small size lesions in the dermis and the mucosa is frequent, and later telangiectasias appear on the hands, the face and the oral cavity. 21 Likewise, a family history of recurrent nosebleed and having telangiectasias specifically on the lips, the face, and the hands help differentiating HHT from other vascular dysplasias or an isolated AVM. 22
It has been reported that although in 80% of HHT patients telangiectasias occur in the GI, only 25-33% develops symptomatic GI bleeding resulting in severe anemia and a high demand of blood transfusion. 23 GI bleeding usually does not occur until patients are in their 50s or 60s; in fact it has been described that this condition is rarely developed in people diagnosed with HHT and who are younger than 40 years of age. 23 It is worth noting that GI bleeding caused by HHT increases dependency on blood transfusions, morbidity and mortality rates. 22
Currently, esophagogastroduodenoscopy is used to diagnose HHT and it is considered the gold standard test for finding GI bleeding in these patients. Through this test it is even possible to predict the risk of developing jejunal telangiectasias. 24 HHT treatment is based on the administration of iron (orally or parenterally), together with the prescription of hormone therapy drugs (oestrogen/progesterone preparations or danacrine), antifibrinolytics (aminocaproic acid or tranexamic acid), and other medications such as tamoxifen, interferon, thalidomide and sirolimus (only reported in isolated case reports), as well as endoscopic cauterization. 23,25-30
In recent years, several genetic alterations associated with HHT have been described, so that genetic assessment and counseling is a must for the diagnosis of HHT in most patients. 9 However, the pathophysiological mechanisms that underlie the pathogenesis of this disease are not yet fully understood. There are three genes involved in its development: Endoglin, ACRVL1 and Smad4. These genes code for proteins involved in the regulation of the development, maturation and repair of blood vessels by means of their transforming growth factor beta (TGF-β) signaling pathway function, so that they play an important role in HHT pathogenesis. 31
Angiogenesis is the process through which new blood vessels form from pre-existing vessels. This process is regulated by proteins like TGF- β and vascular endothelial growth factor (VEGF). TGF- β proteins family is involved in cellular proliferation, differentiation, and migration, as well as in extracellular matrix production, while VEGF sub-family induces mitotic activity in endothelial cells. In this regard it has been suggested that HHT is a multisystem angiogenesis disorder caused by the overexpression of VEGF, TGF-β¡ and ALK1 proteins, and by alterations in other factors yet to be identified. 32
In addition, endoglin gene mutations are responsible for approximately 50% of HHT cases. 33 This gen codes for a transmembrane glycoprotein mainly expressed in endothelial cells, as well as in the syncytiotrophoblast, activated monocytes and tissue macrophages. Endoglin is known for being a co-receptor of TGF-β complexes and its involvement in cell-to-cell and cell-extracellular matrix interactions, which play a critical role in vascular biology. Also, it has been reported that human endoglin gen plays an important role in trauma induced vascular repair, which would be of great importance in unveiling HHT pathogenesis, for in patients with HHT and endoglin mutations, injured vascular tissue proper repair is hard to achieve, and as a consequence their capillary network disappears, and an arteriovenous fistula is produced. 33
On the other hand, ALK1 protein is a transmembrane receptor which is activated by its binding to BMP9 and BMP10 proteins. Once it is activated, a complex formed by ALK1, endoglin and a type II receptor is established. This complex induces Smad1/5/8 phosphorylation, which in turn produces its own activation and translocation to the nucleus, where it activates the transcription of BMP related genes that are essential for embryonic processes of vascular formation and remodeling. 34
Finally, SMAD4 gene mutations have been described in less than 2% of patients diagnosed with HHT. 35 Smad4 protein is also involved in TGF-β and BMP signaling pathways, where it is the common protein for both pathways in most transcription responses. 35
Detailed pathogenic mechanisms on how mutations in these genes lead to developing AVMs are not completely clear. Recently, it has been described that ALK signaling regulates angiogenesis by inhibiting endothelial cell migration, growth, sprouting, and in vivo neo-angiogenesis, as well as VEGF expression in endothelial cells. 36-38 Based on these data, it is possible to suggest that therapies designed for preventing blood vessels formation may be beneficial for people with HHT.
One of the therapeutic approaches based on HHT pathogenesis is the use of bevacizumab, a humanized monoclonal antibody that identifies and neutralizes all VEGF-A isoforms. Increased plasma VEGF levels have been reported in these patients 31, therefore the use of bevacizumab would be recommended. 31 However, a standard dosage amount has not yet been reached, besides there have been several reports in which an association between bevacizumab administration and systemic arterial hypertension and the recurrence or worsening of epistaxis occurs. 17 Also, it has been reported that bevacizumab treatment discontinuation might lead to a rebound effect, even to the development of hemorrhagic shock. 16,17
Conclusion
This report presents the case of a patient with refractory gastrointestinal bleeding associated with HHT and how bevacizumab treatment resulted in a positive outcome. However, it is still necessary to determine bevacizumab action mechanism in HHT and the optimal treatment length to prevent recurrence of bleeding episodes and other reported complications. Given the clinical evolution and the chronic and permanent nature of angiodysplasias, indefinite and intermittent use of angiogenesis inhibitors every 4 to 6 weeks in patients with complex GI episodes is recommended.