Services on Demand
Article
Indicators
Related links
Cited by Google
Similars in SciELO
Similars in Google
Share
---
Print version ISSN 0120-0488

Rev. Colomb. Entomol. vol.38 no.1 Bogotá Jan./June 2012
Scientific note
New records of giant butterfly-moths (Lepidoptera: Castniidae) from Colombia with general notes on natural history
Nuevos registros de taladradores gigantes (Lepidoptera: Castniidae) de Colombia, con notas generales sobre su historia natural
FERNANDO HERNÁNDEZ-BAZ1, FRANCISCO SERNA2, ERIKA V VERGARA NAVARRO3, GERARDO LAMAS4 and JORGE M. GONZÁLEZ5
1
M. Se. Académico, Facultad de Biología, Universidad Veracruzana, Zona Universitaria Circuito Gonzalo Aguirre Beltrán, s/n CP. 91000, Veracruz, México/Apartado Postal 785, Xalapa, Veracruz, México.
ferhbmx@yahoo.com.mx
.
Autor para correspondencia.
2
Ph. D. Profesor, Departamento de Agronomía. Universidad Nacional de Colombia, Bogotá / Department of Biological Sciences. The University of Texas at El Paso. El Paso, TX, 79968, USA.
3
M. Sc. Museo Entomológico Unab, Universidad Nacional de Colombia, sede Bogotá.
evvergar@unal.edu.co
.
4
Ph. D. Investigador. Departamento de Entomología, Museo de Historia Natural, Universidad Nacional Mayor de San Marcos, Av. Arenales 1256, Apartado 14-0434, Lima-14, Perú.
5
Ph. D. Investigador Asociado, McGuire Center for Lepidoptera & Biodiversity / Investigador Asistente, Texas A & M University, Department of Entomology, College Station, TX 77843-2475, USA.de Ciencias Naturales, Universidad Nacional de Colombia [ICN].
Received: 13-may-2011 - Accepted: 6-ene-2012
---
Abstract: Eupalamides cyparissias amazonensis and an intermediate phenotype of two ssp. of Duboisvalia simulans are reported for the first time from Colombia based on the discovery of one specimen each present in two collections of the country. Besides their relevance for increasing the geographical distribution of both taxa, additional information is provided.
Key words: Castnies. Taxonomy. Neotropic.
---
Resumen: Se reportan para Colombia por vez primera la subespecie Eupalamides cyparissias amazonensis y un fenotipo intermedio de dos ssp. de Duboisvalia simulans basados en ejemplares presentes en dos colecciones del país. Además de su relevancia al incrementar la distribución geográfica de ambos taxones, se presenta información adicional sobre los mismos.
Palabras clave: Cástnidos. Taxonomía. Neotrópico.
---
Introduction
Giant-butterfly moths belonging to Castniidae (Lepidoptera) are Neotropical in distribution. They are mostly dayflying moths with some crepuscular species. Their clubbed antennae, and general resemblance to butterflies, allow easy identification of the family. However, many of their species are rare in collections and in nature, many are endemic, while some have restricted geographic ranges (González 1999; González & Stunning 2007; González et al. 2008; Lamas 1993).
At least 21 species of Castniidae have been reported from Colombia, for a total of 31 taxa known in the country until now (Salazar 1999; González & Salazar 2003). The relatively large number of Castniidae in Colombia should not be considered unusual since the country is widely known as one of the most biologically diverse in the world (Rodríguez & Rojas-Suárez 2008).
During March 2011, the first three authors visited several institutional and private entomological collections throughout Colombia. After examining the Castniidae present in each of them, two specimens from two different collections called the attention of the first author who thought they had not been previously reported for the country. After a thorough investigation of the literature and comparison with specimens of Castniidae contained in several worldwide collections and photographs of type specimens of the family, we concluded that both species are newly recorded for Colombia.
Eupalamides cyparissias amazonensis (Houlbert, 1917)(Fig. 1A)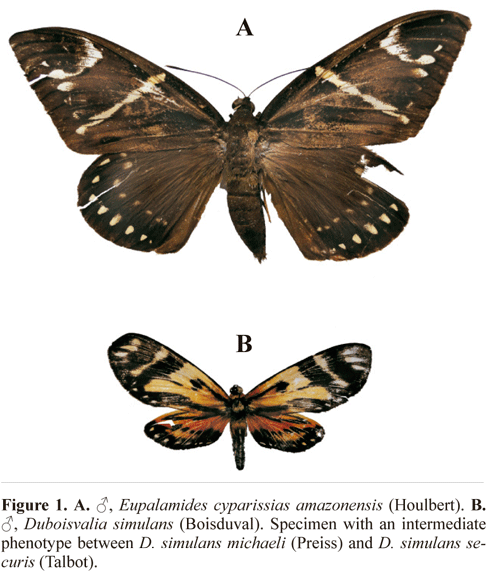 Material examined: 1♂. COLOMBIA. Caquetá. El Doncello. 1°40'46"N 75°16'45"W. 373 m. 28-abr-1976. Col. A. López A. Colección Taxonómica Nacional "Luis María Murillo", Corporación Colombiana de Investigación Agropecuaria [CORPOICA].
Comments: The specimen was collected in an oil palm (Elaeis guineensis, Arecaceae) plantation surrounded by lowland rainforest. This subspecies was originally described (as Castnia amazonensis) from three males and one female collected in Brazil, Amazonas, Sao Paulo de Olivenca, and Perú, Loreto, Caballococha (Houlbert 1917). This taxon was previously known only from Brazil and Peru (Lamas 1995; Miller 1986, 1995; González et al. 2010). Larvae are known borers of palms (Arecaceae) (Korytkowski & Ruiz 1980) and adults may become attracted to electric lights (Miller 1986; González et al. 2010).
Duboisvalia simulans (Boisduval, [1875])(Fig. 1B)
Material examined: 1♂ COLOMBIA. Amazonas. Resguardo Indígena Nocuya de Villa Azul. Comunidad de Peña Roja. Medio Río Caquetá. 150 m. Jameo. 9 am soleado. 19-ago-1999. Col. R. Gómez & F. Moreno. Colección del Instituto de Ciencias Naturales, Universidad Nacional de Colombia [ICN].
Comments: The specimen examined was collected while flying. It exhibits an intermediate phenotype between D. simulans michaeli (Preiss), described from Sao Paulo de Olivenca, Amazonas, Brazil (Preiss 1899), and D. simulans securis (Talbot), described from Manaus, Amazonas, Brazil (Talbot 1929). The phenotype of this Colombian specimen is what would be expected from individuals present in an intermediate region between the upper Amazon (D. simulans michaeli) and the Río Negro (D. simulans securis) rivers. The Caquetá - Japurá region, where the specimen was collected, is indeed intermediate between those rivers. To classify this taxon, we follow Lamas (1995) who preliminarily recognizes three species in the genus Duboisvalia. The major problem to identify species/subspecies in this genus is that their morphs are mimetic, mainly of butterflies in the genus Melinaea Hübner (Nymphalidae: Danainae: Ithomiini) which are phenotypically variable, not only at the subspecific level but also within populations, thus "affecting" their mimics, such as this species of Duvoisvalia (Castniidae). In order to clearly assess the taxonomic status of the taxa in the genus Duboisvalia a much more intensive and wider sampling effort would be required, not only from the Caquetá area but also from the whole of tropical South America, where the genus is found. Only then would it be possible to determine the range of inter- and intraspecific variability within the genus.
Acknowledgements
We would like to express our gratitude to the curators and persons in charge of the Colombian collections visited. Thanks also to the editor and the anonymous reviewers for their comments and suggestions to improve the original manuscript.
Literature cited
GONZÁLEZ, J. M. 1999. Castniinae (Lepidoptera: Castniidae) from Venezuela. III. Genera represented by only one known species. Diagnosis and comments. Ciencia (Maracaibo) 7 (3): 229-235. [ Links ]
GONZÁLEZ, J. M.; SALAZAR, J. A. 2003. Adición a la lista de cástnidos (Lepidoptera: Castniidae: Castniinae) conocidos de Colombia. Boletín Científico del Museo de Historia Natural, Universidad de Caldas, Manizales 7: 47-56. [ Links ]
GONZÁLEZ, J. M.; STUNNING, D. 2007. The Castniidae at the zoologisches forschungsmuseum Alexander Koenig, Bonn (Lepidoptera: Castniidae). Entomologische Zeitschrift 117 (2): 89-93. [ Links ]
GONZÁLEZ, J. M.; HERNÁNDEZ-BAZ, F.; VINCIGUERRA, R. 2008. Notes on some athis Inca ssp. collected in Mexico (Lepidoptera: Castniidae). Shilap Revista de Lepidopterología 36 (144): 473-476. [ Links ]
GONZÁLEZ, J. M.; BOONE, J. H.; BRILMYER, G. M.; LE, D. 2010. The giant butterfly-moths of the field Museum Of Natural History, Chicago, with notes on the herman strecker collection (Lepidoptera: Castniidae). Shilap Revista de Lepidopterología 38 (152): 385-409. [ Links ]
HOULBERT, C. 1917. Diagnoses de castnies nouvelles et rectification de quelques noms indument employes. Etudes De Lépidop-térologie Comparée 13: 49-87. [ Links ]
KORYTKOWSKI, C. A.; RUÍZ, E. R. 1980. El barreno de los racimos de la palma aceitera, Castnia daedalus (Cramer), en la población de Tocache (Perú). Oléagineux 35 (1): 1-11. [ Links ]
LAMAS, G. 1993. Bibliografía de los Castniidae (Lepidoptera) americanos. Revista Peruana de Entomología 35: 13-23. [ Links ]
LAMAS, G. 1995. A critical review of J.Y. Miller's checklist of the neotropical Castniidae (Lepidoptera). Revista Peruana de Entomología 37: 73-87. [ Links ]
MILLER, J. Y. 1986. The taxonomy, phylogeny, and zoogeography of the neotropical Castniinae (Lepidoptera: Castnioidea: Castniidae). Ph. D. thesis, University Of Florida, Gainesville. 571 p. [ Links ]
MILLER, J. Y. 1995. Castniidae. pp. 133-137, 176-177. In: Hep-pner, J. B. (Ed.). Checklist: Part 2. Hyblaeoidea-Pyraloidea-Tortricoidea. Atlas of neotropical Lepidoptera 3. Association For Tropical Lepidoptera / Scientific Publishers, Gainesville. [ Links ]
PREISS, P. 1899. Neue und seltene arten des lepidopteren-genus Castnia. Preiss, Ludwigshafen A/Rhein. 11 p. [ Links ]
RODRÍGUEZ, J. P.; ROJAS-SUÁREZ, F. 2008. El libro rojo de la fauna venezolana. Tercera edición. Provita Y Shell Venezuela, S.A., Caracas, Venezuela. 364 p. [ Links ]
SALAZAR, J. A. 1999. Datos de recolección para 16 cástnidos colombianos (Lepidoptera: Castniidae). Boletín Científico del Museo de Historia Natural, Universidad de Caldas, Manizales 3: 43-51. [ Links ]
TALBOT, G. 1929. Some new forms of Castniidae. Bulletin of the Hill Museum 3 (1): 68-71. [ Links ]