Introduction
Sustainable production of timber and non-timber products from planted forests of exotic origin, such as Eucalyptus spp. (Myrtaceae) and Pinus spp. (Pinaceae) are sources of wealth and employment. Tectona grandis L. (Lamiaceae), known as teak, is also one of the most important species and concentrates a considerable part of its plantations in Mato Grosso state, Brazil. It was introduced commercially in the country in the municipality of Cáceres, in the decade of 1960 (Rosa et al. 2017). Tectona grandis is a species from tropical forests of Southeast Asia, specifically India, Myanmar, Thailand and Laos, areas with remarkable climatic variations. This demonstrates the high adaptability of this species to diverse environments, being a great investment opportunity in Brazil due to its adaptation to the edaphoclimatic conditions in several regions (Paes et al. 2014).Homogeneous teak plantations can be infested by various types of pests of economic importance, such as the sap-sucking insects Nezara viridula Linnaeus, 1758, Edessa meditabunda (Fabricius, 1794), Piezodorus guildinii (Westwood, 1837) and Maconellicoccus hirsutus (Green, 1908), which cause relevant economic losses (Nascimento et al. 2016).This note aims to report the first occurrence of the Neotropical brown stink bug, Euschistus heros (F.), damaging commercial plantations of Tectona grandis located in Cáceres, Mato Grosso state, Brazil.
Materials and methods
The insect infestation was detected in December 2018, in the municipality of Cáceres (57º40'51"W 16º11'42"S and altitude of 117 m), Mato Grosso state, Brazil. The injuries in leaves and apical buds on the T. grandis trees were inspected and photographed, and bug specimens feeding on damaged tissues were collected in 63 random plants samples using an entomological net. Adult insects were collected and preserved in 70 % alcohol for identification. Voucher specimens were deposited in the Forest Protection Collection of the Phytosanitary Laboratory of the Federal Institute of Mato Grosso - Campus in Cáceres.
Results and discussion
The specimens were identified as Euschistus heros. The insects were detected in a 10 - 94 months-year-old clonal teak commercial stand, planted at 4 x 4 m spacing in 10 ha (Fig. 1). In this stand, the insects suck the plants and promote the drying of the apical or terminal bud (Fig. 2A), which soon evolved to a total drought of the plants (Fig. 2B ). Stink bugs (Pentatomidae) inject enzymes present in their saliva. These enzymes fuse and dissolve the protein body of plant cells (Depieri and Panizzi 2011), which may explain the drying of teak plants. The morphology of their stylet and the biochemical characteristics of the enzyme present in their saliva causes histological damage and physiological and biochemical disorders to the cells in grains (Depieri and Panizzi 2011).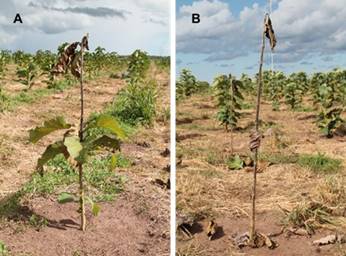 Euschistus heros is a polyphagous species that feed on a variety of crops of economic importance. It is one of the main economic pests for soybean cultivation in Brazil and may reach a density of 40 - 60 individuals per m-1 during the harvest (Soza-Gómez and Silva 2010; Roza-Gomes et al. 2011; Paes et al. 2014; Husch et al. 2018). After harvesting, the bug feeds on alternate hosts (Ribeiro et al. 2016), which may explain its dispersion to the teak plants.