Introduction
Genetics association studies (GAS) aim to detect associations between one or more genetic polymorphism and a quantitative or discrete trait by testing for a correlation between a specific trait and a genetic variation (Lewis and Knight, 2012). The number of genetic association studies have increased, and their assessment has become a powerful approach to identify common and rare variants underlying complex diseases (Wu et al., 2012), discovering causative mutations (Schwarzenbacher et al., 2016), or identification of quantitative trait loci (QTLs; Jahuey et al., 2016) on a population. Nevertheless, inconsistencies in GAS due to the combination of factors contribute to spurious or not consistently results (Table 1).
The inconsistencies found in GAS suggest that many original results could be false-positive (type I errors), especially in studies with systematic differences between sample and population, affecting their representativeness (Shingarpure and Xing, 2014). Thus, factors like paternity misidentification, stratification, and population structure are crucial in establishing sample size and its representativeness (Pyo and Wan, 2012). Other important source of inconsistencies in GAS are undetectable small genetic effects (false-negative, type II errors) (Lee, 2015). In this regard, poor design quality of the database usually means high p-values and low recognition of genetic associations (Ioannidis, 2005), especially when genotypes have low frequencies in the population or the study deals with low heritability traits (Satkoski et al., 2011).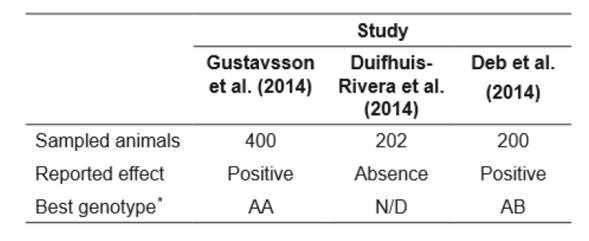 *Best genotype: genotype reported with the best performance for milk yield ; N/D gen-trait association absent.
This lack of reproducibility tends to produce genetic associations of no value for genetic improvement. Ioannidis (2005) defined bias as the combination of design, data, analysis, and presentation factors resulting in findings that otherwise should not be produced. However, most reviews on bias in GAS have focused in the analysis of the genetic factors or address other factors as part of the genetic issues.
Bovine breed(s) considered in the study has been addressed as a genetic source of bias due to intra- and inter-racial diversity in genetic population (Lenstra et al., 2014), especially in the presence of crossbred animals (Dickerson, 1993). Besides, contemporary group factor has been confounded with the pure environment effect as it affects results due to the influence of interaction between genotype and environment (Ramírez-Valverde et al., 2008). Additionally, genomic factors of bias are associated with the gene loci governing expression, and are confused with environmental or residual variance (Burgueño et al., 2012), especially if those factors have an epigenetic nature such as genomic imprinting (Manolio et al., 2009), or influences more than one marker like the linkage disequilibrium, pleiotropy or polygenic effect (Pereira et al., 2016).
Lastly, even when the statistical model used in GAS is not usually confounded or assessed as a genetic factor of bias, its importance as a possible source of bias is remarkable since there are models that can work with just few markers at the same time (Pärna et al., 2012) and methods to determine the associations of thousands of markers at once. The variability resulting from the use of so different assessment methods could then be confounded with genetic or sampling factors of bias. Thus, it is necessary to classify bias in GAS according to its nature to better understand and reduce possible spurious results. Therefore, the objective of this study was to identify and classify potential sources of bias and determine possible strategies to avoid it in genetic association studies.
Sources of bias in genetic association studies
Different approaches, based on related or non- related individuals, have been used to carry out GAS (Table 2). The literature reports that some widely cited associations cannot be replicated due to inaccuracies in the approaches used to determine them (Sagoo et al., 2009). In this sense, inconsistencies in GAS could be attributable to factors such as genetic, genomic, sampling-related, or statistical, which influence production traits, and contribute to the risk of false- positive results (Pärna et al., 2012)
Strategies to correct biases in GAS
The aim of bias correction in GAS methodologies focuses on bias reduction, rather than its elimination (Pärna et al., 2012). Thus, it is possible to group bias correction into genetic-genomic, statistical, and methodological strategies.
Genetic-genomic strategies
Strategies of genetic-genomic bias correction rest on two aspects: source and conditions of genetic information. The source of genetic information in GAS refers to the approach used to obtain and report genetic information (i.e., single and multi-loci genotype or haplotype). Instead of analyzing the effects of individual alleles, some researchers estimate the effects of haplotypes defined by genes associated with the traits under study (Zhou et al., 2013), while other authors use multi-loci genotypes for the same purpose (Jaiswal et al., 2016).
The use of haplotypes and multi-loci genotypes can reduce bias arising from the way several genes are combined, the polygenic effect of the studied traits, and the position of the analyzed loci within the genome. However, unlike multi-loci genotypes, it has been argued that haplotypes have similar effects on different breeds (Andrés et al., 2007). As a result, a common approach to analyzing the effects of haplotype has been to determine the most likely configuration for each and assume that this allocation of haplotypes is known without error when subsequent statistical analyses are performed. However, precise haplotype construction could be difficult, and often leads to biased estimates and reduced analytical power in GAS (Andrés et al., 2007). In addition, when multiple loci are genotyped, haplotypes are unknown because there is no information about linkage phase of alleles at different loci (Sahana et al., 2010). Sahana et al. (2010) observed a high rate of type I error when using haplotypes as a fixed effect in genetic association models. Zhang et al. (2016) concluded that when there is a lack of tools available to reconstruct haplotypes, the best alternative is to use multi-loci genotypes regardless of whether phase adjustment information is available.
Other factors affecting the reliability of results are the number of markers used for reconstruction and the way that haplotypes and multi-loci genotypes are included in GAS models. For reconstruction, the best results have been obtained using 2 to 5 markers (Abdallah et al., 2004). In this sense, the main benefit of using haplotypes or multi-loci genotypes is their ability to explain most of the additive, dominance, and epistasis effects on the loci studied (Zhao et al., 2012). With respect to inclusion methods, incorporating haplotype as a random effect conveys better performance compared with models that include it as a fixed effect in terms of power, control of type I error, and precision (Boleckova et al., 2012). Hence, some of the probable HWP bias in these studies can be avoided, especially if the nature of the alleles being studied is considered. Kent et al. (2007) concluded that due to the risk of wrong associations, it is best to use common genetic variants greater than 10% as rare alleles generate biases in their association values and equally affect the values of common alleles. Therefore, the conditions needed to establish the use of haplotypes, genotypes, or both in GAS are of utmost importance for devising strategies to correct bias of genetic information.
Sampling-related and statistical strategies
Methodological strategies used to avoid sampling bias are based on grouping individuals or samples that share the same features in order to reduce heterogeneity and increase representativeness of results (Gustavsson et al., 2014). On the other hand, the use of previously reported information becomes important when establishing a methodological bias reduction strategy. Published information enables to use features and results previously validated, and helps to avoid the risk of bias related with transferring results among breeds (Poulsen et al., 2015).
Methodological strategies to reduce bias associated with statistical source are based on reviews, as well as the use of estimates and other literature results to determine the best models and features for the studied phenomenon (Brito et al., 2011). Commonly used association methods are based on family structure (pedigree) and case-control studies with unrelated individuals (De los Campos et al., 2009). However, case-control studies are the most viable to study genetic association because studies based on family structure involve extended testing periods (Kent et al., 2007). The presence of type I errors due to the subjective nature of the estimates (underlying assumptions) could address the risk of under- or overestimation of studied traits (Zoche-Golob et al., 2015). Therefore, the best strategy to reduce statistical bias lies in all aspects related to the predictive power of the approaches since it depends on all elements of bias that might arise.
In conclusion, it is necessary to consider the methodology used in previous GAS to establish a hierarchy of sources of bias and to facilitate better decisions on the use of tools to reduce inconsistencies in the results of future studies.