Introduction
Disorders of sexual development (DSD) are classified according to the stage of embryonic or fetal sex differentiation and are designated as chromosomal, gonadal, or phenotypic (Poth et al., 2010; Meyers-Wallen, 2012). During genitalia development, changes in the production or function of Müllerian inhibitory substance (MIS), testosterone, insuline-like 3 (INSL3), Specific MIS type II receptor (MISRII), or iatrogenic masculinization in pregnant females may result in phenotypic DSD. In these individuals, chromosomal sex and gonadal sex are correct, but the external or internal genitalia do not correspond to them (Meyers-Wallen, 2009).
Pseudohermaphroditism is a rare anomaly. It occurs when chromosomal and gonadal sexes are equivalent, but there is a mismatch or ambiguity in the phenotype. Male or female pseudohermaphrodite are linked according to gonadal sex. Two types of male pseudohermaphroditism have been described, each one with distinct etiologies: impaired androgen- dependent masculinization and persistent Müllerian duct syndrome (PMDS) (Cristensen, 2012). The PMDS is considered a hereditary disease inherited as an autosomal recessive trait in miniature Schnauzer and Basset hound, also reported in other breeds (Poth et al., 2010; Breshears and Peters, 2011). PMDS can be triggered by faults in production or function of the Müllerian inhibitory substance or by specific receptors of the same (MISRII) in the Müllerian ducts (Meyers-Wallen, 2009). Affected individuals have male chromosomes (78, XY) and present uterine tubes, a uterine body, cervix and cranial vagina, as well as internal and external male organs (Meyers- Wallen et al., 1989).
Diagnosis of sexual development disorders in dogs has great clinical and epidemiological importance; however, few reports hinder the epidemiological, pathophysiological, and genetic study of these abnormalities, challenging the diagnostics, therapeutics, and prevention for clinical and obstetric routine. Therefore, this report describes the diagnostic findings and treatment performed on a Yorkshire terrier presenting persistent Müllerian duct syndrome.
Discussion
As previously described, PMDS is a disorder of the phenotypic sexual development that rarely affects other breeds besides the miniature Schnauzer and Basset hound (Poth et al., 2010). Regarding the Yorkshire terrier, to our knowledge, this anomaly is rare; other researchers described a two-year-old animal with clinical, chromosomal, and internal genital characteristics similar to the present case; however, the external phenotype was intermediate between male and female; histologically, testicles had hyperplasia of Leydig and seminoma cells, and the animal showed male behaviours such as territorial marking and breeding inanimate objects (Hagel et al., 2010).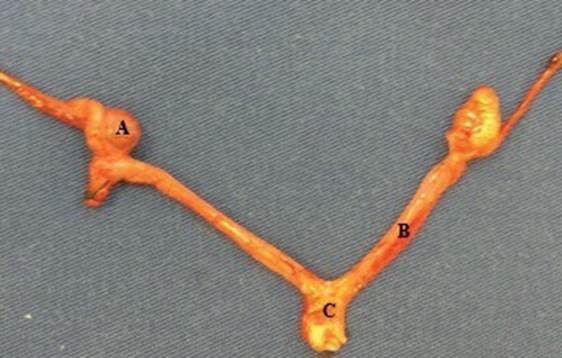 Differences regarding behaviour are related to the age of the patient. After puberty, testes and genitalia increment their function and concomitant diseases, such as Sertoli cell tumor, hydrometra, cystic endometrial hyperplasia, pyometra, cystitis, and epididymal malformations commonly develop (Marshall et al., 1982; Whyte et al., 2009; Vegter et al., 2010).
The specific diagnosis of this syndrome was based on a dog with karyotype 78, XY and the presence of both testicles and internal female genital organs verified by histopathology (Meyers-Wallen, 2009). Previous reports determined that these patients were SRY-positive (Hagel et al., 2010). However, this test was not performed when addressing this case as both gonads corresponded to normal testicles, and this demonstrates the expression and function of the gene. For diagnosing a specific genetic ethology, molecular and proteomic tests would be needed to assess mutation of the MSIRII receptor as well as MIS expression and function (Meyers-Wallen, 2009). Nevertheless, in a clinical context, the diagnostic approach performed in this case allowed the DSD determination and male 78, XY phenotypic classification coincident with PMDS features.
The recommended treatment for this abnormality is gonadectomy and internal genitalia excision to avoid or correct common complications described above (Meyers-Wallen, 2009). Regarding external genitalia, the treatment should be instituted according to the needs of each patient and determined in agreement with the owner. Penectomy or clitoridectomy associated with ureterostomy are commonly imposed in these malformations, but this approach was considered an invasive, risky, and dispensable technique in our patient since the pseudo-penis structure did not compromise any organic function that could pose a health risk (Borrow et al., 2011; MacPhail, 2013). Therefore, corrective surgery was conducted to cover, protect, and prevent dryness, ulceration or infection of the penile structure, as indicated for treating paraphimosis (Pavletic and O'Bell, 2007; Fossum, 2008).
Conclusion
Sexual development disorders represent a diagnostic and therapeutic challenge in small animal practice. The PMDS is an unusual anomaly, especially in Yorkshire terrier breeds. This report, which presents a diagnostic and therapeutic approach to PMDS, can be a valuable tool for clinical, epidemiological, and scientific studies on small animal practice, reproduction, and genetics.