Servicios Personalizados
Articulo
Indicadores
Links relacionados
Citado por Google
Similares en SciELO
Similares en Google
Compartir
---
versión impresa ISSN 0120-3347

Rev. colomb. anestesiol. v.37 n.3 Bogotá jul./sep. 2009
Minimum standards 2009 for practising anaesthesiology in Colombia

Safety Committee

Pedro Ibarra MD*, Bernardo Robledo MD**, Manuel Galindo MD***, Claudia Niño MD****, David Rincón MD*****
* Anestesiólogo Trauma Anestesia & Cuidado Crítico Clinicas Colsanitas; Comite Educación WFSA, Comité Seguridad SCARE/CLASA, Coordinador Postgrado Anestesia Unisanitas. Email: pegarry@hotmai.com
** Anestesiólogo Clínica del Country
*** Anestesiólogo, Profesor Universidad San Martín
**** Neuroanestesiólogo Fundación Santa Fe de Bogotá; Profesor UniAndes
***** Anestesiólogo; Instructor Universidad Nacional; Delegado Hipertermia Maligna SCARE

Recibido: noviembre 06/2009 - Aceptado: noviembre 11/2009
---
SUMMARY
This updates Minimum Standards 2003. The main changes concern including the Check List; proposals for preanaesthetic evaluation forms; intraoperative records; UCPA record; and informed consent. Items have also been added extending the anaesthesiologist´s role by participating in thromboprophylaxis, antibiotic prophylaxis and an explicit definition for managing perioperative pain as the main support for perioperative medicine. The need for generating databases for recording perioperative information and suggestions for the availability and use of safe medicaments are also included. The list of recommended preanaesthetic laboratories has also been updated.
Key words: standarization, safety management, monitoring interaoperative, preoperative cared, standards, outcome assessment, guideline as topic (source: MeSH, NLM).
Objectives: The purpose of these minimum standards is to improve safety when practising anaesthesiology in Colombia by recommending strategies having support for their implementation.
Methodology: Previous standards have indicated the intrinsic need for them to be periodically revised as new approaches appear having demonstrated benefit regarding the safety of patients who undergo anaesthetic interventions. The main impulse for updating them has emerged from the appearance of the World Health Organisation´s worldwide campaign entitled, "Safe Surgery, Saves Lives" launched in August 2008. The Safety Committee thus decided to include these recommendations and update other aspects.
The Delphi technique(1,2) was used for making six electronic iterations which were summarised in virtual meetings until the final document was produced; this was presented to and approved by the Colombian Anaesthesiology Congress in March 2009.
The Colombian Minimum Standards attempt to induce changes in national practice for improving safety standards.(3-5)
---
INTRODUCTION
Minimum safety standards in anaesthesiology and reanimation were first introduced in Colombia in 1984 when doctors Tiberio Álvarez, Mario Granados, Alfredo León, Sebastián Merlano, Carlos Julio Parra, Arnobio Vanegas and Manuel Galindo Arias (members of the then Safety Committee) were entrusted with drawing up some basic standards which would serve as a reference point for practising anaesthesiology in Colombia during the presidency of Dr. Julio Enrique Peña (who would coordinate their efforts).
These standards appeared in the first issue of the Revista Colombiana de Anaesthesiology in 1985.
Later on, during Dr. Manuel Galindo Arias´ presidency of the Sociedad Cundinamarquesa de Anestesiologia in 1987, a communication was sent to all hospital entities notifying both anaesthesiologists and hospital managers of the minimum monitoring elements which should be taken into account (in the Society´s opinion) when any patient might have to undergo surgery.
This document was extremely controversial, even amongst anaesthesiologists; some of them maintained that, based on such communication, an anaesthesiologist could become involved in legal problems due to supplying anaesthesia if they lacked any of the stated elements in so doing.
Such fear was well-founded, but was satisfactorily resolved due to the Cundinamarca society´s tenacity and later that of SCARE, meaning that institutions being pressured by anaesthesiologists and the society accepted the need for providing anaesthesiologists with suitable monitoring.
Law 6ª/1991 provided our profession with a legal weapon for demanding that which we had already been demanding without the backing of law.
SCARE´s assembly (held in Manizales in August 1991) approved the first Minimum Safety Standards in Anaesthesia (published under this title) due to Dr Pedro Ibarra and Dr Germán Parra´s invaluable scientific support; they were widely distributed throughout Colombia and Latin-America.
These standards have undergone some modifications in both SCARE´s assemblies and those of CLASA, finally leading to this document which we consider extremely suitable for our situation.
Practising anaesthesiolog y Pre-anaesthetic evaluation
This is mandatory for all patients. During this, an anaesthesiologist must establish a patient´s clinical and physical state according to the American Society of Anesthesiologists´ (ASA) classification of pertinent physical and management guidelines. All that set out below must be explicitly adhered to (Appendix 1 could serve as a pattern).
Pre-anaesthetic consultation
- This must include background, clinical state, a review of paraclinical exams (see section 9), concepts from other specialists, ASA. New exams may be ordered or specialised opinion sought if considered necessary.
- On the day of surgery, the specialist in charge of the case must ensure that the above information is complete and has been documented on the anaesthetic record.
- The patient or family members must be informed about the risk of anaesthetic being applied and the informed consent form must have been signed.
Intrahospital pre-anaesthetic consultation
This applies to hospitalised patients; the current clinical state must be established during this consultation. The patient must be informed (if this has not already been done) about the risk of anaesthetic being applied and informed consent must have been obtained.
Evaluation in the emergency room
A patient in an emergency room must be given (immediate) pre-anaesthetic evaluation in so far as his/her condition and circumstances allow.
Peri-anaesthetic preparation
Check list
An anaesthesiologist must collaborate with the surgeon and the rest of the surgical team in completing an overall check list for a particular patient containing at least the items from the check list recommended and validated by WHO/PAHO and which has been adopted by SCARE (see Appendix 2).
Before beginning to apply anaesthetic, an anaesthesiologist must review the following:
- The anaesthesia machine;
- Adequate oxygen pressure and for other gases to be used;
- An available emergency oxygen supply (with shutoff ball valve);- Good functioning of the device for administering oxygen rapidly (flush);
- Good state of flowmeters, vaporisers, circuits (without leaks), unidirectional valves, pressure relief valve and CO2 absorber; and
- Good ventilator functioning.
Monitoring
- Basic: phonendoscope, electrocardiographic monitoring, tensiometer, oximeter, capnograph and cutaneous/esophageal or tympanic thermometer.
The patient
- Verify and note whether there have been any changes regarding the pre-anaesthetic evaluation;
- Have the required paraclinical exams been made;
- Has informed consent been obtained (proposal in Appendix 3);
- Oral cavity: difficulty for intubation or prosthesis; and
- Venous route
The patient´s position
- Needs regarding positioning the patient during the procedure must be known; and
- Elements must be available for protecting the patient at pressure points and in non-anatomic positions.
Materials, medicaments and equipment (see Appendix 4: minimum list)
- Basic equipment for managing the aerial route;
- The medicaments to be used;
- Suction; and
- A defibrillator and equipment for managing difficult aerial routes must be available in the surgical area (see 1.3.11).
Malign hyperthermia
- It is highly desirable that all sites offering anaesthesiological services have explicit strategies for urgently obtaining dantrolene for managing a malign hyperthermia crisis.
The anaesthetic record must include (that proposed in Appendix 5 may be followed):
- The relevant clinical aspects for the anaesthetic procedure;
- Monitoring a patient;
- The drugs to be administered;
- The liquids to be administered;
- The technique used;
- The patient´s state at the end of anaesthetic having been applied;
- Basic intraoperative monitoring; and
- Strategies for controlling postoperative pain
A qualified anaesthesiologist must always be present in the operating room who is solely responsible for the anaesthetic being applied at all times. Personnel must be present in the operating room who have been trained in collaborating in monitoring and apply anaesthetics; and
All invasive anaesthesiological procedures must be done only after washing the hands.
Peri-anaesthetic care
Patient oxygenation, ventilation and circulation must be constantly evaluated whilst the anaesthetic is being applied.
Oxygenation:
- The blood´s oxygen saturation must be measured by using a pulse oximeter; and
- Oxygen concentration in inspired gas must be measured by an oxygen analyser.
Ventilation
- When methods are used for controlling the aerial route, respiratory noises must be auscultated, evaluating the excursion of the thorax and observing the oxygen reservoir ball;
- The tube´s position must be verified by auscultation when endotracheal intubation is practised; - If ventilation is mechanical, then alarms indicating faults in the circuit or when it becomes disconnected must be available;
- If there is endotracheal intubation or another device controlling the aerial route (laryngeal mask or cuffed oropharyngeal airway - COPA - or similar) then there must have an alarm for high aerial route pressure;
- Capnography is a basic monitoring element in all patients being given general anaesthesia;
- Ventilation must be constantly evaluated by clinical signs during regional anaesthesia;
- If the anaesthesia machine is provided with a ventilator, this must have the following minimum parameters:
Respiratory frequency control;

Control for fixing current volume and minute volume;

Control for inspiration/expiration ratio;

Alarms for maximum inspiratory pressure and disconnection; and

An aerial route pressure monitor should ideally be placed on the ventilator, thereby enabling expired current volume to be measured.
Circulation
- A patient must have constant electrocardiographic monitoring;
- Blood pressure and cardiac frequency must be taken at least every five minutes; and
- When considered necessary, an anaesthesiologist must turn to palpating the pulse or auscultation of cardiac noises.
Temperature
- Monitoring temperature is mandatory in cardiac surgery, in moderate or severe trauma, in neonatal surgery and for minors/infants, in surgery lasting more than three hours and in surgery where blood loss greater than volume of blood is foreseeable. There must always be the possibility for monitoring temperature; and It is highly desirable that methods are available for avoiding a patient cooling down and/or heating up.
Central nervous system
Using bispectral analysis or similar is recommendable in patients being given low total intravenous anaesthesia or when opioid-based techniques are being used.
Anaesthetic gases:
Monitoring inspired and expired anaesthetic gases is highly desirable.
Other elements involved in monitoring:
- Diuresis, invasive arterial pressure, venous oxygen saturation, cardiac output, central venous pressure, pulmonary artery pressure must be monitored as well as other parameters according to need when a patient´s condition or the type of surgery require it; and
- It is highly desirable that muscular relaxation be monitored by peripheral nerve stimulator.
Note 1: alarms and monitors:
Monitors must always be switched on during the whole time the anaesthetic procedure lasts; the pertinent alarms must be activated and have suitable volume so that they may be heard. It is considered a very dangerous practice to disconnect or silence alarms without express justification in both the operating room and post-anaesthetic care unit (PACU) whilst a patient is being cared for by an anaesthesiologist.
Note 2: CCPR availability
All the necessary elements for practising cerebral-cardio-pulmonary reanimation (CCPR) must always be available in the area where anaesthesia is administered, including the pertinent drugs and defibrillator whose good functioning must be verified periodically. An anaesthesiologist is, by definition, an expert in CCPR.
Minimum equipment for managing the aerial route
All hospitals having an anaesthesiology service must have a mobile aerial route cart available 24 hours a day having the following elements:
- Different sized curved and straight laryngoscope blades, including paediatric ones;
- Plugs or guides;
- Different sized laryngeal masks, including paediatric ones;
- Equipment for practising cricothyroidotomy by puncture or percutaneous transtracheal ventilation;
- It is highly recommended to have a Fastrach laryngeal mask available;
- A fibrobroncoscope should also be available in third and fourth level hospitals; and
- Such third or fourth level hospitals should also have available elements for practising retrograde intubation.
Handing over patients
- When an anaesthesiologist has to hand a patient over to another anaesthesiologist then the patient´s previous condition must be reported to the to the anaesthesiologist taking over, as must all management undertaken up to this point, relevant events and the immediate plan; and
- The anaesthesiologist handing over the anaesthetic record must ensure that it states that it has been handed over and that a particular patient´s condition has been fully noted at this precise moment.
Specific standards for obstetric anaesthesia (additional to general minimum standards)
- No anaesthetic procedure must be practised until the patient and foetus have been evaluated by a person accredited to do so;
- A qualified person (different to the anaesthesiologist) must be present in the operating room for attending the new-born;
- In the absence of a paediatrician, the anaesthesiologist´s first concern is for the mother; if she runs no risk then the anaesthesiologist may attend the new-born; and
- After any procedure different to obstetric analgesia with peridural analgesia, all patients must go to a PACU.
Post-anaesthetic care
- There must be a site in all hospitals where post-anaesthetic care can be provided for all patients who have received general or regional anaesthesia (i.e. the post-anaesthetic care unit or PACU); an anaesthesiologist will be responsible for such site, whose name must be clearly displayed on the PACU whilst any patient remains there. A mechanism for making rapid contact with this anaesthesiologist (cell-phone, walkie-talkie or similar) must be established in writing in the PACU;
- A patient who leaves the operating room must be transported to the PACU or intensive care unit (ICU) by the anaesthesiologist who administered the anaesthesia, with the required monitoring and supplementary oxygen, if necessary. A patient must be brought to the PACU with suitable control of the aerial route, be haemodynamically stable and have a level of consciousness close to that before anaesthetic was applied;
- All that referred to above must be clearly stated on a specific PACU form (see proposal in Appendix 6);
- Patients must be handed over to the personnel responsible for the PACU when they arrive at the unit. The record must include pre-operative conditions, anaesthetic management and the modified Aldrete score at this time (which must be a minimum of 7, except in the case of a patient´s prior limitations). All of the foregoing must be clearly stated on the clinical history or on the anaesthetic record;
- Medical care in the PACU must be carried out by personnel who have been approved by the Anaesthesia Department and have had training in basic reanimation (auxiliary personal) and advanced reanimation (professionals);
- A patient must have the necessary monitoring and support in the PACU, according to her/his condition, similar to that provided in the operating room, for the time deemed necessary, supervised by the anaesthesiologist responsible for the case;
- Special attention must be paid to oxygenation (pulse oxymetry), ventilation and circulation;
- Pain must be measured and measures established for controlling it in a suitable way;
- There must be an average of 1.5 gurneys in the PACU for each of the hospital´s operating rooms;
- The minimum elements needed for monitoring blood pressure, electrocardiographic trace and pulse oxymetry must be constantly available for every patient who is in recovery;
- Each cubicle must contain 2 electric power-points connected to the hospital´s emergency network, 1 source of oxygen, 1 source of suction;
- There must be: 1 auxiliary for every three high-complexity surgical patients, 1 auxiliary for every five low- or medium-complexity patients and a professional nurse who is independent of the surgical when more than 6 operating rooms are functioning;
- The PACU must have suitable s elements for practising CCPR, including a defibrillator whose functioning must be periodically verified;
- Discharges must be authorised in writing on the clinical history or anaesthetic record by the anaesthesiologist responsible for the case;
- Modified Aldrete score for being discharged must be 10, except when a patient has a prior limitation meaning that such score cannot be achieved;
- It is highly desirable to record neuroaxial block regression conditions, especially in out-patient cases, using a scale such as the Bromage scale; and
- If a patient´s conditions demand a stay of longer than 8 hours in the PACU, then she/he must be sent to an intermediate or intensive care unit.
Anaesthesia records and statistics
It is highly desirable that departments, services, groups and even individual anaesthesiologists record basic data regarding when they have applied anaesthetics to enable the safety, efficiency, effectiveness and efficacy of the services being provided to be evaluated;
Adverse events related to anaesthesiological practice must be identified and recorded; and
Strategies for analysing adverse events must be conceived and initiatives designed for minimising them.
Organic structure
Every hospital whose technical-scientific and administrative complexity corresponds to third or fourth levels of attention must have an Anaesthesiology and Reanimation Department in its structure, such structure being constituted by the following services: operating rooms, PACU, post-surgical ICUs, pain clinic, outpatients´ surgery and other services which are defined according to each institution in particular
Medicaments and anaesthetic elements
1. Safe anaesthetic medications must be available, having the appropriate documentation re origin/manufacturer which complies with national regulations;
2. Explicit strategies must be adopted for minimising errors in administering such medicaments;
3. Suitable sterility or cleanliness must be guaranteed according to how elements come into contact with patients; and 4. Reusable elements must be periodically evaluated for considering whether they should be replaced.
Peri -operative interventio ns for safety
The department, service, group or individual anaesthesiologist must be coordinated with the rest of the surgical team for implementing preventative measures such as antibiotic prophylaxis, venous thrombosis prophylaxis and others having an impact on patients who are being attended.
Anaesthesia machine
1. Colour-coding must be used for both medicinal gases and volatile anaesthetic agents;
2. Gas conduction tubes from a central network or from a cylinder to the anaesthesia machine must not be collapsible and must have a colour-code for each gas;
3. Machine and monitor design must be ergonomic. All the components (including controls, manometers and monitors) must be easily visible from the anaesthesiologist´s work site/station. This means that he/she will not have to move around, can monitor his/her patient and observe all parts of the anaesthesia machine and monitors at the same time. This must be complied with even re anaesthesia outside the operating room;
4. Medicinal gas cylinder connections must be identified by symbol and colour. They must not be interchangeable amongst the different gases;
5. Every anaesthesia machine must have a reserve oxygen (cylinder) connexion having its respective manometer and permanently full cylinder;
6. There must be a mechanism which prevents the administration of hypoxic mixtures, always ensuring a minimum 25% oxygen concentration;
7. When there is more than one vaporiser, there must be a mechanism preventing more than vaporiser being opened at a time;
8. It is highly recommended that expired gases are measured. This may be obtained by an external monitor (i.e. not part of the machine);
9. There must be a safety system which prevents disconnection;
10. The oxygen flush button must be placed so that it cannot be inadvertently activated. It should be possible to activate it with just one hand and it should return to its resting position when it ceases being activated;
11. The anaesthesia machine must have an audible alarm for indicating low oxygen pressure. It should not be possible to turn it off until oxygen pressure has become standardised;
12. It should have an alarm for high pressure in the aerial route;
13. All anaesthesia machines must have an oxygen analyser within their circuits;
14. There must be a surplus gas evacuation system;
15. Such evacuation system must be connected to a negative pressure wall system for extracting gases thereby minimising contaminating the operating room;
16. There must be an excess pressure valve allowing surplus gases to exit to the evacuation system;
17. The anaesthesia machine must have a chamber capturing and absorbing a patient´s expired CO2;
18. All electronic anaesthesia machines must have a battery supplying electricity for at least 20 minutes;
19. It must be possible to adjust all machines for providing paediatric patients with anaesthesia, including neonates; and
20. The user´s instruction manual must be written in Spanish or Portuguese and must be left with every anaesthesia machine.
Maintaining equip ment
The anaesthesia machine and monitoring elements must be included in a preventative maintenance programme, according to the manufacturer´s specifications.
Such maintenance must always be carried out at least every six months by duly qualified personnel.
Maintenance is an institution´s sole responsibility.
All machines/elements/devices bought must come with a service guarantee and provision for obtaining spare parts, backed up by both the distributor and the head office.
Updating present standards
These standards must be updated every two years, or when the Safety Committee deems it necessary, according to scientific and technological advances and conditions pertaining to practising anaesthesiology.
Pre-surgery laboratory examinations
Patients complying with physical status ASA I and II
This scheme constitutes a parameter suggested by the safety committee; it is based on scientific studies and the experience of institutions in Colombia and other countries.
It is highly recommended that every anaesthesia department establishes its own protocol.
Protocol suggested for pre-anaesthetic laboratory tests, Safety Committee.
Unnecessary exams frequently waste valuable time and money and cause delays in programming without providing clinical benefit for a patient.
Pathology findings not sought in exams may lead to legal responsibility for negligence without any peri-operative implication if suitable follow-up has not been done. Such possibility increases as more unnecessary exams are done.
The clinical history and physical exam are most important in pre-anaesthetic evaluation.
Legislation in Colombia
These standards must be complied with in all parts of Colombia where anaesthesiology is being practised; they are enshrined in law 6 1991, MinHealth decree 097/1996 and endorsed by the National Committee for Practising Anaesthesiology in Colombia.
According to article 14 of SCARE´s Internal Disciplinary Statute, "... for the effects of this disposition, all anaesthetics being applied, of any nature whatsoever, must be executed, controlled and managed by a certified anaesthesiologist until a patient in recovery is delivered to competent, duly trained, care personnel or when an anaesthesiologist is being relieved by another equally certified one. Violating this norm will be construed as being a serious lack of professional duty."(Table 1)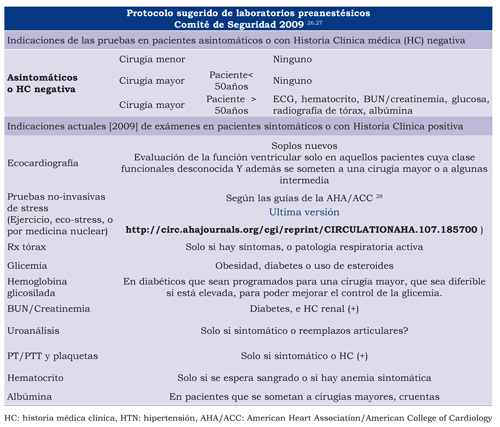 For institutions having residents
Law 23 1981. art. 15 states that, "A doctor will not submit his/her patients to unjustified risks." Leaving a patient in just the hands of a resident (who is not yet an anaesthesiologist) is clearly submitting a patient to an unjustified risk.
Ministry of Health decree 190/1996 concerning Assistant Teacher relationships: Art. 17: institutions providing health services may delegate attention-based activities to undergraduate and postgraduate students which are necessary for them to become suitably trained.
Paragraph 1: Activities which may be delegated must always be directly supervised by the teaching personnel responsible for the programme and the health institution´s authorised personnel who will be responsible for `providing the service in conformity with standards of improving and guaranteeing General Health Social Security System quality and a student will obey any recommendations which, for such effect, his/her teachers and supervisors may make.
Paragraph 2: The present delegation will be governed by the Assistant Teachers´ Committee and will be in agreement with every student´s training. A progressive delegation programme will thus be established according to every student´s theoretical-practical advances.
A proposal for pre-anaesthetic consultation is presented. If you wish to have copies for editing it and adjusting it to your practice, you may get in touch with SCARE´s Safety Committee for obtaining them.
A check-list published by the WHO´s "Safe Surgery" Programme in July 2008 and adapted for Colombia is presented here. If you wish to have copies for editing it and adjusting it to your practice, you may get in touch with SCARE´s Safety Committee for obtaining them.
A proposal for an informed consent form is presented. If you wish to have copies of it for editing and adjusting it to your practice, you may get in touch with SCARE´s Safety Committee for obtaining them.
This list may be consulted on SCARE´s Web page.
A proposal for an intraoperative anaesthetic record is presented. If you wish to have copies for editing it and adjusting it to your practice, you may get in touch with SCARE´s Safety Committee for obtaining them.
A proposal for recording how patients are managed in a PACU is presented. If you wish to have copies of it for editing and adjusting it to your practice, you may get in touch with SCARE´s Safety Committee for obtaining them.
REFERENCES
1. Ambrosiadou BV, Goulis DG: The DELPHI method as a consensus and knowledge acquisition tool for the evaluation of the DIABETES system for insulin administration. Med Inform Internet Med 1999; 24: 257-68
2. Eldredge JD: Inventory of research methods for librarianship and informatics. J Med Libr Assoc 2004; 92: 83-90
3. Standards for monitoring during anesthesia at Harvard. Jama 1987; 257: 25-6
4. Eichhorn JH, Cooper JB, Cullen DJ, Gessner JS, Holzman RS, Maier WR, Philip JH: Anesthesia practice standards at Harvard: a review. J Clin Anesth 1988; 1: 55-65
5. Eichhorn JH, Cooper JB, Cullen DJ, Maier WR, Philip JH, Seeman RG: Standards for patient monitoring during anesthesia at Harvard Medical School. Jama 1986; 256: 1017-20
6. Alvarez T: La sala de emergencia. Rev Col Anest. 1985; 13: 61-66.
7. Granados M: Especificaciones de salas de cirugía. Rev Col Anest. 1985; 13: 71-74
8. Leon A: Cuidados especiales de un paciente que va a ser sometido a cualquier tipo de anestesia. Rev Col Anest. 1985; 13: 75-80
9. Merlano S: Historia clínica en anestesia, clasificación ASA. Rev Col Anest. 1985; 13: 81-86
10. Parra C: Requisitos mínimos para administrar anestesia general, regional o local en una sala de cirugía. Rev Col Anest. 1985; 13: 87-90
11. Vanegas A: Equipo mínimo de anestesia drogas y monitoría. Rev Col Anest. 1985; 13: 91-96
12. Galindo M: Mantenimiento de los equipos de anestesia. Rev Col Anest. 1985; 13: 67-70
13. Eichhorn JH: Prevention of intraoperative anesthesia accidents and related severe injury through safety monitoring. Anesthesiology 1989; 70: 572-7
14. WHO: Safe Surgery Saves Lives, 2008; http://www.who.int/patientsafety/safesurgery/en/
15. Haynes AB, Weiser TG, Berry WR, Lipsitz SR, Breizat AH, Dellinger EP, Herbosa T, Joseph S, Kibatala PL, Lapitan MC, Merry AF, Moorthy K, Reznick RK, Taylor B, Gawande AA: A surgical safety checklist to reduce morbidity and mortality in a global population. N Engl J Med 2009; 360: 491-9
16. Gronert GA: Malignant hyperthermia. Anesthesiology 1980; 53: 395-423
17. WHO-OMS: Clean Care is Safer Care, 2005; http://www.who.int/gpsc/en/index.html
18. Practice guidelines for postanesthetic care: a report by the American Society of Anesthesiologists Task Force on Postanesthetic Care. Anesthesiology 2002; 96: 742-52
19. WFSA Comité de Seguridad: International Standards for a Safe Practice of Anaesthesia, 2008; http://www.anaesthesiologists.org/en/latest/2008-international-standards-for-a-safe-practice-of-anaesthesia.html
20. WFSA Comité de Seguridad: 2008 Normas internacionales para la práctica segura de anestesia. Rev. Col. Anest. 2008; 36: 285-291.
21. David Warters R, Szmuk P, Pivalizza EG, Gebhard R, Ezri T: Preoperative antibiotic prophylaxis: the role of the anesthesiologist. Anesthesiology 2003; 99: 515-6
22. Roth JV: More reasons why anesthesiologists should administer preoperative antibiotics. Anesthesiology 2004; 101: 258-9; author reply 260
23. Smetana GW, Cohn SL, Lawrence VA: Update in perioperative medicine. Ann Intern Med 2004; 140: 452-61
24. Mauermann WJ, Nemergut EC: The anesthesiologist´s role in the prevention of surgical site infections. Anesthesiology 2006; 105: 413-21; quiz 439-40
25. Rodríguez H, Oliveras C, Scorza L, Infantozzi J: ¿Que exámenes paraclínicos se deben solicitar en el estudio preoperatorio de un paciente "sano"? Rev Col Anest. 1985; 13: 39-43
26. Ibarra P: ¿Cuales laboratorios preanestésicos se necesitan en pacientes asintomáticos? Actualización del Protocolo del Departamento de Anestesiología de la Clínica Reina Sofía. Rev Col Anest. 2007; 35: 301-12
27. Chung F, Yuan H, Yin L, Vairavanathan S, Wong DT: Elimination of preoperative testing in ambulatory surgery. Anesth Analg 2009; 108: 467-75
28. Fleisher LA, Beckman JA, Brown KA, Calkins H, Chaikof E, Fleischmann KE, Freeman WK, Froehlich JB, Kasper EK, Kersten JR, Riegel B, Robb JF, Smith SC, Jr., Jacobs AK, Adams CD, Anderson JL, Antman EM, Buller CE, Creager MA, Ettinger SM, Faxon DP, Fuster V, Halperin JL, Hiratzka LF, Hunt SA, Lytle BW, Nishimura R, Ornato JP, Page RL, Riegel B, Tarkington LG, Yancy CW: ACC/AHA 2007 guidelines on perioperative cardiovascular evaluation and care for noncardiac surgery: executive summary: a report of the American College of Cardiology/American Heart Association Task Force on Practice Guidelines (Writing Committee to Revise the 2002 Guidelines on Perioperative Cardiovascular Evaluation for Noncardiac Surgery). Anesth Analg 2008; 106: 685-712
Conflicto de intereses: ninguno declarado.
1. Ambrosiadou BV, Goulis DG: The DELPHI method as a consensus and knowledge acquisition tool for the evaluation of the DIABETES system for insulin administration. Med Inform Internet Med 1999; 24: 257-68 [ Links ]
2. Eldredge JD: Inventory of research methods for librarianship and informatics. J Med Libr Assoc 2004; 92: 83-90 [ Links ]
3. Standards for monitoring during anesthesia at Harvard. Jama 1987; 257: 25-6 [ Links ]
4. Eichhorn JH, Cooper JB, Cullen DJ, Gessner JS, Holzman RS, Maier WR, Philip JH: Anesthesia practice standards at Harvard: a review. J Clin Anesth 1988; 1: 55-65 [ Links ]
5. Eichhorn JH, Cooper JB, Cullen DJ, Maier WR, Philip JH, Seeman RG: Standards for patient monitoring during anesthesia at Harvard Medical School. Jama 1986; 256: 1017-20 [ Links ]
6. Alvarez T: La sala de emergencia. Rev Col Anest. 1985; 13: 61-66 [ Links ]
7. Granados M: Especificaciones de salas de cirugía. Rev Col Anest. 1985; 13: 71-74 [ Links ]
8. Leon A: Cuidados especiales de un paciente que va a ser sometido a cualquier tipo de anestesia. Rev Col Anest. 1985; 13: 75-80 [ Links ]
9. Merlano S: Historia clínica en anestesia, clasificación ASA. Rev Col Anest. 1985; 13: 81-86 [ Links ]
10. Parra C: Requisitos mínimos para administrar anestesia general, regional o local en una sala de cirugía. Rev Col Anest. 1985; 13: 87-90 [ Links ]
11. Vanegas A: Equipo mínimo de anestesia drogas y monitoría. Rev Col Anest. 1985; 13: 91-96 [ Links ]
12. Galindo M: Mantenimiento de los equipos de anestesia. Rev Col Anest. 1985; 13: 67-70 [ Links ]
13. Eichhorn JH: Prevention of intraoperative anesthesia accidents and related severe injury through safety monitoring. Anesthesiology 1989; 70: 572-7 [ Links ]
14. WHO: Safe Surgery Saves Lives, 2008; http://www.who.int/patientsafety/safesurgery/en/ [ Links ]
15. Haynes AB, Weiser TG, Berry WR, Lipsitz SR, Breizat AH, Dellinger EP, Herbosa T, Joseph S, Kibatala PL, Lapitan MC, Merry AF, Moorthy K, Reznick RK, Taylor B, Gawande AA: A surgical safety checklist to reduce morbidity and mortality in a global population. N Engl J Med 2009; 360: 491-9 [ Links ]
16. Gronert GA: Malignant hyperthermia. Anesthesiology 1980; 53: 395-423 [ Links ]
17. WHO-OMS: Clean Care is Safer Care, 2005; http://www.who.int/gpsc/en/index.html [ Links ]
18. Practice guidelines for postanesthetic care: a report by the American Society of Anesthesiologists Task Force on Postanesthetic Care. Anesthesiology 2002; 96: 742-52 [ Links ]
19. WFSA Comité de Seguridad: International Standards for a Safe Practice of Anaesthesia, 2008; http://www.anaesthesiologists.org/en/latest/2008-international-standards-for-a-safe-practice-of-anaesthesia.html [ Links ]
20. WFSA Comité de Seguridad: 2008 Normas internacionales para la práctica segura de anestesia. Rev. colomb. anestesiol. 2008; 36: 285-291. [ Links ]
21. David Warters R, Szmuk P, Pivalizza EG, Gebhard R, Ezri T: Preoperative antibiotic prophylaxis: the role of the anesthesiologist. Anesthesiology 2003; 99: 515-6 [ Links ]
22. Roth JV: More reasons why anesthesiologists should administer preoperative antibiotics. Anesthesiology 2004; 101: 258-9; author reply 260 [ Links ]
23. Smetana GW, Cohn SL, Lawrence VA: Update in perioperative medicine. Ann Intern Med 2004; 140: 452-61 [ Links ]
24. Mauermann WJ, Nemergut EC: The anesthesiologist´s role in the prevention of surgical site infections. Anesthesiology 2006; 105: 413-21; quiz 439-40 [ Links ]
25. Rodríguez H, Oliveras C, Scorza L, Infantozzi J: ¿Que exámenes paraclínicos se deben solicitar en el estudio preoperatorio de un paciente "sano"? Rev Col Anest. 1985; 13: 39-43 [ Links ]
26. Ibarra P: ¿Cuales laboratorios preanestésicos se necesitan en pacientes asintomáticos? Actualización del Protocolo del Departamento de Anestesiología de la Clínica Reina Sofía. Rev Col Anest. 2007; 35: 301-12 [ Links ]
27. Chung F, Yuan H, Yin L, Vairavanathan S, Wong DT: Elimination of preoperative testing in ambulatory surgery. Anesth Analg 2009; 108: 467-75 [ Links ]
28. Fleisher LA, Beckman JA, Brown KA, Calkins H, Chaikof E, Fleischmann KE, Freeman WK, Froehlich JB, Kasper EK, Kersten JR, Riegel B, Robb JF, Smith SC, Jr., Jacobs AK, Adams CD, Anderson JL, Antman EM, Buller CE, Creager MA, Ettinger SM, Faxon DP, Fuster V, Halperin JL, Hiratzka LF, Hunt SA, Lytle BW, Nishimura R, Ornato JP, Page RL, Riegel B, Tarkington LG, Yancy CW: ACC/AHA 2007 guidelines on perioperative cardiovascular evaluation and care for noncardiac surgery: executive summary: a report of the American College of Cardiology/American Heart Association Task Force on Practice Guidelines (Writing Committee to Revise the 2002 Guidelines on Perioperative Cardiovascular Evaluation for Noncardiac Surgery). Anesth Analg 2008; 106: 685-712 [ Links ]