Services on Demand
Article
Indicators
Related links
Similars in SciELO
Bookmark
Print version ISSN 0120-3347
Rev. colomb. anestesiol. vol.37 no.4 Bogotá Oct./Dec. 2009
Colombian Society of Anesthesiology and Resuscitation and Colombian Plastic Surgery Society Consensus1
Pedro Ibarra* , Jorge Arango**, Jorge Bayter***, Jorge Castro****, Julián Cortés*****, Martha Lascano******, Eduardo Lema Flórez*******
1 Discutido y aprobado: Congreso Colombiano de Anestesiología: sábado 21 de marzo 15:30 – 19:00. Sesión plenaria foro "Anestesia en Cirugía Plástica" con la participación de delegados de la Sociedad Colombiana de Cirugía Plástica (SCCP) Discutido y aprobado por el foro de filiales SCARE-FEPASDE-. Grupo de trabajo de Seguridad en Anestesia para Cirugía Plástica; Bogotá, lunes, 8 de junio 2009.
* MD, anestesiólogo.Trauma, anestesia y cuidado crítico Clínicas Colsánitas; Comite de educación WFSA, Comité seguridad SCARE/CLASA, coordinador postgrado Anestesia Unisánitas. Bogota, Colombia. E-mail: halogenado@yahoo.com
** MD, anestesiólogo Clinica Bio Forma, Medellin
*** MD, anestesiólogo Clínica Pinar, Bucaramanga
**** MD, anestesiólogo Clínica Cardiovascular Santa María, Medellín
***** MD, anestesiólogo CiruLaser Andes, Bogotá
****** MD, anestesióloga clínica Corpoescultura, Bogotá
******* MD, anestesiólogo Hospital Universitario del Valle, Instituto para Niños Ciegos y Sordos; profesor asistente Universidad del Valle
Recibido: Noviembre 6/2009 Aceptado Diciembre 11/2009
---
Summary
This document defines some particular aspects involved in practising anaesthesia in plastic surgery which are intended to improve patient safety. It presents strategies for reducing the most common serious preventable complications, such as thrombotic, embolic and infectious events. It should be stressed that these goals have been established and must be achieved with surgeons and anaesthesiologists' participation. These recommendations provide detailed are additions to the Minimum Standards which SCARE has developed.
Key words: consensus, surgery, plastic, outpatients, safety. (Source:MeSH, NLM)
---
Objectives
This consensus' objective is to provide recommendations promoting high safety standards for patients undergoing elective plastic and aesthetic procedures.
Consensus method
Serious complications in patients undergoing plastic surgery have been common during the last few years and have led to many press stories. (1-3) The situation has reached such magnitude that some authorities have sought to introduce strategies for reducing them (4). Dr. Carlos Castro (the Colombian minister of health) prompted the Colombian Plastic Surgery Society (Sociedad Colombiana de Cirugia Plástica - SCCP) and the Colombian Anaesthesiology Society (Sociedad Colombiana de Anestesiología y Reanimacion - SCARE) to hold a forum in May 2002 to discuss this problem and provide proposals. SCCP and SCARE represented by the Safety Committee and other anaesthesiologists having expertise in this area participated in this forum held on June 22nd 2002 in Bogotá (5). However, following a day of multiple presentations, no agreement was reached and alarms regarding safety in this area have persisted, being the motive for headlines in the mass media (6,7) and even alarms suggesting that this a public health problem (8).
SCARE (via its Safety Committee) thus proposed holding the First Consensus for Safety in Anaesthesia for Plastic Surgery in November 2008 during the 28th National Anaesthesiology Congress 2009.
Firstly, a group of three expert anaesthesiologists was formed, designated by the Colombian Anaesthesiology Congress' Organising Committee for presenting some topics orientated towards presenting experience and safety schemes used in different institutions; two more anaesthesiologists having a lot of experience in the field were then added who were to be exclusively involved in anaesthesia for plastic surgery and an ad hoc Anaesthesia for Plastic Surgery Safety Committee was formed.
The SCCP which was very interested in the project was contacted in January 2009 to ensure an interdisciplinary nature. The above group of anaesthesiologists defined some topics which were presented to the SCCP for it to give its opinion. The Committee's coordinator (in turn being SCARE's Safety Committee coordinator) drew up an initial document with the pertinent references which was modified by using the Delphi method (9,10). Five more sessions were held electronically with the group of experts to elicit their opinion. The resulting proposal was sent by e-mail to more than 400 anaesthesiologists throughout Colombia and SCCP prior to being presented during a forum held during the Colombian Anaesthesiology Congress. More than 300 anaesthesiologists took part in the Consensus Forum and a dozen plastic surgeons including a member of SCCP's board of directors. Some comments were made by e-mail (6) and dozens of comments during the Forum. Such comments were recorded and discussed by members of the ad hoc Committee and considered in the final document which will be reviewed later on.
Due to the topic's enormous interest and relevance, SCARE's board of directors held a meeting with delegates from all regional branches on June 8th 2009. One delegate from the Valle del Cauca branch made many additional observations prior to this meeting; these were discussed with the active participation of the Special Fund for Integral Help regarding Lawsuits (Fondo Especial para el Auxilio Solidario de Demandas – FEPASDE). Small modifications were made to the text (mostly regarding its form) and the definitive text was defined, leading to this final document with the approval of all SCARE and FEPASDE branches.
This document has been sent to SCCP and has been presented at Colombian forums held in Bogotá, Bucaramanga, Cartagena and Cúcuta.
Introduction
The National Quality Forum agency in the USA has considered that deaths in ASA I patients (most being plastic surgery cases) are events which "should never have happened" and must be reported (11).
An editorial by Davison established that procedures and complications which have been traditionally attributed to the "patient" and not to surgery, such as deep venous thrombosis and other medical complications should be included in morbidity (12).
Some publications in the USA have suggested that procedures involving sedation, without anaesthesiological care, are safer than those involving anaesthesiological management. A review of world literature has shown that such reported procedures become less, the more often they are performed in ASA I patients, surgery lasting less than 2 hours and less than 3 litre liposuction volume. Differences between events become understood when these corrections are performed (13-16) Likewise, there is great support showing the safety of procedures under general / regional anaesthesia when safety standards similar to those ruling non-plastic procedures are followed (14,17).
It is apparent that part of this literature regarding morbidity is permeated by a conflict between dermatologists and plastic/anaesthetic surgeons where each side has an interest in demonstrating its greater safety, which is why they should be interpreted with care (18). Many publications indicate that the adverse event rate in consulting-rooms (office-based anaesthesia: Colombian equivalent - basic medical centres or consulting-rooms) is significantly greater than that for established outpatient surgery centres (19-21).
The surgical group working as a team must be made aware that mortality should be the closest possible to zero and morbidity occurring in spite of all efforts made should result in the least possible handicap.
Mortality reported via ASPS (American Society of Plastic Surgeons) surveys in the USA was 1:4,926 in 1997 and 1:5,224 in 2000 (Grazer), even though some reports have listed more deaths in lesser liposuction (0:15,336) (16, 22 ,23, 24). An ASAPS (American Society of Aesthetic Plastic Surgeons) 2001 survey revealed mortality of 1 per 47,415 liposuctions, 1 per 7,314 combined liposuction with other procedures and 1 per 3,281 when liposuction was combined with abdominoplasty (25). This was fourteen times higher than for just liposuction. Even though there have been some reports like that of Grant, 26 where there was no increased risk, such experience was particular considering that average times were 2.2 hours and transfusion and hospitalisation incidence was 0% in 406 cases. Likewise, there have been reports in which prolonged procedures did not lead to morbidity; this was reported from an academic centre (Yale) where all standards for non-plastic surgical procedures were followed. A crude report from Medellín (lacking detailed analysis of clinical histories) detected 6 deaths from an estimated 30,896 surgeries, giving a mortality rate of 1:5,149 surgeries, this being very close to that found in the literature. However, it is worth noting that these cases were detected by the doctors involved; the possibility of data underrecording is thus significant (27).
Safety recommendations
As the first safety standard, SCARE recognises that minimum standards regarding safety in anaesthesiology must be strictly adhered to in all procedures involving an anaesthesiologist. Such standards are also backed by the Latin- American Confederation of Anaesthesiology Societies (Confederation Latinoamericana de sociedades en Anestesiología – CLASA).
Current Minimum Standards are available on SCARE's website: www.scare.org.co
The commonest causes of morbidity and mortality described in the literature and arising from local experience are: (28-37).
a. Venous thrombosis-related events (31). Incidence ranges from 0.35% in rithydoplasty to 30% in combined procedures; (37,38).
b. Infections: these could be related to perforated viscera, infected fluid collections such as hematomas or serosas, or by contamination (39). c. Fat embolism;
d. Pulmonary oedema;
e. Vascular lesions;
f. Other causes.
Based on this knowledge, the first topic to be dealt with should be preventing deep venous thrombosis (DVT) and pulmonary thromboembolism (PTE), given their frequency, morbimortality and that they can be prevented by preparing guidelines which are reasonable, acceptable and which can be applied by the professionals involved in managing these patients. Only 60% of the plastic surgeons in the USA know and apply such recommendations. (32,38) The objective in our setting is to ensure that the main cause of complications and deaths during plastic surgery becomes reduced and ensure that this indicator reaches the lowest possible levels.
Davison (31) has made an extensive review of prophylaxis in venous thrombosis during plastic surgery and this has been adopted in the Caprini model; (40) this scheme/algorithm is the most popular in the plastic surgery area.
It is proposed that this simple algorithm be adopted as this consensus' recommendation. Each patient's score must be noted on the anaesthetic record, thereby establishing a risk leading to designing recommendations regarding prophylaxis. These recommendations must be implemented according to the surgical team's practice. Publications such as that by Hatef (34) have demonstrated the benefits of implementing these strategies even in high-risk and very highrisk patients, thereby demonstrating that DVT/ PTE incidence can be lowered by up to 80%.
Tabla 1
-
Tabla 2
-
Tabla 3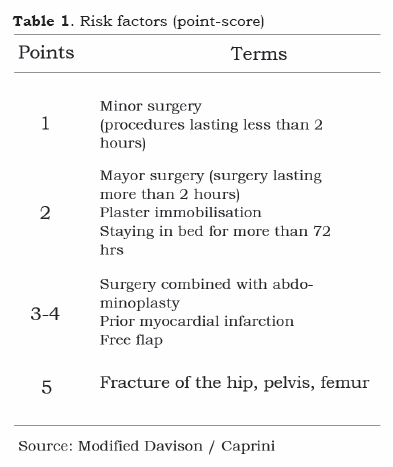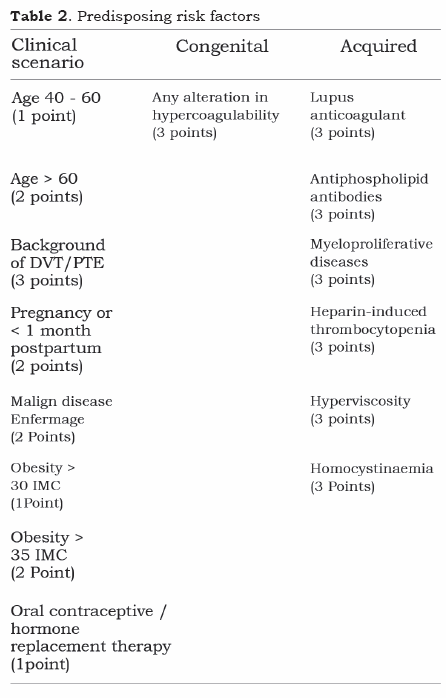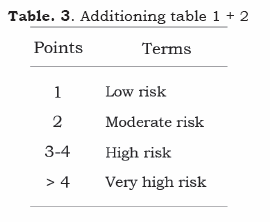 Algorithm for preventing deep-vein thrombosis (DVT): good position refers to a comfortable position, having partial flexing of the knees; intermittent pneumatic compression (IPC) until being discharged; elastic compression stockings (ECS) from preoperative period until to deambulation at home becomes standard; lowmolecular- weight heparin (LMWH): in very high risk LMWH consider giving c/12hrs, in both cases until deambulation becomes standard (usually one week). Modified from Davison 2004 (31).
A group of increased risk patients was defined as follows:
a. Patients having 5 or more risk factors for venous thrombosis:
b. Patients undergoing procedures with sedation must be excluded from this scheme; CNI with or without ECS is only indicated in such patients, according to additional surgery points;
c. Patients undergoing procedures lasting more than five hours (even though there are reports of safety regarding them, the literature is consistent in confirming that duration is a risk factor); (41)
d. Patients undergoing large volume liposuction (defined as >5,000 mls) (42).
e. Patients undergoing combined procedures including abdominoplasty;
f. Patients arriving in cities located at high altitude (>2,000 mts) two or less than 2 days before surgery;
g. Patients expecting to travel for 4 or more hours one week POP (appendix 1: SCCP and Aeronáutica Civil recommendations); and
h. Patients receiving gluteal lipoinjections 1.
It is proposed that this group of patients at increased risk be supervised by the surgeon treating the case at least 18 hrs POP (43). This implies that institutions carrying out these procedures must be able to carry out POP observation or domiciliary surveillance 2.
This seeks to identify signs of venous thrombosis, bleeding, fluid collections and early signs of other complications, such as infections (39).
a. Haematocrite must be controlled prior to being discharged in increased risk procedures, except for e, f and gand (44).
b. Patients expecting to travel before one week POP must be made aware of express recommendations regarding the high risk of morbidity caused by venous thrombosis when adding perioperative risk regarding travelling and the surgeon's express authorisation.
All patients being cared for by an anaesthesiologist must have an explicit preanaesthetic evaluation, appended to the clinical history.
a. Similar to recommendations in non-aesthetic surgeries, no routine preanaesthetic exam is recommended, beyond clinical indication or history.
b. It is recommended that medicaments/ substances having no clear pharmacology / interaction with anaesthetic medications (homeopathic or naturist drugs, gingko biloba etc.) should be suspended at least one week prior to operation (45-47).
c. The anaesthetic technique must be that which the surgical team considers to be most appropriate sac according to its expertise and the patient's consent. There is a wealth of very good experience with regional (48)or general anaesthesia 27 or sedation techniques (49).
d. It is recommended making the patient clearly aware in writing of the high risk of the interaction of substances such as cocaine, amphetamines, extasis and other recreational drugs and anaesthetic and vasoactive medicaments;
e. It is recommended that such clarification be appended to the clinical history so that the patient signs it along with the informed consent form;
f. It may be considered that a preoperative sample of urine/blood should be taken for toxicology analysis in case of adverse events, following the patient's consent. (50). If such consent is not forthcoming, then this must be recorded on the clinical history. If it is taken, then it should be clearly labelled and preserved until the patient is discharged; and
g. An outpatient should be discharged by the doctor responsible for verifying the patient's state. This should never be delegated to non-medical personnel.
Other aspects which should be considered (42).
a. All patients should receive antibiotic prophylaxis one hour before the incision. This may be administered during anaesthetic induction;
b. Using Klein's solution (50 mg/kg maximum tolerable limit (51) and up to 35 mg/kg (52). if there are comorbidities considered to a risk for higher doses) (53).
c. If a patient receives Anaesthesia, it is recommended reducing lidocaine dose in infiltration solution during liposuction;
d. Using bupivacaine and/or other local anaesthetics different to lidocaine in tumescent solution is NOT recommended (42).
e. It is recommended that lipid parenteral feed solutions (such as lipofundin) are available as an essential medicament for controlling toxicity events caused by local anaesthetics; (54 http://lipidrescue.squarespace.com/laminates- instructions-and-lab/lipidrescue%20 spa.pdf)
f. The effect of dermoclysis must be considered in liposuction for minimising the additional administration of fluids and avoiding hydric overload, a relatively frequent complication in liposuction (55).
g. It is highly desirable that the surgeon in charge evaluates liposuction patients one day after the procedure has been performed (39).
h. Any non-conventional substances which have been administered must be explicitly noted on patients' records, ensuring that all those used have a current INVIMA licence/ record;
i. Blood transfusion must be considered an undesirable event and strategies must be used for avoiding it due to its inherent risk;
j. Combining aesthetic/plastic procedures with non-plastic ones (e.g. gynaecological procedures such as hysterectomy, colporraphy) must be avoided due to the high risk of morbidity (infections, increased risk of DVT, etc.); and
k. Patients undergoing plastic surgery must be encouraged to take out an insurance policy against hospitalisation / complications.
COMENTARIOS
1 Se sugirió en el foro de filiales, que se discuta con los cirujanos plásticos en cada sitio, la técnica utilizada en estos procedimientos, pues la percepción es que el riesgo de estos es muy alto, y que las técnicas quirúrgicas así como los elementos usados con muy variables. Se entiende que aún la SCCP no ha tomado posiciones oficiales al respecto. Existe muy escasa literatura al respecto.
2 Se sugirió en el Foro de filiales que se defina la supervisión domiciliaria, para efecto de garantizar una vigilancia que sea suficiente para detectar los problemas que indican esta supervisión extendida de estos procedimientos de riesgo aumentado.
REFERENCES
1. Dos Hermanas Murieron Luego De Cirugía Estética El Tiempo fecha 28 de enero 2000 Bogota.http://www. eltiempo.com/archivo/documento/MAM-1266238 Consultado marzo 15, 2009
2. Nutricionista Murió Después De Una Liposucción El Tiempo fecha 8 de febrero 2001 Bogota.http://www.eltiempo. com/archivo/documento/MAM-638578 Consultado Marzo 15, 2009
3. Murió Actriz Por Liposucción El Tiempo fecha 30 de noviembre 2002 Bogota.http://www.eltiempo.com/archivo/ documento/MAM-1328919 Consultado marzo 15, 2009
4. Reglamentarán La Cirugía Plástica El Tiempo fecha 17 de mayo 2002 Bogota. http://www.eltiempo.com/archivo/ documento/MAM-1330521 Consultado marzo 15, 2009
5. Seguridad en liposucción.2009, http://www.anestesianet. com/varios/seguridadliposuccion.htm, Consultado: marzo 15
6. Durante una liposucción murió la modelo Edna Patricia Espinosa, de 24 años El Tiempo fecha 16 de enero 2009 Bogota.http://www.eltiempo.com/archivo/documento/ CMS-4759068 Consultado marzo 15, 2009
7. Gomez E L 50 Quejas Al Mes Por Cirugías Plásticas El Tiempo fecha 15 de mayo 2005 Bogota.http://www. eltiempo.com/archivo/documento/MAM-1630709 Consultado marzo 15, 2009
8. Amat Y Cirugías Plásticas Sin Control, Problema De Salud Pública El Tiempo fecha 16 de enero 2005 Bogota. http://www.eltiempo.com/archivo/documento/ MAM-671833 Consultado marzo 15, 2009
9. Ambrosiadou BV, Goulis DG: The DELPHI method as a consensus and knowledge acquisition tool for the evaluation of the DIABETES system for insulin administration. Med Inform Internet Med 1999; 24: 257-68
10. Eldredge JD: Inventory of research methods for librarianship and informatics. J Med Libr Assoc 2004; 92: 83-90
11. Darling H, Shea G, Linscott K: Serious Adverse Events Working Group- National Quality Forum, National Priorities Partners Meeting, 2008
12. Davison SP, Massoumi W: Our complication, your problem. Plast Reconstr Surg 2007; 120: 1428-9
13. Bhananker SM, Posner KL, Cheney FW, Caplan RA, Lee LA, Domino KB: Injury and liability associated with monitored anesthesia care: a closed claims analysis. Anesthesiology 2006; 104: 228-34
14. Hoefflin SM, Bornstein JB, Gordon M: General anesthesia in an office-based plastic surgical facility: a report on more than 23,000 consecutive office-based procedures under general anesthesia with no significant anesthetic complications. Plast Reconstr Surg 2001; 107: 243-51; discussion 252-7
15. Scarborough DA, Herron JB, Khan A, Bisaccia E: Experience with more than 5,000 cases in which monitored anesthesia care was used for liposuction surgery. Aesthetic Plast Surg 2003; 27: 474-80
16. Hanke CW, Bernstein G, Bullock S: Safety of tumescent liposuction in 15,336 patients. National survey results. Dermatol Surg 1995; 21: 459-62
17. Johnson PJ: General anesthesia in an office-based plastic surgical facility: a report on more than 23,000 consecutive office-based procedures under general anesthesia with no significant anesthetic complications. Arch Facial Plast Surg 2001; 3: 287
18. Venkat AP, Coldiron B, Balkrishnan R, Camacho F, Hancox JG, Fleischer AB, Jr., Feldman SR: Lower adverse event and mortality rates in physician offices compared with ambulatory surgery centers: a reappraisal of Florida adverse event data. Dermatol Surg 2004; 30: 1444-51
19. Vila H, Jr., Soto R, Cantor AB, Mackey D: Comparative outcomes analysis of procedures performed in physician offices and ambulatory surgery centers. Arch Surg 2003; 138: 991-5
20. Iverson RE: Patient safety in office-based surgery facilities: I. Procedures in the office-based surgery setting. Plast Reconstr Surg 2002; 110: 1337-42; discussion 1343-6
21. Iverson RE, Lynch DJ: Patient safety in office-based surgery facilities: II. Patient selection. Plast Reconstr Surg 2002; 110: 1785-90; discussion 1791-2
22. Teimourian B, Adham MN: A national survey of complications associated with suction lipectomy: what we did then and what we do now. Plast Reconstr Surg 2000; 105: 1881-4
23. Teimourian B, Rogers WB, 3rd: A national survey of complications associated with suction lipectomy: a comparative study. Plast Reconstr Surg 1989; 84: 628-31
24. Clayman MA, Seagle BM: Office surgery safety: the myths and truths behind the Florida moratoria--six years of Florida data. Plast Reconstr Surg 2006; 118: 777-85; discussion 786-7
25. Hughes III CE: Reduction of Lipoplasty Risks and Mortality: An ASAPS Survey. Aesthetic Surg J 2001; 21: 120-127
26. Grant Stevens W, Cohen R, Vath SD, Stoker DA, Hirsch EM: Does lipoplasty really add morbidity to abdominoplasty? Revisiting the controversy with a series of 406 cases. Aesthetic Surg J 2005; 25: 353-358
27. Castro J: Cirugía plástica estética: factores de seguridad, XVI Congreso Colombiano de Anestesiología, 2009 Bogotá
28. from liposuction: census survey of cosmetic surgeons. Plast Reconstr Surg 2000; 105: 436-46; discussion 447-8
29. Barreto L, Mateus M: Liposuccion: Complicaciones y prevencion. Revision de Temas. Hospital de San Jose. 2000 http://www.encolombia.com/plastica61620Iiposuccion. htm Consultado febrero 10 2009
30. McDevitt NB: Deep vein thrombosis prophylaxis. American Society of Plastic and Reconstructive Surgeons. Plast Reconstr Surg 1999; 104: 1923-8
31. Davison SP, Venturi ML, Attinger CE, Baker SB, Spear SL: Prevention of venous thromboembolism in the plastic surgery patient. Plast Reconstr Surg 2004; 114: 43E-51E
32. Miszkiewicz K, Perreault I, Landes G, Harris PG, Sampalis JS, Dionyssopoulos A, Nikolis A: Venous thromboembolism in plastic surgery: incidence, current practice and recommendations. J Plast Reconstr Aesthet Surg 2009
33. Rohrich RJ, Rios JL: Venous thromboembolism in cosmetic plastic surgery: maximizing patient safety. Plast Reconstr Surg 2003; 112: 871-2
34. Seruya M, Venturi ML, Iorio ML, Davison SP: Efficacy and safety of venous thromboembolism prophylaxis in highest risk plastic surgery patients. Plast Reconstr Surg 2008; 122: 1701-8
35. Most D, Kozlow J, Heller J, Shermak MA: Thromboembolism in plastic surgery. Plast Reconstr Surg 2005; 115: 20e-30e
36. Patronella CK, Ruiz-Razura A, Newall G, Mentz HA, Arango ML, Assavapokee T, Siarski JL: Thromboembolism in high-risk aesthetic surgery: experience with 17 patients in a review of 3871 consecutive cases. Aesthet Surg J 2008; 28: 648-55
37. Reinisch JF, Bresnick SD, Walker JW, Rosso RF: Deep venous thrombosis and pulmonary embolus after face lift: a study of incidence and prophylaxis. Plast Reconstr Surg 2001; 107: 1570-5; discussion 1576-7
38. Broughton G, 2nd, Rios JL, Rohrich RJ, Brown SA: Deep venous thrombosis prophylaxis practice and treatment strategies among plastic surgeons: survey results. Plast Reconstr Surg 2007; 119: 157-74
39. Lehnhardt M, Homann HH, Daigeler A, Hauser J, Palka P, Steinau HU: Major and lethal complications of liposuction: a review of 72 cases in Germany between 1998 and 2002. Plast Reconstr Surg 2008; 121: 396e- 403e
40. Caprini JA, Arcelus JI, Reyna JJ: Effective risk stratification of surgical and nonsurgical patients for venous thromboembolic disease. Semin Hematol 2001; 38: 12-9
41. Gordon NA, Koch ME: Duration of anesthesia as an indicator of morbidity and mortality in office-based facial plastic surgery: a review of 1200 consecutive cases. Arch Facial Plast Surg 2006; 8: 47-53
42. Iverson RE, Lynch DJ: Practice advisory on liposuction. Plast Reconstr Surg 2004; 113: 1478-90; discussion 1491-5
43. Commons GW, Halperin B, Chang CC: Large-volume liposuction: a review of 631 consecutive cases over 12 years. Plast Reconstr Surg 2001; 108: 1753-63; discussion 1764-7
44. Choudry UH, Hyza P, Lane J, Petty P: The importance of preoperative hemoglobin evaluation in large volume liposuction: lessons learned from our 15-year experience. Ann Plast Surg 2008; 61: 230-4
45. Ang-Lee MK, Moss J, Yuan CS: Herbal medicines and perioperative care. Jama 2001; 286: 208-16
46. Hodges PJ, Kam PC: The peri-operative implications of herbal medicines. Anaesthesia 2002; 57: 889-99
47. Jayasekera N, Moghal A, Kashif F, Karalliedde L: Herbal medicines and postoperative haemorrhage. Anaesthesia 2005; 60: 725-6
48. Mondragon CE, Ramirez I: Anestesia y analgesia peridural toracica: Manejo domiciliario / Thoracic peridural anesthesia and analgesia. Rev. colomb. anestesiol 1999; 27: 133-145
49. Lascano M: Experiencia con sedación en cirugía plástica: 7000 casos, 2009; Ibarra P Comunicación personal
50. Clayman MA, Caffee HH: Office surgery safety and the Florida moratoria. Ann Plast Surg 2006; 56: 78-81
51. Coldiron B, Coleman WP, 3rd, Cox SE, Jacob C, Lawrence N, Kaminer M, Narins RS: ASDS guidelines of care for tumescent liposuction. Dermatol Surg 2006; 32: 709-16
52. Iverson RE, Pao VS: MOC-PS(SM) CME article: liposuction. Plast Reconstr Surg 2008; 121: 1-11
53. Ramon Y, Barak Y, Ullmann Y, Hoffer E, Yarhi D, Bentur Y: Pharmacokinetics of high-dose diluted lidocaine in local anesthesia for facelift procedures. Ther Drug Monit 2007; 29: 644-7
54. Picard J, Ward SC, Zumpe R, Meek T, Barlow J, Harrop- Griffiths W: Guidelines and the adoption of 'lipid rescue' therapy for local anaesthetic toxicity. Anaesthesia 2009; 64: 122-5
55. Trott SA, Beran SJ, Rohrich RJ, Kenkel JM, Adams WP, Jr., Klein KW: Safety considerations and fluid resuscitation in liposuction: an analysis of 53 consecutive patients. Plast Reconstr Surg 1998; 102: 2220-9
1. Dos Hermanas Murieron Luego De Cirugía Estética El Tiempo fecha 28 de enero 2000 Bogota.http://www. eltiempo.com/archivo/documento/MAM-1266238 Consultado marzo 15, 2009 [ Links ]
2. Nutricionista Murió Después De Una Liposucción El Tiempo fecha 8 de febrero 2001 Bogota.http://www.eltiempo. com/archivo/documento/MAM-638578 Consultado Marzo 15, 2009 [ Links ]
3. Murió Actriz Por Liposucción El Tiempo fecha 30 de noviembre 2002 Bogota.http://www.eltiempo.com/archivo/ documento/MAM-1328919 Consultado marzo 15, 2009 [ Links ]
4. Reglamentarán La Cirugía Plástica El Tiempo fecha 17 de mayo 2002 Bogota. http://www.eltiempo.com/archivo/ documento/MAM-1330521 Consultado marzo 15, 2009 [ Links ]
5. Seguridad en liposucción.2009, http://www.anestesianet.com/varios/seguridadliposuccion.htm, Consultado: marzo 15 [ Links ]
6. Durante una liposucción murió la modelo Edna Patricia Espinosa, de 24 años El Tiempo fecha 16 de enero 2009 Bogota.http://www.eltiempo.com/archivo/documento/ CMS-4759068 Consultado marzo 15, 2009 [ Links ]
7. Gomez E L 50 Quejas Al Mes Por Cirugías Plásticas El Tiempo fecha 15 de mayo 2005 Bogota.http://www. eltiempo.com/archivo/documento/MAM-1630709 Consultado marzo 15, 2009 [ Links ]
8. Amat Y Cirugías Plásticas Sin Control, Problema De Salud Pública El Tiempo fecha 16 de enero 2005 Bogota. http://www.eltiempo.com/archivo/documento/ MAM-671833 Consultado marzo 15, 2009 [ Links ]
9. Ambrosiadou BV, Goulis DG: The DELPHI method as a consensus and knowledge acquisition tool for the evaluation of the DIABETES system for insulin administration. Med Inform Internet Med 1999; 24: 257-68 [ Links ]
10. Eldredge JD: Inventory of research methods for librarianship and informatics. J Med Libr Assoc 2004; 92: 83-90 [ Links ]
11. Darling H, Shea G, Linscott K: Serious Adverse Events Working Group- National Quality Forum, National Priorities Partners Meeting, 2008 [ Links ]
12. Davison SP, Massoumi W: Our complication, your problem. Plast Reconstr Surg 2007; 120: 1428-9 [ Links ]
13. Bhananker SM, Posner KL, Cheney FW, Caplan RA, Lee LA, Domino KB: Injury and liability associated with monitored anesthesia care: a closed claims analysis. Anesthesiology 2006; 104: 228-34 [ Links ]
14. Hoefflin SM, Bornstein JB, Gordon M: General anesthesia in an office-based plastic surgical facility: a report on more than 23,000 consecutive office-based procedures under general anesthesia with no significant anesthetic complications. Plast Reconstr Surg 2001; 107: 243-51; discussion 252-7 [ Links ]
15. Scarborough DA, Herron JB, Khan A, Bisaccia E: Experience with more than 5,000 cases in which monitored anesthesia care was used for liposuction surgery. Aesthetic Plast Surg 2003; 27: 474-80 [ Links ]
16. Hanke CW, Bernstein G, Bullock S: Safety of tumescent liposuction in 15,336 patients. National survey results. Dermatol Surg 1995; 21: 459-62 [ Links ]
17. Johnson PJ: General anesthesia in an office-based plastic surgical facility: a report on more than 23,000 consecutive office-based procedures under general anesthesia with no significant anesthetic complications. Arch Facial Plast Surg 2001; 3: 287 [ Links ]
18. Venkat AP, Coldiron B, Balkrishnan R, Camacho F, Hancox JG, Fleischer AB, Jr., Feldman SR: Lower adverse event and mortality rates in physician offices compared with ambulatory surgery centers: a reappraisal of Florida adverse event data. Dermatol Surg 2004; 30: 1444-51 [ Links ]
19. Vila H, Jr., Soto R, Cantor AB, Mackey D: Comparative outcomes analysis of procedures performed in physician offices and ambulatory surgery centers. Arch Surg 2003; 138: 991-5 [ Links ]
20. Iverson RE: Patient safety in office-based surgery facilities: I. Procedures in the office-based surgery setting. Plast Reconstr Surg 2002; 110: 1337-42; discussion 1343-6 [ Links ]
21. Iverson RE, Lynch DJ: Patient safety in office-based surgery facilities: II. Patient selection. Plast Reconstr Surg 2002; 110: 1785-90; discussion 1791-2 [ Links ]
22. Teimourian B, Adham MN: A national survey of complications associated with suction lipectomy: what we did then and what we do now. Plast Reconstr Surg 2000; 105: 1881-4 [ Links ]
23. Teimourian B, Rogers WB, 3rd: A national survey of complications associated with suction lipectomy: a comparative study. Plast Reconstr Surg 1989; 84: 628-31 [ Links ]
24. Clayman MA, Seagle BM: Office surgery safety: the myths and truths behind the Florida moratoria--six years of Florida data. Plast Reconstr Surg 2006; 118: 777-85; discussion 786-7 [ Links ]
25. Hughes III CE: Reduction of Lipoplasty Risks and Mortality: An ASAPS Survey. Aesthetic Surg J 2001; 21: 120-127 [ Links ]
26. Grant Stevens W, Cohen R, Vath SD, Stoker DA, Hirsch EM: Does lipoplasty really add morbidity to abdominoplasty? Revisiting the controversy with a series of 406 cases. Aesthetic Surg J 2005; 25: 353-358 [ Links ]
27. Castro J: Cirugía plástica estética: factores de seguridad, XVI Congreso Colombiano de Anestesiología, 2009 Bogotá [ Links ]
28. from liposuction: census survey of cosmetic surgeons. Plast Reconstr Surg 2000; 105: 436-46; discussion 447-8 [ Links ]
29. Barreto L, Mateus M: Liposuccion: Complicaciones y prevencion. Revision de Temas. Hospital de San Jose. 2000 http://www.encolombia.com/plastica61620Iiposuccion. htm Consultado febrero 10 2009 [ Links ]
30. McDevitt NB: Deep vein thrombosis prophylaxis. American Society of Plastic and Reconstructive Surgeons. Plast Reconstr Surg 1999; 104: 1923-8 [ Links ]
31. Davison SP, Venturi ML, Attinger CE, Baker SB, Spear SL: Prevention of venous thromboembolism in the plastic surgery patient. Plast Reconstr Surg 2004; 114: 43E-51E [ Links ]
32. Miszkiewicz K, Perreault I, Landes G, Harris PG, Sampalis JS, Dionyssopoulos A, Nikolis A: Venous thromboembolism in plastic surgery: incidence, current practice and recommendations. J Plast Reconstr Aesthet Surg 2009 [ Links ]
33. Rohrich RJ, Rios JL: Venous thromboembolism in cosmetic plastic surgery: maximizing patient safety. Plast Reconstr Surg 2003; 112: 871-2 [ Links ]
34. Seruya M, Venturi ML, Iorio ML, Davison SP: Efficacy and safety of venous thromboembolism prophylaxis in highest risk plastic surgery patients. Plast Reconstr Surg 2008; 122: 1701-8 [ Links ]
35. Most D, Kozlow J, Heller J, Shermak MA: Thromboembolism in plastic surgery. Plast Reconstr Surg 2005; 115: 20e-30e [ Links ]
36. Patronella CK, Ruiz-Razura A, Newall G, Mentz HA, Arango ML, Assavapokee T, Siarski JL: Thromboembolism in high-risk aesthetic surgery: experience with 17 patients in a review of 3871 consecutive cases. Aesthet Surg J 2008; 28: 648-55 [ Links ]
37. Reinisch JF, Bresnick SD, Walker JW, Rosso RF: Deep venous thrombosis and pulmonary embolus after face lift: a study of incidence and prophylaxis. Plast Reconstr Surg 2001; 107: 1570-5; discussion 1576-7 [ Links ]
38. Broughton G, 2nd, Rios JL, Rohrich RJ, Brown SA: Deep venous thrombosis prophylaxis practice and treatment strategies among plastic surgeons: survey results. Plast Reconstr Surg 2007; 119: 157-74 [ Links ]
39. Lehnhardt M, Homann HH, Daigeler A, Hauser J, Palka P, Steinau HU: Major and lethal complications of liposuction: a review of 72 cases in Germany between 1998 and 2002. Plast Reconstr Surg 2008; 121: 396e- 403e [ Links ]
40. Caprini JA, Arcelus JI, Reyna JJ: Effective risk stratification of surgical and nonsurgical patients for venous thromboembolic disease. Semin Hematol 2001; 38: 12-9 [ Links ]
41. Gordon NA, Koch ME: Duration of anesthesia as an indicator of morbidity and mortality in office-based facial plastic surgery: a review of 1200 consecutive cases. Arch Facial Plast Surg 2006; 8: 47-53 [ Links ]
42. Iverson RE, Lynch DJ: Practice advisory on liposuction. Plast Reconstr Surg 2004; 113: 1478-90; discussion 1491-5 [ Links ]
43. Commons GW, Halperin B, Chang CC: Large-volume liposuction: a review of 631 consecutive cases over 12 years. Plast Reconstr Surg 2001; 108: 1753-63; discussion 1764-7 [ Links ]
44. Choudry UH, Hyza P, Lane J, Petty P: The importance of preoperative hemoglobin evaluation in large volume liposuction: lessons learned from our 15-year experience. Ann Plast Surg 2008; 61: 230-4 [ Links ]
45. Ang-Lee MK, Moss J, Yuan CS: Herbal medicines and perioperative care. Jama 2001; 286: 208-16 [ Links ]
46. Hodges PJ, Kam PC: The peri-operative implications of herbal medicines. Anaesthesia 2002; 57: 889-99 [ Links ]
47. Jayasekera N, Moghal A, Kashif F, Karalliedde L: Herbal medicines and postoperative haemorrhage. Anaesthesia 2005; 60: 725-6 [ Links ]
48. Mondragon CE, Ramirez I: Anestesia y analgesia peridural toracica: Manejo domiciliario / Thoracic peridural anesthesia and analgesia. Rev. colomb. anestesiol 1999; 27: 133-145 [ Links ]
49. Lascano M: Experiencia con sedación en cirugía plástica: 7000 casos, 2009; Ibarra P Comunicación personal [ Links ]
50. Clayman MA, Caffee HH: Office surgery safety and the Florida moratoria. Ann Plast Surg 2006; 56: 78-81 [ Links ]
51. Coldiron B, Coleman WP, 3rd, Cox SE, Jacob C, Lawrence N, Kaminer M, Narins RS: ASDS guidelines of care for tumescent liposuction. Dermatol Surg 2006; 32: 709-16 [ Links ]
52. Iverson RE, Pao VS: MOC-PS(SM) CME article: liposuction. Plast Reconstr Surg 2008; 121: 1-11 [ Links ]
53. Ramon Y, Barak Y, Ullmann Y, Hoffer E, Yarhi D, Bentur Y: Pharmacokinetics of high-dose diluted lidocaine in local anesthesia for facelift procedures. Ther Drug Monit 2007; 29: 644-7 [ Links ]
54. Picard J, Ward SC, Zumpe R, Meek T, Barlow J, Harrop- Griffiths W: Guidelines and the adoption of "lipid rescue" therapy for local anaesthetic toxicity.Anaesthesia 2009; 64:122-5. [ Links ]
55. Trott SA, Beran SJ, Rohrich RJ, Kenkel JM, Adams WP, Jr., Klein KW: Safety considerations and fluid resuscitation in liposuction: an analysis of 53 consecutive patients. Plast Reconstr Surg 1998; 102: 2220-9 [ Links ]