Services on Demand
Article
Indicators
Related links
Similars in SciELO
Bookmark
Print version ISSN 0120-3347
Rev. colomb. anestesiol. vol.38 no.1 Bogotá Jan./Mar. 2010
A case report regarding the deep hypothermia and total circulatory arrest technique for clipping giant cerebral aneurysms
Hernán Castro*, Juan Jaramillo**, Carlos Pardo***, Julio Chávez***, Pablo Isaza****, María Robledo ****†
* Anestesiólogo cardiovascular y torácico, Hospital Santa Sofía, ESE, Manizales, Clínica Medellín, Medellín. E_mail: hernan_castro@epm.net.co
** Cirujano cardiovascular, Hospital Santa Sofia, ESE, Manizales, Clínica Medellín, Medellín
*** Neurocirujano, Hospital Santa Sofia, ESE, Manizales
****† Residente 3er año Anestesiología, Universisdad de Caldas, Manizales.
Recibido: octubre 19 de 2009. Enviado para modificaciones: diciembre 17 de 2009. Aceptado: febrero 16 de 2010.
---
ABSTRACT
Deep hypothermia and total circulatory arrest technique for facilitating clipping complex posterior circulation cerebral aneurysms is not a new technique; however, this case report deals with the first case treated at the Hospital Santa Sofía in Manizales (Caldas) and in the Colombian coffee-growing area.
Our team reports a 53-year-old female patient who underwent surgery to clip a giant basilar artery aneurysm; closed-chest extrathoracic cannulation for femorofemoral cardiopulmonary bypass was used, involving total circulatory arrest, deep hypothermia and heparin anticoagulation. Cardiac arrest lasted 15 minutes. The patient did not require conversion to sternotomy. Blood outflow via femoral vein was sufficient to maintain cardiopulmonary bypass and induce deep hypothermia (18°C, retention of spontaneous circulation, and propofol infusion (3-5 mg · kg-1 · h-1) under general anaesthesia, thereby facilitating easy clipping. No intraoperatorive complications were presented, such as ventricular fibrillation, ventricular dilatation or haemorrhage. Haemodynamics were controlled with neosinefrin. The patient was transferred (intubated) to the ICU.
Key words: Brain, protective agents, hypothermia, cardiopulmonary bypass, basilar artery aneurysm (Source: MeSH, NLM)
---
INTRODUCTION
Recent advances in extracorporeal circulation, anaesthetics and neurosurgical techniques have led to improving prognosis for patients suffering complex cerebral aneurysms which are difficult to deal with in which conventional techniques increase morbimortality. Using total circulatory arrest with deep hypothermia on well-selected patients suffering complex cerebral aneurysms (who are not candidates for endovascular techniques) offers a patient a more favourable profile regarding the natural history of complex cerebral aneurysms without surgical treatment or, even worse, surgical treatment without this alternative(1-3)
Posterior cerebral circulation intracranial aneurysms present anatomical characteristics limiting conventional surgical techniques. Such aneurysms (in spite of advances made in neurosurgical technique during the last fifty years) could burst during the intraoperative period due to difficulties regarding its circulatory control and suitable surgical occlusion, causing great morbimortality and poor postoperative results. Dissecting and clipping such complex lesions is risky due to their wide necks; prior exsanguination is also required as a pre-requisite to clipping. Deep hypothermia with circulatory arrest may enable surgery for these complex aneurysms. This surgical procedure requires a multidisciplinary team including a team of neurosurgeons, cardiovascular surgeons, cardiovascular anaesthesiologist or neuroanaesthesiologists who have been trained in this technique, cardiologists, intensive care personnel, perfusionist and nurses. Anaesthesia, extracorporeal circulation machine, intraoperative echocardiography and neurosurgical microscope equipment will also be needed (4-10).
CASE REPORT
The case of a 53-year-old female patient is reported who had been remitted to a first-level hospital three weeks earlier as she had presented sudden intense cephalea, accompanied by photophobia and awareness disorder. She was admitted to the institution´s emergency service with 12/15 Glasgow coma scale score and Hunt and Hess grade III. Cerebral tomography was taken which reported subarachnoideal haemorrhage draining to third and fourth cerebral ventricles (Fischer scale II). A four-vessel cerebral angiography was taken, revealing a 5 mm aneurysm of the right middle cerebral artery bifurcation, accompanied by anterior cerebral artery vasospasm. A 10 mm basilar artery tip aneurysm (5 mm neck) and vasospasm of the posterior cerebral and basilar arteries were also revealed. The left vertebral artery was hipoplasic in its intracranial portion and ended in a peak. The left carotid presented a foetal circulation pattern and a 3 mm posterior communicant aneurysm (Figure 1). The venous sinus showed no pathology. Medical management was begun with 60 mg nimodipin every 4 hours via oral route and 300 mg/day fenitoin.
Medical-surgical background: chronic arterial hypertension irregularly managed with captopryl; she was smoking 1 packet of cigarettes per day.
Preoperative evaluation
The patient was in good general condition: 53 Kg weight, 1,64 m height, 130/80 blood pressure, 76 per minute (regular) cardiac frequency (CF), 12 per minute respiratory frequency. NYHA I functional class, conscious, orientated, collaborative, grade VI paralysis of the right-hand pair, without meningeal signs, conserved motility and sensitivity, 15/15 Glasgow. Pink conjunctives, sclerae anicteric, edentate, neck without jugular ingurgitation, rhythmic heart, without murmurs, auscultated lungs were hipoventilated, with no over-aggregated noises, bland abdomen, without megaly, extremities without oedema, peripheral pulse present.
Electrocardiogram: regular sinus rhythm, 76 per minute frequency.
Transthoracic echocardiogram: normal-sized left ventricle, 50 % expulsion fraction, without segmental contractility disorder. Relaxation disorder, without increased end-diastolic pressure. Normal-sized and function right ventricle. Intact interauricular and interventricular septum. Structurally and functionally normal cardiac valves. No indirect signs of pulmonary hypertension. Normal auricles. Normal aortic arch.
Thoracic radiography: cardiac silhouette within normal limits, lungs having increased radiolucidity, bilateral parahilary congestion.
Haemoleukogram classification: O Rh- , 13,3 g/dL Hb, 43 % Hto, 7 400 mm3 leucocytes, 122 000 mm3 platelets: 12,8 seconds TP, 30,7 seconds TPT. Creatinin: 0,73 mg/dL Na+, 143 mEq/L, 3,7 K+, 1,16 mmol/L mEq/L Ca++: 1010 urinary density: 78 mg/dL fasting glycaemia.
10 U globular concentrate, 10 U plasma, 10 U platelets, 10 U cryoprecipitate were reserved.
She was pre-medicated with 1 mg lorazepam via oral route on the night before surgery and 1 mg via oral route 45 minutes before surgery.
Intraoperative anaesthetic management
She was admitted to the operating room in good general condition: 15/15 Glasgow, without motor or sensitive deficit, with eccentric strabismus of the right eye, 130/80 blood-pressure, 75 per minute CF, 36,5 ºC oral temperature, Mallampati grade I, Cormack grade I.
Anaesthetic induction: The patient was in supine position, 30° raised head, monitored via non-invasive monitoring: cardioscope (derivation II), V5, electronic ST segment analyser, pulse oximetry, electronic blood-pressure with bracelet on left arm, capnography and inspired and expired gas concentrations were measured. Induction was begun with 100 % 02 pre-oxygenation; 15 mg IV midazolam, 150 mcg IV phentanyl, 60 mg/IV lidocaine, 8mg IV pancuronium bromide were applied via peripheral vein in the right forearm. A suitable anaesthetic plane for intubation was obtained five minutes afterwards and she was entubed with a No. 9 corrugated tube, without significant haemodynamic changes. 3 grams IV tranexamic acid, 50 mg IV ranitidine, 2gr IV cephalosporin were then administered. The orotracheal tube was then fixed and the eyes protected. Mechanical protective ventilation was installed with 50 % 02, 50 % air and 1 % vol isoflorane.
Invasive monitoring: left radial arterial line was canalised. The right internal jugular vein was canalised with a Swan-Ganz introductor, temporary pacemaker and ascendant jugular catheter. A Foley´s vesicle catheter was installed, a nasogastric probe, rectal thermometer, nasopharyngeal thermometer, transoesophagic echocardiogram and cutaneous electrodes for an external defibrillator. Initial haemodynamics showed: 2,86 L/min cardiac output, 1,97 L/min/M2 cardiac index, 1 788 dyn/sec/cm5 systemic vascular resistance, 279 dyn/sec/cm5 pulmonary vascular resistance, 11 mmHg PCP:12 mmHg PVC.
The patient was then placed in supine position, head raised to 30° and rotated to the left and prepared to allow surgical access to the cranium, as well as both inguinal regions and the thorax for medium stereotomy, if needed (Figure 2).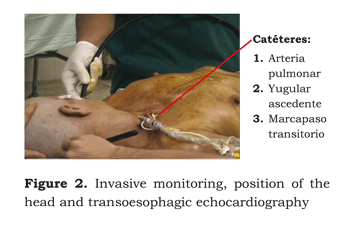 Anaesthetic maintenance: 50 % 02, 50 % air, 0,8 - 1 % vol isoflorane, 50-200 mcg/kg/min propofol infusion and a new dose of 4mg pancuronium bromide.
150 cc IV 20 % manitol, 500 mg IV hydrocortisone and 1 000 cc IV Hartman were applied.
The head was shaved after having been washed (asepsis and antisepsis), was fixed and infiltrated with 0,5 % bupivacaine. Eighty minutes after the anaesthetic induction, frontotemporal craniotomy was practised with zygomatic arc resection. The external meninge (dura mater) was opened and dissected as far as the chiasmatic cistern. The internal carotid was identified under low magnification with Valle Silviano microscope. A downward-pointing aneurysm was found in the cerebral artery bifurcation media (M1 M2) and occluded with 7 mm straight clip. The cerebral ventricle was cannulated and the Brain relaxed. A subtemporal-pterional approach was continued until reaching the lesion in the roof of the basilar artery. A fusiform aneurysm was found, without apparent neck. Five and a half hours of surgery had elapsed up to this point with spontaneous circulation.
Whilst the neurosurgeons reached the chiasmatic cistern, the cardiovascular surgeon began the closed-thorax femoro-femoral cannulation procedure; 300 U/kg heparin had been applied by central venous line before the cannulation. ACT was taken five minutes later (542 seconds being reported). Gas and electrolyte control showed: 137 mEq/L Na+, 3,9 mEq/L K+, 1,22 Ca++. Hb: 13 g/dL Hto: 37 % 35,2 °C T, PH 7,47, 29,6 mmHg PC02, 125 mmHg P02, 22 mEq/L HC03, 99 %, BE -2 arterial S02 (Figure 3).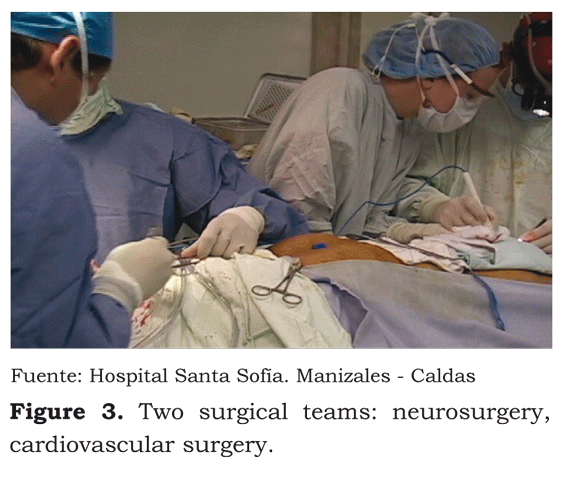 The left femoral artery and vein were dissected and cannulated with a Medtronic kit (Minneapolis, USA) and the venous cannula position at right auricular level was confirmed by transoesophagic echocardiogram taken by the cardiovascular anaesthesiologist. cardiopulmonary bypass was initiated with centrifuge with # 17 arterial and # 21 venous cannula, priming volume consisting of 0,9 % SSN, 20 cc albumin, 50 cc manitol, with Affinity Medtronics®(Minneapolis, USA) oxygenator and Alfa Stat metabolic management strategy, 34,6 ºC temperature, 3,7 L/m nasopharyngeal flow, 52mm Hg mean blood-pressure.
Laboratory reports showed that extracorporeal circulation had been initiated: 140 mEq/L Na+, 4 mEq/L K+, 0,97 mmol/L Ca++. 9gr/dL Hb, 25 % Hto, 7,48 PH, 31,6 mm Hg PC02, 83 mm Hg P02, 24 mEq/L HC03, 0 BE, 98 % arterial S02. Systemic hypothermia was induced by cooling the arterial blood by extracorporeal circulation heat interchanger. Temperature was gradually lowered and hypothermia was reached at 18,2 °C nasopharyngeal temperature 23 minutes after beginning; the heart spontaneously entered asystolia. It was not necessary to apply a bolus of potassium IV. 30mg/kg/IV sodium thiopental was administered. There was total circulatory arrest and blood which had reached the cerebral vasculature was drained by venous cannula.
The neurosurgeons dissected and occluded the basilar aneurysm with two 7mm clips (one straight and the other curved) respecting the basilar trunk and perforated them bilaterally. Haemostasis was then performed and the cisterns washed. The procedure lasted 15 minutes. When the neurosurgeons has achieved optimum clipping, warming up was initiated and cardiopulmonary bypass was reinitiated. Laboratory reports at this time showed: 138 Meq/L Na+, 4,4 Meq/L K+, 1,15 mmol/L Ca++, 7,44 PH, 30,5 mmhg PC02, Hb 340 mmhg P02, Hto 7 gm/dL, 107 mg/dL 22 % glycaemia. 2 U globular concentrate was transfused.
The neurosurgeons continued closing the external meninge, reposition of the osseous lining and reconstructing the zygomatic arch. Spontaneous cardiac rhythm appeared at 24 °C helped by a bolus of 2 mg milrinone and 400 mcg phenylephrine. Warming up was continued until reaching 37 ºC; the cardiopulmonary bypass was then separated from the patient, without complications. Heparin was reverted with 325 mg intravenous protamine sulphate. A reinforcement consisting of cephalosporin, 2 grams IV calcium gluconate and 2 grams IV dipyrone was applied. Bypass time took 95 minutes and total circulatory arrest 15 minutes. Laboratory exams showed: 137 Meq/L Na+, 4,3 Meq/L K+, 1,12 Hb Ca++: Hto 24 8gr/dL, 7,52 PH, 26,1 mmHg PC02, 284 mmHg P02, 23 mEq/L HC03, BE: -1 S02 arterial 100 %. ACT: 115 seconds. An additional 2 U globular concentrate, 4 U plasma, 12 U platelets and 5 U cryoprecipitate were transfused.
Diuresis: 375 cc pre-pump, 100 cc pump, 200 cc post-pump
The femoro-femoral cannulation was withdrawn once the patient has been made haemodynamically stable and after closing the craniotomy. Following six and a half hours of surgery the patient was ready for being taken to the ICU intubated. Laboratory exams on leaving were: 140 Meq/L Na+, 4,0 Meq/L K+, 1,15 mmol/L Ca++, Hb 9 g/dL, 25 % Hto, 7,48 PH, 31,6 mmHg PC02, 83 mmHg P02, 24 mEq/L BE 34,6 °C HC03, 0: 98 % arterial S02. Cardiac output: 4,28 L/min, IC: 3,95 L/min/M2 RVS 1232 dyn/sec/cm5 RVP 205 dyn/sec/cm5. 14 mmHg PVC, 30 mmHg PCP. Right mydriatic pupil having very slow reaction to light and 4 mm normal-reactive left pupil were found in the patient´s final neurological evaluation. She was taken to the ICU with invasive arterial pressure transport monitoring and pulse oximetry with positive pressure ventilation with Jackson system, under 10 mcg/k/min propofol sedation.
DISCUSSION
Deep hypothermia with total circulatory arrest facilitating clipping posterior circulation complex cerebral aneurysms is not a new technique; however, this was the first case treated at the Hospital Santa Sofía, Manizales (Caldas) and in the Colombian coffee-growing area.
The concept of hypothermia in cardiac surgery was introduced by Bigelow in 1950 using surface cooling.
Boterell pioneered using hypothermia for intracranial aneurysm surgery in 1958.
Drew used open-thorax deep hypothermia (15 °C) in cardiac surgery in 1959, using an extracorporeal circulation and heat-exchange machine. Circulatory arrest lasted 46 minutes with no neurological complications.
Woodhall et al., reported the first case of deep hypothermia in neurosurgery for cerebral tumour using the closed-thorax femoro-femoral cannulation technique in 1960.
Initial enthusiasm became reduced because of poor surgical results related to complications concerning extracorporeal circulation and coagulopathy.
Technological advances regarding perfusion and deep hypothermia were achieving the best results, leading to complex congenital cardiopathy repair, aortic arch aneurysms and heart transplants, interest becoming renewed in using them in complex cerebral aneurysms from 1980 onwards (11-14).
Deep hypothermia refers to temperatures less than 20 degrees centigrade requiring a 1 L/min/M2 acceptable extracorporeal circulation flow; 20 ºC-30ºC range is considered to be moderate hypothermia (acceptable 1,6 L/min/M2 flow) and slight hypothermia ranges from 30 ºC-34 ºC (2 L/min/M2 acceptable flow). Q10 refers to the physiological concept in which cerebral metabolic rate becomes reduced by 50 % for every 10 degrees centigrade drop in body temperature. The time during which circulatory arrest with deep hypothermia technique at 18 degrees centigrade is safe ranges from 30 to 45 minutes.
It has been found that total arrest and deep hypothermia lasting 60 minutes may lead to 10 % of patients having neurological lesions, some of them being reversible. The organs most susceptible to ischemia (in order of frequency) are: the Brain, heart, kidneys and liver. Suitable neurological protection from hypothermia could require the use of agents such as propofol or sodium thiopental in infusion for reducing oxygen consumption and metabolic rate, steroids for reducing oedema and (in some centres) the use of selective perfusion of cerebral arteries or retrograde perfusion of cerebral veins(15).
Posterior circulation aneurysms account for only 8% of intracranial aneurysms. They originate from Willis polygon artery bifurcations and curvatures and are more common in hipoplasic vessels or have an anomalous origin (foetal circulation pattern). Histological examination has revealed thinning of the media of the muscular artery layer and reduced collagen type III in the elastic layer. From the point of view of pathology, aneurysms are saccular (poorly termed congenital, being the most frequent) and fusiform or arteriosclerotic. The latter usually affect the basilar artery. They are associated with poor surgical results (especially if they are ruptured). Their natural history tells us that they have a greater probability of rupture and have a greater tendency to bleed again after a first haemorrhage, leading to high mortality (16).
Intracranial aneurysms rupture in the vertex of the aneurysmatic sac, leading to blood extravasation into the subarachnoideal space or cerebral parenchyma or both. The possibility of rupture increases with the size of the lesion and generally coincides with increased PIC (cough, effort, defecation); 25 % - 50 % of patients die as a consequence of the first rupture, most survive and recover conscientiousness within a few minutes. The first consequence of subarachnoideal haemorrhage is cerebral vasospasm with additional ischemic lesion. It has been observed in necropsies that 20-30 % of the cases are multiple aneurysms(6).
Without treatment, the prognosis for intracerebral aneurysms is gloomy; Peeless et al., have reported 68 % mortality during the first 2 years and 85 % after 5. Survivors are left with severe neurological after-effects. Other frequently-occurring complications consist of distal thromboembolism and occlusion of the vascular wall (17-19).
Surgical management of aneurysms must be individualised and ideally be carried out in institutions able to offer microsurgery involving clipping and endovascular therapy.
Clipping is the gold standard for managing intracranial aneurysms. Walter Dandy carried out the first craniotomy with clipping in 1937 (5).
Tense-sac, wide-neck aneurysms are difficult to occlude whilst permeable circulation is main tained. Their adjacent branches also lack suitable demarcation in the wall of the aneurysm. Such walls, which are sometimes calcified, complicate mobilising the sac during dissection with the probability of rupture thereby leading to disastrous results. When these characteristics are found, circulatory arrest offers an enormous advantage in changing a hard, pulsatile and full aneurysm into a soft, collapsible sac which is easy to manipulate and has less risk of rupture (20-22).
Drake reported good surgical results in 71,5 % of patients from 174 cases of complex aneurysms, poor results in 13 % and fatal results in 15,5 %. Prognosis is poor for posterior circulation aneurysms. Other factors worsening prognosis are patient´s neurological state on being admitted (good state: 88 % good prognosis, poor neurological state: only 43 % have a good prognosis), a patient´s age (<45, 90 % having good prognosis) and a surgeon´s experience (12).
Spetzler et al., reported an average circulatory arrest time for clipping of 11 minutes (range was 7-53 minutes) (15) in clipping 8 complex aneurysms with surgeons having experience with deep hypothermia and circulatory arrest.
Using deep hypothermia with circulatory arrest in selected patients offers reasonable risk: benefit ratio for managing cerebral aneurysms compared to the natural history of untreated aneurysms.
The endovascular occlusion technique with coils or spirals was devised when trying to limit the damage done to a patient by microsurgery and clipping, craniotomy, retraction of the Brain exposed to aneurysm, retraction of cranial nerves, occlusion of perforated arteries with clipping, hospitalisation time, ischemic events, giving good results in small, short-neck aneurysms. This did not offer a definitive solution for all patients suffering complex aneurysms (40 %), 39 % being left with residual neck, 87-90 % with recanalising giant aneurysms and which could lead to cerebral-vascular disease whether caused by coil embolisation into a distal vessel, prolapsed of the coil outside the l aneurysm, aneurysm recurrence, rupture of long-term aneurysm and neurological morbidity: blindness, aphasia, paralysis, coma, death (21).
Deep hypothermia with circulatory arrest has been successfully used on patients where conventional surgical techniques and endovascular techniques have not been the best alternative and where the concurrence of a multidisciplinary group was essential for providing attention for this patient and resolving her pathology.
REFERENCES
1. Mack WJ, Ducruet AF, Angevine PD, Komotar RJ, Shrebnick DB, Edwards NM, Smith CR, Heyer EJ, Monyero L, Connolly ES Jr, Solomon RA. Deep hypothermia and Circulatory Arrest for Surgery of Complex Intracranial Aneurysms: Lassons Learned. Neurosurgery. 2008; 62( Suppl 3):1311-23.
2. Young WL et al. Anesthetic Management of Deep Hypothermic Circulatory Arrest for Cerebral Aneurysm Clipping. Anesthesiology. 2002; 96: 497-503.
3. Massad MG et al. Closed Chest Hypothermic Circulatory Arrest for Complex Intracranial Aneurysms. Society of Thoracic Surgeons. 2001; 71: 1900-4.
4. Dewitte TC III. Endovascular Treatment of Cerebral Aneurysms Will Replace Clipping. Journal of Neurosurgical Anesthesiology. 2003; 15: 58-60.
5. Chicoine MR. Microsurgery and Clipping: The gold standard for Treatment of Intracranial Aneurysms. Journal of Neurosurgical Anesthesiology. 2003; 15: 61-3.
6. Morita KI, Inenaga C, Ito Y, Fujii Y et al. An Autopsy Case Of Gigant Aneurism of vertebrobasilar artery treated endovascular surgery. Acta Neurochirúrgica. 2003; 145: 723-5.
7. Spetzler RF et al. Giant Aneurisms. Neurosurgery. 2002; 49: 902-8.
8. Rhoton AL Jr. Aneurysms. Neurosurgery. 2002; 51: 121-58.
9. Le Roux P et al. Blood Transfusion During Aneurysm Surgery. Neurosurgery. 2001; 49: 1068-75.
10. Aebert H et al. Deep hypothermia and Circulatory Arrest for Surgery of Complex Intracranial Aneurysms. Cardio-Thoracic Surgery. 1998; 13; 223-9.
11. Hacein-Bey L, Connolly ES Jr, Mayer SA et al. Complex intracranial aneurysms: combined operative and endovascular approaches. Neurosurgery. 1998; 43:1304-12.
12. Drake CG, Barr HWK, Coles JC et al. The use of extracorporeal circulation and profound hypothermia in the treatment of ruptured intracranial aneurysm. J Neurosurg. 1964; 21:575-81.
13. Baumgartner WA, Silverberg GD, Ream AK et al. Reappraisal of cardiopulmonary bypass with deep hypothermia and circulatory arrest for complex neurosurgical operations. Surgery. 1983; 94:242-9.
14. Thomas AN, Anderton JM, Harper NJ. Anaesthesia for the treatment of a giant cerebral aneurysm under hypothermic circulatory arrest. 1990; Anaesthesia.45:383-5.
15. Spetzler RF, Hadley MN, Rigamonti D et al. Aneurysms of the basilar artery treated with circulatory arrest, hypothermia, and barbiturate cerebral protection. J Neurosurg. 1988; 68:868-79.
16. Young WL, Lawton MT, Gupta DK, et al. Anesthetic management of deep hypothermic circulatory arrest for cerebral aneurysm clipping. Anesthesiology. 2002; 96:497-503.
17. Nussmeier NA, Arlund C, Slogoff S. Neuropsychiatric complications after cardiopulmonary bypass: cerebral protection by a barbiturate. Anesthesiology. 1986; 64:165-70.
18. Kahveci FS, Kahveci N, Alkan T et al. Propofol versus isoflurane anesthesia under hypothermic conditions: effects on intracranial pressure and local cerebral blood flow after diffuse traumatic Brain injury in the rat. Surg Neurol. 2001; 56:206-14.
19. Hindman BJ, Todd MM, Gelb AW et al. Mild hypothermia as a protective therapy during intracranial aneurysm surgery: a randomized prospective pilot trial. Neurosurgery. 1999; 44:23-32.
20. Clifton GL. Systemic hypothermia in treatment of severe Brain injury. J Neurosurg Anesthesiol. 1995;7:152-6.
21. Johnston SC, Wilson CB, Halbach VV et al. Endovascular and surgical treatment of unruptured cerebral aneurysms: comparison of risks. Ann Neurol. 2000; 48:11-9.
22. Lai YC, Manninen PH. Anesthesia for cerebral aneurysms: a comparison between interventional neuroradiology and surgery. Can J Anaesth. 2001;48: 391-5.
1. Mack WJ, Ducruet AF, Angevine PD, Komotar RJ, Shrebnick DB, Edwards NM, Smith CR, Heyer EJ, Monyero L, Connolly ES Jr, Solomon RA. Deep hypothermia and Circulatory Arrest for Surgery of Complex Intracranial Aneurysms: Lassons Learned. Neurosurgery. 2008; 62( Suppl 3):1311-23. [ Links ]
2. Young WL et al. Anesthetic Management of Deep Hypothermic Circulatory Arrest for Cerebral Aneurysm Clipping. Anesthesiology. 2002; 96: 497-503. [ Links ]
3. Massad MG et al. Closed Chest Hypothermic Circulatory Arrest for Complex Intracranial Aneurysms. Society of Thoracic Surgeons. 2001; 71: 1900-4. [ Links ]
4. Dewitte TC III. Endovascular Treatment of Cerebral Aneurysms Will Replace Clipping. Journal of Neurosurgical Anesthesiology. 2003; 15: 58-60. [ Links ]
5. Chicoine MR. Microsurgery and Clipping: The gold standard for Treatment of Intracranial Aneurysms. Journal of Neurosurgical Anesthesiology. 2003; 15: 61-3. [ Links ]
6. Morita KI, Inenaga C, Ito Y, Fujii Y et al. An Autopsy Case Of Gigant Aneurism of vertebrobasilar artery treated endovascular surgery. Acta Neurochirúrgica. 2003; 145: 723-5. [ Links ]
7. Spetzler RF et al. Giant Aneurisms. Neurosurgery. 2002; 49: 902-8. [ Links ]
8. Rhoton AL Jr. Aneurysms. Neurosurgery. 2002; 51: 121-58. [ Links ]
9. Le Roux P et al. Blood Transfusion During Aneurysm Surgery. Neurosurgery. 2001; 49: 1068-75. [ Links ]
10. Aebert H et al. Deep hypothermia and Circulatory Arrest for Surgery of Complex Intracranial Aneurysms. Cardio-Thoracic Surgery. 1998; 13; 223-9. [ Links ]
11. Hacein-Bey L, Connolly ES Jr, Mayer SA et al. Complex intracranial aneurysms: combined operative and endovascular approaches. Neurosurgery. 1998; 43:1304-12. [ Links ]
12. Drake CG, Barr HWK, Coles JC et al. The use of extracorporeal circulation and profound hypothermia in the treatment of ruptured intracranial aneurysm. J Neurosurg. 1964; 21:575-81. [ Links ]
13. Baumgartner WA, Silverberg GD, Ream AK et al. Reappraisal of cardiopulmonary bypass with deep hypothermia and circulatory arrest for complex neurosurgical operations. Surgery. 1983; 94:242-9. [ Links ]
14. Thomas AN, Anderton JM, Harper NJ. Anaesthesia for the treatment of a giant cerebral aneurysm under hypothermic circulatory arrest. 1990; Anaesthesia.45:383-5. [ Links ]
15. Spetzler RF, Hadley MN, Rigamonti D et al. Aneurysms of the basilar artery treated with circulatory arrest, hypothermia, and barbiturate cerebral protection. J Neurosurg. 1988; 68:868-79. [ Links ]
16. Young WL, Lawton MT, Gupta DK, et al. Anesthetic management of deep hypothermic circulatory arrest for cerebral aneurysm clipping. Anesthesiology. 2002; 96:497-503. [ Links ]
17. Nussmeier NA, Arlund C, Slogoff S. Neuropsychiatric complications after cardiopulmonary bypass: cerebral protection by a barbiturate. Anesthesiology. 1986; 64:165-70. [ Links ]
18. Kahveci FS, Kahveci N, Alkan T et al. Propofol versus isoflurane anesthesia under hypothermic conditions: effects on intracranial pressure and local cerebral blood flow after diffuse traumatic Brain injury in the rat. Surg Neurol. 2001; 56:206-14. [ Links ]
19. Hindman BJ, Todd MM, Gelb AW et al. Mild hypothermia as a protective therapy during intracranial aneurysm surgery: a randomized prospective pilot trial. Neurosurgery. 1999; 44:23-32. [ Links ]
20. Clifton GL. Systemic hypothermia in treatment of severe Brain injury. J Neurosurg Anesthesiol. 1995;7:152-6. [ Links ]
21. Johnston SC, Wilson CB, Halbach VV et al. Endovascular and surgical treatment of unruptured cerebral aneurysms: comparison of risks. Ann Neurol. 2000; 48:11-9. [ Links ]
22. Lai YC, Manninen PH. Anesthesia for cerebral aneurysms: a comparison between interventional neuroradiology and surgery. Can J Anaesth. 2001;48: 391-5. [ Links ]