Services on Demand
Article
Indicators
Related links
Similars in SciELO
Bookmark
Print version ISSN 0120-3347
Rev. colomb. anestesiol. vol.38 no.2 Bogotá Apr./June 2010
Case Report
Anaesthetic Implications in a Case of Metabolic Leukodystrophy
Arun Kumar Gupta*, Charu Mahajan**, Anjali Mehta***, Vithal K Dhulkhed****
* Profesor asistente , Departamento de Anestesiología, Rural Medical College, Loni, Ahmednagar, Maharashtra, India. e-mail: guptaarun71@gmail.com.
** Residente III año, Departamento de Anestesiología, AIIMS, New Delhi, India.
*** Residente III año, Departamento de Anestesiología, Govt. Medical College, Jammu, J&K, India.
**** Profesor y Jefe, Departamento de Anestesiología, Rural Medical College, Loni, Ahmednagar, Maharastra, India.
Recibido: abril 1 de 2010. Enviado para modificaciones: mayo 5 de 2010. Aceptado: mayo 10 de 2010.
---
Abstract
Metachromatic leukodystrophy is a progressive, inherited and neurodegenerative disease. A patient suffering from this disease poses a lot of anaesthetic problems. We have successfully anaesthetized a female child with general anaesthesia who was suffering from metabolic leukodystrophy.
Key words: Metachromatic leukodystrophy; anaesthetic technique; general anaesthesia.(Fuente: DeCS, BIREME)
---
Introduction
Metachromatic leukodystrophy (MLD) is part of a group of diseases, some of which are progressive, inherited and neurodegenerative diseases known as the leukodystrophies. These include Metachromatic leukodystrophy, Adrenoleukodystrophy, Krabbe's disease, Canavan's disease, Alexander's disease and Pelizaeus-Merzbacher disease. This group of patients present a lot of anaesthetic problems during perioperative period such as seizures, risk of aspiration, airway complications and also of copious oral and tracheobronchial secretions (1-4). Clinical features and inheritance of different types of leukodystrophies explained in table 1 (3).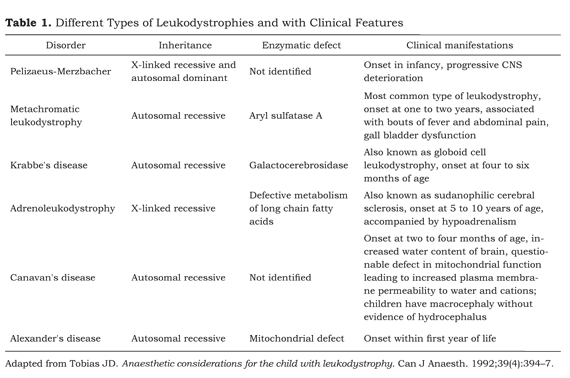 Case Report
We are presenting a case of 30 month old female child, weighing 7 kg who was admitted for drainage of knee abscess. Patient's main complaints were features of gait disturbance, marked spasticity and swallowing problems that prevented her feeding normally from the first year of life. Patient was not able to hold her head, showed impaired attention and reactivity. Magnetic resonance imaging (Figure 1) showed a generalized cerebral atrophy with mild ventriculomegaly with fronto parietal white matter hypo density.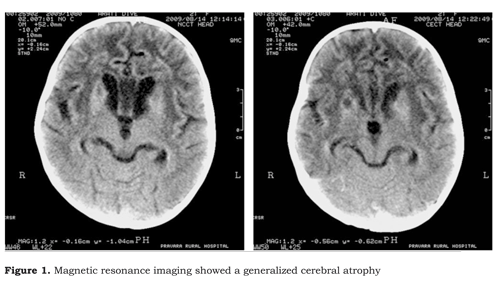 Problems which we expected in this patient were all because of chronic immobility, dystonia, spasticity and a high risk of aspiration due to increased secretions & impaired swallowing reflex. Premedication was done with Ranitidine (1 mg/kg) and Fentanyl (1.5 μg/kg) intravenously. All standard monitors were applied in the operating room i.e. Electrocardiogram, Pulse oximeter, Non invasive blood pressure monitor and end tidal CO2. Rapid sequence induction was done to avoid aspiration. After three minutes of Preoxygenation, anaesthesia was induced with Glycopyrrolate (0.005 mg/kg) and Propofol (2.5 mg/kg). Rocuronium (0.9 mg/kg) were injected intravenously (5) for tracheal and muscle relaxation. We have not used Succinylcholine due to the risk of hyperkalemia and rhabdomyolysis because of chronic immobility. Patient was intubated with Portex soft seal cuffed tracheal tube of 5mm and connected with ETCO2 monitor. Patient was gently ventilated with 2 % Sevoflurane in oxygen and nitrous oxide in 50:50 proportions. Intraoperative hemodynamic parameters were stable throughout. For maintaining the temperature homeostasis and avoiding hypothermia, we used two warming blankets which maintained normal body temperature at 36-37 ºC (esophageal temperature probe). For postoperative nausea vomiting, Ondansetron 2mg was given intravenously. Patient was reversed with Glycopyrrolate and Neostigmine and extubated after full clinical recovery from neuromuscular blockade. She was shifted to post anaesthesia care unit for further observation. Postoperative recovery was uneventful. On the 5th postoperative day she was discharged to home.
Discussion
Metachromatic leukodystrophy is a disorder of myelin metabolism inherited as an autosomal recessive trait with the gene located on chromosome 22q13-13qter. Deficiency of arylsulfatase A sulfatides activity leads to accumulation of cerebroside sulphate in myelin sheath of central & peripheral nervous system leading to myelin breakdown and destruction of oligodendroglia. Microscopically there is diffuse demyelinisation in the white matter of the central nervous system, ventricular enlargement and atrophy of the corpus callosum. Depending on age of onset and severity of enzyme deficiency four types of MLD have been described (i.e., late infantile, early juvenile, late juvenile, adult). All forms of the disease involve a progressive deterioration of motor and neurocognitive function. The typing is somewhat arbitrary because the types overlap and some cases do not fall neatly within a single type. Age of onset in Late Infantile MLD is 1-2 years, in Early Juvenile MLD is 4-6 years, in Late Juvenile MLD is 6-16 years and adult MLD is 20-60 years. Our patient had typical presenting features of gait disturbance, hypotonia, and slurred speech with feeding and swallowing problems. In juvenile MLD some features are common but deterioration in school performance & alterations in personality herald the onset of disease where as in adult onset MLD abnormalities of memory, psychiatric disturbances and personality changes are prominent features. MLD actually describes a continuum of clinical severity with altered level of consciousness, difficult to control general tonic clonic convulsions, aspiration and respiratory complications (6).
It is discussed in literature by Mattioli et al . that the use of thiopentone or propofol is safe for procedural sedation in children with metachromatic leukodystrophy (2). Though no specific abnormal response to neuromuscular blocking agent have been reported except hyperkalemia by succinylcholine (7), due care needs to be taken in the dystonic, spastic, chronic bedridden patient with decorticate postures with impaired feeding and swallowing due to pseudobulbar palsies because of likelihood of up regulation of receptors at neuromuscular junction. Due care is to be taken in prevention of anaesthetic complications like iatrogenic fracture during transfer and positioning; safe use of anaesthetic agents, but avoiding those which lower the seizure threshold like ketamine and enflurane; Adrenal insufficiency, aspiration pneumonias, postoperative hypothermia and pronounced shivering (7) are known problems which had to be addressed. Anaesthetic considerations moreover remain same for the adult patient also as compare to pediatric patient, only care is to be given their daily medications they are taken. Most of these patients can be on steroids, anticonvulsive therapy, chronic medications, so need is to given attention on these aspects during perioperative period (7).
Regional anaesthesia has been relatively contraindicated in patients with neurological disorders but Hernandez-Palazon et al . used epidural anaesthesia in patient of metachromatic leukodystrophy for pain management (1). Temperature management is a well known problem in patients with leukodystrophies and needs careful considerations.
Conclusion
We like to conclude that every method of anaesthesia whether it is regional or general can be a safe alternative in the anaesthetic management of children with metachromatic leukodystrophy with due care taken to prevent anaesthetic complications by careful selection of anaesthetic technique.
References
1. Hernández-Palazón J. Anaesthetic management in children with metachromatic leukodystrophy. Paediatr Anaesth. 2003;13(8):733-4.
2. Mattioli C, Gemma M, Baldoli C, Sessa M, Albertin A, Beretta Ll. Sedation for children with metachromatic leukodystrophy undergoing MRI. Pediatr Anaesth 2007;17(1):64-9.
3. Tobias JD. Anaesthetic considerations for the child with leukodystrophy. Can J Anaesth. 1992;39(4):39- 397.
4. Birkholz T, Irouschek A, Knorr C, Schmidt J. Alternative anesthetic management of a child with spastic quadriplegia due to metachromatic leukodystrophy using total intravenous anesthesia. Paediatr Anaesth. 2009; 19(5):551-2.
5. Perry JJ, Lee JS, Sillberg VA, Wells G. Rocuronium versus succinylcholine for rapid sequence induction intubation. Cochrane Database Syst Rev. 2008;16(2):CD002788.
6. Johnston MV. Neurodegenerative disorders of childhood: Spingolipidoses. In: Behrman RE, Kliegman RM, Jenson HB, editors. Nelson textbook of pediatrics, 17th ed. Philadelphia: Saunders. 2004; p. 2031- 2.
7. Kindopp AS, Ashbury T. Anaesthetic management of an adult patient with X-linked adrenoleukodystrophy. Can J Anaesth. 1998;45(10):99-2.
1. Hernández-Palazón J. Anaesthetic management in children with metachromatic leukodystrophy. Paediatr Anaesth. 2003;13(8):733-4. [ Links ]
2. Mattioli C, Gemma M, Baldoli C, Sessa M, Albertin A, Beretta Ll. Sedation for children with metachromatic leukodystrophy undergoing MRI. Pediatr Anaesth 2007;17(1):64-9. [ Links ]
3. Tobias JD. Anaesthetic considerations for the child with leukodystrophy. Can J Anaesth. 1992;39(4):39- 397. [ Links ]
4. Birkholz T, Irouschek A, Knorr C, Schmidt J. Alternative anesthetic management of a child with spastic quadriplegia due to metachromatic leukodystrophy using total intravenous anesthesia. Paediatr Anaesth. 2009; 19(5):551-2. [ Links ]
5. Perry JJ, Lee JS, Sillberg VA, Wells G. Rocuronium versus succinylcholine for rapid sequence induction intubation. Cochrane Database Syst Rev. 2008;16(2):CD002788. [ Links ]
6. Johnston MV. Neurodegenerative disorders of childhood: Spingolipidoses. In: Behrman RE, Kliegman RM, Jenson HB, editors. Nelson textbook of pediatrics, 17th ed. Philadelphia: Saunders. 2004; p. 2031- 2. [ Links ]
7. Kindopp AS, Ashbury T. Anaesthetic management of an adult patient with X-linked adrenoleukodystrophy. Can J Anaesth. 1998;45(10):99-2. [ Links ]