Services on Demand
Article
Indicators
Related links
Similars in SciELO
Bookmark
Print version ISSN 0120-3347
Rev. colomb. anestesiol. vol.39 no.2 Bogotá Apr./July 2011
http://dx.doi.org/10.5554/rca.v39i2.210 
Editor invitado internacional
The Role of the Systematic Reviews in Evidence-based Anesthesiology
Haris S. Vasiliadis*, Arturo Martí-Carvajal**, Georgia Salanti***
* MD, PhD. Molecular Cell Biology and Regenerative Medicine, Sahlgrenska Academy, University of Gothenburg, Sweden. Correspondencia: Neokaisareia, PO Box 363, 45500, Ioannina, Greece. Correo electrónico:hvasil@cc.uoi.gr.
** MD, MSc. Universidad de Carabobo and Iberoamerican Cochrane Network, Valencia, Venezuela. Correo electrónico: arturo.marti. carvajal@gmail.com.
*** PhD. Department of Hygiene and Epidemiology, University of Ioannina School of Medicine, Ioannina, Greece. Correo electrónico: gsalanti@cc.uoi.gr.
Recibido: marzo 30 de 2011. Aceptado: abril 8 de 2011.
---
SYSTEMATIC REVIEWS: USEFUL BUT NOT ALWAYS CREDIBLE
Clinicians, policy makers and consumers of the health care services face daily questions about the choice of the appropriate treatment for a condition or a disease. Anesthesiologists need to take decisions in a variety of situations, from choosing the most adequate pharmacological interventions for assisting the induction of anesthesia in children to deciding upon the treatments for severe sepsis. According to the Dictionary of Epidemiology, Evidence-Based Medicine (EBM) is the management of patients with particular attention to the balance of benefits, risk and cost of a diagnosis test, screening program or treatment regimen. EBM, takes account of each patient's circumstances, including baseline risks, co-morbid conditions, culture, and personal preferences (1).
A fundamental resource for EBM is the Systematic Review process and its quantitative component, meta-analysis. Systematic Reviews can summarize what is known on the etiology or management of a given health condition and reveal uncertainties to motivate further research (2).
The ever growing mass of medical information suggests the need for regularly undertaking Systematic Reviews in all medical fields in order to support evidence-based decision making. Reports from individual experiments might be biased or of suboptimal quality and an important component of Systematic Reviews is to critical appraise the information before summarizing and disseminating (3)k. Systematic Reviews following a methodologically rigorous process help to manage, synthesize and integrate large amounts evidence from all relevant and available sources (4).
A Systematic Review starts with setting up a clear research question and moves on by identifying sources of information to be used in order to answer it. This involves searching for and evaluating all available evidence pieces, with particular focus on those available in the scientific literature which can be found in databases such as PubMed (www.ncbi.nlm.nih.gov/pubmed), Embase (www.embase.com), conference proceedings etc. The type of studies to be included relates to the question of interest and can include Randomized Control Trials (RCTs), cohort studies, case-control studies, case-series, etc.
The pieces of evidence from the relevant scientific experiments are subject to various degrees of credibility. An important part of the Systematic Review process is the critical evaluation of the risk of bias in the available body of evidence. Several tools are available for this purpose e.g. the Jadad score scale or the Risk of Bias table for RCTs (5-8).
Inadequate generation of the allocation sequence, poor concealment of allocation or failure to 'blind' the participants or the outcome assessors (when relevant) might serious compromise the validity of an RCT. Other components such as suboptimal selection of the comparator in drug trials and industry funding have been previously suggested as further potential source of bias (9-11).
Meta-analysis is the quantitative, optional component in a Systematic Review that is used to summarize and combine all the data available in the included studies. Meta-analyses use statistically rigorous methodology to provide numerical estimates and evaluate the consistency of the effects of interventions or prognostic factors (12).
The Systematic Review process should aim to minimize bias induced by selective consideration of the scientific experiment results. However, Systematic Reviews and meta-analyses, as any scientific experiment, are themselves subject to many potential biases. The selective reporting of the results within trials (such as the presentation of the outcomes that appear to be statistically associated with the intervention or the exposure) and publication bias (in the form of over-representation of studies with exciting or statistically significant results in the scientific literature) are major threats to the credibility of the result of a Systematic Review (13-16). Pre-defined strategies designed to minimize bias in the compilation, appraisal, and interpretation of relevant studies on any given topic have been proposed in various documents (17).
To guard against bias, Systematic Reviews should have a registered protocol, where the intended methodology is described (18). Three core components require particular attention. First, a meticulous search strategy is required to ensure that an unbiased body of evidence is available. Second, selection of included studies should be done according to pre-defined inclusion criteria. Finally, extraction of data from the included studies shall be done in an impartial way and ideally from two independent reviewers. Overall, the protocol and the review should be done with the maximum transparency and enough information should be provided to ensure reproducibility (18).
THE COCHRANE COLLABORATION AND THE COCHRANE ANESTHESIA REVIEW GROUP
Archibald (Archie) L. Cochrane, a British doctor made in 1979 his famous statement that inspired the creation of the Cochrane Collaboration. He said that "It is surely a great criticism of our profession that we have not organized a critical summary, by specialty or subspecialty, adapted periodically, of all relevant randomized controlled trials". The Cochrane Collaboration is an international organization aiming to help individuals to take informed decisions. Its main vehicle and product is the preparation, maintaining and promoting Systematic Reviews for interventions and diagnostic accuracy tests, using primarily RCTs. It is a not-for-profit organization, established as a company, limited by guarantee, and registered as a charity in the UK (number 1045921). The Cochrane Collaboration's work is based on ten key principles as reported in www.cochrane.org and reproduced in table 1.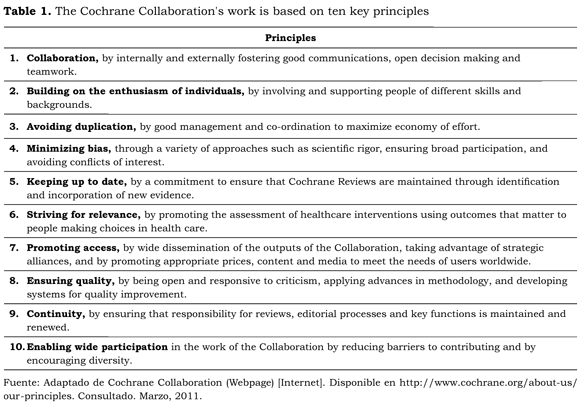 The Cochrane Collaboration consists of several entities charged with editorial, methodological and organizational tasks. Core entities are the Cochrane Review Groups (that produce and publish Cochrane Reviews), Methods Groups (that address methodological issues related to the Systematic Review process) and the Cochrane Centers (that support Cochrane reviewers at national level) (see http://www.cochrane.org/policy-manual/11-description-cochrane-collaboration).
The main work of The Cochrane Collaboration is conducted by more than fifty Cochrane Review Groups (CRGs) within which Cochrane Reviews are prepared and maintained. The members of these groups -researchers, healthcare professionals, people using the health services (consumers), and others- have come together because they share an interest in generating reliable and timely evidence relevant to the prevention or treatment of particular health condition (see http://www.cochrane.org/policy-manual/11-description-cochrane-collaboration).
The Cochrane Anesthesia Review Group (CARG) conducts and publishes Systematic Reviews in the fields of anesthesia, intensive care, acute pain treatment, pre-hospital medicine, resuscitation or emergency medicine (19). It was established in February 2000 and has published 172 documents since, including full reviews, protocols and registered titles (http://carg.cochrane.org/our-reviews). The impact factor for CARG is 4.526 (2009). The reviews cover a wide range of topics in the field including ambulatory anaesthesia, anaesthesia and medical diseases, drugs in anaesthesia and intensive care medicine, pe-rioperative care medicine, postanaesthetic and intensive care unit, resuscitation and regional anaesthesia. The first review published by the group was on premedication for anxiety in adult day surgery (20) and the most accessed review was on drugs for preventing postoperative nausea and vomiting (21).
STRUCTURE OF A COCHRANE REVIEW
A Cochrane Review has a specific structure designed to facilitate a more systematic assessment of all the important issues. Table 2 shows the basic components of a Cochrane Systematic Review according to the Cochrane Handbook (8). Following this structure for example, in the methods section the inclusion criteria (for studies, participants and interventions) are specified along with the strategy to identify studies and a detailed description of how the data collection and analysis will be performed (data extraction and management, assessment of methodology and data synthesis). The results section includes the description of the included studies, the assessment of the risk of bias, and the effects of the interventions followed by a statistical synthesis and analysis (meta-analysis) if relevant. It is mandatory that tables with characteristics of included, excluded, awaiting classification and ongoing studies are also given. For details of a Cochrane Systematic Review structure and directions, see the Cochrane Handbook (8) or http://www.cochrane.org/cochrane-reviews.

PRESENTATION AND EVALUATION OF A SYSTEMATIC REVIEW
Systematic Reviews have their shortcomings which are associated with the credibility of the included studies or the Systematic Review process itself. Presentation of a Systematic Review shall follow the suggestions outlined in the PRISMA (Preferred Reporting Items for Systematic Reviews and Meta-Analyses) consensus document (22). This is a 27-items checklist to facilitate and promote transparent conduct and reporting.
As the primary aim of each Systematic Review is to help people make informed decisions, failure to consider the quality of the evidence can result into inappropriate guidance. Considerable progress has been done on this field by the GRADE (Grading of Recommendations Assessment, Development and Evaluation) Working Group (www.gradeworkinggroup.org). The evidence provided from a Systematic Review can be 'upgraded' or 'downgraded' depending on the imprecision in the numerical estimates, the heterogeneity of the study-specific findings, the indirectness of the evidence, the risk of bias in the included studies and the potential impact of selective reporting and publication bias (23). A systematic, large-scale evaluation of the quality of the evidence provided by Systematic Reviews in the field of Anesthesiology would be of great interest.
REFERENCES
1. Porta M, editor. A dictionary of epidemiology. New York: Oxford University Press; 2008.
2. Haynes B. Conducting systematic reviews. En: Haynes RB, Sackett DL, Guyatt GH, et al. Clinical epidemiology: how to do clinical practice research. 3rd edition. Philadelphia: Lippincott Williams & Wilkins; 2006. Chapter 2.
3. Clarke M. Can you believe what you read in the papers? Trials. 2009;10:55.
4. Tricco AC, Tetzlaff J, Moher D. The art and science of knowledge synthesis. J Clin Epidemiol. 2011;64:11-20.
5. Jüni P, Witschi A, Bloch R, et al. The hazards of scoring the quality of clinical trials for meta-analysis. JAMA. 1999;282:1054-60.
6. Jüni P, Altman DG, Egger M. Systematic reviews in health care: assessing the quality of controlled clinical trials. BMJ. 2001;323:42-6.
7. Hróbjartsson A, Forfang E, Haahr MT, et al. Blinded trials taken to the test: an analysis of randomized clinical trials that report tests for the success of blinding. Int J Epidemiol. 2007;36:654-63.
8. Higgins JPT, Green S (Ed). Cochrane handbook for systematic reviews of interventions version 5.1.0. Marzo 2011. [internet] [Consultado: marzo 2011]. Disponible en: www.cochrane-handbook.org.
9. Bero L, Oostvogel F, Bacchetti P, et al. Factors associated with findings of published trials of drug-drug comparisons: why some statins appear more efficacious than others. PLoS Med. 2007;4:e184.
10. Lexchin J, Bero LA, Djulbegovic B, et al. Pharmaceutical industry sponsorship and research outcome and quality: systematic review. BMJ. 2003;326:1167-70.
11. Van Luijn JC, van Loenen AC, Gribnau FW, et al. Choice of comparator in active control trials of new drugs. Ann Pharmacother. 2008;42:1605-12.
12. Sutton AJ, Higgins JP. Recent developments in meta-analysis. Stat Med. 2008;27:625-50.
13. Chan AW, Hróbjartsson A, Haahr MT, et al. Empirical evidence for selective reporting of outcomes in randomized trials: comparison of protocols to published articles. JAMA. 2004;291:2457-65.
14. Dwan K, Altman DG, Arnaiz JA, et al. Systematic review of the empirical evidence of study publication bias and outcome reporting bias. PLoS One. 2008;3:e3081.
15. Parekh-Bhurke S, Kwok CS, Pang C, et al. Uptake of methods to deal with publication bias in systematic reviews has increased over time, but there is still much scope for improvement. J Clin Epidemiol. 2011;64:349-57.
16. Song F, Parekh-Bhurke S, Hooper L, et al. Extent of publication bias in different categories of research cohorts: a meta-analysis of empirical studies. BMC Med Res Methodol. 2009;9:79.
17. Schulman SR, Schardt C, Erb TO. Evidence-based medicine in anesthesiology. Curr Opin Anaesthesiol. 2002;15:661-8.
18. Felson DT. Bias in meta-analytic research. J Clin Epidemiol. 1992;45:885-92.
19. Pedersen T, Möller AM, Cracknell J. The mission of the Cochrane anesthesia review group: preparing and disseminating Systematic Reviews of the effect of health care in anesthesiology. Anesth Analg. 2002;95:1012-8.
20. Smith AF, Pittaway AJ. Premedication for anxiety in adult day surgery. Cochrane Database Syst Rev. 2000;3:CD002192.
21. Carlisle J, Stevenson CA. Drugs for preventing postoperative nausea and vomiting. Cochrane Database Syst Rev. 2006;3:CD004125.
22. Liberati A, Altman DG, Tetzlaff J, et al. The PRISMA statement for reporting Systematic Reviews and meta-analyses of studies that evaluate healthcare interventions: explanation and elaboration. BMJ. 2009;339:b2700.
23. Balshem H, Helfand M, Schünemann HJ, et al. GRADE guidelines: 3. Rating the quality of evidence. J Clin Epidemiol. 2011;64:401-6.
Conflicto de intereses: Ninguno declarado.
Financiación: Ninguna.
1. Porta M, editor. A dictionary of epidemiology. New York: Oxford University Press; 2008. [ Links ]
2. Haynes B. Conducting systematic reviews. En: Haynes RB, Sackett DL, Guyatt GH, et al. Clinical epidemiology: how to do clinical practice research. 3rd edition. Philadelphia: Lippincott Williams & Wilkins; 2006. Chapter 2. [ Links ]
3. Clarke M. Can you believe what you read in the papers? Trials. 2009;10:55. [ Links ]
4. Tricco AC, Tetzlaff J, Moher D. The art and science of knowledge synthesis. J Clin Epidemiol. 2011;64:11-20. [ Links ]
5. Jüni P, Witschi A, Bloch R, et al. The hazards of scoring the quality of clinical trials for meta-analysis. JAMA. 1999;282:1054-60. [ Links ]
6. Jüni P, Altman DG, Egger M. Systematic reviews in health care: assessing the quality of controlled clinical trials. BMJ. 2001;323:42-6. [ Links ]
7. Hróbjartsson A, Forfang E, Haahr MT, et al. Blinded trials taken to the test: an analysis of randomized clinical trials that report tests for the success of blinding. Int J Epidemiol. 2007;36:654-63. [ Links ]
8. Higgins JPT, Green S (Ed). Cochrane handbook for systematic reviews of interventions version 5.1.0. Marzo 2011. [internet] [Consultado: marzo 2011]. Disponible en: www.cochrane-handbook.org. [ Links ]
9. Bero L, Oostvogel F, Bacchetti P, et al. Factors associated with findings of published trials of drug-drug comparisons: why some statins appear more efficacious than others. PLoS Med. 2007;4:e184. [ Links ]
10. Lexchin J, Bero LA, Djulbegovic B, et al. Pharmaceutical industry sponsorship and research outcome and quality: systematic review. BMJ. 2003;326:1167-70. [ Links ]
11. Van Luijn JC, van Loenen AC, Gribnau FW, et al. Choice of comparator in active control trials of new drugs. Ann Pharmacother. 2008;42:1605-12. [ Links ]
12. Sutton AJ, Higgins JP. Recent developments in meta-analysis. Stat Med. 2008;27:625-50. [ Links ]
13. Chan AW, Hróbjartsson A, Haahr MT, et al. Empirical evidence for selective reporting of outcomes in randomized trials: comparison of protocols to published articles. JAMA. 2004;291:2457-65. [ Links ]
14. Dwan K, Altman DG, Arnaiz JA, et al. Systematic review of the empirical evidence of study publication bias and outcome reporting bias. PLoS One. 2008;3:e3081. [ Links ]
15. Parekh-Bhurke S, Kwok CS, Pang C, et al. Uptake of methods to deal with publication bias in systematic reviews has increased over time, but there is still much scope for improvement. J Clin Epidemiol. 2011;64:349-57. [ Links ]
16. Song F, Parekh-Bhurke S, Hooper L, et al. Extent of publication bias in different categories of research cohorts: a meta-analysis of empirical studies. BMC Med Res Methodol. 2009;9:79. [ Links ]
17. Schulman SR, Schardt C, Erb TO. Evidence-based medicine in anesthesiology. Curr Opin Anaesthesiol. 2002;15:661-8. [ Links ]
18. Felson DT. Bias in meta-analytic research. J Clin Epidemiol. 1992;45:885-92. [ Links ]
19. Pedersen T, Möller AM, Cracknell J. The mission of the Cochrane anesthesia review group: preparing and disseminating Systematic Reviews of the effect of health care in anesthesiology. Anesth Analg. 2002;95:1012-8. [ Links ]
20. Smith AF, Pittaway AJ. Premedication for anxiety in adult day surgery. Cochrane Database Syst Rev. 2000;3:CD002192. [ Links ]
21. Carlisle J, Stevenson CA. Drugs for preventing postoperative nausea and vomiting. Cochrane Database Syst Rev. 2006;3:CD004125. [ Links ]
22. Liberati A, Altman DG, Tetzlaff J, et al. The PRISMA statement for reporting Systematic Reviews and meta-analyses of studies that evaluate healthcare interventions: explanation and elaboration. BMJ. 2009;339:b2700. [ Links ]
23. Balshem H, Helfand M, Schünemann HJ, et al. GRADE guidelines: 3. Rating the quality of evidence. J Clin Epidemiol. 2011;64:401-6. [ Links ]