Services on Demand
Journal
Article
Indicators
Related links
Cited by Google
Similars in SciELO
Similars in Google
Share
---
Print version ISSN 0120-3347
Rev. colomb. anestesiol. vol.39 no.3 Bogotá July/Oct. 2011
Investigación Científica y Tecnológica
Anesthesia Considerations for Interventional Pulmonology Procedures
Edgar Eduardo Barato*, Adriana Bernal*, Fabián Bayron Carvajal*, Claudia Giraldo**, F ernando Echeverri*, David Alberto Martínez*, César Augusto Peralta*, Diego Fernando Salazar*, Ever Eduardo Salcedo*, María Eugenia Sandoval*, Juan Carlos Torrente*, Sandra Villegas*
* Médico(a), Servicio de Anestesiología, Clínica Comfamiliar, Av. Circunvalar 3-01 Pereira, Colombia. Correo electrónico: echeverri.fernando@yahoo.com
** Médico epidemiólogo. AUDIFARMA S.A. Correspondencia: Calle 105 No. 14-140 Pereira, Colombia.
Recibido: octubre 21 de 2010. Enviado para modificaciones: febrero 8 de 2011. Aceptado: mayo 18 de 2011.
---
SUMMARY
Introduction. Interventional pulmonology is an increasingly popular area around the world and requires anesthesia. The objective is to share the experience accumulated at a hospital center in one year of anesthesia management for this type of procedures.
Methods. Case series study.
Results. 16 procedures were performed in 14 patients in one year, at the same institution. The procedures included transbronchial biopsies, photocoagulation and pneumatic-plasty with insertion of tracheal and bronchial stents. The anesthetic techniques were varied and included local anesthesia and superficial sedation as well as general anesthesia with agents commonly used in our environment. No serious complications occurred.
Discussion. The anesthesia techniques used are discussed and compared against those reported in the world literature, as well as the complications and limitations of the study.
Conclusions. Anesthesia for interventional pulmonology procedures is varied and adapted to the patient's conditions to ensure his/her safety and in agreement with the treating pneumonologist.
Key Words: Anesthesia, bronchoscopy, endoscopy, comorbidity. (Source: MeSH, NLM).
---
INTRODUCTION
The endoscopic procedures in malignant and benign pathologies of the tracheobronchial tree as an alternative to extensive, morbid and some times unfeasible surgical management are becoming increasingly popular around the world. As opposed to diagnostic bronchoscopy, in therapeutic or interventional bronchoscopy the presence of the anesthesiologist is usually indispensable for providing sedation, analgesia or general anesthesia. Unfortunately, both the international (1) and the national (2) publications are limited to reviewing the surgical techniques with a few basic useful but superficial anesthetic recommendations.
The purpose of the study is to describe in detail the experience with anesthesia management of patients undergoing interventional pulmonology procedures in our clinic.
MATERIAL AND METHODS
The clinical histories of adult patients undergoing interventional pulmonology procedures between April 2009 and April 2010 were reviewed, prior authorization of the Scientific Deputy Director of the Comfamiliar Risaralda Clinic. The following were considered as endoscopic therapeutic procedures: transbronchial needle aspiration, diode laser photocoagulation of tracheal or bronchial lesions, bronchoplasty and pneumatic tracheoplasty, bronchial and tracheal stenting.
The procedures done in patients under 18 years old were excluded, as well as any foreign body extraction cases using the rigid bronchoscope. Flexible diagnostic bronchoscopies, bronchoalveolar lavage and scrubbing, and biopsies of lesions of the respiratory mucosa were not considered as interventional pulmonology.
When appropriate, descriptive statistics were used to present the data and these were published as a case series.
RESULTS
The anesthesia records of 16 procedures in 14 patients were collected.
Population
All patients were adults, the gender distribution was even and there were comorbidities present in every case, though in most cases were compensated (table 1).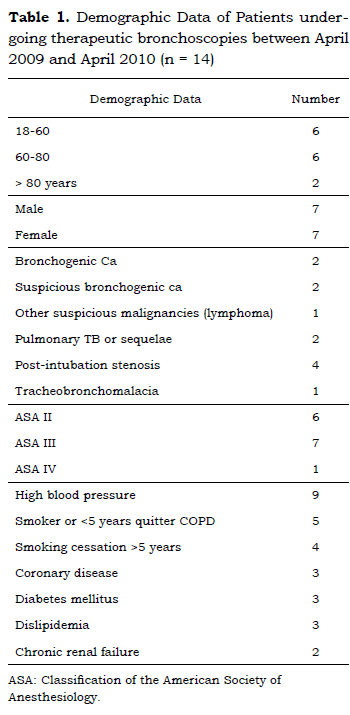 Endoscopic Procedures
All of the procedures were performed by the same interventional pneumonologist using the following equipment: Olimpus® 6.2, Fuji® 4.9 and 6 y Storz® 5 flexible bronchoscopes; Efer- Dumon® rigid bronchoscope. Laser therapy is the diode type, using the VELAS 30 980nm (Gigaa Optronics)® equipment, silicon tracheal and bronchial Dumon® stents and Boston Scientific ® metallic stents. The procedures are listed in Table 2.
Premedication and monitoring
The guidelines accepted for these procedures were followed (3): in addition to the paraclinical tests required according to the age of the patient, coagulation blood tests were also indicated (PT; PTT; platelets). A 4-hour fasting time was recommended for clear fluids and 8 hours for solids. Before taking the patient to the OR, a 16 or 18 G peripheral vein was catheterized and a SC injection of 0.5 mg of atropine and 100 to 200 mg of IV hydrocortisone were administered. Once the patient was in the OR, a standard ASA monitoring was followed and the patient received supplementary oxygen with > 90 % saturation.
Anesthesia and post-anesthesia care
Transbronchial needle aspiration: In the two cases of transbronchial needle aspiration (TBNA) a combination of topical anesthesia and general anesthesia was used, due to need to use the rigid bronchoscope (table 3).
Lidocaine 10 % spray on the pharyngeal mucosa was used for local anesthesia and topical epinephrine-free lidocaine 1 % and 2 % over the epiglottis and vocal cords. Then the endoscopist continued the administration of anesthesia in the respiratory mucosa (lidocaine 2 % with epinephrine).
Both patients were extubated directly in the OR. The rigid bronchoscope was removed without changing over to tube or laryngeal mask. Both underwent nebulizations with bronchodilators during their recovery and both stayed for 24 hours in intermediate care in order to monitor for any potential complications.
Tracheal or bronchial laser photocoagulation: In the photocoagulation cases a combination of local anesthesia and deep sedation was used (Ramsay 3 to 4) or general anesthesia. The use of relaxants was discretionary according to the treating anesthetist. If used, the relaxant was administered in low dose bolus with a view to a fast recovery of spontaneous ventilation (table 4).
In three cases the postoperative management included the same bronchodilator regime as in the TBNA cases and the patient returned to the ward 1 hour after the procedure. Other 4 cases were taken directly to the ICU; 2 of them with an in situ orotracheal tube because of the laryngeal edema that developed during the procedure. Elective extubation was done 24 hours later with no complications.
Airway Stent: In these procedures, manipulation with the rigid bronchoscope entails the need for general anesthesia. Induction and inhaled or intravenous maintenance techniques were used, according to each particular case. Just as in the cases of photocoagulation, relaxation and the type of drug used was determined by the anesthetist (tables 5 y 6). In addition to general anesthesia, the endoscopist administered 2 % lidocaine with epinephrine during the procedure, in amounts that unfortunately the anesthetists failed to record.
The extubation was performed in the ICU (3 cases) or in the wards (3 cases), depending on the extent of inflammation caused by the procedure in each case. Pre-established requirements had to be met in order to extubate: strong and vigorous coughing, absence of massive hemoptysis and controlled secretions. In these 6 cases the patients were extubated awake and in every case an endotracheal tube had previously replaced the rigid bronchoscope. In one case of bronchial stent the extubation of the rigid bronchoscope was definitive with the patient anesthetized.
COMPLICATIONS
There were no fatalities during the intraoperative period, or during the 30 days following the operation.
One third of the patients that underwent deep sedation or general anesthesia experienced hypoxemia and hypotension that had to be treated but with no major complications.
Although not reported as complications, there were some cases of coughing and movement during the stenting procedure that had to be managed with deep anesthesia and even relaxation if the former was insufficient. In no case did this interfere with the procedure.
DISCUSSION
No clinical trials have yet been published in the area of anesthesia for interventional pulmonology and most of the literature refers to clinical cases and a few case series. Consequently, the performance of anesthesia of this particular group of anesthetists –the first case series ever published in the country– cannot be compared against guidelines for clinical practice or recommendations with an appropriate level of evidence.
Local Anesthesia
Lidocaine - the drug of choice - was administered topically and it was never nebulized or injected in this study. Most of the time a 2 % concentration was used, although the 1 % preparation has been proven safer and as effective as 2 % lidocaine (4). The recommended doses range from 5 mg/kg (5) to 8 mg/kg (6), and are higher than the doses used in this research. Unfortunately, however, this is due to under-registration because the doses administered by the endoscopist were not recorded.
General Anesthesia
Intravenous or inhaled anesthesia: Pure inhaled anesthesia was more commonly used in the initial reports of these procedures and sevofluorane, due to its characteristics, has for many years led the market in this area (7). Balanced anesthesia using sevofluorane and propofol (8), or sevofluorane and opiates, has proven to be safe and effective. Opiates are useful because of their anti-coughing effect and, among them, remifentanil has shown to be superior to fentanyl in terms of hemodynamic stability and fast recovery of spontaneous breathing (9,10).
However, regardless of the above, the series with the largest number of cases ever published (115 cases in 10 years (11) and in the most recently published series (12) total intravenous anesthesia is recommended as the method of choice; one of the reasons being to avoid pollution in the room. The off-label use of dexmedetomidine at "supra-sedative" doses has also been published recently (13).
Muscle relaxation or spontaneous ventilation: Although traditionally the use of relaxants is not recommended in these patients while spontaneous ventilation is encouraged, the truth is that in most of the cases published, neuromuscular relaxants are used, ranging from continuous succinilcoline relaxation (14) to boluses of rocuronium (12), vecuronium (8) or mivacuronium (11).
Our experience, in keeping with the published recommendations (15), has been to try to maintain spontaneous ventilation most of the time; to this end, relaxants were only used in this investigation in case of movement, coughing or dangerous airway manipulation that could jeopardize the procedure.
Ventilation and oxygenation: Any airway control devices used must be approved by the interventional pneumonologist, on a case-bycase basis. The use of the laryngeal mask is important when the obstruction hinders the passage of an orotracheal tube, but in this cases jet ventilation devices should ideally be available (16). One important difficulty that has come up in this regard is the adaptation of the capnographer pieces to the bronchoscopes, which occasionally hinders the evaluation of ventilation to the patient's chest movements.
To oxygenate, the source of the anesthesia machine mixed with air is used, avoiding inspired fractions above 40 %. Extracorporeal membrane oxygenation (ECMO) used in severely obstructed cases (17), is controversial as a routine prior to the induction of anesthesia in patients with high risk of obstruction, since its effectiveness has been questioned in these emergency situations (18). The decision to use ECMO should be based on a multidisciplinary team discussion about the case and only for very specific situations.
Emergence from anesthesia and extubation: The phase of emergence from anesthesia has been described as the most worrisome moment; so much so, that 10 % of the patients develop complications, particularly fatal airway obstructions (11). It is recommended that when using the rigid bronchoscope, a switch be made to another device as a preventive measure for laryngospasm. At this point intubation should be performed with a flexible bronchoscope and never with laryngoscopy (19).
COMPLICATIONS
The risk of complications during these procedures is high. One third of the patients in the study experienced complications one way or another and this exceeds the 20 % reported in larger series (20), but is also below the 50 % level reported in some cases (21). Just as it happened in the cases included in this study, the most frequently reported complications are hypoxemia and cardiocirculatory events.
In contrast to other series that reported up to 8 % mortality, there were no deaths in this particular series (20). This is probably due to the relatively small number of patients treated.
In conclusion, the group of researchers wanted to share their experience in the management of highly complex patients using standard anesthetic techniques. Beyond any golden rules for these cases, what should be kept in mind is maintaining the minimum hemodynamic and ventilatory levels, learning about any potential complications and the achievable anesthetic goals. Probably more than in other situations, a teamwork approach that includes the treating physician is indispensable.
ACKNOWLEDGEMENT
To Mauricio Céspedes, interventional pneumologist of the Clínica Comfamiliar Risaralda; his contribution was absolutely vital to accomplish this study.
REFERENCES
1. Ross AF, Ferguson JS. Advances in interventional pulmonology. Curr Opin Anaesthesiol. 2009;22:11-7.
2. Barreto JA. Broncoscopia intervencionista: una opción a nuestro alcance. Rev Col Neumol. 2007;19:210-20.
3. Ernst A, Silvestri GA, Johnstone D. Interventional pulmonary procedures. Guidelines from the American College of Chest Physicians. Chest. 2003;123;1693- 717.
4. Arciniegas W, Bolívar F. Anestesia tópica en broncoscopia con lidocaina diluida. Salud UIS. 2006;38: 114-21.
5. Abdala F, Alcides F, Allones A, et al. Consenso de la Asociación Argentina de Broncoesofagología para la realización de Fibrobroncoscopía. Rev Am Med Resp. 2009;9:196-209.
6. British Thoracic Society Bronchoscopy Guidelines Committee. British Thoracic Society guidelines on diagnostic flexible bronchoscopy. Thorax. 2001;56 (S1)1-21.
7. Watters MP, McKenzie JM. Inhalational induction with sevoflurane in an adult with severe complex central airways obstruction. Anaesth Intensive Care. 1997;25:704-6.
8. Matsuda N, Matsumoto S, Nishimura T, et al. Perioperative management for placement of tracheobronchial stents. J Anesth. 2006;20:113-7.
9. Morita S, Akasaka N, Sakamoto M, et al. Anesthetic management with remifentanil for tracheobronchial stent insertion. Masui. 2010;59:183-7.
10. Tsunetoh T, Okutani R, Koshimichi T. Successful management with remifentanil of tracheal stent insertion keeping spontaneous breathing in a patient with severe respiratory insufficiency. Masui. 2009;58:1303-5. 11. Conacher ID. Anaesthesia and tracheobronchial stenting for central airway obstruction in adults. Br J Anaesth. 2003;90:367-74.
12. Doyle JD, Abdelmalak B, Machuzak M, et al. Anesthesia and airway management for removing pulmonary self-expanding metallic stents. J Clin Anesth. 2009;21:529-32.
13. Abdelmalak B, Marcanthony N, Abdelmalak J, et al. Dexmedetomidine for anesthetic management of anterior mediastinal mass. J Anesth. 2010;24:607-10.
14. Jaffe RA, Samuels SI. Anestesia con procedimientos en el quirófano. México: Editorial Marban; 2006.
15. Daumerie G, Su S, Ochroch A. Anesthesia for the patient with tracheal stenosis. Anesthesiology Clin. 2010;28:157-74.
16. Tsuji M, Hamada H, Kawamoto M, et al. Anesthetic management of laser surgery with bronchial stenting for a tracheal tumor. Masui; 2006;55:103-5.
17. Kuzukawa Y, Soen M, Kojima-Shiomi M, et al. Anesthetic management of laser surgery using PCPS for tracheal tumor. Masui. 2010;59:744-8.
18. Slinger P, Karsli C. Management of the patient with a large anterior mediastinal mass: recurring myths. Curr Opin Anaesthesiol. 2007;20:1-3.
19. Davis N, Madden BP, Sheth A, et al. Airway management of patients with tracheobronchial stents. Br J Anaesth. 2006;96:132-5.
20. Ernst A, Simoff M, Ost D, et al. Prospective riskadjusted morbidity and mortality outcome analysis after therapeutic bronchoscopic procedures: results of a multiinstitutional outcomes database. Chest. 2008;134:514-9.
21. Tajiri O, Tateda T, Yokoyama H, et al. Anesthetic management in ten cases for tracheobronchial Dumon stent placement. Masui. 2005;54:276-81.
1. Ross AF, Ferguson JS. Advances in interventional pulmonology. Curr Opin Anaesthesiol. 2009;22:11-7. [ Links ]
2. Barreto JA. Broncoscopia intervencionista: una opción a nuestro alcance. Rev Col Neumol. 2007;19:210-20. [ Links ]
3. Ernst A, Silvestri GA, Johnstone D. Interventional pulmonary procedures. Guidelines from the American College of Chest Physicians. Chest. 2003;123;1693- 717. [ Links ]
4. Arciniegas W, Bolívar F. Anestesia tópica en broncoscopia con lidocaina diluida. Salud UIS. 2006;38: 114-21. [ Links ]
5. Abdala F, Alcides F, Allones A, et al. Consenso de la Asociación Argentina de Broncoesofagología para la realización de Fibrobroncoscopía. Rev Am Med Resp. 2009;9:196-209. [ Links ]
6. British Thoracic Society Bronchoscopy Guidelines Committee. British Thoracic Society guidelines on diagnostic flexible bronchoscopy. Thorax. 2001;56 (S1)1-21. [ Links ]
7. Watters MP, McKenzie JM. Inhalational induction with sevoflurane in an adult with severe complex central airways obstruction. Anaesth Intensive Care. 1997;25:704-6. [ Links ]
8. Matsuda N, Matsumoto S, Nishimura T, et al. Perioperative management for placement of tracheobronchial stents. J Anesth. 2006;20:113-7. [ Links ]
9. Morita S, Akasaka N, Sakamoto M, et al. Anesthetic management with remifentanil for tracheobronchial stent insertion. Masui. 2010;59:183-7. [ Links ]
10. Tsunetoh T, Okutani R, Koshimichi T. Successful management with remifentanil of tracheal stent insertion keeping spontaneous breathing in a patient with severe respiratory insufficiency. Masui. 2009;58:1303-5. [ Links ]
11. Conacher ID. Anaesthesia and tracheobronchial stenting for central airway obstruction in adults. Br J Anaesth. 2003;90:367-74. [ Links ]
12. Doyle JD, Abdelmalak B, Machuzak M, et al. Anesthesia and airway management for removing pulmonary self-expanding metallic stents. J Clin Anesth. 2009;21:529-32. [ Links ]
13. Abdelmalak B, Marcanthony N, Abdelmalak J, et al. Dexmedetomidine for anesthetic management of anterior mediastinal mass. J Anesth. 2010;24:607-10. [ Links ]
14. Jaffe RA, Samuels SI. Anestesia con procedimientos en el quirófano. México: Editorial Marban; 2006. [ Links ] 15. Daumerie G, Su S, Ochroch A. Anesthesia for the patient with tracheal stenosis. Anesthesiology Clin. 2010;28:157-74. [ Links ]
16. Tsuji M, Hamada H, Kawamoto M, et al. Anesthetic management of laser surgery with bronchial stenting for a tracheal tumor. Masui; 2006;55:103-5. [ Links ]
17. Kuzukawa Y, Soen M, Kojima-Shiomi M, et al. Anesthetic management of laser surgery using PCPS for tracheal tumor. Masui. 2010;59:744-8. [ Links ]
18. Slinger P, Karsli C. Management of the patient with a large anterior mediastinal mass: recurring myths. Curr Opin Anaesthesiol. 2007;20:1-3. [ Links ]
19. Davis N, Madden BP, Sheth A, et al. Airway management of patients with tracheobronchial stents. Br J Anaesth. 2006;96:132-5. [ Links ]
20. Ernst A, Simoff M, Ost D, et al. Prospective riskadjusted morbidity and mortality outcome analysis after therapeutic bronchoscopic procedures: results of a multiinstitutional outcomes database. Chest. 2008;134:514-9. [ Links ]
21. Tajiri O, Tateda T, Yokoyama H, et al. Anesthetic management in ten cases for tracheobronchial Dumon stent placement. Masui. 2005;54:276-81. [ Links ]