The contribution of video-laryngoscopy to improving the process of orotracheal intubation has been shown if various publications emphasizing an improved and better quality vision of the mouth and the larynx; it is extremely valuable for teaching purposes and is part of the algorithm for the intubation of a predicted difficult airway.1,2
This article discusses the case of a 54-year-old patient admitted to the emergency OR for surgery of an ascending colon neoplasm and secondary intestinal obstruction. The patient has a history of smoking 10 packs/year, criteria consistent with chronic bronchial disease, and hepatitis C.
In the light of the risk of bronchoaspiration, induction, and rapid sequence intubation were conducted uneventfully. During the laryngoscopy with a Macintosh, an epiglottic mass was identified. Following the intubation and the tracheal pneumo-tamponade, we conducted a second laryngoscopy using a video laryngoscope Glidescope Titanium (Verathon Medical Bothell, WA, USA), which clearly revealed an epiglottic tumor.
After obtaining the consent of a family member, the planned hemicolectomy was conducted, in addition to a resection through laryngeal microsurgery and a biopsy of the epiglottic tumor identified (0.75 cm) (Fig. 1A and B).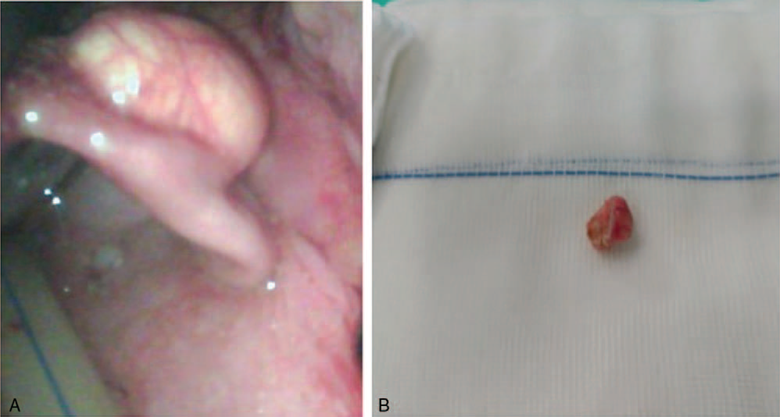 Source: Authors.
Several papers argue that the total time elapsed during intubation and isolation of the airway is longer with the use of the video-laryngoscope versus the routine laryngoscopy, when the operator is still in the learning curve2; this is why the laryngoscope was used.
The use of video-laryngoscopes-Glidescope, King Vision-initially designed to facilitate orotracheal intubation, is very frequent in the algorithm for managing a difficult airway,3 in addition to a very exciting application in oropharyngeal surgery.4 Furthermore, we find that the device allows for an easy and minimally invasive exploration as compared against laryngoscopy using a rigid laryngoscope, as illustrated in our case in which the problem was solved in the same surgical-anesthetic procedure.
Ethical disclosures
Protection of persons and animals: The authors claim that no experiments in humans or animals were conducted for this research.
Confidentiality of the information: The authors declare that they followed the protocols of their workplace with regard to disclosure of patient data.
Right to privacy and informed consent: The authors declare that this article does not disclose any patient information.