Depression has emerged as a significant mental health issue worldwide 1-3, and people living with HIV/AIDS are not an exception. People living with HIV/AIDS are disproportionally affected by depression with a 5 to 10 times higher prevalence than in the general population 4. In North America, approximately half of the people living with HIV/AIDS have significant depressive symptoms and 20 to 25% of them meet diagnostic criteria for a depressive disorder 5,6 while in low and middle-income countries depression among people living with HIV/AIDS ranges from 10% to 68% 7-10. Moreover, depression in people living with HIV/AIDS is a strong predictor of low levels of treatment adherence, poor virologic response, and increased risk of other chronic conditions 6,11. Depression is associated with increased HIV-specific morbidity and earlier mortality despite access to adequate antiretroviral therapy 12-14, and with overall lower quality of life as measured by a decreased concentration span, poor sleep quality, decreased memory, lower motivation, and increased stress 11,15-19. On this basis, the assessment and treatment of depression are essential in the care of people living with HIV/AIDS. Despite its importance, screening for depression is not consistently performed in the routine clinical care of people living with HIV/ AIDS in Colombia. This may be due in part to the lack of validated scales to screen for depression in this population.
The Depression Scale of the Center for Epidemiologic Studies (CES-D) is a widely used screening scale for depression which has been demonstrated to hold construct and concurrent validity in Colombian adolescents and adults 20-22. In the general population, the CES-D original cut-off point for depression was ≥16 points, although in Colombian populations a better trade-off of sensitivity and specificity was found to be ≥20 points 21. The reliability of the original English language scale had alpha coefficients ranging from 0.85 to 0.9 20-23. In people living with HIV/AIDS, the CES-D preserved its validity in multiple settings 24-27. A cut-off point of ≥16 points has been found to have a sensitivity ranging from 72.7% to 79.8% and a specificity ranging from 78.5% to 83.0% in different studies 25-28. Shorter CES-D scales have also been validated with the 10-item version working as efficiently as the 20-item one 29.
However, inconsistent results have been found for somatic and positive affect items of the CES-D in people living with HIV/AIDS 30-32. This lack of consistency of the scale in several people living with HIV/AIDS populations emphasizes the need for its cross-cultural validation 33. Thus, we tested the reliability and construct validity of the 20-item and the 10-item versions of the CES-D (proposed by Zhang, et al .) 29.
Results
The baseline demographic characteristics of the 105 participants are shown in table 1. Most participants were men (73%) with an average age of 40 years (range: 21-71 years). Participants had low education levels, with 73% not having completed high school. In addition, 63% reported being single and 35% unemployed.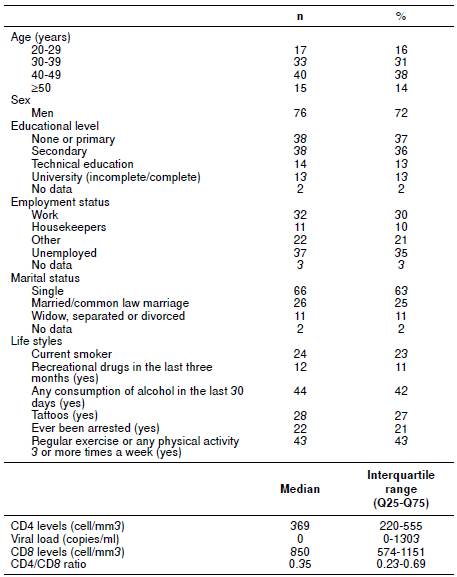 Exploratory factor analysis and reliability
The Cronbach's alpha coefficients for the CES-D-20 were 0.92 and 0.94 for baseline and second interview, respectively, and these values did not change when excluding an item. The intraclass correlation coefficient was 0.81 (95% CI: 0.72-0.88). Exploratory factorial analysis revealed four factors (table 2). The first factor explained 42.5% of the variance; the second, 9%; the third, 7%, and the fourth, 5%. With the exception of item 2 ("I did not feel like eating, my appetite was poor"), all items loaded distinctly with factor loadings in the range of 0.50-0.80. Five items did not load in the same dimension as in the original scale: items 7, 11, and 20, which are somatic dimensions, item 12, related to positive affect, and item 13, related to interpersonal dimension. The Cronbach's alpha was good for factor 1 but was <0.8 for the other three factors. The exploratory factor analysis for the CES-D-10 revealed that one factor explained 50% of the variance, and the second factor, 11%. The second factor only included item 8; the Cronbach's alpha was 0.89 for the first factor with the nine items.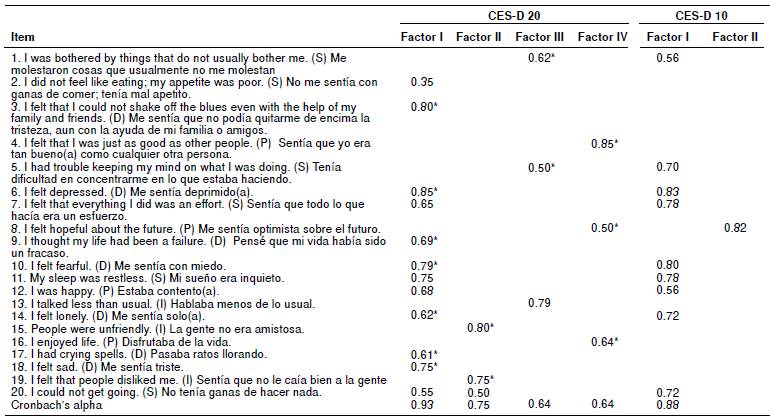 (S): Somatic; (D): Depressed; (P): Positive, and (I) Interpersonal, as per original scale method: Principal-component factors; Rotation: Orthogonal varimax. Kaiser-Meyer-Olkin measure of sampling adequacy was 0.8630.
* Highest factor loading consistent with the highest factor loading in the original structure
Confirmatory factor analysis
Table 3 summarizes the model fit of statistics for different factor solutions. The best fit was obtained with the CES-D-10 scale, either with or without item 8. The factor solution of the CES-D-20 of table 2 and the original scale factor solution did not meet the criteria for goodness to fit of the model (table 3 ).
Item response analysis
Four of the items of the CES-D-20 failed the test of fit (item-fit statistics for a multidimensional model). Poorly fitting items should be expected with the significance <0.05, to diagnose where the functional form of the item response theory analysis model was incorrectly specified: 3 (p=0.040), 6 (p=0.038), 9 (p=0.036) and 13 (p=0.050). In the CES-D-10 scale, only item 5 failed to demonstrate unacceptable fit (p=0.007). Items 4, 8, and 13 in the CES-D-20 and item 8 in the CES-D-10 did not show acceptable discrimination values (how well items identify patients at different levels of depression).
Correlates of depression
Of the participants, 54.3% (95% CI: 44.6-64.0) had CES-D scores of ≥16, 44.8% (95% CI: 35.1-54.4) had CES-D scores of ≥20 with the 20 item scale, and 53.3% (95% CI: 43.6-63.0) had CES-D scores of ≥ 10 with the 10-item scale. The relationships between the exposure and the presence of depressive symptoms were consistent across the different cut-off points used (table 4). A score over the cut-off points (either ≥16 or ≥20 in the CES-D-20, or ≥10 in the CES-D-10) was more frequent among women, housewives, the unemployed, and among those with dissatisfaction regarding housing and those who did not exercise. When using the cut-off point of ≥16, we found an association with smoking which did not occur when using the other two cut-off points (table 4). A higher viral load and lower CD4 levels were found in those with possible depression and this was consistent with all three CES-D versions (table 5).
Discussion
The adaptation and use of the CES-D scale were felt to be an important tool in the clinical assessment of people living with HIV/AIDS, a population with special social and clinical characteristics that differ from those of the general adult population in Colombia. Ours is the first study in Colombian people living with HIV/AIDS examining the validity and reliability of both the 20 item and the 10 item versions of the CES-D scale.
The application of this scale in our sample was straightforward and subjects were eager to answer all questions, which resulted in no missing data.
The long scale demonstrated high internal reliability suggesting that the 20 items measured the same underlying construct: depressive symptoms. It also showed a high construct validity as it correlated with known established actors for depression, such as gender, low socio-economic status, and smoking. However, our factor analysis showed that 5 of the 20 items did not load in the original scale factor loadings. Similar findings have been reported in previous validation studies in which the original four dimensions in the CES-D scale did not hold for people living with HIV/AIDS 37. Our factor analysis failed to confirm the model fit in the factor solution of the 20 item version, and the item response theory analysis established that four items did not meet the criteria for a good fit. Thus, the usefulness of the total score of the CES-D in people living with HIV/AIDS should be approached with caution. In contrast, the CES-D-10 appeared to work better in our sample population as it showed high internal consistency and a valid factorial structure. The usefulness of this shorter CES-D scale has also been found by other studies 38.
It has been documented that the CES-D scale has a factorial structure that behaves inconsistently in different populations including people living with HIV/AIDS 25,31,37. Some authors have found a different factorial structure when using the oblique rotation 24. We found that the oblique rotation was no better than that obtained with varimax (data not shown). In a clinical sample of 350 people living with HIV/AIDS, Gay, et al. 37 found that items 2, 4, 8, 11, and 16, which are mostly related to positive affect, were problematic and caused the scale to lose validity. In our study, we found that item 8 was also problematic. Some authors have even recommended to fully exclude positive affect items from the CES-D 31,39. Furthermore, we found four different items with poor fit: items 3, 6, 9, and 13, which mainly relate to depressive state and seem to load differently according to other reports 40. Since the CES-D-10 scale did not include items 3, 9 and 13, this may explain why in our population it held its validity.
It has been suggested that the somatic symptoms among HIV positive participants are difficult to interpret as they may overlap with medication side effects or with the effects of HIV infection itself 30. Other studies have found that those items are more likely to load in different factors 41. In fact, four of the items that did not load in the same factor as the original scale in our sample were related to somatic symptoms (items 2, 7, 11, and 20). Interestingly, items 7, 11, and 20 loaded well on the CES-D-10 scale. Even shorter versions of the scale have been found to be valid in general populations 22. One version has seven items of which five are also included in the CES-D-10 that we studied. Thus, it is possible that somatic symptoms are not as problematic in populations of people living with HIV/AIDS in Colombia.
There was a high frequency of depressive symptoms in our sample and we found that social factors such as gender, housing satisfaction, unemployment, as well as smoking, were associated with more depressive symptoms in our sample. In addition, 60% of the women had high levels of depressive symptoms, which is consistent with a disproportionate prevalence of depression found in females living with HIV/AIDS in other studies 14,42,43 which suggest that the combination of depression with poverty, interpersonal violence, and the burden of caring for themselves and others creates numerous social challenges for women living with HIV 14,44,45.
In this regard, it is conceivable that the 'caregiver' role that many Colombian women play (household tasks and raising children) can result in a high burden of stressful experiences 46,47. The coexistence of depression and smoking is well established in people living with HIV 48,49 which calls for interventions to address both conditions simultaneously. Studies have documented the association between disease severity as measured by CD4 counts and depressive symptoms 14,50 an aspect that was also evidenced in the small sample of people living with HIV/AIDS under study.
We have not validated the CES-D against gold standards for the diagnosis of depressive disorders. A previous study in Colombia found that the 20-point cut-off in the CES-D scale was better for depression in the general population; future studies in the country should consider confirming the factor structure and fit of the CES-D-20 scale with a more advanced item response theory analysis 51 and assess the accuracy of the full and shortened versions of this scale in people living with HIV/AIDS. Oversampling of women and transgender populations should be considered in those previous studies since one of them showed differences in item functions in those populations 37. Our sample size limited the possibility of assessing differences in item responses in such populations.
The CES-D scale has been extensively used worldwide and will likely continue to be used in future assessments of depressive symptoms in people living with HIV/AIDS. The subjective nature of this scale for the assessment of depressive symptoms may have resulted in an underestimation of the prevalence of depression due to social desirability bias. However, we believe that overestimation is more likely to occur than lack of validity in people living with HIV/AIDS given the lack of fit of some of the items reported. However, even with such overestimation, the CES-D-10 scale can be a valid tool for the screening of depression and its use may effectively help select people living with HIV/AIDS who need a more detailed assessment and, eventually, treatment for depression.