The variable harlequin frog, Atelopus varius (Lichtenstein and Martens, 1856), was considered extinct in Costa Rica after severe population declines during the 1980s and 1990s (Lips, 1999; Pounds et al., 2010). By coincidence, a reproductive population of the species was rediscovered in 2008 in the Las Tablas Protected Zone (González-Maya et al., 2013). This small surviving population represents a unique opportunity not only for management and conservation efforts of the species but also a second chance to expand our understanding and knowledge of a species that was thought to be extinct. Although the harlequin frog is one of the most well-known species of the Atelopus genus (Lötters, 1996; La Marca et al., 2005), there are still many aspects of their biology, ecology, and natural history for which we know nothing.
Predators upon Atelopus species are poorly known, and it is expected that these toads are not frequently preyed upon given their aposematism and presence of neurotoxins (Pounds and Crump, 1987; Lötters, 1996). The only confirmed predation event previously known on Atelopus varius was by the Fire-bellied snake, Erythrolamprus epinephelus (Cope, 1862). The event was photographed by Michael and Patricia Fogden (Minden Pictures, 2015). Herein, we report an additional observation of confirmed predation on the Critically Endangered Atelopus varius by a water bug of the genus Abedus (species unknown), in the Las Tablas Protected Zone, Costa Rica.
Monthly surveys of the variable harlequin frog population were conducted at Las Tablas Protected Zone during a sixteen-month period, (from September 2011 to February 2013) along a 2 km section of the Cotón river. On July 11, 2012 (08° 56' N, y 82° 49' W, 1337 m.a.s.l.), a predation event was observed during a population ecology survey. The water bug was captured and identified using a taxonomic key for the Nepoidea superfamily (Romero and Ari, 2013). The harlequin frog was easily identified by its morphology and color pattern (Savage, 2002), however as little is known of this genus of water bug in the region there is uncertainty about which species of Adebus was observed.
The water bug, Abedus genus (25.9 mm body length; Fig.1), was observed preying on an individual of Atelopus varius (SVL = 30 mm; Fig. 2a) near the shoreline of the river. The Harlequin Frog was seen at 11:55 h, in a small pool on the edge of the Cotón River, seized by a water bug by the right lower limb. The frog died a few minutes after being observed (Fig. 2b). The predation event did not occur during the reproductive season; therefore, few harlequin frog individuals were near the water at the time of predation.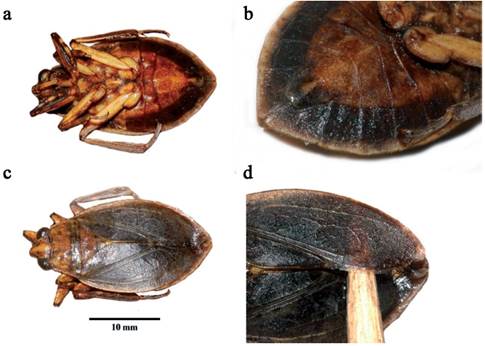 Given the scarcity of documented predation events, Atelopus predators are still poorly known. Other events that were previously considered as predation only included the larvae of the fly Notochaeta bufonivora Lopes and Vogelsang, 1953 feeding on harlequin frogs (Pounds and Crump, 1987). However, a more accurate term for the ecological relationship between the fly and the Atelopus would be parasitism, not direct predation. Therefore, our predation record can be considered as the most recent documented event, and the water bug as the second known predator for the species.
Water bugs have raptorial forelegs to prey upon aquatic animals such as amphibians (Toledo, 2005; Ohba et al., 2008) and these belostomatids have been widely reported as predators of postmetamorphic anurans (Toledo, 2003; 2005). Most predation events by water bugs on anurans occur during the reproductive season when the frogs are more exposed and closer to water (Haddad and Bastos, 1997; Toledo, 2003; 2005). Our observation did not occur during Atelopus varius' reproductive season in Las Tablas Protected Zone, which is documented to occur from October to January (RSV and DAGH, pers. Obs.). Despite continuous surveys of this harlequin frog population, there have been no further observations of predation, both during and outside of the frog's reproductive season.
Given that water bugs are commonly recorded as predators for many anurans (Brodie and Formanowicz, 1983; Cabral Eterovick and Sazima, 2000; Toledo, 2003; Toledo, 2005; Vonesh and Warkentin, 2006), and despite this could be an opportunistic behavior, it is nevertheless necessary to quantify the effect of this predator-prey relationship over all the life cycle stages of the harlequin frog.
Since the harlequin frog is classified as Critically Endangered on the IUCN Red List of Threatened Species (Pounds et al., 2010), we consider that it is important to understand the effects of predators on their population dynamics in order to consider conservation or management actions.