Services on Demand
Article
Indicators
Related links
Cited by Google
Similars in SciELO
Similars in Google
Share
---
Print version ISSN 0120-5609

Ing. Investig. vol.31 no.1 Bogotá Jan./Apr. 2011
Evaluating the corrosion resistance of UBM-deposited Cr/CrN multilayers
Yuri Lizbeth Chipatecua Godoy,1 Diana Maritza Marulanda Cardona2, Jhon Jairo Olaya Flórez3
1 B.Sc., Chemical Engineering. M.Sc. in Materials and Processes, Mechanical and Mechatronics Engineering Department, Engineering Faculty, Universidad Nacional de Colombia. yurilcg@yahoo.com
2 B.Sc. Electronic Engineering. Candidate a Ph.D. in Science and Technology of Materials, Mechanical and Mechatronics Engineering Department, Engineering Faculty, Universidad Nacional de Colombia. dmaritzamc@gmail.com
3 B.Sc., Metallurgic Engineering. Ph.D. in Engineering, Universidad Autónoma de México. Assistant professor, Mechanical and Mechatronic Engineering Department, Engineering Faculty, Universidad Nacional de Colombia. jjolaya@unal.edu.co
---
ABSTRACT
This work was aimed at evaluating the corrosion resistance of multilayer Cr/CrN coatings deposited by the unbalanced magnetron sputtering (UBM) technique. Coatings were produced at room temperature using 400 mA discharge current, 9 sccm argon flow and 3 sccm nitrogen flow. The total thickness of coatings deposited on AISI 304 stainless steel and silicon (100) varied between 0.2 a 3 μm as bilayer period varied between 20 and 200 nm. Coating microstructure and chemical composition was studied through scanning electron microscopy (SEM) and texture and crystalline phases were analysed by X-ray diffraction (XRD) before and after corrosion tests which were carried out by potentiodynamic polarisation using 0.5 M H2SO4 + 0.05M KSCN solution. Lower bilayer period coatings presented better corrosion resistance and their corrosion mechanism is discussed in this article.
Keywords: Unbalanced magnetron sputtering, potentiodynamic polarisation, thin film, corrosion resistance, Cr/CrN.
---
Received: october 16th 2009. Accepted: january 24th 2011
---
Introduction
Industrial development demands properties for materials which fulfil operating conditions and application requirements, thereby leading to the need for improving manufacturing technology or modifying materials' surfaces. Electrochemical processes are used in Colombia for producing hard coatings due to their low cost, high efficiency and mass production potential. However, these methods produce environmental contamination and carcinogenic problems produced by hexavalent chromium (Cr+6) precursor (Guilemany et al., 2006; Olaya et al., 2005).
Several alternatives are used today for replacing electrochemical processes such as physical vapor deposition (PVD) and chemical vapor deposition (CVD) (Nordin et al., 1999).
Unbalanced magnetron sputtering (UBM) is widely used (amongst PVD techniques) for improving several engineering materials' mechanical and other properties (Olaya et al., 2006; Romero et al., 2004).
This technique enables different CrNx phases to be obtained, depending on reactive gas (N2) and controlling process parameters allowing coating properties to be controlled (Olaya et al., 2005). It is also possible to maintain high target sputtering and increase ion current towards substrate through the unbalanced mode.
The main difference between a conventional magnetron and an unbalanced one is plasma confinement. A small region in front of the target surface in a conventional system has dense plasma; this means that only this region receives high ionic bombardment (Olaya et al., 2005). Magnetic lines are directed towards the substrate in an unbalanced system allowing electrons to reach the substrate following helicoidal paths.
The electrons drag ions from the target toward the substrate because of coulomb attraction, and thus a major ionic current density is reached on the substrate surface. The resulting ionic bombardment has proved to be efficient in modifying film microstructure and obtaining major density and less film roughness (Olaya et al., 2005).
Studies on the effect of high ionic bombardment on film microstructure using UB have shown improved adherence and coating resistance (Olaya et al., 2005). The system leads to dense structures being obtained at low temperatures, which may increase coating/substrate lifetime when applied to high rate wear, corrosion and fatigue (Olaya et al., 2005)
Metal nitride-based PVD coatings significantly increase steel substrate lifetime and service quality, thereby obtaining low friction, thermal stability and high corrosion resistance in different environments. (Ahn et al., 2003).
The aim of this work was to study the corrosion behaviour of Cr/CrN multilayers deposited by the UBM system and the relationship with bilayer period, total thickness and multilayer microstructure.
Experimental development
Coating deposition
Cr/CrN coatings were produced by UBM sputtering using a high purity 10 cm Cr target (99.99%) and 5 cm target-substrate distance. Air flow was set at 9 standard cubic centimeters per minute (sccm) for Cr deposition; CrN deposition nitrogen was activated at 3 sccm. Working pressure was 5x10-1Pa, 400 mA discharge current and ~150W discharge power. Deposition was performed at room temperature.
Nine multilayer systems were deposited, varying period (L) and thickness as shown in Table 1. The first film for the period was Cr and the second one was CrN; these were deposited sequentially until reaching total coating thickness. Coatings were simultaneously deposited on AISI 304 stainless steel and 99.99% silicon (100 substrates). Steel substrates were ultrasonically cleaned in acetone and alcohol in sequence and dried in flowing compressed air before being placed in a deposition chamber. Table 1 2 shows the chemical composition of the AISI 304 steel used here.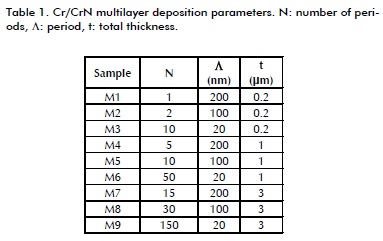 Electrochemical test
Cr/CrN multilayer corrosion resistance was tested by potentiodynamic polarisation tests using ASTM G% standard reference (ASTM G5, 2004). A saturated calomel electrode (SCE) and a high purity graphite electrode were used as reference and auxiliary electrodes, respectively. The electrodes were placed at fixed positions in the test cell to avoid ohmic difference drop.
The exposed area was 0.79 cm2 and scans were conducted from -300 to 1,000 mV with 30 mV/min potential sweep after 45 minutes immersion in 0.5 M H2SO4 + 0.05M KSCN electrolyte. Corrosion potential (Ecorr) and corrosion current (Icorr) were obtained by means of Tafel extrapolation using a Gamry reference 600 potentiostat-Galvanostat.
Characterisation
Cr/CrN multilayer microstructure was studied by X-ray diffraction (XRD) using an X-PertPro panalytical system for grazing incidence and Bragg-Brentano configurations and monochromatised CuKα radiation (1.540998 Å) working at 45 kV and 40 mA. The surface morphology of tcoatings deposited on AISI 304 steel substrates, corrosion products and transversal section of coatings deposited onto silicon substrates were studied by scanning electron microscopy (SEM), using FEI QUANTA 200 equipment operating at high vacuum and 30 KV.
Chemical analysis before and after corrosion tests was studied by energy dispersive X-ray (EDX) at 20 kV.
Substrates were marked before depositing the coatings for thickness measurements and this mark was delayed after deposition, leading to a step which allowed measuring film thickness using a DEKTAK 150 profilometer with 6 Å resolution. Measurements were carried out with 2,000 μm scanning length and 120 s per scan applying 1 mg force. The profile analysed was hills and valleys with 0.067 μm/sample resolution. Roughness was examined using atomic force microscopy (AFM) in contact mode with an Autoprobe CP Park Scientific Instruments with a Si3N4 Ultralever probe. Images were processed using SPIP software.
Results and Discussion
Surface analysis
Figure 1 shows the surface morphology for coatings deposited on AISI 304 steel and 200 nm bilayer period. A compact and homogeneous coating was observed with no presence of micro-cracks or delamination. A small change in texture was observed on coating surface when increasing the number of interfaces due to higher thickness and lower period.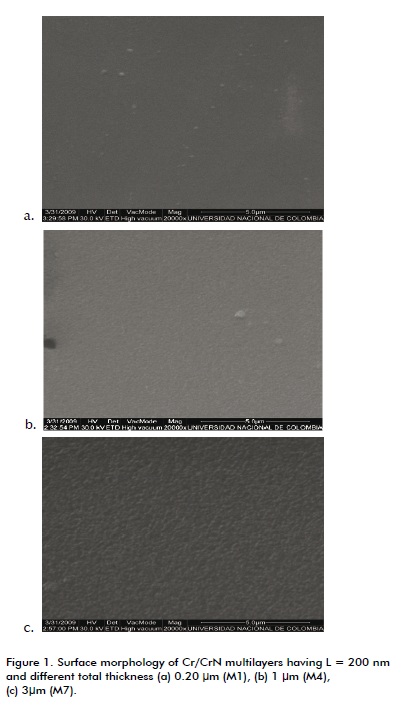 Such observations were confirmed by measuring roughness. Roughness values increased from 3.3 Å to 23.6 Å and 35.3Å for coatings with 0.2 and 3 μm, respectively. These measurements also showed that L = 200 nm samples had less roughness than L = 100 nm and L = 20 nm samples. Coatings having 0.2 μm total thickness presented less roughness due to lower deposition time and lower number of interfaces, as shown in Table 3.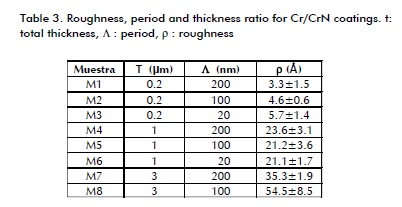 Figure 2 shows cross-section SEM micrographs for Cr/CrN coatings deposited on silicon substrates for assessing the multilayer structure obtained. Bright layers correspond to Cr and grey ones to CrN. Interfaces could not be observed for L = 20 nm coatings due to the resolution of the microscope being used. The first layer was Cr in all cases and this layer specifically served for reducing stresses produced by substrate crystalline structure and ceramic layer being mismatched for the AISI 304 substrate (Zhang et al., 2007).
It was thus also possible to improve the metallic coating/substrate system's adhesion, wear resistance and reduce porosity (Xin et al., 2009; Merl et al, 2004; William Grips et al., 2006; Fontalvo et al., 2010).
Microstructural study
Figure 3 shows the X-ray diffraction patterns for multilayers deposited on AISI 304 steel substrate by varying total thickness and period. CrN phase having diffraction peaks in (111) and (200) orientations in positions 37.53° and 43.77°, respectively, could be observed and Cr BCC phase having diffraction peaks in (110) at 44.39° was also observed, according to PC-PDF 11-65 and 6- 694 cards (JCPDS, 1987-1995), respectively. The presence of Cr2N phase was not observed. It is possible that (111) plane for austenite (γ-Fe) was overlapped by Cr (110) and CrN (200) peaks when increasing total thickness and reducing bilayer period (i.e. with a greater number of interfaces). This was because their 2q positions were too close: 43.58°, 44.39° and 43.77°, respectively.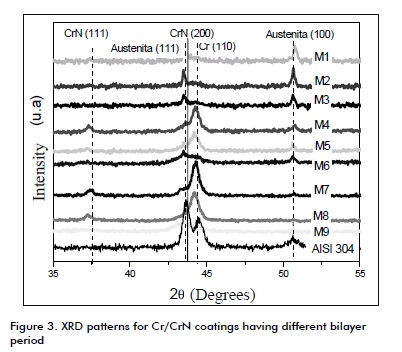 When reducing the period, the CrN (200) peak position shifted to lower 2q values, indicating the presence of compressive residual stress, which is common for sputtering-deposited coatings, as shown in the pertinent literature (Esteve et al., 2004 and de Lousa et al., 2001).
Potentiodynamic polarisation tests
Analysing the potentiodynamic polarisation curves confirmed the increased corrosion resistance of AISI 304 steel substrates coated with Cr/CrN by UBM regarding uncoated substrates, as shown in Figure 4 and Table 4. When comparing corrosion potential (Ecorr) for uncoated substrate (-0.519 V, SCE) with coated substrates (0.170 V, SCE), it could be seen that coated substrates presented more electropositive values, confirming the protection produced by PVD multilayer coating. Permeable defects are reduced in multilayers by the effect of interfaces acting like barriers against dislocation movement and crack propagation. The re-nucleation process in the substrate/coating system thus increases its capacity to dissipate energy and interfaces interfere with columnar growth (Nordin, Merja et al., 1999; Kaciulis, Mezzi et al. 2006; Kot, Rakowsi et al., 2008; Fontalvo, Daniel et al., 2010).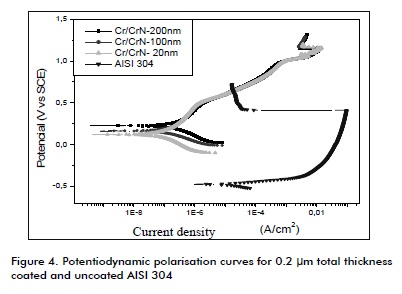 Corrosion protection is commonly evaluated through corrosion current (Icorr), this being important when studying reaction kinetics (Barata et al., 2001). Table 4 shows that current density values decreased by two orders of magnitude for coated samples regarding uncoated samples, thereby confirming that although PVD coatings have defects, such as micro-cracks, pinholes and pores, the multilayer structure acts as an effective barrier against diffusion, thus reducing defect density significantly, which was consistent with other studies of TiN/CrN, Ti/TiN, C/Cr and CrN/ NbN nanomultilayers (Romero et al., 2004; Olaya et al., 2006; Panjan et al., 2010; Mendibide et al., 2005; Zhang et al., 2007; Kok et al., 2006; Savisalo et al., 2008).
Figure 5 shows the surface morphology for Λ = 20 nm deposited coatings for the three total thicknesses studied after potentiodynamic polarisation tests. Coatings having 0.2 μm total thickness (Figure 5a) presented low surface damage with no evidence of corrosion products. Coatings having 1 μm total thickness (Figure 5b) were characterised by pores as coatings having 3 μm total thickness presented corrosion products (Figure 5c).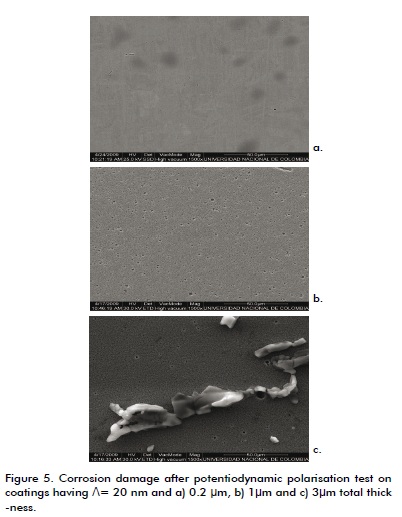 EDX was used for chemical analysis of these surfaces, a decrease in Cr content being observed when thickness was increased. For example, for Λ= 20 nm coatings, Cr reduction percentage regarding initial content before potentiodynamic polarisation tests was 12%, 55% and 65% for 0.2, 1 and 3 μm total thickness respectively. These coatings (except for 0.2 μm total thickness) presented the lowest corrosion values for the nine systems evaluated in this study.
Re-nucleation in multilayers produced a greater amount of interfaces contributing towards reducing porosity and coating degradation. The corrosion mechanism in these materials could be described through the diffusion of the corrosive solution through coating defects (pores, micro-cracks) until reaching the substratecoating interface forming a Cr2O3 thin layer due to steel and α-Cr layer passivation.
Conclusions
Cr/CrN nanometric multilayers were deposited through unbalanced magnetron sputtering (UBM) with 200, 100 and 20 nm bilayer period and 0.2, 1 and 3 μm total thickness on AISI 304 steel and silicon (100), the latter for studying cross-section microstructure. Corrosion resistance was evaluated by potentiodynamic polarisation test on AISI 304 steel with and without coating, leading to the following conclusions.
Cr/CrN coating microstructure is denser and compact when decreasing thickness due to steel substrate and α-Cr layer passivation.
AFM analysis confirmed increased coating roughness when increasing the number of interfaces regarding total thickness and bilayer period. SEM measurements confirmed the presence of a multilayer structure and a compact and homogeneous surface having no micro-cracks or coating delamination.
For each total thickness, coatings having a lower period and more interfaces presented better corrosion resistance acting as barriers against diffusion, thereby making the microstructure denser due to reduced coating density and producing greater electrochemical discontinuity.
Coatings with 0.2 μm total thickness presented less defects by damage after polarisation tests, possibly due to greater oxide film thickness. However, Icorr values showed that total thickness did not significantly affect corrosion resistance.
A better understanding of degradation phenomena presented in namometric multilayers should include a chemical composition study using X-ray photoelectron spectroscopy (XPS) or similar, and possibly analyse Cr and CrN layer oxidation and its influence on the corrosion mechanism.
Acknowledgments
The authors gratefully acknowledge the financial support provided by the Science and Technology Promotion Foundation (FPCT), the Colombian Institute for the Development of Science and Technology (COLCIENCIAS) and the Universidad Nacional de Colombia's Research Division, Bogota (DIB), through projects No. 2110100119690 and 1101-329-18933 CT 206-2006.
---
References
Ahn, S.H., Yoo, J.H., Kim, J.G., Han, J.G., On the corrosion behavior of multilayered WC-Ti1-XAlXN coatings on AISI DS steel., Surface and Coatings technology, Vol. 163-164, 2003, pp. 611-619. [ Links ]
Barata, A., Cunha, L., C. Moura., Characterisation of chromium nitride films produce by PVD techniques., Thin solid Films, Vol. 398-399, 2001, pp. 501-506. [ Links ]
Dobrzanski, L.A., Lukaszkowicz, K., Zarychta, A., Corrosion resistance of multilayer coatings deposited by PVD techniques onto the brass substrate., Materials Processing Technology, Vol. 164-165, 2005, pp. 816-821. [ Links ]
Fontalvo, G. A., Daniel R., Mitterer, C., Interlayer thickness influence on the tribological response of bi-layer coatings., Tribology International, Vol. 43, 2010, pp.108-112. [ Links ]
Guilemany, J.M., Espallargas, N., Suegama, P.H., Benedetti, A.V., Comparative study of Cr3C2-NiCr coatings obtained by HVOF and hard chromium coatings, Corrosion Science, Vol. 48, 2006, pp. 2998-3013. [ Links ]
JCPDS., PC-PDF. 1987-1995. [ Links ]
Kaciulis, S., Mezzi, A., Montesperelli, G., Surface and Coatings technology., Vol. 201, 2006, pp. 313-319. [ Links ]
Kok, Y.N., Eh.Hovsepian, P., Resistance of nanoscale multilayer C/Cr coatings against environmental attack., Surface and Coatings technology, Vol. 201, 2006, pp. 3596-3605. [ Links ]
Kot, M., Rakowsi, W.A., Major, L., Surface and Coatings technology., Vol. 202, 2008, pp. 3501-3506. [ Links ]
Lamastra, F.R., Leonardi, F., Montanari, R., Casadei, F., Valente, T., Gusmano, G., Surface and Coatings technology., Vol. 200, 2006, pp. 6172 - 6175. [ Links ]
Lousa, A., Romero, J., Martínez, E., Multilayared chromium/chromium nitride coatings for use in pressure die-casting., Surface and Coatings technology. Vol. 146-147, 2001, pp. 268-273. [ Links ]
Mendibide, C., Steyer, P., Millet, J.P., Formation of a semiconductive surface film on nanomultilayered TiN/CrN coatings and its correlation with corrosion protection of steel., Surface and Coatings technology. Vol. 200, 2005, pp. 109-112. [ Links ]
Merl, D.K., Panjan, P., Cekada, M., The corrosion behavior of Cr -(C,N) PVD hard coatings deposited on various substrates., Electrochem Acta, Vol. 49, 2004, pp. 1527-1533. [ Links ]
Nordi M., Merja H., Sture H., Influence of lamellae thickness on the corrosion behaviour of multilayered PVD TiN/CrN coatings., Thin Solid Films, Vol. 348, 1999, pp.202-209. [ Links ]
Olaya, J. Rodil, S.E., Muhl, S., Huerta, L., Influence of the energy parameter on the microstructure of chromium nitride coatings., Surface and Coatings technology, Vol. 200, 2006, pp. 5743-5740. [ Links ]
Olaya, J.J., Rodil, S.E., Muhl, S., Sánchez, E., Thin Solid Films. Vol. 474, No. 1-2, 2005, pp. 119-126. [ Links ]
Panjan, P., Cekada, M., kek-Merl, D., Growth defects in PVD hard coatings., Vacuum, Vol. 84, 2010, pp. 209-214. [ Links ]
Rebholz, C., Ziegele, H., Leyland, A., Matthews, A., Structure, mechanical and tribological properties of nitrogen-containing chromium coatings prepared by reactive magnetron sputtering., Surface and Coatings technology. Vol. 115, 1999, pp. 222-229. [ Links ]
Romero, J., Esteve, J., Lousa, A., Period dependence of hardness and microstructure on nanometric Cr/CrN multilayers., Surface and Coatings technology, Vol. 188-189, 2004, pp.338-343. [ Links ]
Savisalo, T., Lewis, D.B., Luo, Q., Structure of duplex CrN/NbN coatings and their performance against corrosion and wear., Surface and Coatings technology, Vol. 202, 2008, pp. 1661-1667. [ Links ]
William Grips, V.K., Barshilia, Harish C., Electrochemical behavior of single layer CrN, TiN, TiAlN coatings and nanolayered TiAlN/CrN multilayer coatings prepared by reactive direct current magnetron sputtering., Thin solid films, Vol. 514, 2006, pp. 204-211. [ Links ]
Xin, Y., Liu, C., Huo, K., Corrosion behavior of ZrN/Zr coated biomedical AZ91 magnesium alloy., Surface and Coatings technology, Vol. 203, 2009, pp. 2554-2557. [ Links ]
Zhang, Q., Leng, Y. X., Qi, F., Tao, T., Mechanical and corrosive behavior of Ti/TiN multilayer films with different modulation periods., Beam Interactions with materials & Atoms, Vol. 257, 2007, pp. 411-415. [ Links ]