Services on Demand
Article
Indicators
Related links
Cited by Google
Similars in SciELO
Similars in Google
Share
---
Print version ISSN 0120-9957

Rev Col Gastroenterol vol.29 no.3 Bogotá Sept. 2014
Case Reports: The Use of Self-expanding Metal Stents to Manage Fistulas of Esophageal Intestinal Anastomosis in Patients with Cancer
Ricardo Oliveros Wilches MD. (1), Raúl Pinilla Morales MD. (1), Haylmanrth Contreras Parra MD. (1), Oscar Guevara Cruz MD. (1)
(1) Gastrointestinal Surgery and Endoscopy at the National Cancer Institute in Bogotá, Colombia.
Received:    16-01-14  Accepted:    21-07-14
Abstract
Objective: The objective of this study is to show our experience in the management of patients with dehiscence of jejunal-esophageal or esophageal-gastric anastomoses through the use of esophageal self-expanding stents.
Materials and Methods: During 2012 and 2013 all complications following gastrectomies in gastric cancer patients with anastomoses were recorded. Only patients with dehiscence or anastomotic leaks were included in this study. An information form was used to record each patient's age, sex, location of lesion, medical condition, whether nutritional repletion had been received, whether patient had undergone chemotherapy or radiation therapy, date of presentation of the fistula or dehiscence, measurements of size, type of management used, mortality, stent used, number of stents used, stent migration and stent removal.
Results: Six patients, four men and two women, five of whom had abdominal dehiscence and one who had thoracic dehiscence, were included. They had five gastric adenocarcinomas and one gastric GIST with liver metastasis. Two had received nutritional repletion because they had lost 10% of their body weight. All patients were had their anastomoses stapled. Five patients underwent radiological studies with water-soluble contrast which confirmed dehiscence in three of them. All patients were managed with surgical re-exploration and drainage. Only two patients had their stents replaced during surgery which were required because of stent migration. Migration was observed in 50% of these patients. The longest hospital stay was 68 days. Two patients (33%) died, one had a chronic fistula managed with two prostheses and the other died on same day as his second surgical intervention. Stents were removed after the fourth week.
Conclusions: The frequency of this complication varies from 0% to 30%. Early recognition and appropriate management are essential when faced with this complication. A few years ago this complication was almost exclusively managed by surgery and re-intervention was the rule. Currently, management of this complication is controversial, and there are no definitive guidelines. Nevertheless, the approach and management depends on the clinical condition of the patient, the size of the dehiscence, and the vitality of the edges of the complication. The tendency is to try to preserve continuity. Intestinal endoscopy is used for diagnosis and the complication is managed with a series of new tools among which the most frequently used are self-expanding metal prosthesis.
Keywords
Anastomotic leak, anastomotic leakage, gastrectomy, esophagectomy, management, self-expanding metal stents.
Leakage from jejunal-esophageal and esophageal-gastric anastomoses is a rare complication, but it can lead to a very complex situation since morbidity and mortality rates are high and are reflected in prolonged hospital stays and increased hospital costs (1, 2).
The frequency of this complication ranges from 0 to 30% depending on the hospital, surgical volume and the surgeon's experience (3). Early recognition and prompt and adequate treatment are essential for the management of these patients (4).
A diagnosis of leakage should be suspected when any change or abnormality occurs following surgical anastomosis. A radiological study using a water-soluble contrast medium or diluted methylene blue, or CAT scan using oral contrast should be performed immediately before acquisition of other images and an upper endoscopy (5).
Until recently treatment of this complication was almost exclusively surgical, and re-intervention for drainage and reinforcing the site of anastomotic dehiscence was the rule (6, 7). Another alternative consisted of rendering the anastomosis dysfunctional by means of disarticulation and the use of a feeding tube either through cervical esophagostomy or a jejunostomy with subsequent reconstruction of the digestive tract about six months later (8). Currently, treatment for this complication is controversial, and no definitive guidelines have been established. The approach and treatment depend on the clinical condition of the patient, the size of the dehiscence and the vitality of the edges of the anastomosis (9). Some authors recommend individualizing treatment of every patient to try to preserve intestinal continuity (4, 10).
Symptoms of this complication vary: some patients are completely asymptomatic while others develop severe sepsis (4, 10). Among current treatment alternatives there are the options of conservative treatment, drainage re-intervention, and endoscopic treatment with or without drainage. In addition, care of these patients in critical conditions includes enteral and parenteral nutrition, antibiotics, perianastomotic drainage and treatment in the intensive care unit (ICU) (11).
The current trend is that endoscopy should be part of early diagnosis and treatment of this complication. Treatment alternatives include SEMS, endoluminal vacuum assisted closure (E-VAC), clips, sealants and VICRYL mesh plugs such as Surgisis (10, 12).
The purpose of this paper is to show our experience in the treatment of patients with dehiscence of jejunal-esophageal or esophageal-gastric anastomoses through the use of SEMS.
MATERIALS AND METHODS
During 2012 and 2013, the total number of complications following gastrectomies in patients with gastric cancer who had had abdominal or esophageal anastomoses was recorded. Only patients with dehiscence of the anastomosis were included in the study. From December 2011 to December 2012, 145 gastrectomies were performed for gastric cancer at our institution, 72 of them were complete gastrectomies, and one had a thoracic anastomosis.
A log sheet was prepared with each patient's age, sex, location of lesion, medical condition; information about whether the patient had received enteral nutritional, chemotherapy or radiation therapy; the date that a fistula or dehiscence occurred and its size; the type of treatment; the number and type of prostheses; whether the stent migrated or was removed, and whether or not the patient survived.
Patients underwent radiological study with water-soluble contrast seven days after surgery regardless of the clinical course. All patients had perianastomotic drainage. When there was doubt about dehiscence of the anastomosis, the patient had a radiological study with diluted blue methylene contrast. If there was certainty of the presence of a fistula or dehiscence, the patient was evaluated to determine the appropriate treatment based on the clinical diagnosis and a CAT scan. Stents were placed when the patient underwent surgery for cleaning and drainage, preferably during the same session as placement of a feeding tube. Dehiscence size was obtained from the endoscopic surgery report. We tried to have radiological or endoscopic study to control the effectiveness of the stent for early sealing of the fistula. When the placement of the stent was not feasible during surgery, it was placed later. Prostheses were removed between the fourth and eighth week following placement. The prostheses used were Tecnostent E16-12 and E18-12. These are monobody stents which are made in China and which have 18 mm diameters and 12 mm lengths.
RESULTS
Since this is a rare complication only 6 patients were recorded in Tables 1 and 2.
Five of the six patients underwent surgery for gastric adenocarcinomas, but the sixth patient was operated on for advanced gastrointestinal stromal tumor with liver metastases. Previously, he had received neoadjuvant imatinib treatment.
Two patients received preoperative nutritional repletion due to loss of more than 10% of their body weight.
Five patients had total gastrectomies with Roux-Y reconstruction and end to side stapling. The other patient underwent an esophageal gastrectomy with intrathoracic anastomosis with end to side stapling.
Five patients had x-rays with water-soluble contrast which confirmed dehiscence or leakage in three of them. The fourth required methylene blue for confirmation. The fifth patient was discharged after two days with an apparently normal radiology. The remaining patient was taken directly to surgery due to his clinical condition.
A second intervention to drain and inspect the anastomoses was required for all six patients. During surgery, two of them underwent endoscopy to assess the anastomoses, to place SEMS and to advance feeding tubes.  Two of the other patients had their SEMS placed two days after surgery while the other two patients had theirs placed one week and two weeks after their second interventions.
Two patients required placement of a new SEMS due to migration after the first and the fourth week. Another patient returned to the clinic four weeks later because of vomiting. The SEMS had migrated but the leakage had been sealed and was healing. 
Despite placement of two SEMS, one patient showed no closure after 12 weeks and finally passed away. This patient was one of those who received nutritional repletion for 14 days before surgery. The last patient died the night of second intervention.
SEMSs were removed from the four patients who survived after the 4th week and after closure of the dehiscence in all four patients.
The patient whose fistula did not close and who needed two SEMS had the longest hospital stay which was 68 days. None of the patients received preoperative chemotherapy or radiotherapy.
In summary, we treated four men and two women with ages between 58 and 72 years. All demonstrated the presence of a fistula or leakage between the seventh and twelfth following surgery. Two patients died. SEMS migration was demonstrated in half of the patients with leakage closure evidenced in four patients.
DISCUSSION
In our environment, 50% of the gastrectomies for localized gastric cancer are total (13). Esophageal-jejunal anastomoses are created either by resection of the distal esophagus or through esophageal gastrectomies. Complications of these procedures are stenosis, bleeding and leakage (14).
Anastomotic leakage and intra-abdominal infections have been regarded as the major complications after radical gastrectomies (15).
Leakage from an esophageal-jejunal anastomosis following surgery for cancer is a serious complication that has a high risk of morbidity and mortality. No optimal treatment has yet been described, but the options are repeated surgery, conservative treatment with external drainage, and endoscopic treatment with or without external drainage depending on the clinical condition of the patient.  Within the last decade different treatment approaches, especially endoscopic, have been tried (14).
The seepage or leakage from the anastomosis consists of output from intestinal contents through the suture line between the esophagus and the jejunum or the esophagus and the stomach. There is always a possibility that this seepage will collect around the anastomosis and cause fever, sepsis, abscesses, unilateral or metabolic disorder and multiple organ failure. This content can emerge through the perianastomotic drain or thoracic tubes left near the suture (16).
Anastomotic leakage after esophageal surgery occurs in 0% to 30% of patients, but leakage in the intrathoracic region has the greatest association with increased morbidity and mortality (8, 10).
While repetition of surgical exploration has remained the preferred choice for treatment of esophagojejunal anastomotic leakage, it is associated with high rates of morbidity and mortality, longer hospital stays and increased medical costs (17).
As an alternative to surgical treatment, several endoscopic options have been described. They have had varying rates of success rates in studies with small numbers of cases with heterogeneous patients. Nevertheless, the best approach to this complication has not been established (8, 10).
The following questions remain to be answered regarding what is the best treatment for patients with esophagojejunal or gastric anastomotic leakage.
1. Should patients who have had complete gastrectomies or esophageal gastrectomies have a radiological study with water-soluble contrast?
2. When an anastomotic leak is suspected which diagnostic study should be performed: radiology? CAT scan or endoscopy?
3. Which patients with anastomotic leakage should be treated conservatively?
4. Which patients with anastomotic leakage should receive endoscopic treatment?
5. Which patients with anastomotic leakage should undergo surgery?
6. What determines which decision is made?
7. Should patients have an early endoscopic evaluation?
8. If endoscopy is part of the treatment, which tool should be used?
9. Should a single endoscopic tool be used?
10. For how much time should the endoscopic tool be used?
The result of treatment depends on the experience of the surgeon and the attending group. The main objective of treating esophagojejunal anastomotic leakage is to seal the leak quickly to prevent the intestinal contents from collecting in the pleural or abdominal cavities where it leads to the subsequent formation of abscesses, septicemia, peritonitis, empyema, and organ failure (17, 10).
Early diagnosis of this complication is essential. Since anastomotic leakage occurs between the seventh and tenth day following surgery, any irregularity in the course of esophageal cancer surgery should be followed up by the use of one or another diagnostic tool to confirm or discard anastomotic leakage (18).
We present the following considerations regarding initial assessments with esophagography using a water soluble contrast medium, CAT scan with contrast and endoscopy. Early diagnosis requires a high degree of suspicion by the surgeon. Some authors advise against using esophagography with a water soluble contrast medium because it has been said that it has poor sensitivity and specificity, fails to identify clinically significant leakage and shows false leakage in end to side reconstruction (21). A study by Lamb et al. of 66 patients who were assessed with this method found a sensitivity of 66% and concluded that there is no role for routine use of this diagnostic method following total gastrectomy (19). Other authors say that radiological studies with contrast have failed to show leakage or dehiscence in about half of the patients (20).
Little evidence has been presented in the literature about the use of CAT scans with oral contrast, but a study of 25 patients found it to be more accurate than fluoroscopy with contrast medium (21).
Endoscopy with minimal insufflation was used by Griffin for assessment of air filtration to identify symptomatic patients in a study of 291 patients. The advantage of endoscopy over radiological studies includes visualization and quantification of the defect (22). Unlike the other methods, endoscopy can detect the presence of necrosis at the edges. Endoscopy can be used in the ICU, and it facilitates both the placement of a nasojejunal or nasogastric drainage tube and a feeding tube. The sensitivity and specificity of endoscopy for diagnosis of anastomotic leakage is approximately 95% (10, 16, 23). Endoscopy should be performed as soon as the development of postoperative esophagectomy deviates from its normal course (8).
A non-randomized prospective study of 38 patients who underwent the three types of diagnostic studies found that radiology and CAT scans with water-soluble mediums both had sensitivities of 87.5% while the specificity of x-rays was 90% and the specificity of CAT scans was 100%. The study found that both the sensitivity and specificity for endoscopic evaluation were 100%. Several studies have mentioned that the radiological studies with oral contrast is not ideal for investigating anastomosis leakage in the digestive tract. Also, there may be false positives according to the type of anastomosis. A detailed diagram of the surgical anastomosis must be made ​​by the surgeon and given to the radiologist for proper interpretation. Water-soluble contrast is used, but barium is more sensitive (21).
Computerized axial tomography (CAT) can be performed more easily than other diagnostic tests on very ill patients or those with poor mobility. It allows recognition of associated abscesses, pleural effusion, pneumothorax and pulmonary abnormalities. Griffin has shown that endoscopy with a sensitivity of 100% is more accurate for the investigation of anastomosis leakage and is also useful for assessing the vitality of edges and can be used for critically ill patients when a diagnosis cannot be confirmed by radiology (21).
In summary, post-operative studies to identify leaks have no guarantees. Radiological study with water-soluble medium or methylene blue to confirm clinical findings when there is external drainage may be useful for patients who cause clinical suspicion. A CAT scan with oral contrast is a good alternative method for patients with less mobility and for identifying complications such as abscesses, and pleural effusions. Endoscopy is excellent for assessing the integrity of the anastomosis and is ideal when there is any inconsistency with radiological findings (21).
Currently, the literature tends to support conservative or non-surgical treatment and implies that this should be include the use of various endoscopic tools to seal or obliterate the fistulous opening. Whether or not there is a need for CT-guided perianastomotic drainage, placement of a feeding tube, administration of antibiotics and placement of the patient in ICU should always be kept in mind. A second surgical operation has higher risks of morbidity and mortality than does conservative treatment (24).
Among the new endoscopic alternatives are fully coated SEMS, endoscopic VAC, clips, sealants like fibrin glue and cyanoacrylate, placement of Surgisis vicryl mesh sealant and use of a bear trap.
The questions are: Which should be used? When should it be used? What is the first choice? And, is there a need to use more than one of these techniques?
This question has not been answered, but the literature has more publications about the use of SEMS than the other techniques. The clinical success rate is around 70% to 80% (10, 25-27). They can be easily placed in the operating room, endoscopy room or the ICU. Their complications are related to migration which occurs in close to 50% of cases. SEMSs should be covered completely because the covering facilitates removal but also facilitates migration. They should have a larger diameter than the esophageal lumen to facilitate sealing the abutment with the mucosa to prevent leakage (24). When endoscopy is performed there must be no space between the stent and the esophageal wall. Once placed, the stent should observed through contrast x-ray during 24 hours to evaluate its position and to identify any leakage of the contrast outside of the intestinal lumen. If the seal is adequate, oral feeding may be restarted. SEMSs should be removed at the sixth week when it is confirmed that most of the leaks have healed (27). In cases of recalcitrant fistulas or those that do not close after the sixth week, a second stent or other endoscopic tools can be used (28).
Although there have been reports of perforation during placement of a stent, the most common complication is migration (16% to 37%) (24). When the 24 hour radiological follow-up shows a failure to seal, it becomes necessary to remove the stent and replace it with a stent that has a larger diameter. Stenting must be accompanied by an assessment of the perianastomotic region with a contrast CAT scan. If drainage tubes have been removed and leakage is detected, thoracic tubes should be placed using CAT scans to guide the placement. In all of these cases patients should be treated with antibiotics (24).
Polyflex self-expanding stents have received the best reviews in the literature (24, 25). In our environment we have used the monobody 18 mm diameter stent, but there are now new stents with larger diameters available. Stents measuring 18 to 23 mm in their proximal portions are used for cervical leaks, and those with diameters of 21 to 25 mm are used for patients with intrathoracic leakage. The WALLSTENT should be avoided for esophagus jejunal anastomosis leakage (18).
Depending on the amount of dehiscence, 30% to 70% of these patients should be treated with SEMS (27). When there is a large amount of dehiscence including complete dehiscence, surgery is required. However, in the literature there is a case report of complete dehiscence that was treated successfully by placement of a stent (29). Dehiscence of less than 30% of the circumference can be handled with clips, fibrin glue injections or placement of a stent (10).
Apart from the size and location of the fistula, the time of diagnosis and the patient's general condition also determine the outcome of the operation (24).
E-VAC is another endoscopic system that is being used (30). It is based on the closed mode of VAC treatment for infected skin wounds and on negative pressure applied to the wound through a sponge. Uniform negative surface application of the sponge allows the formation of granulation tissue, clearance of secretions, reduces edema and improves blood flow which allow wound closure. In the VAC system, a piece of sponge based on the size of the leak or dehiscence is sutured to the tip of a duodenal tube and passed through the nose. The sponge is moved with an endoscopic clip and inserted into the necrotic cavity. A continuous suction of 125 mm Hg is then applied. This sponge is changed 2 to 3 times per week until the cavity is sealed and/or diminished in in size. The literature shows that the E-VAC system is safe and effective for treatment of post-surgical intrathoracic leakage with suitable final results (30).
The E-VAC system appears to be as effective as placement of a stent, but several endoscopy sessions are needed a week to change the sponge. This can be annoying especially if the patient has another distal nasogastric feeding tube. A retrospective, nonrandomized study that compared the use of stents in 39 patients and E-VAC in another 32 found fistula closure in 53.8% of patients with prostheses and 84.4% in those treated with E-VAC. Hospitalization times were 41 days and 48.5 days respectively. Mortality occurred in 11 patients with prostheses and 5 treated with E-VAC. These authors conclude that the E-VAC system is as safe and effective as stents in the treatment and management of post-surgical fistulas. It should also be considered in cases refractory to other endoscopic treatments (31).
Fibrin sealants, alone or in combination with a vicryl mesh plug, are other management alternatives for leakage from esophagojejunal and esophageal gastric anastomoses. Fibrin is a combination of fibrinogen and thrombin (32). Their use is described for cases of fistulas under 1 cm in diameter and depth. Once an endoscopic diagnosis has been made and the size of the cavity has been determined, it is washed with saline solution. When the cavity is clean, it is filled with Vicryl mesh (polyglactin 910) which has a small pores no larger than 2 mm to absorb the fibrin which is applied shortly thereafter. Using endoscopic forceps, the mesh is placed into the cavity to act as a carpet for application of 2-3 ml of fibrin (Tissucol). Fibrin is also applied to the edges of the anastomotic leak. These authors described 71 patients: 24 treated only with fibrin, 15 with fibrin plus vicryl mesh placement as plug, and 32 cases treated with washing and enteral nutrition (12). The filtration completely closed in 13 of the 15 patients managed with fibrin and vicryl mesh. However, all these patients had fistulas at the cervical level which have better prognoses than those in other locations. Successful closure of fistulas is described in 75% to 85% of cases, in the literature, but the rate of successful closures and the number of sessions required vary considerably. When fistulas are less than 1 cm, at least 4.6 sessions are needed on average (12, 33).
The application of biomaterials (Surgisis), which are compounds made ​​from an acellular matrix derived from the submucosa of the small intestine of the pig, stimulates cell proliferation and the formation of a real network of fibroblasts, which is subsequently incorporated by the scar without stimulating an inflammatory foreign body reaction. Its implementation is described in patients with recalcitrant fistulas which are fistulas that do ​​not close under general measures and other associated tools (28).
The application of endoscopic clips is described especially for hemostasis in cases of early and perforations before an inflammatory reaction appears. When fistulous holes seem indurated or fibrotic, its usefulness is limited by the difficulty in approximating the edges because most of the time these can end up enlarged or torn. Its application has been proposed for other endoscopic techniques (5).
The OSTC over the scope clip ("bear trap") was introduced in 2007, which consists of a clip that is pre-loaded in a transparent cup attached to the distal portion of the endoscope, which can be released to the channel working in a similar binder system band form. It has been successful in treating perforations, bleeding and fistulas. Literature shows series with small groups of very heterogeneous patients successful in about 50% in cases of fistulas with the problem of finding fistulous orifices with fibrosis in their edges. The group where the result was favorable had 10 mm diameter and 17 mm fistulous orifices in the worst group. At experimental level it has been shown that the OSTC can close defects up to 30 mm diameter in size. In the group of patients with various fistulas efficiency went from 43% to 65%, including different locations. In summary, the OSTC is a safe and effective alternative for closure of fistulas, however its therapeutic efficacy is low in cases of chronic fistulas and associated fibrosis. Also, its use is described in association with other endoscopic techniques (34, 35).
Another question would be: when does the patient in the post-operative esophageal gastric or esophageal jejunal anastomosis surgery should be taken to surgery? The esophageal anastomotic leak is a fatal complication for any surgeon (20). It needs a high clinical suspicion for early diagnosis. Literature shows that the spectrum of symptoms in the postoperative period is wide from asymptomatic or silent pictures to fulminant sepsis pictures. 20-50% of all anastomotic leaks remain clinically silent (5). Patients with fulminant early sepsis in the first 48 hours show probable necrotic edges or necrotic ascending gastric tube confirmed by endoscopy, which would imply another intervention with a new anastomosis or disruption of the anastomosis esophageal cerclage or cervical esophagostomy with jejunostomy and multiple thoracic and abdominal cavity lavages (36).
Until recently endoscopists were fearful of evaluating patients with gastrointestinal leaks. Endoscopy has proven to be safe and effective in the diagnosis and treatment of patients with anastomotic leaks (22, 36, 37).
There are four goals when defined by surgical treatment: prevention of pleural or abdominal pollution, restoring the integrity of the esophagus, elimination of infection and nutritional support. Surgical repair requires general anesthesia, re-thoracotomy and laparotomy, dissection for repair or disabling, which implies increased morbidity, mortality and hospital costs (18).
In summary:
Management of esophageal intestinal anastomotic leaks must be individualized and guided by the severity of symptoms and the extent of the dehiscence. Early diagnosis, prompt and adequate treatment are mainstays in the successful treatment of patients with this complication. Symptomatic and some asymptomatic patients with small contained leakage can be managed conservatively (20, 22).
It is critical to differentiate between leakage and necrosis of the anastomosis or the ascended conduit and at this point it is crucial to perform an endoscopic evaluation (37). Surgery or another intervention is indicated in symptomatic patients with anastomotic leakage that was not contained and those in whom conservative treatment has failed. Some surgeons are inclined to perform an anastomosis dislocation with cervical esophagostomy and jejunostomy but this procedure is almost restricted to necrosis of the gastric tube or of the anastomosis. However, intestinal continuity should always tried to be preserved and this is when endoscopic treatment should be taken into account (20, 36).
If dehiscence varies from 30% to 70% of the circumference then SEMS is the best alternative. The endoscopic VAC is another alternative in these cases. In cases of dehiscence in less than 30% of the circumference, clips, sealants alone or with vicryl mesh can be part of treatment.
Intrathoracic anastomosis carries an additional difficulty as the negative pressure offered by this region may be a cause for failure of options that usually work in anastomosis at the abdominal level. It is good to point out that early and timely sealing of the fistula could prevent irreversible septic complications and even after placed persistent collection must be discarded since this would require drainage or surgical revision.
Being a rare complication and with the experience of the group in self-expanding stent in malignant pathologies, an algorithm for treating patients with this complication was designed as a contribution to a future expert consensus.
ALGORITHM
1. Suspected anastomotic leakage when any alteration of the normal postoperative course of the patient with esophageal surgery is detected.
2. Diagnosis of dehiscence with radiological study with water-soluble oral medium contrast, oral contrast CAT scan and upper gastrointestinal endoscopy.
3. Assessment of the patient's clinical condition.
4. Joint assessment between the surgeon and Endoscopist
5. Fistula Type Definition (Fulminant, silent, clinically detected or uncontained).
6. Choice of treatment: conservative, endoscopic or surgical treatment.
7. Choice of endoscopic treatment: Stent? VAC E, fibrin sealants, Clips, OSTC, or any combination thereof.
8. Define external drainage treatment (Figures 1 and 2).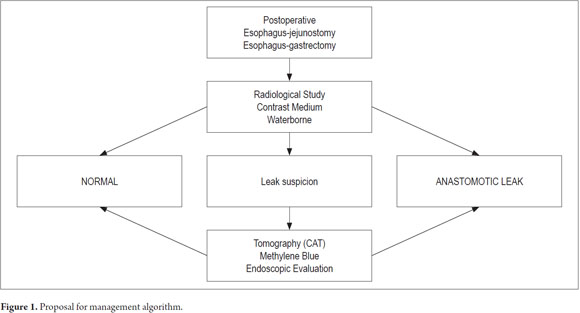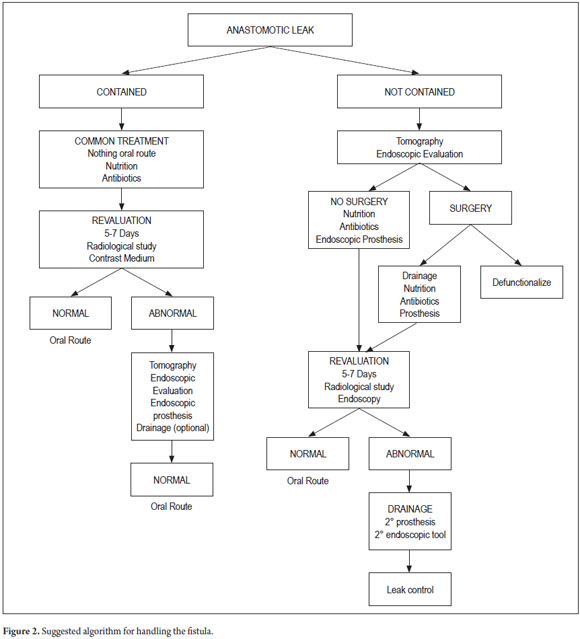 REFERENCES
1. Kwak HS, Lee JM, Jin GY. Treatment of Gastrojejunal Anastomotic Leak with a Covered Metallic Stent. Hepato-Gastroenterology 2003; 50: 62-641. [ Links ]
2. Sierzega M, Kolodziejczyk P, Kulig J and the Polish Gastric Cancer Study Group. Impact of anastomotic leakage on long-term survival after total gastrectomy for carcinoma of the stomach. Br J Surg 2010; 97: 1035-1042. [ Links ]
3. Lang H, Piso P, Stukenborg C, et al. Management and results of proximal anastomotic leaks in a series of 1114 total gastrectomies for gastric carcinoma. Eur J Surg Oncol 2000; 26: 168-171. [ Links ]
4. Pross M, Manger T, Reinheckel T, et al. Endoscopic treatment of clinically symptomatic leaks of thoracic esophageal anastomoses. Gastrointest Endosc 2000; 51(1): 73-76. [ Links ]
5. Messmann H, Schmidbaur W, Jackle J, et al. Endoscopic and surgical management of leakage and mediastinitis after esophageal surgery. Best Prac Res Clin Gastroenterol 2004; 18(5): 809-827. [ Links ]
6. Roy-Choudhury S, Nicholson A, Weedgwood K, et al. Symptomatic Malignant Gastroesophageal Anastomotic Leak: Management with Covered Metallic Esophageal Stents. AJR 2001; 176: 161-165. [ Links ]
7. Bruce J, Krukowski ZH, Al-Khairy G, et al. Systematic review of the definition and measurement of anastomotic leak after gastrointestinal surgery. Br J Surg 2001; 88: 1157-1168. [ Links ]
8. Tuebergen D, Rijcken E, Mennigen R, et al. Treatment of Thoracic Esophageal Anastomotic Leaks and Esophageal Perforations with Endoluminal Stents: Efficacy and Current Limitations. J Gastrointest Surg 2008; 12: 1168-1176. [ Links ]
9. Cardoso E, Silva RA, Moreira-Dias L. Use of cardiac septal occluder device on upper GI anastomotic dehiscences: a new endoscopic approach (with video). Gastrointest Endosc 2012; 76(6): 1255-1258. [ Links ]
10. Schubert D, Scheidbach H, Kuhn R, et al. Endoscopic treatment of thoracic esophageal leaks by using silicone-covered, self-expanding polyester stents. Gastrointest Endosc 2005; 61(7): 891-896. [ Links ]
11. Fernández A, Vila AA, Vázquez S, et al. Self-expanding plastic stents for the treatment of post-operative esophago-jejuno anastomosis leak. A case series study. Rev Esp Enferm Dig (Madrid) 2010; 102(12): 704-710. [ Links ]
12. Böhm G, Mossdorf A, Klink C, et al. Treatment algorithm for postoperative upper gastrointestinal fistulas and leaks using combined Vicryl plug and fibrin glue. Endoscopy 2010; 42: 599-602. [ Links ]
13. Guevara O, Barrera O, Oliveros R, et al. Morbi-mortalidad y clasificación de Clavien de las complicaciones, en 100 gastrectomías consecutivas por Cancer Gástrico. Ponencia en el Congreso Nacional de Cirugía. Colombia, 2011. [ Links ]
14. Kim JK, Shin SK, Lee HJ, et al. Endoscopic management of anastomotic leakage after gastrectomy for gastric cancer: how efficacious is it? Scan J Gastroenterol 2013; 48: 111-118. [ Links ]
15. Sah BK, Chen MM, Yan M, et al. Reoperation for early postoperative complications after gastric cancer surgery in a Chinese hospital. World J Gastroenterol 2010; 16(1): 98-103. [ Links ]
16. D'Cunha J, Rueth NM, Groth SS, et al. Esophageal stents for anastomotic leaks and perforations. J Thorac Cardiovasc Surg 2011; 142: 39-46. [ Links ]
17. Moros ME, Martín P, álvarez LF, et al. Manejo endoscópico de fístulas gastrointestinales. En Landazábal G, (Ed.). Endoscopia y patología biliodigestiva. Capítulo 36. 2011. p. 467-479. [ Links ]
18. Raju GS. Endoscopic Management of Gastrointestinal Leaks. Gastrointest Endosc Clin N Am 2007; 17: 487-503. [ Links ]
19. Lamb PJ, Griffin SM, Chandrashekar MV, et al. Prospective study of routine contrast radiology after total gastrectomy. Br J Surg 2004; 91(8): 1015-9. [ Links ]
20. Crestanello JA, Deschamps C, Cassivi SD, et al. Selective management of intrathoracic anastomotic leak after esophagectomy. J Thorac Cardiovasc Surg 2005; 129(2): 254-260. [ Links ]
21. Hogan B, Winter D, Broe D, et al. Prospective trial comparing contrast swallow, computed tomography and endoscopy to identify anastomotic leak following oesophagogastric surgery. Surg Endosc 2008; 22: 767-771. [ Links ]
22. Low D. Diagnosis and Management of Anastomotic Leaks after Esophagectomy. J Gastrointest Surg 2011; 15: 1319-1322. [ Links ]
23. Griffin SM, Lamb PJ, Dresner SM, et al. Diagnosis and management of a mediastinal leak following radical oesophagectomy. Br J Surg 2001; 88: 1346-1351. [ Links ]
24. Feith M, Gillen S, Schuster T, et al. Healing occurs in most patients that stents for anastomotic leakage; dislocation remains a problem. Clin Gastroenterol and Hepatol 2011; 9: 202-210. [ Links ]
25. Nowakowski P, Ziaja K, Ludyga T, et al. Self-expandable metallic stents in the treatment of post-esophagogastrostomy/ post-esophagoenterostomy fistula. Diseases of the Esophagus 2007; 20: 358-360. [ Links ]
26. Freeman RK, Ascioti AJ, Giannini T, et al. Analysis of Unsuccessful Esophageal Stent Placements for Esophageal Perforation, Fistula, or Anastomotic Leak. Ann Thorac Surg 2012; 94: 959-965. [ Links ]
27. Boeckel P, Dua K, Lam Weusten B, et al. Fully covered self-expandable metal stens (SEMS), partially covered SEMS and self-expandable plastic stents for the treatment of benign esophageal ruptures and anastomotic leaks. BMC Gastroenterology 2012; 12: 19. [ Links ]
28. Tringali A, Daniel FB, Familiari P, et al. Endoscopic treatment of a recalcitrant esophageal fistula with new tools: stents, Surgisis, and nitinol staples (with video). Gastrointest Endosc 2010; 72(3): 647-650. [ Links ]
29. Sampaio JA, Waechter FL, Pereira-Lima J, et al. Successful treatment of esophagojejunaldisconnection after total gastrectomy by insertion of a covered self-expandable esophageal metallic stent. Gastrointest Endosc 2003; 58: 453-6. [ Links ]
30. Wedemeyer J, Brangewitz M, Kubicka S, et al. Management of major postsurgical gastroesophageal intrathoracic leaks with an endoscopic vacuum-assisted closure system. Gastrointest Endosc 2010; 71(2): 382-386. [ Links ]
31. Brangewitz M, Voigtlander T, Helfritz FA, et al. Endoscopic closure of esophageal intrathoracic leaks: stent versus endoscopic vacuum-assisted closure, a retrospective analysis. Endoscopy 2013; 45: 433-438. [ Links ]
32. Disibeyaz S, Parlak E, Koksal S, et al. Endoscopic treatment of a large upper Gastrointestinal Anastomotic leak Using a Prolene Plug and Cyanoacrylate. Endoscopy 2005; 37: 1032-1033. [ Links ]
33. Lippert E, Klebl F, Schweller F, et al. Fibrin glue in the endoscopic treatment of fistulae and anastomotic leakages of the gastrointestinal tract. Int J Colorectal Dis 2011; 216: 303-311. [ Links ]
34. Galizia G, Napolitano V, Castellano P, et al. The Over-The-Scope-Clip (OTSC) System is Effective in the Treatment of Chronic Esophagojejunal Anastomotic Leakage. J Gastrointest Surg 2012; 16: 1585-1589. [ Links ]
35. Disibeyaz S, Seref Koksal A, Parlak E, et al. Endoscopic closure of gastrointestinal defects with an over the scope clip device. A case series and review of the literature. Clin Res Hepatol Gastroenterol 2012; 36: 614-621. [ Links ]
36. Martin L, Hofstetter W, Swisher S, et al. Management of Intrathoracic Leaks Following Esophagectomy. Adv in Surg 2006; 40: 173-190. [ Links ]
37. Schubert D, Dalicho ST, Florh L, et al. Postoperatives Komplikations management nach Osophaguschirurgie. Chirurg 2012; 83: 712-718. [ Links ]