Services on Demand
Journal
Article
Indicators
Related links
Cited by Google
Similars in SciELO
Similars in Google
Share
---
Print version ISSN 0121-246X
Rev Fac Odontol Univ Antioq vol.25 no.2 Medellín Jan./June 2014
CLINICAL CASE
TREATMENT OF CLASS II, DIVISION 2 MALOCCLUSION WITH EXTERNAL ROOT RESORPTION DUE TO DENTOALVEOLAR TRAUMA. A CASE REPORT1
Adriana Campuzano1; Paola Botero2
1 Dentist, CES; Orthodontist, CES. Professor, Orthodontics Undergraduate Program. CES, Medellín, Colombia. Email: campuzanonana@gmail.com
2 Dentist, CES; Orthodontist, CES. Teaching Assistant, Orthodontics and Pediatric Dentistry Graduate Program. CES, Medellín, Colombia
SUBMITTED: MAY 14/2011-APPROVED: OCTOBER 8/2013
Campuzano A, Botero P. Treatment of Class II, division 2 malocclusion with external root resorption due to dentoalveolar trauma. A case report. Rev Fac Odontol Univ Antioq 2014; 25 (2):.
---
ABSTRACT
The literature reports that patients who have suffered dentoalveolar trauma, and therefore have experienced external root resorption, are at higher risk of reactivating the resorption process after applying orthodontic forces. This risk increases with uncontrolled tooth movements, intrusion movements, extended orthodontic treatment, and application of extreme forces, among other factors. Intrusion movements are considered the riskiest for root resorption, although it has been shown that they are directly proportional to the magnitude of applied forces. This case report refers to a 13-year-old patient with history of external root resorption due to trauma at the age of 7. Despite the intrusion movement (Ricketts intrusion arch) of the affected teeth, the clinicians were able to maintain the initial root length of resorpted teeth. Besides proper management of movement and forces, an excellent radiographic control was performed quarterly, as well as regular consultation with an endodontist.
Key words: root resorption, Angle class II malocclusion, tooth movement.
---
INTRODUCTION
Orthodontic movement of teeth occurs because of modifications in periodontal ligament and alveolar bone, triggered by forces that must be mild in order to avoid alterations in the supporting structures and the root, since the ligament is inserted in the tooth's outermost surface.1
Necrosis of the periodontal ligament at the site of pressure with formation of cell-free hyaline zones, followed by osteoclastic resorption of the nearby alveolar bone and apposition of bone by osteoblasts on the side where there is tension, are the typical histological characteristics of processes like root resorption, in cases of uncontrolled forces.1 When resorption starts on the external tissues of tooth, such as the cement, it is called external root resorption (ERR).
There are various factors that influence the appearance of ERR during orthodontic treatment, and they can be either mechanical or biological.1 Mechanical factors include extensive tooth movements, root torque, intrusive forces, the type of tooth movement, the magnitude of orthodontic force, the duration of such a force, and the type of applied force. On the other hand, biological factors include genetic susceptibility, systemic factors (e.g. hormonal alterations), dental agenesis, root form, and certain medications which, in conjunction with orthodontic forces, can produce root resorption.1, 2
External root resorption in the tooth's apical area is common from the earliest stages of the orthodontic treatment, with a variable prevalence ranging from 0.5 to 3 mm on average according to the studies, producing root shortening.2, 3 Levander made a classification according to the degree of severity, as shown in figure 12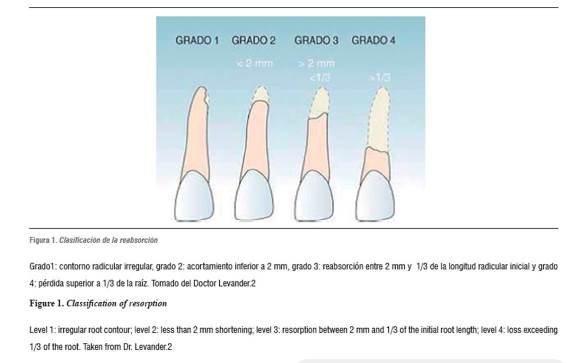 Level 1: irregular root contour; level 2: less than 2 mm shortening; level 3: resorption between 2 mm and 1/3 of the initial root length; level 4: loss exceeding 1/3 of the root. Taken from Dr. Levander.2
Severe resorptions account for 5 to 18% of the cases;4 those larger than 3 mm are reported with a frequency of 30%,5 while those larger than 5 mm are found in only 5% of treated individuals. Resorption occurs mainly in the anterior maxillary teeth, with average tooth structure loss of 1.4 mm, the most affected being the upper lateral incisors.6 Patients undergoing orthodontic treatment and presenting root resorption during the first six months of active treatment are more likely to experience resorption within six months than those who do not present it.7
One of the most influential factors is root shape, since pipette-like, sharp, dilacerated7 or long, narrow and deviant roots are more susceptible to orthodontic forces.5 In a comparative study using x-rays taken before and after orthodontic treatment, it was reported that teeth with abnormal root morphology often show signs of external root resorption compared with teeth with normal shape roots.5-8 In another study, in 2007 Oyama et al used finite element modeling to quantify the stress caused on roots depending on root shape, finding out that during the application of orthodontic force, the concentration of effort occurred to a greater degree in the teeth with short, pipette-like, dilacerated roots. 9
It has been reported that intrusive movements are a risk factor for root resorption, since stress forces concentrate in the radicular periapex. This has been demonstrated with finite elements studies.10
This article presents the clinical case of a patient with decreased root length in most teeth and ERR in some teeth in particular due to dentoalveolar trauma before initiating orthodontic treatment. The treatment included application of controlled forces during two years in a row, maintaining the initial root length.
The patient has authorized the publication of figures including facial and intraoral photos as well as x-rays in this article, by signing an informed consent that is part of the clinical history.
CLINICAL CASE
Diagnosis and etiology
The patient was a 13-year-old girl of mixed race with no relevant medical history. Concerning dental records, she reported dentoalveolar trauma in the upper front teeth when she was seven.
The physical examination reveals a pre-pubertal patient who, according to the stage of skeletal development, was in CS 2 phase of cervical maturation, and had not had her menarche yet.
In the initial face photographs (figure 2), lips were competent and she had a prominent chin in acceptable symmetry (although the skeletal-dental midline did not coincide, since the dental midline was deviated 1 mm to the left). There was no tooth exposition at rest, but she had a high smile line and convex profile (with a concave lower third), as well as decreased mentolabial sulcus and increased nasolabial sulcus.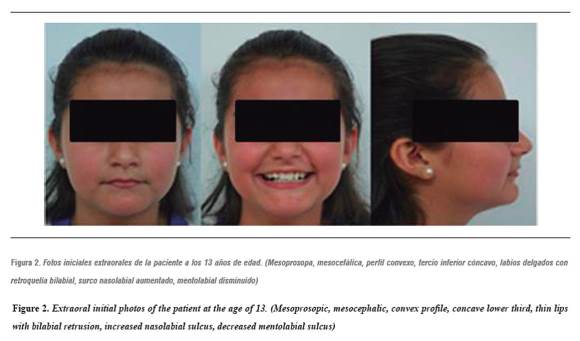 Intraoral analysis (figure 3) showed 3 mm overjet, deep bite (80% overbite), with class I right molar relationship and 1 mm left class II, while the canine relationship is class II bilateral (2 mm right and 1mm left), with slight upper and lower crowding and space deficiency of °2 mm in the upper arch and °3 mm in the lower arch. The arches were oval, medium and asymmetric.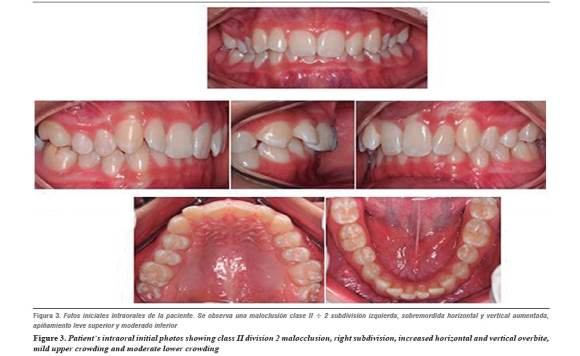 The radiographic analysis showed root resorption of 11, 21 and 35 (with 1:1 root-crown ratio) and short roots in 14, 15, 16, 24 and 25. In addition, congenital absence of 18, 28, 38 and 48 (figure 4).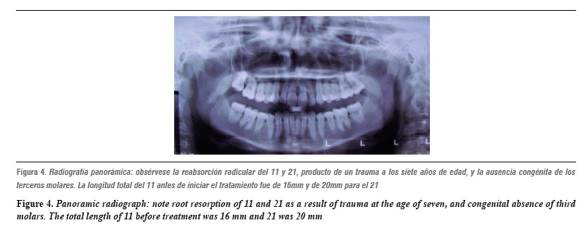 The cephalometric tracing (figure 5) showed, at the dentoalveolar level, that the upper central incisors were located towards lingual and presented retrusion. In terms of soft tissue, we observed bilabial retrusion, increased soft chin and decreased nasolabial angle.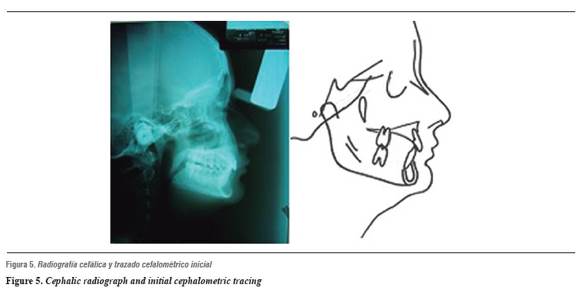 The following diagnoses (table 1) are established based on the clinical and radiographic findings.
Diagnostic overview
Treatment goals
Based on diagnoses, the following treatment objectives were suggested: fix class II dental malocclusion, align teeth and solve crowding, fix overbite, obtain anterior teeth coupling and dental function with canine relations class I, fix the position of upper incisors, improve middle lines, improve facial angles, maintain initial root length by controlling the applied forces and performing radiographic control.
Treatment
After analyzing models, photos, and radiographs, we decided to perform orthodontic treatment, with the necessary considerations to control resorption. Before starting orthodontic treatment, the patient was referred for endodontic evaluation of 11 and 21 and root resorption, and after vitality testing we found normal pulp in those teeth, being able to begin treatment. The recommendation was to take quarterly periapical radiographs to control root length, since the literature reports the importance of periodic radiographic observation in the presence of root resorption history. Some authors recommend yearly radiographic observation,1 while other articles recommended first control from 6 to 9 months after initial treatment or, in case of finding signs of root resorption, radiographic controls should be performed every 2 months.11
Frequent consultation with the endodontist and application of mild and controlled forces are other important considerations to prevent root resorption activation.
Treatment progress
The upper appliances were placed with standard 0.018" slot brackets. The first 0.014" Niti arch was placed and the first control periapical radiograph was taken (figure 6).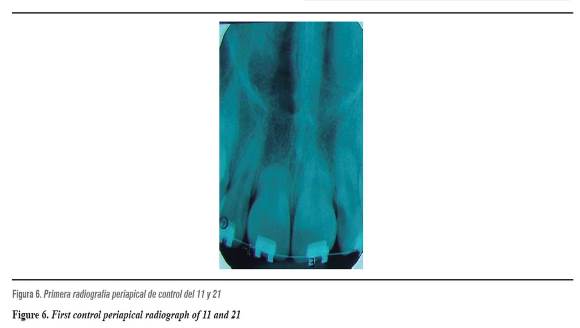 The lower appliances were placed one month later at 3 mm, more towards gingival because of the deep bite, which was fixed from the beginning by using a Niti 0.016" reverse lower curve. Radiographic control is performed three months after starting treatment, and no root size changes were observed (figure 7).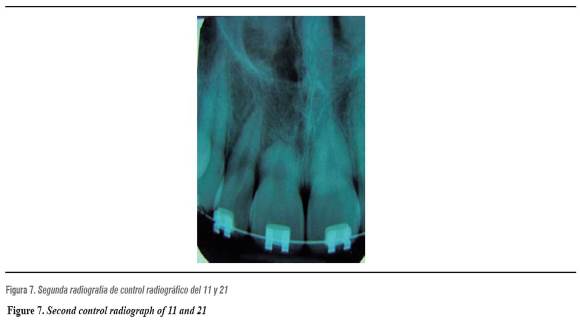 In order to achieve space in the lower area (incisors area), Niti open springs were placed (with a force between 15 and 25 gr according to the manufacturer's instructions) proceeding to align and level with 0.014" upper steel arches. To improve overbite, we inserted a 0.016'' x 0.016" steel Ricketts intrusion arch with 30° tipback (which applies a force of 110 gr, measured with a dynamometer) and a 0.016" x 0.016" steel segmented arch. This arch was used for 6 weeks, achieving the desired overbite. After intrusion, the control periapical radiograph was taken, observing no radiographic changes. The patient was evaluated by the Universidad CES Endodontics Service, observing resorption stability with favorable pulp tests (figure 8).
After one year of treatment, intermediate records of photos, panoramic and cephalic radiographs were taken (figures 9 and 10).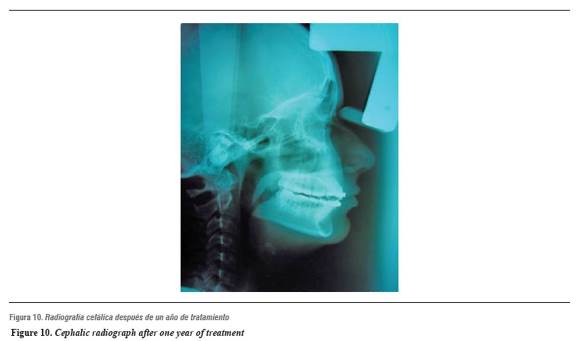 Extraoral photos showed facial changes, such as improved projection of lower third and lips, with a more harmonious smile (figure 11).

Intraorally, by this time, class I molar-canine relationship was achieved, as well as improved overjet and overbite; the arches are now symmetrical and oval, crowding is relieved, the middle line is still diverted, and occlusion coupling is not yet achieved (figure 12).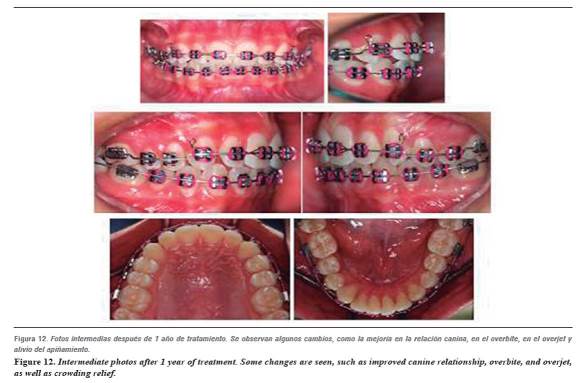 At this point we evaluated again and proceeded to the final stages of treatment. It implied using class II intermaxillary elastics from 13 to 46 and from 23 to 36, of 3/16 3.5 ounces (with an approximate force of 180 gr) in order to improve canine relationships.
Brackets were re-positioned to start the final steps; radiographic control is resumed, again diagnosing stability and normal pulp response (figure 13).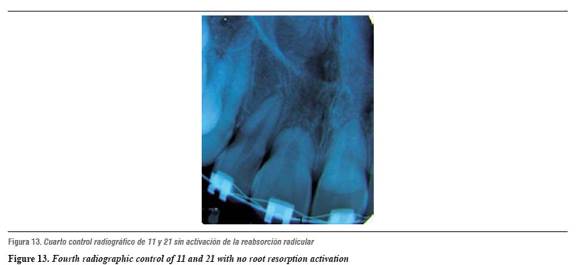 The appliances were removed after 2 years of active treatment; the last control radiograph was taken to evaluate root status (figure 14), and final photos and radiographs were taken (figure 15).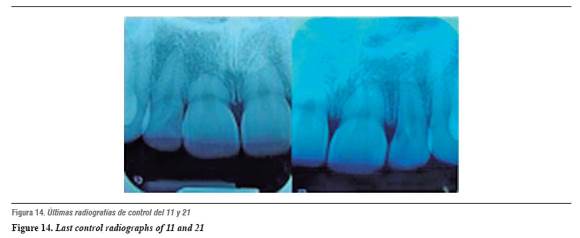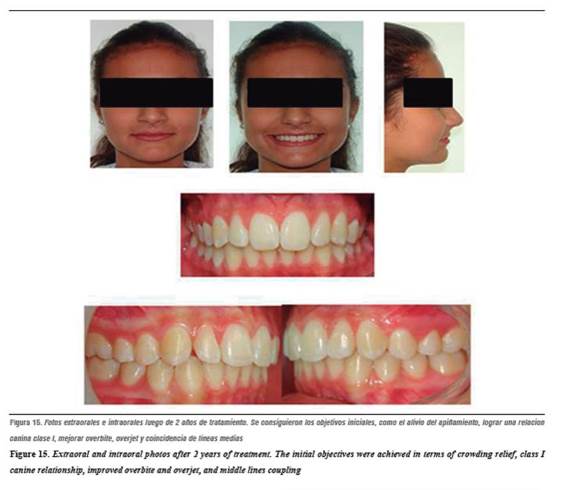 Summary of treatment progress
First stage: leveling and alignment. A standard technique was used, with a 0.018" x 0.025" slot and radiographic control every 3 months. This stage lasted for 7 months, starting with 0.014" Niti arches and ending with 0.016" x 0,022" steel arches.
Second stage: correction of the vertical and anteroposterior dimension, through a 0.016" x 0.016" premium steel Ricketts intrusion arch and 0,016 x 0,016 steel as segmented arch distal to 12 and 22, and intrusion arch-linked base, between 11 & 12 and 21 & 22, stripping, and class II elastic of 3/16 3.5 oz, radiographic control and evaluation by periodontist. Stage duration: 11 months.
Third stage: completion and detail: brackets re-positioning according to control panoramic radiograph, followed by 0.016" Niti arches up to 0.016" x 0,022" steel arches with bends of first, second and third order, and radiographic control. Duration: 9 months.
Fourth stage: lower canine to canine retention, plus upper and lower Hawley with vestibular acrylic screen. Treatment Results
The photographs showed improved facial profile, especially in the lower third, and middle lines coinciding with the center of the face (figure 15).
The intraoral photos showed class I molar-canine relationship, with proper overjet and overbite, incisive and canine guide, a one-two teeth relationship, and proper gingival margins (figure 15). The arches are now oval and symmetrical (figure 16).
The final panoramic radiograph showed root parallelism. Compared with the initial panoramic radiograph, it also showed that root lengths remain unchanged despite the two-year orthodontic treatment (figure 17).
In the final cephalic radiograph we found changes occurring thanks to growth and the orthodontic treatment. The Sella-Nasion-A point angle (SNA) increased 6° and the Sella-Nasion-B point angle (SNB) increased 6°, maintaining the maxilla-mandible relationship. The Wits remained unchanged -1 mm-, a clockwise rotation of the mandible occurred: it moved from 17 ° to 21°, the upper incisors proclined 1° and the lower incisors 7° (figure 18 and table 2).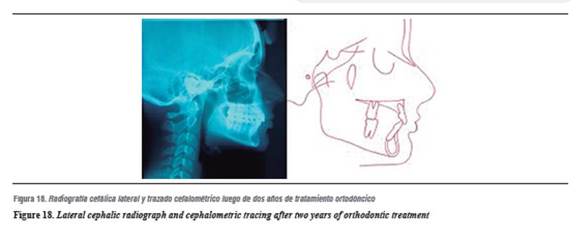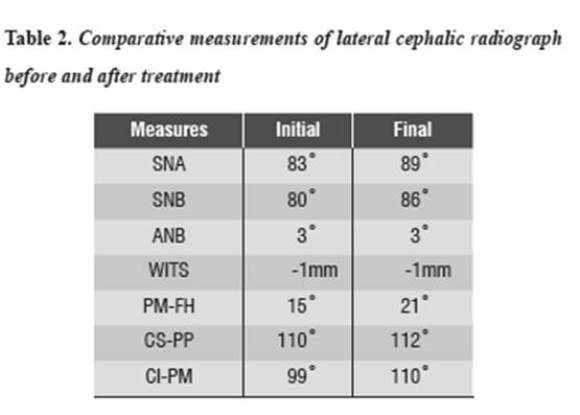 In comparing the initial periapical radiograph with the final one, no significant changes were observed in terms of shape and root length or pulp alterations (figure 19).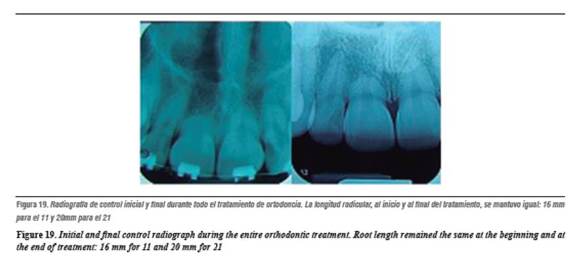 One year after treatment completion, the patient kept the lower fixed retainer in position and was using removable retainer at night. Panoramic and periapical radiographs showed that root lengths are stable (figures 20 and 21). In this follow-up appointment, the clinician decided to remove the lower fixed retainer and to continue using the removable retainer for one more year.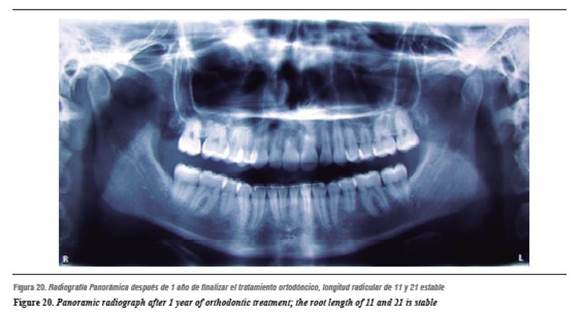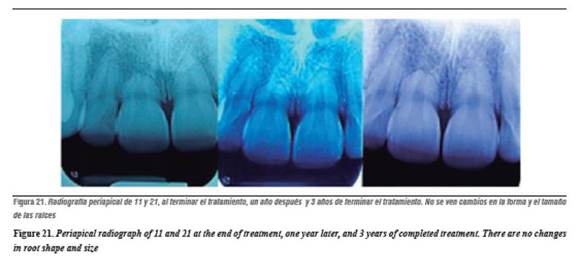 DISCUSSION
Periodontal ligament lesions are very common after accidents such as contusions or falls. If teeth are not able to absorb all the energy of the impact, it is transmitted and may cause periodontal ligament injury. It may evolve towards a repair but if the ligament or even the cement are too affected it can cause ERR.12 Taking into account that ERR is a problem associated with orthodontic treatment, the risk may be even bigger. The loss of material in the root apex is unpredictable, and if it extends to the dentin it is irreversible; therefore, orthodontic treatment on a tooth that has had trauma and hence root resorption is a risk factor for resorption reactivation. It is then essential to control the forces exerted on the affected teeth.12
With the patient in this case we noted that resorption did not reactivate during the time of orthodontic treatment, and although the root is small, it is one of the ways to produce much stress during the orthodontic movements and as consequence it presents more resorption potential, as stated in the finite elements study reported by Oyama.9 However, the most important thing in these cases is to use a controlled procedure, taking into account the amount of force applied.4, 13, 14
It is important to note that intrusion mechanics were used in this patient. According to the literature, these are the forces that most ERR produce; however, her teeth did not suffer unwanted effects.4, 15 It is also important to highlight the radiographic controls and the vitality pulp control in an interdisciplinary management with the endodontist in order to regulate tooth movement and resorption activation.1
This treatment was successful in terms of the obtained occlusal relationships and patient's aesthetics, by maintaining the same root length of teeth affected by previous trauma; all the objectives stated since the beginning of treatment were achieved.
CONCLUSIONS
The literature reports intrusive movement and trauma as a potential risk factor for root resorption; however, we observed that, despite the mechanics of intrusion (Ricketts intrusion arch), there was no root size decrease by using controlled mechanics.
It is important to bear in mind the required interdisciplinary process in these cases in order to have a successful case without secondary factors that may complicate treatment.

Another important and decisive factor is the quarterly radiographic control, which allows root status assessment after orthodontic movements, avoiding complications in patients who are susceptible to external root resorption.
REFERENCES
1. Brezniak N, Wasserstein A. Root resorption after orthodontic treatment: Part 2. Literature review. Am J Orthod Dentofacial Orthop 1993; 103(2): 138-146. [ Links ]
2. Levander E, Malmgren O, Stenback K. Apical root resorption during orthodontic treatment of patients with multiple aplasia: a study of maxillary incisors. Eur J Orthod 1998; 20(4): 427-434. [ Links ]
3. García-Camba P, Varela M. Interdisciplinary relationships between Endodontics and Orthodontics. Cient Dent 2006; 4(3): 185-198. [ Links ]
4. Mirabella AD, Artun J. Prevalence and severity of apical root resorption of maxillary anterior teeth in adult orthodontic patients. Eur J Orthod 1995; 17(2): 93-99. [ Links ]
5. Sameshima GT, Sinclair PM. Predicting and preventing root resorption: Part I. Diagnostic factors. Am J Orthod Dentofacial Orthop 2001; 119(5): 505-510. [ Links ]
6. Killiany DM. Root resorption caused by orthodontic treatment: an evidence-based review of literature. Semin Orthod 1999; 5(2): 128-133. [ Links ]
7. Artun J, Smale I, Behbehani F, Doppel D, Van't Hof M, Kuijpers-Jagtman AM. Apical root resorption 6 and 12 months after initiation of fixed orthodontic appliance therapy. Angle Orthod 2005; 75(6): 919-926. [ Links ]
8. Sameshima GT, Sinclair PM. Predicting and preventing root resorption: Part II. Treatment factors. Am J Orthod Dentofacial Orthop 2001; 119(5): 511-515. [ Links ]
9. Oyama K, Motoyoshi M, Hirabayashi M, Hosoi K, Shimizu N. Effects of root morphology on stress distribution at the root apex. Eur J Orthod 2007; 29(2): 113-117. [ Links ]
10. Rudolph DJ, Willes PMG, Sameshima GT. A finite element model of apical force distribution from orthodontic tooth movement. Angle Orthod 2001; 71(2): 127-131. [ Links ]
11. Frances M. Andeasen. Traumatología dental y ortodoncia. Ortodoncia Clínica 2004; 7(1): 8-20. [ Links ]
12. Avsar A, Akbas S, Ataibis T. Traumatic dental injuries in children with attention deficit/hyperactivity disorder. Dent Traumatol. 2009; 25(5): 484-489. [ Links ]
13. Pizzo G, Licata ME, Guiglia R, Giuliana G. Root resorption and orthodontic treatment. Review of the literature. Minerva Stomatol 2007; 56(1-2): 31-44. [ Links ]
14. Segal GR, Schiffman PH, Tuncay OC. Meta analysis of the treatment-related factors of external apical root resorption. Orthod Craniofac Res 2004;7(2): 71-78. [ Links ]
15. Hendrix I, Carels C, Kuijpers-Jagtman AM, Van't Hof M. A radiographic study of posterior apical root resorption in orthodontic patients. Am J Orthod Dentofacial Orthop 1994; 105(4): 345-349. [ Links ]