Services on Demand
Journal
Article
Indicators
Related links
Cited by Google
Similars in SciELO
Similars in Google
Share
---
Print version ISSN 0121-246X
Rev Fac Odontol Univ Antioq vol.26 no.2 Medellín Jan./June 2015
ORIGINAL ARTICLES DERIVED FROM RESEARCH
TRAINING OF VISUAL DISCRIMINATION SKILLS IN DENTISTRY
Roque Arias Fredes1; Isidora González Velazco2; Juan Estay Larenas3; Cristian Bersezio Miranda4; Axel Jara Drago5; Pablo Angel Aguirre6
1 DDS, Assistant Professor, Universidad de Chile, Universidad del Desarrollo
2 DDS, Universidad del Desarrollo, Chile
3 DDS, Assistant Professor, Universidad de Chile
4 DDS, Assistant, Universidad de Chile
5 DDS, Scholar, Universidad del Desarrollo, Chile
6 DDS, Assistant Professor, Universidad de Chile. E-mail pangel66@hotmail.com

SUBMITTED: JULY 22/2014-ACCEPTED: SEPTEMBER 22/2014
Arias R, González I, Estay J, Bersezio C, Jara A, Ángel P. Training of visual discrimination skills in dentistry. Rev Fac Odontol Univ Antioq 2015; 26(2)358-367.
---
ABSTRACT.
INTRODUCTION:
the objective of this study was to determine whether a short training workshop including theoretical instruction and the use of a computer program improves visual discrimination of the most important dimension in tooth color selection: luminosity.
METHODS:
51 students who met the inclusion criteria participated in the study after signing an informed consent. Each student was asked to arrange 16 samples of the Vitapan Classical Guide from highest to lowest luminosity according to the manufacturer's scale. This procedure was done in 3 minutes with covered identification codes, under daylight, and against a neutral gray background. This first arrangement was done with no prior instruction. Training was provided afterwards and consisted of a 45-minute theoretical class and one-hour practicum using the 7-exercise groups of the Color Training Exercises computer program. Finally, each participant made a second arrangement one week after the training workshop. The results were compared using the Student T-test for paired samples.
RESULTS:
the first arrangement yielded 33.3% of success and after training there was 33.6% success in average. There were no significant differences (p = 0.8520).
CONCLUSIONS:
considering the limitations of the study, providing a short theoretical workshop plus visual training using a computer program is not effective in improving visual discrimination of tooth color luminosity in the study subjects.
Key words: dental education, color, luminosity, visual discrimination, training.
---
INTRODUCTION
The changing aesthetic demands and the high expectations of patients concerning teeth rehabilitation require clinicians nowadays to be in permanent retraining in order to be able to meet these standards. The aesthetic factors patients usually refer to are surface, shape, translucency, and artificial tooth color.1
Of all these factors, color is probably the most important aesthetic parameter and the basic criteria used to classify restorative materials as aesthetic or not. Moreover, color is not relevant for the physiological success of a dental restoration but can be the main factor in patient's final acceptance.2
From the theoretical point of view, color includes three dimensions: shade, saturation, and luminosity. The latter is the most relevant at the time of selecting tooth color, since it is the only dimension that can be separately perceived; also, visually it is highly influential.3
Despite its limitations, visual registration and selection of color continues to be the most common method in dentistry although many devices are currently available to help improve this task, such as colorimeters, spectrophotometers, and digital cameras.4, 5
There exist few training strategies to develop visual discrimination skills and to allow recognition and reproduction of dental optical phenomena. It is hoped that experience alone gradually improves the results but this has not been demonstrated.6, 7 Some pioneering studies showed that through training protocols it is possible to achieve improvement in color matching. 8, 9 However, color discrimination has not yet become a relevant training component in undergraduate and technical dental programs, although it has been increasing in contents and time.10
In this regard, computer programs have been devised to help increase color selection skills.11 Its implementation have allowed users to achieve better results in terms of samples' shade matching.8, 12
The purpose of this study was to determine if a brief theoretical-practical training protocol improves dental students' capacity of discriminating color luminosity. The hypothesis of the present study was that the proposed theoretical-practical training protocol improves luminosity discrimination skills.
METHODS
This study was approved by the Undergraduate Ethics Committee of the School of Medicine of Clínica Alemana-Universidad del Desarrollo Bioethics Center in Santiago, Chile. Sample size was determined by the Gpower 3.1.9 computer program, with 0.5 effect size and 0.05 Α value. Desertion of 20% was presumed, so a final n = 51 was selected. The sample was gathered from senior Universidad del Desarrollo dental students, who accepted the conditions of the study by signing an informed consent. The study group consisted of 23 men and 28 women aged 21.9 years in average. The participants met the criteria of not having visual alterations affecting color perception, which was confirmed by the Ishihara test.
Each participant was allowed seven days to read an information document providing brief definitions of luminosity, saturation, and shade, besides instructions for exercises of the Color Training Exercises computer program in its Spanish version. The first arrangement was done afterwards. Each participant was asked to sort out the 16 samples of the Vitapan Classical Guide (Vita Zahnfabrik H. Rauter GmbH & Co. KG) from highest to lowest luminosity (first arrangement). This procedure was done in 3 minutes, with covered identification codes and under illumination with Ampolleta Phillips® MasterTL-D 90 De Luxe, 18W/965, 6.500°K (Koninklijke Philips N.V. USA), against a neutral gray background. In order to assess matching, the position of each sample was later compared to its position on the luminosity scale proposed by the manufacturer (figure 1) ; the number of achievements was counted from 1 to 16.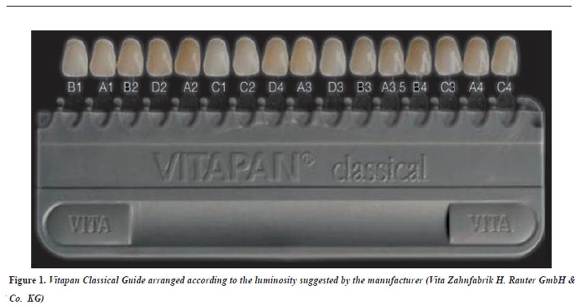 The theoretical-practical training session was held one week later. It consisted of a 45-minute theoretical class which provided instruction on topics such as chroma, hue, value, CIELAB and Munsell theories, color discrimination skills, color guides, and registration system.
The practical module consisted of a 60-minute session in which the students sequentially completed the 7 groups of exercises of the Color Training Exercises computer program designed by Paravina.10 This was done using a Lanix Corp S-601 computer (Lanix Technology Chile SA, Macul, Santiago, Chile) with a 19 LED Widescreen Lanix Monitor display, Model LX 900T (Lanix Technology Chile SA, Macul, Santiago, Chile), calibrated with the Adobe Gamma software (Adobe Systems Inc. San Jose, CA 95110- 2704, USA). The 7 groups of exercises of the program are divided into an introductory set of 13 exercises (I set), a set of 3 practice exercises (T set) and a set of advanced exercises with one exercise each (A set).
Finally, each participant made a second arrangement one week after the training session, under the same conditions of the first round. Once the results of both sessions were gathered, normality tests were used to verify data distribution using the Kolmogorov- Smirnov test. Once data normality distribution was verified, the Student paired T-test for related samples was used to a 95% confidence interval.
RESULTS
The arrangements made by the 51 students before and after training were contrasted in terms of luminosity matching, according to the manufacturer, in the 16 samples of the Vitapan Classical Guide. The first arrangement yielded 5.33 matches in average, or 33.3%, and the second arrangement yielded 5.39 matches in average, or 33.6%. The statistical analysis showed no significant differences between the two measurements (p = 0.8520) (table 1).
The groups of men and women were separately analyzed, with no significant statistical differences in terms of gender between the first and second arrangement (table 2 and table 3).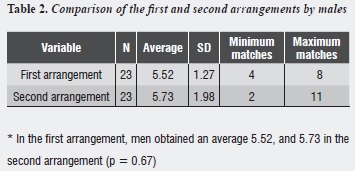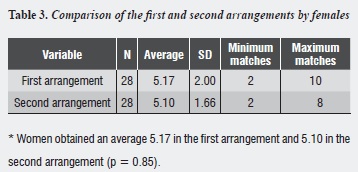 In comparing the results between sexes, no statistically significant differences were found (table 4 and table 5).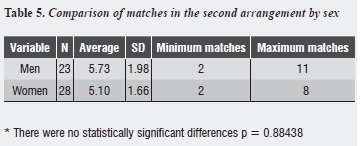 DISCUSSION
Several training protocols have been recently designed to improve visual acuity, in order to improve color selection in dentistry and satisfy the growing aesthetic demands of patients nowadays.13-15
This study used the Vitapan Classical Guide because its color code is used in numerous biomaterials, such as ceramics and composite resins, and is now considered a gold standard.16, 17 However, this guide does not include luminosity as part of its codes, so this information is supplementary only and does not explain luminosity differences among samples; moreover, the proposed arrangement is not uniform in terms of differences among samples.16In consequence, Paravina et al10 suggested an improved arrangement of the Vitapan Classical Guide, taking into account total color difference.16 Eventually, this deficiency has been corrected by the Vitapan 3D Master sample, whose code, however, is not widely used in restorative biomaterials.18
Color selection is essential in improving visual acuity—that is, the ability to detect color differences or similarities—. To this end, several strategies have been proposed; however, considering that years of experience would suffice to improve this capacity seems to be a prevalent idea. Nevertheless, there is evidence that does not support this.6, 7
This study proposes a short theoretical-practical training protocol based on previously implemented protocols which have delivered promising results. By training dental students using online software, Chen et al12 concluded that this is an effective and efficient system to provide education on color. Corcodel et al9 noticed color discrimination improvement among students trained with the Toothguide Trainer software. Borbély et al8 concluded that Toothguide Trainer significantly improves the quality of color matching.
The present training protocol delivered the theoretical contents in a single session, followed by visual training using the Color Training Exercises software, which helps users understand the dimensions of color in practice; numerous beta versions of this software have been developed, evaluated and presented in the past.11
Disagreeing with the abovementioned studies, the results of the present study showed no statistically significant differences between arrangements with and without prior training, which could be explained because the present study used a shorter protocol than those of previous tests, and implemented a different methodology.8, 12
Students have little experience in color registration and restoration using dental biomaterials; however, as observers they are familiar with the various dental colors. Notwithstanding, the low percentage of achieved matches makes it necessary to check the degree of difficulty of the test. Perhaps the arrangement proposed by the manufacturer is not consistent with visual physiology. For this reason, the studies that have characterized the human observer use the CIELAB total color difference equation (ΔE). This equation has established that the perception of color difference between samples a and b with delta E = 1 (ΔEab = 1) may be detectable by 50% of normal observers, ΔE ≤ 2 is considered an acceptable resemblance between a couple of samples, and ΔE = 3.7 is considered the greatest color difference acceptable in vivo, although the results vary slightly among the studies.19-21
In this regard, Paravina et al16 proposed an improved arrangement of the Vitapan Classical Guide, according to total color difference. This way, the sample would be arranged starting from the tab with the greatest luminosity and sorted out in 4 groups according to the ΔE*ab expressed in parentheses: Group 1 B1 (0.00) A1 (2.10) B2 (2.71), Group 2 A2 (3.56) C1 (4.70) D2 (5.00) A3 (5.69) D3 (6.05), Group 3 C2 (6.64) D4 (8.56) B3 (8.60) C3 (8.76), Group 4 A3.5 (9.67) B4 (10.01) A4 (11.15) C4 (12.61).16 This new arrangement disagrees with that of the manufacturer used in the present study and shows that color difference between one sample and the other is not evenly spaced. In analyzing EΔ, the differences potentially identifiable by a human observer are reduced to 4 only, so that if each sample were arranged, at least properly, within each of the 4 groups, it would be acceptable, and a complete individual orderly match of the 16 samples would be unnecessary.
Sex did not play an important role in the present study, since the results did not show statistically significant differences. This agrees with the studies by Curd et al,7, Borbély et al, 8 and Corcodel et al,9 but differs with others in which females have better color discrimination skills.6 On the other hand, Milagres et al22 mshowed that sex and experience are important factors in color discrimination, as men and observers with more clinical experience usually achieve better results in this regard.
Given the importance of appropriate color selection in successful esthetic dentistry treatments, it is necessary for clinicians to develop skills in this field. It is therefore necessary to conduct further research aimed at improving training protocols for successful color registration.
CONCLUSIONS
Under the conditions of this study, the used protocol does not improve dental students' discrimination skills.
CONFLICT OF INTEREST
The authors declare not having conflicts of interest.
REFERENCES
1. Russell MD, Gulfraz M, Moss BW. In vivo measurement of colour changes in natural teeth. J Oral Rehabil 2000; 27(9): 786-792. [ Links ]
2. Bergen SF. Color in esthetics. N Y State Dent J 1985; 51(8): 470-471. [ Links ]
3. Goodkind RJ, Schwabacher WB. Use of a fiber-optic colorimeter for in vivo color measurements of 2830 anterior teeth. J Prosthet Dent 1987; 58(5): 535-542. [ Links ]
4. Alsaleh S, Labban M, AlHariri M, Tashkandi E. Evaluation of self shade matching ability of dental students using visual and instrumental means. J Dent 2012; 40 (Supl 1): e82-87. [ Links ]
5. Dozic A, Kleverlaan CJ, El-Zohairy A, Feilzer AJ, Khashayar G. Performance of five commercially available tooth color-measuring devices. J Prosthodont 2007; 16(2): 93-100. [ Links ]
6. Haddad HJ, Jakstat HA, Arnetzl G, Borbély J, Vichi A, Dumfahrt H et al. Does gender and experience influence shade matching quality? J Dent 2009; 37(Supl 1): e40-44. [ Links ]
7. Curd FM, Jasinevicius TR, Graves A, Cox V, Sadan A. Comparison of the shade matching ability of dental students using two light sources. J Prosthet Dent 2006; 96(6): 391-396. [ Links ]
8. Borbély J, Varsányi B, Fejérdy P, Hermann P, Jakstat H. Toothguide trainer tests with color vision deficiency simulation monitor. J Dent 2010; 38(Supl 2): e41-49. [ Links ]
9. Corcodel N, Karatzogiannis E, Rammelsberg P, Hassel AJ. Evaluation of two different approaches to learning shade matching in dentistry. Acta Odontol Scand 2012: 70(1): 83-88. [ Links ]
10. Paravina RD, O'Neill PN, Swift EJ Jr, Nathanson D, Goodacre CJ. Teaching of color in predoctoral and postdoctoral dental education in 2009. J Dent 2010; 38(Supl 2): e34-40. [ Links ]
11. Paravina RD. Custom color collection for prosthodontics. Yugosl J Prosthodont Dent Technol 2001; 2: 81-85. [ Links ]
12. Chen L, Yang X, Tan J, Zhou J, Du Y, Li D. Evaluation of a newly developed online color training system. Int J Prosthodont 2011; 24(2): 137-139. [ Links ]
13. Joiner A. Tooth colour: a review of the literature. J Dent 2004; 32(Supl 1): 3-12. [ Links ]
14. Odioso LL, Gibb RD, Gerlach RW. Impact of demographic, behavioral, and dental care utilization parameters on tooth color and personal satisfaction. Compend Contin Educ Dent 2000; 29(Supl): S35-41. [ Links ]
15. Qualtrough AJ, Burke FJ. A look at dental esthetics. Quintessence Int 1994; 25(1): 7-14. [ Links ]
16. Paravina RD, Powers JM, Fay RM. Dental color standards: shade tab arrangement. J Esthet Restor Dent 2001; 13(4): 254-263. [ Links ]
18. Østervemb N, Jørgensen JN, Hørsted-Bindslev P. Shade guide optimization -a novel shade arrangement principle for both ceramic and composite shade guides when identifying composite test objects. J Esthet Restor Dent 2011; 23(1): 22-32. [ Links ]
19. Hassel AJ, Zenthöfer A, Corcodel N, Hildenbrandt A, Reinelt G, Wiesberg S. Determination of VITA classical shades with the 3D-Master shade guide. Acta Odontol Scand 2013; 71(3-4): 721-726. [ Links ]
20. Ragain JC, Johnston WM. Color acceptance of direct dental restorative materials by human observers. Color Res Appl 2000; 25(4): 278-285. [ Links ]
21. Paravina RD, Majkic G, Imai FH, Powers JM. Optimization of tooth color and shade guide design. J Prosthodont 2007; 16(4):269-276. [ Links ]
22. Johnston WM, Kao EC. Assessment of appearance match by visual observation and clinical colorimetry. J Dent Res 1989; 68(5): 819-822. [ Links ]
23. Milagres V, Teixeira ML, Miranda ME, Osorio-Silva CH, Ribeiro-Pinto JR. Effect of gender, experience, and value on color perception. Oper Dent 2012; 37(3): 228-233. [ Links ]