Serviços Personalizados
Artigo
Indicadores
Links relacionados
Similares em SciELO
Bookmark
versão impressa ISSN 0122-9761
bol. invemar v.23 n.1 Santa Marta jan./dez. 1994
NOTE:
QUANTITATIVE DATA ON THE FOREST STRUCTURE OF A SMALL MANGROVE FORMATION IN THE BAY OF NENGUANGE, COLOMBIAN CARIBBEAN
Camilo B. García
Instituto de investigaciones Marinas y Costeras "J.B. Vives De Andreis", INVEMAR, A.A. 1016, Santa Marta, Colombia
---
RESUMEN
Esta nota aporta información cuantitativa sobre la estructura de la pequeña formación de manglar que se encuentra sobre el costado oriental de la Bahía de Nenguange, Parque Nacional Natural Tayrona, con el fin de proporcionar un punto de comparación para eventuales estudios futuros. Se presentan datos sobre zonación, densidad, cubrimiento, altura, diámetro a la altura del pecho y área basal.
---
The small mangrove formation (no more than 4 Ha, estimated from maps of the area) found at the east side of the Bay of Nenguange (11°20' N; 74°05' W, Tayrona National Natural Park, Colombian Caribbean) has been mentioned several times in the literature dealing with the area, for instance Florez et al. (1987), Diaz (1990), etc. To my knowledge, however, a quantitative description of the forest structure of this mangrove formation is nonexistent. Thus the purpose of this note is to contribute such quantitative data in order to permit future monitoring and comparisons with the present situation.
The mangrove formation is surrounding a little coastal lagoon called El Saladal whose existence and depth depends on rainy water thus varying its extension and depth (no more than 2 meters) with the rain patterns (Florez et al, 1987). It is probably the presence of this little flood plane what has made possible the establishment of a mangrove forest, however small, in a place where otherwise there are no, or very little, influence of freshwaters.
The place was visited in May and October, 1993. In the first visit, data on tree height and cover along linear transects were collected. Height (m) was estimated by means of a sextant. Individual cover (m2) was estimated measuring the diameter of the vertical projection of the tree, assuming circular shape. In the second visit, data on diameter at breast-high (D.B.H., cm) and tree density were collected inside plots of known dimensions, the plots running from the sea border to the lagoon. In order to give estimates of density, the area covered by the plots in the second visit was added up to a total sampled area of 2000 m2, and so was the number of trees (449), and the results expressed as number of trees by 0.1 Ha. Results are shown in table 1.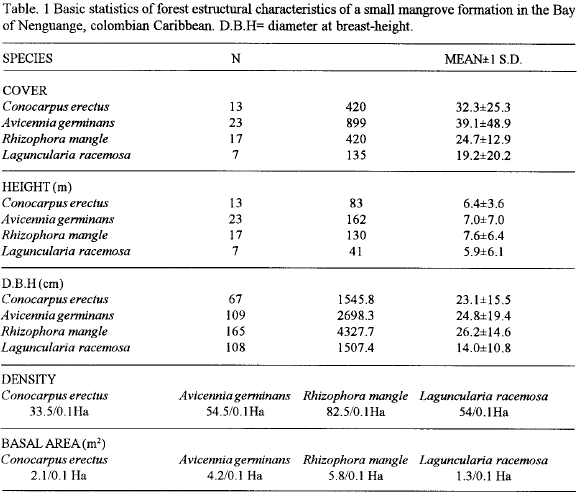 Figures 1, 2 and 3, respectively, show the frequency distribution of cover, height and D.B.H. in the forest. Table 1 includes statistical information which is extractable from the frequency distributions but is not obvious.
Four mangrove species are present in the area: Conocarpus erectus, Avicennia germinans, Rhizophora mangle, and Laguncularia racemosa. The trees of these species are not evenly distributed but a general zonation can be distinguished with R. mangle facing the marine shore to the north of the formation (or in its absence a sandy beach), followed by a mixture of C. erectus and A. germinans, than a mixture of L. racemosa and A. germinans with some trees of C. erectus and, to the lagoon border, a mixture of L. racemosa and R. mangle.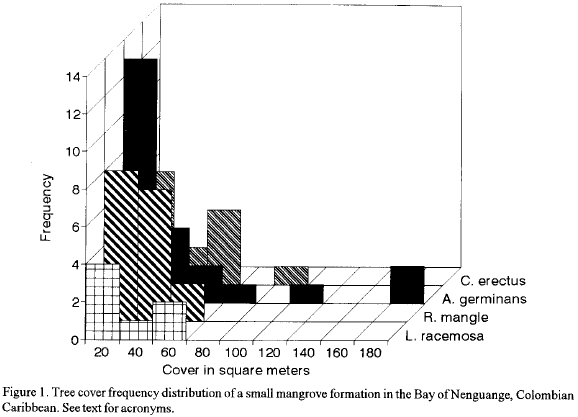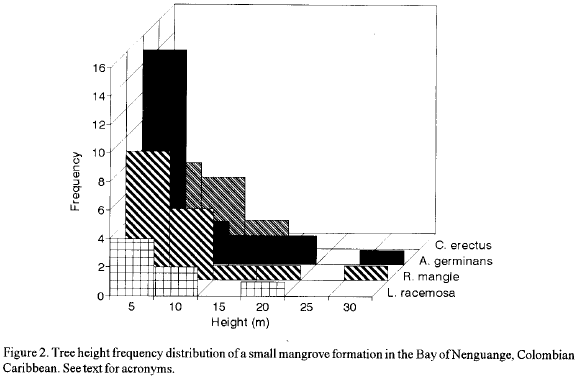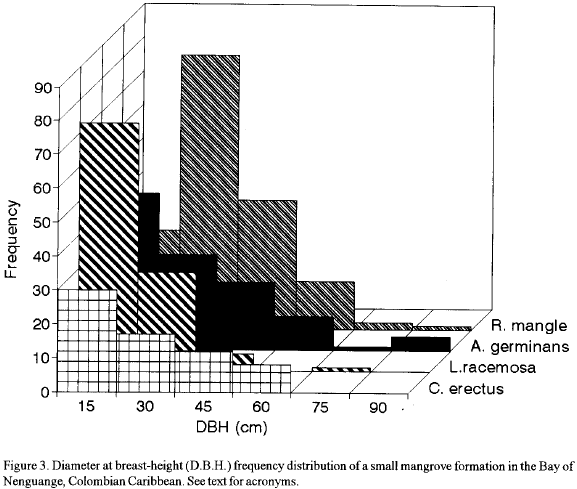 When a comparison is done with the results in Araujo and Polania (1985) for the Canal del Dique delta (their Table 2) it is possible to say that this mangrove formation is a mature one. It shows lower tree density and higher basal area (but lower height), which are indicatives of maturity. The lower height, however, sugests some physiological constrain.
ACKNOWLEDGMENTS
Field work was performed by students of the Marine Botany course of the Facultad de Biología Marina, Universidad Jorge Tadeo Lozano, Seccional Santa Marta. Financial support for field trips was also provided by this institution.
LITERATURE CITED
1 Araujo, R. y Polania, J. 1985. Manglares: estructura, fitosociología y geomorfología en el delta del Canal del Dique (Departamento de Bolívar y Sucre, Colombia). Tesis Biol. Mar., Univ. Jorge Tadeo lozano, Bogotá, 142 p. [ Links ]
2 Díaz, J.M. (ed.) 1990. Estudio ecológico integrado de la zona costera de Santa Marta y Parque Nacional Natural Tayrona. Project Final Rep, INVEMAR, Santa Marta, 439 p. [ Links ]
3 Florez, F., Acero, A. y Campos, N. (eds.) 1987. Observaciones ecológicas terrestres y marinas en la Bahía Nenguange, Parque Nacional Natural Tayrona, Caribe Colombiano y del estuario del río Buritaca, departamento del Magdalena. Field Course Rep., Depart. Biol., Univ. Nacional, 288 p. [ Links ]