Services on Demand
Article
Indicators
Related links
Similars in SciELO
Bookmark
Print version ISSN 0122-9761
bol. invemar vol.23 no.1 Santa Marta Jan./Dec. 1994
NOTA:
NOTES ON THE DISTRIBUTION, HABITAT AND MORPHOLOGY OF STYLASTER ROSEUS (PALLAS 1766) (HYDROZOA: STYLASTERBVA) IN THE COLOMBIAN CARIBBEAN
Juan A. Sánchez M.1 and Gabriel R. Navas S.2
1Instituto de Investigaciones Marinas de Punta de Betín-INVEMAR, AA. 1016, Santa Marta, Colombia (J.A.S.M.).
2Facultad de Biología Marina, seccional de Santa Marta, Universidad Jorge Jadeo Lozano, A.A. 5273, El Rodadero, Santa Marta, Colombia (G.R.N.S.).
---
RESUMEN
Stylaster roseus en el Caribe colombiano es un común habitante de sus arrecifes coralinos, exceptuando la región de Santa Marta y la Guajira. S. roseus es una especie críptica que tiende a ubicarse en sitios sombreados, generalmente bajo o entre ramas de coral muerto o vivo. Se le observó entre esqueletos de Acropora palmata (2-6 m), sobre las partes laterales e internas de pináculos de Millepora (0.5-3 m), bajo tejados de Montastraea annularis y Agaricia spp. (15-30 m), y sobre embarcaciones hundidas (5-20 m). Adicionalmente se encontró creciendo sobre tejido vivo de Millepora. No se encontraron diferencias en las medidas promedio de colonias de habitats similares. La coloración más común fue tronco blanco y ramas púrpura, seguida por la púrpura uniforme. Las formas dominantes en su orden fueron: las flabeladas o uniplanares, las ramificadas en dos planos y las arborescentes.
---
Stylaster roseus (Pallas) 1766, is the only stylasterid hydrocoral of the western Atlantic associated with shallow reefs. It is distributed from the Bahamas to Pernambuco in Brazil (Cairns, 1983, 1986), being the only species of the group known from the Gulf of Mexico (Horta and Carricart, 1990), and the southern Caribbean (Cairns, 1986). S. roseus is characterized by the generally fiabellate or bushy colonies with purple or pink tonality, branches elliptical in cross section, and with its distal extreme approximately of the same diameter of the cyclosystems (0.75-1 mm). The cenosarc is of imbricate, linear texture, which trends to reticulate toward the ampullae and cyclosystems. The latter have 5 to 15 dactylopores (mean= 9.7) and are sympodially arranged on the anterior and posterior faces (Cairns 1986, p. 61-65, figures 27a-h, 28a-c y 53d).
In the Colombian Caribbean, this species has been reported from the Zapzurro harbor, Urabá Gulf (Werding and Manjarrés, 1978; Prahl and Erdhardt, 1985) and from the islands of San Andrés and Old Providence in the southwestern Caribbean (Prahl and Erhardt, 1985; Cairns, 1986). Although it is a common inhabitant of many coral reefs of the southwestern Caribbean, little is known about its ecology. This note reviews and widens the distribution of Stylaster roseus, and give information on its habitat and colony morphology. Samples were collected by SCUBA diving on the coral reefs of Urabá Gulf, Bushnell bank, Fuerte island, San Bernardo islands, Tortuga bank, Rosario's islands, Barú island, Cascajal island, Imelda bank, Tierrabomba island, Salmedina bank, and, Bolivar and Albuquerque atolls (figure 1). The samples were deposited in the United States National Museum, Washington D.C. (USNM: 88831-48) and the Instituto de Investigaciones Marinas de Punta de Betín, Santa Marta, Colombia (INVEMAR-COR: 225-29) for a total of 23 catalogued colonies.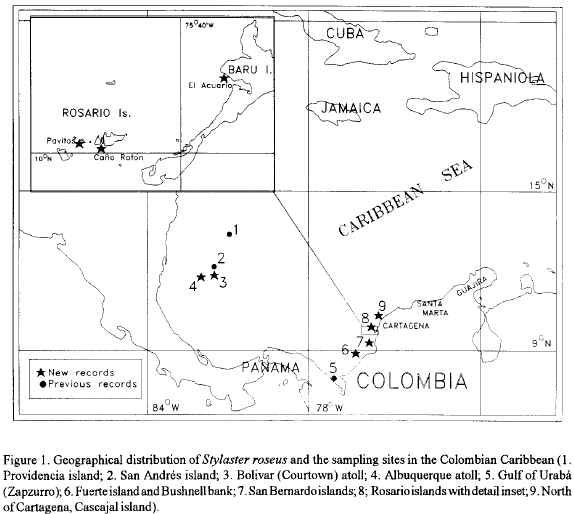 Stylaster roseus is a cryptic species found in shaded sites, generally under and among dead or live coral branches. It was found among skeletons of dead Acropora palmata between 2-6 m of depth (Isla Grande, Rosario islands), in the reef crest within dead coral cavities or in the internal and lateral parts of Millepora pinnacles (0.5 and 3 m: Rosario islands and Bolivar and Albuquerque atolls), under Montastraea annularis, M. faveolata. M. franksi and Agaricia spp. in the reef terrace and slopes in 3-30 m (Urabá Gulf, Bushnell bank, Fuerte, San Bernardo and Rosario islands), and on vessels sunk in 5-20 m (Salmedina Bank, Cascajal Island). In these places it was observed associated with the prevailing coelobionts of these crypts, particularly sponges, coralline algae and briozoans. As an interesting phenomenon, there were several young colonies growing directly on the tissues of Millepora (USNM: 88833; INVEMAR-COR: 228-29), without evidences of damage to either species; this was especially common in the fore reef terrace of Bolivar and Albuquerque atolls at 15-20 m in depth. Cairns (1982) found this species beneath the coral Agaricia tenuifolia at 6-8 m.
Colony groups of Stylaster roseus of different sizes were found in a lagoon environment at leeward sites (0.5 to 10 m in depth), within the splits formed by columnar colonies of Montastraea annularis at Pavitos island and M. faveolata pagoda-like form (e.g. Weil and Knowlton, 1994) in el Acuario and Caño Ratón (figure 1, inset). At this sites, 106 adult colonies were collected, and measurements (0.01 mm in precision) of height, length, width, maximun and minimun stem diameter were taken (figure 2), and the coloration and branching patterns were noted. There were no significant differences in the means of morphometric measurements of colonies from the three localities (table 1). However, the color and the branching pattern varied significantly with locality (table 1; 0.025 < P < 0.05: contingency table). The commonest coloration was white stem and purple branches, prevailing in the stations of El Acuario and Caño Ratón, followed by the uniform purple abundant in Pavitos Island; white colonies were ocasional at El Acuario; orange tonality was never seen at these localities, as was the case in samples from Salmedina bank (data not shown). The flabellate colonies were dominant, followed by those branching in two planes, and finally those in three or more (bushy).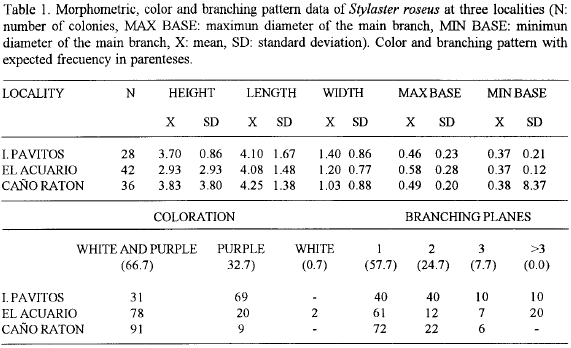 Cairns (1986), in his review of 42 species of stylasterids of the northwestern Atlantic, proposes that the group is characteristically absent near the continent, due to its apparent sensibility to high water turbidity and low water salinity. However, some of the reef structures in which we found S. roseus are continental, close to the coastline, subjected to important contributions of fresh-waters and sediments, as the Gulf of Urabá (Werding and Manjarres, 1978), Barú island and Tierrabomba island (Andrade and Thomas, 1988). This could corroborate the observations by Horta and Carricart (1990) in the Gulf of Mexico, that S. roseus can sustain the changing conditions of the coastal dynamics. The absence of this species in the reefs of the Santa Marta and Guajira (northeastern Colombian Caribbean), can be attributed to other extreme environmental conditions, as suggested by Werding and Manjarrés (1978), such as low temperatures (<25°C) and high salininities (> 36 mg/l), associated to local upwelling generated by the trade winds from December to April (Ramírez, 1983).
ACKNOWLEDGMENTS
Special thanks to Stephen D. Cairns of the USNM for the taxonomical confirmation of the specimens. To Samuel Nunez for his collaboration in the morphometry. To Sven Zea for his critics. To Diego Torres and the yacht El Caracol for the help in collecting of some samples. To Clara Osorio director of the "Parque Nacional Natural Corales del Rosario". To Juan Manuel Diaz and the project "Evaluación bioecológica y ambiental de áreas arrecifales del Caribe colombiano" during which the samples from Bolívar and Albuquerque atolls were collected.
REFERENCES
1 Andrade, C. and Y. Thomas. 1988. Sedimentos en suspensión e hidrodinámica al sureste del delta del río Magdalena, Mar Caribe (Colombia). Bol. Cient. CIOH, 8:27-34. [ Links ]
2 Cairns, S.D. 1982. Stony corals (Cnidaria: Hydrozoa, Scleractinia) of Carrie Bow Cay, Belize, p. 271- 302. In: K. Rützler and I. Macintyre (eds). The Atlantic Barrier Reef Ecosystem at Carrie Bow Cay, Belize. Smith. Cont. Zool., 12. [ Links ]
3 Cairns, S.D. 1983. A generic revision of the Stylasterina (Coelenterata: Hydrozoa), Part 1: Description of the genera. Bull. Mar. Sci., 33(2): 427-508. [ Links ]
4 Cairns, S.D. 1986. A revision of the northwest Atlantic Stylasteridae (Coelenterata:Hydrozoa). Smith. Cont. Zool., 418, 131 p. [ Links ]
5 Horta-Puga, G. and J. P. Carricart-Ganivet. 1990. Stylaster roseus (Pallas, 1766): First record of a stylasterid (Cnidaria: Hydrozoa) in the gulf of Mexico. Bull. Mar. Sci., 47(2): 575-576. [ Links ]
6 Prahl, H. von and H. Erhardt. 1985. Colombia: Corales y arrecifes coralinos. FEN. 295p. [ Links ]
7 Ramírez, G. 1983. Características físico-químicas de la bahía de Santa Marta (agosto 1980-julio 1981). An. Inst. Inv. Mar. Punta de Betín, 13: 111-121. [ Links ]
8 Weil, E. and N. Knowlton. 1994. A multi-character analysis of the Caribbean coral Montastraea annularis (Ellis and Solander, 1786) and its two sibling species, M. faveolata (Ellis and Solander, 1786) and M. franksi (gregory, 1895). Bull. Mar. Sci., 55(1): 151-175. [ Links ]
9 Werding, B. and G. Manjarrés 1978. Informe sobre las estructuras litorales y la flora y fauna marina en el noreste del Golfo de Urabá. Unpub. Rep., INVEMAR, Santa Marta, 87p. [ Links ]