Services on Demand
Article
Indicators
Related links
Similars in SciELO
Bookmark
Print version ISSN 0122-9761
bol. invemar vol.29 no.1 Santa Marta Jan./Dec. 2000
NOTA:
THREE SPECIES OF SEA SPIDERS (PYCNOGONIDA) FROM SANTA MARTA, COLOMBIAN CARIBBEAN
TRES ESPECIES DE ARAÑAS MARINAS (PYCNOGONIDA)DE SANTA MARTA, CARIBE COLOMBIANO
Claudia P. Arango
Instituto de Investigaciones Marinas y Costeras –INVEMAR-, AA. 1016 Santa Marta, Colombia * Present address: Dept. of Zoology and Tropical Ecology, James Cook University, Townsville 4811 Qld, Australia. claudia.arango@jcu.edu.au
---
RESUMEN
Se reportan tres especies de picnogónidos para la región sudoeste de Santa Marta en el Caribe colombiano. Nymphon surinamense, Anoplodactylus insignis y Pallenopsis schmitti fueron colectados en arrastres sobre fondos blandos entre 14 y 60 m de profundidad. Este reporte amplía la distribución geográfica de N. surinamense y A. insignis en el Caribe y resalta la abundancia de P. schmitti en el área. La distribución y la sistemática de las especies se discute brevemente y se presentan ilustraciones para cada una de ellas.
PALABRAS CLAVE: Pycnogonida, fondos blandos, Caribe.
The pycnogonids or sea spiders are a group of marine arthropods of controversial phylogenetic relationships. The meagre fossil record and uniqueness of some of their morphological features have made difficult to relate them to other arthropods (Hedgpeth, 1954; King, 1973). However, several recent phylogenetic studies have shown strong support from morphological and molecular data for pycnogonids as chelicerates (Wheeler, 1997; Zrzavýet al., 1997; Emerson and Schram, 1997; Wheeler and Hayashi, 1998). They are found amongst all types of marine benthic communities and sometimes seen as pelagic guests (Child and Harbison, 1986). Their occurrence have been discussed since 1762 but most of the literature, particularly the older papers treat European and Antarctic forms (Child, 1992). The first comprehensive report on Caribbean pycnogonids was made based on the collections of the Blake, Atlantis and Albatross Expeditions and extensive reviews of material from American museums (Hedgpeth, 1948). Colombian sea spiders collected at both the Caribbean and the Pacific coast by several expeditions have been included in broad studies about Pycnogonida from the tropical Atlantic (Stock, 1975; 1986) and Pycnogonids from the coasts of Middle America (Child, 1979). In the early 1990's, H. G. Müller studied the pycnogonids from the Tayrona National Park, Northeast of Santa Marta for his PhD dissertation thesis (Stock, 1994); no reports on Colombian pycnogonids have been made since then.
The present note is based on collections made on board the R.V. Ancón during 1994 and 1995 as part of a broader project on macrozoobenthic communities of the south-western region of Santa Marta (11 06'N -74 13'W to 11 12'N-74 19'W) (INVEMAR, 1997). Pycnogonids were collected between 14 and 60 m depth using a 2-m beam trawl over muddy-sandy bottoms of the continental shelf. They occurred in the four sampling times (December, March, June and September). Nymphon surinamense Stock, Anoplodactylus insignis Hoek and Pallenopsis schmitti Hedgpeth are reported for the area including illustrations and notes on their systematics and distribution. The species have been recorded before for the Caribbean, however N. surinamense and A. insignis had not been reported as part of the Colombian marine fauna before.
Dr. C. A. Child from the National Museum of Natural History (NMNH), Washington D.C kindly confirmed identified specimens. The material has been deposited in the Collection of INVEMAR (P. schmitti, R-0071), Museo del Instituto de Ciencias Naturales (ICN 001-003) and NMNH (USNM, see text). Stations and sampling details are specified somewhere else (INVEMAR 1997; Arango and Solano in press).
Nymphonidae Wilson 1878
Nymphon surinamense Stock 1975 (Figure 1)
Nymphon surinamense Stock, 1975:1007-1010, figs. 21-22; 1986:420.
Material examined---Pozos Colorados, Sta. 1, 14 m: 1G, March 1995. 1E, June 1995. Sta. 2, 30 m: 4G, 5E, June 1995 (USNM 291490). Sta. 3, 16 m: 1E, September 1995. Sta. 6, 60 m: 1G, March 1995.
Distribution--- Stock (1975) described this species from a male collected at 19-21 m off the coast of Surinam by the Snellius Expedition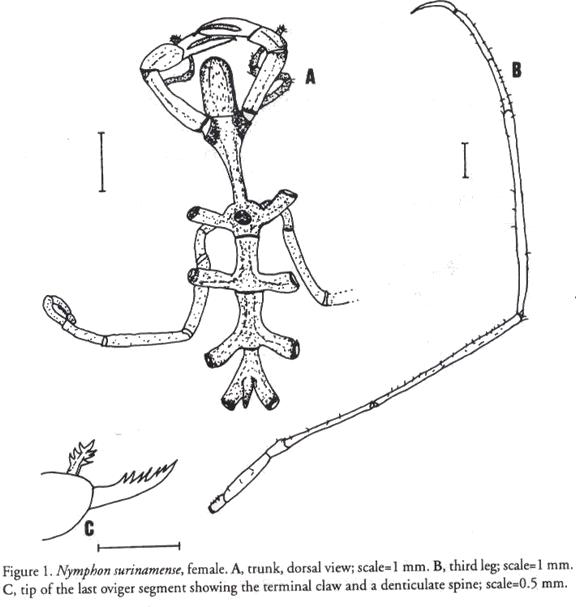 in 1966. Some other specimens were found later in Surinam and French Guyana between 45 and 51 m depth. The Pillsbury Expedition collected 3 more specimens from Guyana and Isla Margarita in a range of 125-90 m depth (Stock, 1986). This report widens the range of distribution of this species to the south-western Caribbean.
Remarks¾ N. surinamense was the first uniunguiculate Nymphon that became known from the Neotropics (Stock, 1975). Stock has included this species in the phasmatodes-group, a group of resembling species that has its distribution centre along the west and south coasts of Africa (Stock, 1975). The specimens presented here constitute the third record for this species since its description.
Phoxichilidiidae Sars 1891
Anoplodactylus insignis Hoek 1881 (Figure 2)
Phoxichilidium insigne Hoek, 1881:82-84, Pl. XIV. Figs.5-7; Loman 1912:fig. E; Marcus, 1940:58-60.
Anoplodactylus insignis Hedgpeth, 1948:226-228, figs. 28 d-g; Stock, 1954:127; 1955:235; 1975:1056-1058, fig.44; Krapp and Kreuter, 1976:337-338; Stock, 1986:437; Child, 1992:46-49, fig. 21; Stock, 1992:130.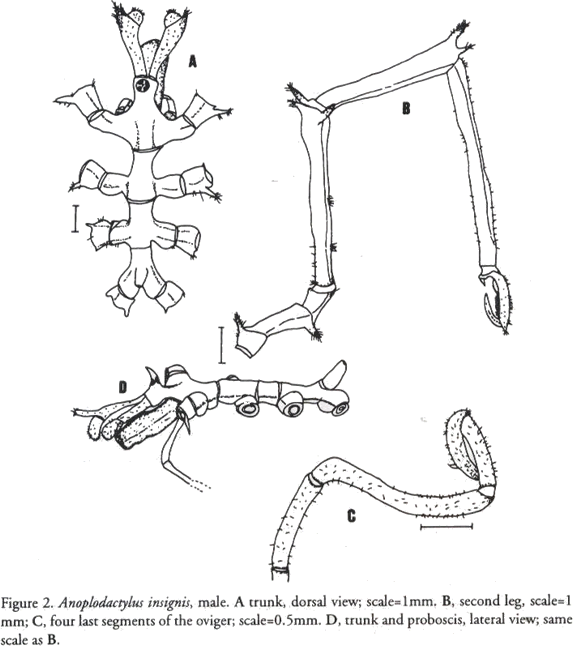 Material examined--- Pozos Colorados. Sta 7, 15 m: 3G, March 1995. Sta 2, 18 m: 4G, 2E, June 1995 (USNM 291491). Sta. 9, 30 m, 1G, September 1995.
Distribution--- The species is known from Venezuela to Brazil, and there are records from Florida and North Carolina waters (USA). The species has a wide depth range of occurrence from intertidal to 100 m. It is one of the most frequently captured species in the southern United States. The present record fits the gap of a possible continuous distribution from the southeastern Caribbean to the coasts of Central America (Child, 1992).
Remarks--- Stock (1986) created a variety of this species named Anoplodactylus insignis calcaratus based on the variation in number and the larger size of the spurs located in the lateral processes and the legs. The Colombian specimens show fairly tall spurs in the positions indicated by Stock, however, they differ from the variety calcaratus in the presence of dorsal tubercles in the lateral processes. As Stock suggested, further examination of specimens from more different areas is desired to decide whether the increased size of the femoral and coxal spurs is an intraspecific variation or a distinguishing taxonomic character (Stock, 1986).
Callipallenidae Hilton 1942
Pallenopsis (Pallenopsis) schmitti Hedgpeth (Figure 3)
Pallenopsis schmitti ---Hedgpeth, 1943:44; 1948: 212-214, fig. 22; Stock, 1955:233; Child, 1979:46.
Pallenopsis (Pallenopsis) schmitti---Stock, 1975:1028-1030, fig. 30 c-d; 1986: 425, fig. 8 g-i; Child, 1992:6567, fig. 30.
Material examined.--- Pozos Colorados. Sta. 1, 16 m: 1G, December 1994; 9G, 4E, March 1995; 1 G, 5E (juveniles?), June 1995. Sta. 2, 30 m: 1G, June 1995. Sta. 3, 13 m: 1G, December 1994; 2G, March 1995. Sta. 4, 15 m: 14G, 3E, March 1995; 1G June 1995. Sta. 5, 30 m: 1G, December 1994; 1G, March 1995. Sta. 6, 60 m: 1G, March 1995; 1G, June 1995. Sta. 7, 15-16 m: 4G, 2E, December 1994; 2G, 5E (juveniles?), March 1995 (USNM 291492); 4G, 4E, June 1995 (USNM 291493); 3G, 1E, September 1995. Sta. 9, 29 m: 1E, December 1994; 4G, March 1995; 2G, June 1995. Sta. 10, 18 m: 8G, 3E, June 1995.
Distribution--- P. schmitti is an abundant species showing a wide distribution on the West Atlantic. It was first described by Hedgpeth on 1943 and then revised by the same author based on specimens collected by the Albatross in Colombia, Greater Antilles and Florida Keys between 1884 and 1886 (Hedgpeth, 1948). Stock (1986) suggested that P. schmitti tendsto be more common in the northern half of the Caribbean while P. kempfi is more abundant along the coasts of South America and Central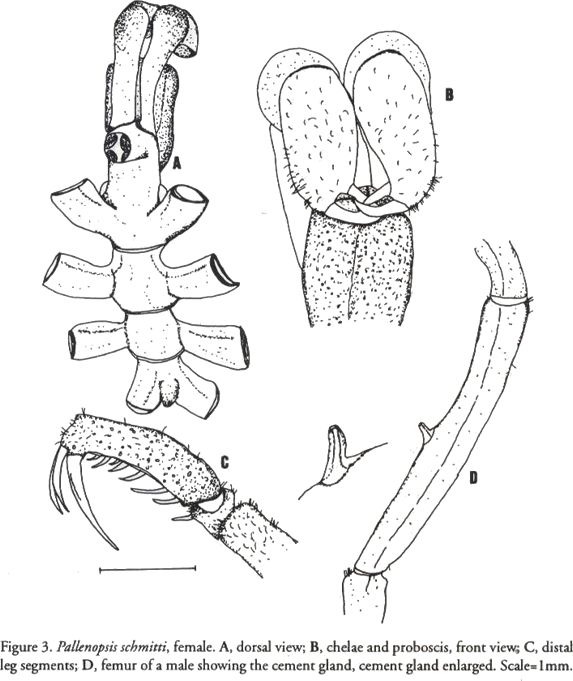 America. The relative high number of P. schmitti (91 individuals) collected and the absence of P. kempfi in the samples from the south-western area of Santa Marta in the Colombian Caribbean does not reflect this trend. These contrasting findings could be an indication of the morphological (see below) and habitat overlapping of these two closely related species.
Remarks ---This is a large species of Pallenopsis that can be differentiated from other species in the same genus by the short and widely separated lateral process and the long setae on the legs, particularly the first tibia. The length of the auxiliary claws and characteristics of the ovigers are the characters used for the segregation of P. schmitti and P. kempfi (Stock, 1986), however a closer examination of these and other characters is desired to define morphological boundaries of the species. Additionally, it is worth to note that the genus Pallenopsis is considered a 'transitional' form between two families (King, 1973; Child, 1992) since they present ovigers in both sexes as the Callipallenidae but show a strong similarity in the cephalic segments to Phoxichilidiidae. This and other taxonomic discrepancies in the classification of the Pycnogonida are in need of further revision; with the aid of cladistics could possible to bring renovated knowledge to the systematics and evolution of sea spiders.
ACKNOWLEDGMENTS
I wish to thank ECOPETROL for the funding of the broader project and to the R.V. Ancón crew and the personnel from INVEMAR for their help during the samplings. I am grateful to Dr. Allan Child for the confirmation of the species and comments.
REFERENCES
1 Arango, C.P. and O.D. Solano. 1999. A community analysis of the soft bottom megafauna (Crustacea, Mollusca) from the southwestern region of Santa Marta, Colombian Caribbean. Bol. Invest. Mar. Cost., 28. [ Links ]
2 Child, A. 1979. Shallow water Pycnogonida of the Isthmus of Panama and the coasts of Middle America. Smith. Cont. Zool. 23: 1-86. [ Links ]
3 ________. 1992. Shallow water Pycnogonida of the Gulf of Mexico. Mem. Hourglass Cruises 9: 1-86. [ Links ]
4 ________. and G.R. Harbison 1986. A parasitic association between a pycnogonid and a scyphomedusa in midwater. J. Mar. Biol. Ass. UK 66: 113-117. [ Links ]
5 Emerson, M.J. and F.R. Schram, 1997. Theories, patterns, and reality: game plan for arthropod phylogeny. 67-86 p. In: R. A. Fortey and R. H. Thomas (eds.). Arthropod Relationships. Chapman & Hall, London. [ Links ]
6 Hedgpeth, J.W. 1948. The Pycnogonida of the western north Atlantic and the Caribbean. Proc.US Nat. Mus. 98: 157-342. [ Links ]
7 ________. 1954. On the phylogeny of the Pycnogonida. Acta zoologica 35: 193-213. [ Links ]
8 INVEMAR. 1997. Monitoreo de las comunidades macrozoobenticas y parámetros fisicoquímicos en el área de la monoboya, Pozos Colorados, Final report. Santa Marta. 123 p. [ Links ]
9 King, P.E. 1973. Pycnogonids. Hutchinson & Co., London. [ Links ]
10 Stock, J.H. 1975. Pycnogonids from the continental shelf, slope and deep sea of the tropical Atlantic and east Pacific. Bull.Mar.Sci. 24: 957-1092. [ Links ]
11 ________. 1986. Pycnogonida from the Caribbean and the Straits of Florida. Bull.Mar.Sci. 38: 399-441. [ Links ]
12 ________. 1994. Indo-west pacific Pycnogonida collected by some major oceanographic expeditions. Beaufortia 1: 1-9. [ Links ]
13 Wheeler, W.C. 1997. Sampling, groundplans, total evidence and the systematics of arthropods. 87-96 p. In: R. A. Fortey and R. H. Thomas (eds.). Arthropod Relationships. Chapman & Hall, London. [ Links ]
14 ________. and C. Hayashi. 1998. The phylogeny of extant chelicerate orders. Cladistics 14: 173-192. [ Links ]
15 Zrzavý, J.; V. Hypsa, and M. Vlaskova. 1997. Arthropod Phylogeny: Taxonomic congruence, total evidence and conditional combination approaches to morphological and molecular data sets 97-107 p. In: R. A. Fortey and R. H. Thomas (eds.). Arthropod Relationships. Chapman & Hall, London. [ Links ]
DATE RECEIVED: 29/10/99 DATE ACCEPTED:26/07/00