Services on Demand
Article
Indicators
Related links
Similars in SciELO
Bookmark
Print version ISSN 0122-9761
bol. invemar vol.29 no.1 Santa Marta Jan./Dec. 2000
NOTA:
PONTINUS CLEMENSI (PISCES: SCORPAENIDAE) AT MALPELO ISLAND, COLOMBIA: NEW SPECIMEN AND GEOGRAPHIC RANGE EXTENSION
PONTINUS CLEMENSI (PISCES: SCORPAENIDAE) EN LA ISLA MALPELO, COLOMBIA: NUEVO ESPECIMEN Y AMPLIACIÓN DEL ÁMBITO GEOGRÁFICO.
Camilo Mora, Juan M. Jiménez, and Fernando A. Zapata
Departamento de Biología, Universidad del Valle, A.A. 25360, Cali, Colombia. e-mails:moracamilo@hotmail.com(C.M.), jumajime@biologia.univalle.edu.co(J.M.J.), fazr@biologia.univalle.edu.co(F.A.Z.).
---
RESUMEN
Pontinus clemensi es una especie descrita con un reducido número de especímenes. En Junio de 1999, un espécimen adicional de P. clemensi fue colectado en la isla Malpelo, Colombia (3º 59' N, 81º 35' W). Este ejemplar permitió ampliar la descripción original de la especie y su ámbito geográfico en el Pacifico Oriental.
PALABRAS CLAVE: Pontinus, rockfishes, Eastern Pacific.
Pontinus clemensi (Fitch, 1955) is a scorpaenid fish species described on the basis of a single specimen collected off the coast of the state of Nariño, Colombia (2º 25' N, 79º 00' W). An additional specimen was reported for Paita, Perú (Chirichigno, 1978), and two more for Gorgona Island, Colombia (Rubio et al., 1987; Franke and Acero, 1996). There is also a photographic record for Fernandina Island in the Galápagos Islands (McCosker et al., 1997). In June of 1999, aboard the "ARC Malpelo", we obtained an additional specimen of P. clemensi (27.5 cm SL) at Malpelo Island, Colombia (3º 59' N, 81º 35' W). The specimen was placed in the ichthyological reference collection of Universidad del Valle (CIRUV). This finding extends the geographic range of this species in the eastern Pacific and provides additional material to improve the description of this species.
Pontinus clemensi Fitch, 1955
(Fig. 1)
Material examined: One specimen (CIRUV-99001) 275 mm SL, collected by an A.R.C. Malpelo crew member in front of "El Arrecife",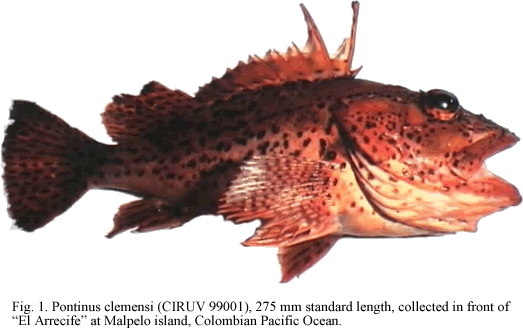 Malpelo Island, Colombia, on 5 June 1999 with hook and line at 100 m depth.
Description: The meristic and morphometric characteristics of our specimen, and those of three other specimens known (Fitch, 1955; Chirichigno, 1978; Franke and Acero, 1994) are presented in table 1. Live coloration is red and orange with dark spots dorsally, pale without spots ventrally; in alcohol all the body is pale and the spots are dark brown (Fig. 1).
Remarks: Out of four previously reported specimens of P. clemensi, only three remain. The specimen reported by Rubio et al.,1987 appears to be lost. We also doubt the validity of this report for Gorgona Island: the poor illustration of this specimen (Rubio et al. 1987, Fig. 74) does not show the distinct color pattern of P. clemensi. Additionally, this speciemen was reportedly collected between 14 and 18 m depth, which is unusually shallow for a species of Pontinus, and unfortunately, the meristic and morphometric characteristics of this specimen were not reported. We therefore compare the characteristics of the Malpelo Island specimen with those of only three other specimens (Fitch, 1955; Chirichigno, 1978; Franke and Acero, 1996).
Our Malpelo Island specimen shows all the diagnostics characteristics of P. clemensi (Fitch, 1955); however, some of the characteristics of this specimen have values that are outside the ranges based on the three reported specimens. In particular, the Malpelo Island specimen has one additional soft ray in the anal fin, has a longer snout, the orbital diameter is smaller, and the body is more depressed and less compressed. Additionally, the maxilla, and the 4th dorsal and the 11th pectoral fin ray are shorter than in previously known specimens (Table 1). We believe that the relatively small differences observed between the Malpelo Island specimen and other specimens are likely to be explained by the small number of known specimens.
Unlike other congeners, P. clemensi appears to have a restricted geographic distribution (Poss, 1995). Because this species has always been collected at depths over 90 m, it could be argued that the geographic distribution of this species is poorly known because deep water species tend to be under-represented in fish surveys. However, other species of Pontinus typically have similar depth distributions (Poss, 1995), yet are widely distributed in the eastern Pacific Ocean. It is thus plausible that P. clemensi is a truly rare species.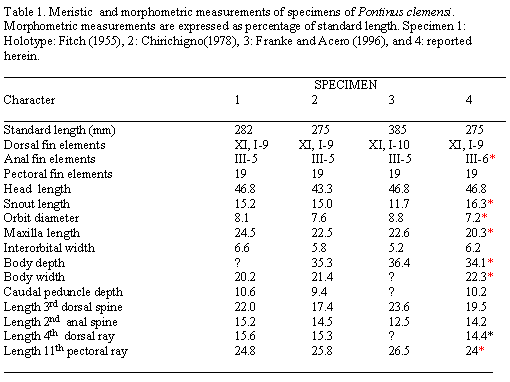 ACKNOWLEDGMENTS
We thank the Armada Nacional de Colombia and the Ministerio del Medio Ambiente for allowing us to participate on the 2nd Scientific Expedition to Malpelo Island. Financial support for this work was provided by Colciencias. Captain Hernán Ospina and the A.R.C. Malpelo crew provided support to all the scientific activities on the island. We give special thanks to Sandra Bessudo, Director of the Santuario de Fauna y Flora Isla Malpelo, for her interest and work for the realization of this expedition. We thank all the expedition participants for their friendship and support during the trip.
REFERENCES
1 Chirichigno, N. 1978. Nuevas adiciones a la ictiofauna marina del Perú. Inf. Inst. Mar. Perú, 46: 1-109 [ Links ]
2 Fitch, J. E. 1955. Pontinus clemensi, a new scorpaenid fish from the tropical eastern Pacific. J. Wash. Acad. Sci., 45: 61-64. [ Links ]
3 Franke, R. and A. Acero P. 1996. Peces óseos comerciales del Parque Gorgona, Pacifico colombiano (Osteichthyes: Muraenidae, Hemiramphidae, Belonidae, Scorpaenidae, Triglidae, Malacanthidae, Gerreidae, Sparidae, Kyphosidae, Sphyraenidae e Istiophoridae). Rev. Biol. Trop. 44: 763-770. [ Links ]
4 McCosker, J. E.; G. Merlin; D. J. Long; R. G. Gilmore and C. Villon. 1997. Deepslope fishes collected during the 1995 eruption of isla Fernandina, Galápagos. Not.Galápagos, 58:22-26. [ Links ]
5 Poss, S. 1995. Scorpaenidae. In: Fischer W, et al. (eds). Guía FAO para la identificación de especies para los fines de la pesca. Pacífico centro-oriental. Vol III., FAO Press., Roma, Italia. [ Links ]
6 Rubio, E.; B. Gutiérrez. and R. Franke. 1987. Peces de la isla Gorgona. Universidad del Valle.Cali. 315 p. [ Links ]
FECHA DE RECEPCIÓN: 08/05/00 FECHA DE ACEPTACIÓN: 03/10/00