Services on Demand
Article
Indicators
Related links
Similars in SciELO
Bookmark
Print version ISSN 0122-9761
bol. invemar vol.38 no.2 Santa Marta July/Dec. 2009
NOTE:
Cd, Pb AND ORGANOCHLORINE PESTICIDES OF MYTELLA STRIGATA (PELECYPODA: MYTILIDAE) OF SIX COASTAL LAGOONS OF NW MEXICO
CONTENIDO DE CD, PB Y PESTICIDAS ORGANOCLORADOS DE MYTELLA STRIGATA (PELECYPODA: MYTILIDAE) DE SEIS LAGUNAS COSTERAS DEL NOROESTE DE MÉXICO
José I. Osuna-López1, Martín G. Frías-Espericueta1, Gabriel López-López1, Héctor M. Zazueta-Padilla1, Gildardo Izaguirre-Fierro1, Federico Páez-Osuna2, Ana C. Ruiz-Fernández2 y Domenico Voltolina3
1Universidad Autónoma de Sinaloa, Facultad de Ciencias del Mar, Laboratorio de Estudios Ambientales, Ap. Postal 1132, Mazatlán 82000, Sinaloa, México, cgjiol@uas.uasnet.mx (J.I.O.L.), friasm@ola.icmyl.unam.mx (M.G.F.E.), gablop05@hotmail.com (G.L.L.), hectorzaz@hotmail.com (H.M.Z.P.), gilofierro@yahoo.com.mx (G.I.F.)
2Universidad Nacional Autónoma de México, Instituto de Ciencias del Mar y Limnología, Unidad Académica Mazatlán, Ap. Postal 811, CP. 82040. Mazatlán, Sinaloa, México, paezos@servidor.unam.mx (F.P.O.), caro@ola.icmyl.unam.mx (A.C.R.F.)
3Centro de Investigaciones Biológicas del Noroeste, Laboratorio UAS-CIBNOR, Ap. Postal 1132, Mazatlán 82000, Sinaloa, México. voltolin04@cibnor.mx
---
RESUMEN
Los contenidos de Cd y Pb de los tejidos blandos de los mejillones de mangle Mytella strigata colectados en 1996, en seis lagunas costeras del noroeste de México variaron entre 0.73 y 1.9 µg g-l y entre 8.3 y 17.1 µg g-l, respectivamente; los valores de DDD variaron entre 4.5 y 119 ng g-l los de DDE desde menos del límite de detección (<DL) hasta 205 ng g-l y el DDT varió entre <DL hasta 4.1 ng g-l con los valores más altos en las lagunas cercanas a zonas de agricultura intensiva, que se encuentran en la parte central y septentrional del estado de Sinaloa. El intervalo de las concentraciones de HCB fue de <DL hasta 695 ng g-l y los valores mayores se midieron en las lagunas meridionales, en áreas de agricultura extensiva y menos mecanizada. Los valores de Pb superaron los límites aceptables para el consumo humano, mientras que los restantes no alcanzaron niveles preocupantes para la salud humana o ambiental, pero indican una tendencia al aumento en comparación con estudios realizados con anterioridad.
PALABRAS CLAVE: Bivalvos, Pacífico mexicano, Contaminación, Inocuidad alimentaria.
---
There is growing evidence of the coastal water contamination of the Mexican Pacific and, in spite of the official policies directed to regulate contaminant emissions, this is likely to increase in view of the intense agricultural, industrial and fisheries-related activities of the coastal states of NW Mexico (Soto-Jiménez et al., 2003; González-Farías et al., 2006). These water bodies are nursery and feeding areas for many aquatic species and support several traditional fisheries, as well as important shrimp and mollusc aquaculture developments (De la Lanza-Espino et al., 1994). For this reason, if their contamination was increasing this might be of concern for environmental and human health. However, there is little information on the previous levels of contaminants of these aquatic environments.
Different species of mussels have been used worldwide for several decades as sentinels, to provide information on the levels of contamination of the marine coastal environment (Rainbow, 1995; Cantillo, 1998; Mubiana et al., 2005). This study provides background information on the concentration of some contaminants determined in 1996 in the soft tissues of the mangrove mussel Mytella strigata collected in six coastal lagoons of NW Mexico.
The mussels (shell height range: 3 to 4.7 cm) were hand-collected between April and May 1996 from the mangrove roots of two-three sampling sites of the intertidal zone of the lagoons of Navachiste (NA), Altata-Ensenada del Pabellón (AEP), Ceuta (CE), Estero de Urías (EU), Mexcaltitán (MX), and San Cristóbal (SC), located in the Mexican Pacific coastal plains of the states of Sinaloa (NA to EU) and Nayarit (MX and SC: Figure 1). Their surface areas range from 24 ha (SC) to 36,000 ha (AEP), the tidal regime is semidiurnal and the average tidal range of these lagoons is close to 1 m.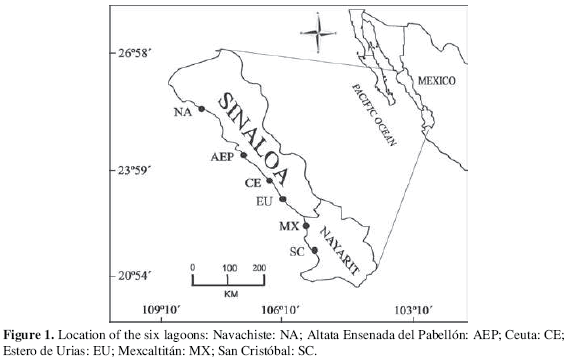 All these lagoons receive effluents from human activities, mainly of intensive agriculture in the case of NA, AEP and CE. AEP and EU are also the receiving water bodies of the urban and industrial wastewaters of the cities of Culiacan and Mazatlan, and MX and SC are located in areas of less intensive, traditional agriculture and fisheries.
In the laboratory, 30 mussels obtained in each sampling site of each lagoon were washed free of sediments and epibionts and shucked. The pooled samples were freeze-dried, homogenized in a teflon mortar and the respective analyses were performed on three subsamples of these composite samples.
The contaminants determined were two non essential heavy metals (Cd and Pb), and the organochlorine pesticides dichlorodipheniltrichloroethane (4,4 p,p: DDT), dichlorodiphenyldichloroethane (4,4 p,p: DDD), dichlorodiphenylethylene (4,4 o,p: DDE), and hexachlorobenzene (HCB) determined in a similar study by Paez-Osuna et al. (2002). All glassware and materials used for sample handling were acid-cleaned as in Moody and Lindstrom (1977) for metal analysis, or washed with methanol and hexane for pesticides (IDF, 1983). All reagents used for digestion and extraction were metal-free for heavy metals and HPLC-grade for pesticides.
After acid digestion of the subsamples (1 g in 25 mL concentrated HN03, evaporation to dryness at 90 °C and solution of the residue in 20 mL 2M HN03: Paez-Osuna et ah, 2002), trace metals were determined by flame atomic absorption spectrophotometry using the method of internal standard additions, and mussel homogenate MA-M-2/MT as an analytical reference. The respective percentages of recovery of Cd and Pb were 96 and 85 %.
DDT, DDD, DDE and HCB were obtained by solvent extraction from freeze-dried, homogenized tissue samples (10-15 g), separated using a chromatography column of activated florisil and eluted with hexane (fraction 1), hexane/methylene chloride 7:3 v/v (fraction 2), and methylene chloride (fraction 3). Each fraction was concentrated to 1 mL as in UNEP (1988) and the pesticides were determined with a Hewlett Packard 5890 gas chromatograph with electron-capture detectors, using fused-silica capillary columns (25 m x 0.2 mm ID x 0.33 [am, HP). The temperature program was 70 °C for 2 min, increasing by 3 °C min-1 to 260 °C and held constant for 10 min. Quantification and identification of the pesticides were carried out using SupelcoTM standards. The efficiency of recovery, determined using 2, 3, 4-tetrachlorobiphenyl as internal standard, ranged from 70 to 100 %.
The highest mean Cd and Pb concentrations were determined in NA and AEP (Cd: 1.9 and 1.7 µg g-1; Pb: 13.0 and 17.1 µg g-1, respectively), whereas the other lagoons had values ranging between 0.81 and 0.73 µg g-1 (Cd) and from 8.3 to 11.0 µg g-1 (Pb). CE and SC shared the lowest values for both metals (Figure 2).
Pb levels are expected to be high in water bodies close to urban or industrial centers, or to other areas of intense human activities and related use of surface vehicles, such as the intensive agricultural and food-related industries of the areas surrounding the NA and AEP lagoonal systems (Green-Ruiz and Paez-Osuna, 2003).

The Cd and Pb concentrations reported in EU (0.8 and 8.1 ug g1) are almost twice and one order of magnitude higher than the respective values of 0.45 (Cd) and 0.9 µg g-1 (Pb) determined by Szefer et al. (1998) for M. strigata collected in different areas of the same lagoonal system, although the geographic trend and the range of Pb contents coincide with those found in the same year by Paez-Osuna et al. (2002) in the mangrove oyster C. corteziensis. According to Cantillo (1998) the values indicative of metal contamination are 3.2 ug g1 for Cd and 3.7 µg g-1 for Pb. The range of Pb concentrations observed in our specimens was 8.3-17.1 µg g-1, all above the threshold value and, considering a water content of between 80 and 85 %, all were close or higher than the level considered safe for human consumption (1.5 µg g-1 wet weight: FDA, 2001, GUCE, 2006) indicating that a decade ago Pb had already reached levels of concern in Mexican coastal water bodies both from the environmental as well as from the food safety points of view.
Bivalves species have specific metal accumulation strategies, and for this reason the use of same species is recommended for comparative purposes. However, there is only one recent study with Mytella strigata of the Mexican Pacific coastal waters (Frias-Espericueta et al. 2008), who found Cd and Pb values of 6.30 and 5.22 µg g-1 in AEP lagoon.
In addition, Frias-Espericueta et al. (2009) reported annual values of 6.47, 6.91 and 1.55 µg g-1 for Cd, and Pb contents of 4.86, 8.09 and 6.51 µg g-1 in the mangrove oyster Crassostrea corteziensis of the lagoons NA, CE and EU, respectively. According to these data, there seems to be a relative Cd increase and a Pb decrease in the area, probably related in the first case to the intensification of agricultural activities (Berlanga and Ruiz-Luna, 2007) since Cd is associated with phosphate fertilizers (Loganathan et ah, 2008), and in the second because the use of Pb-added gasoline became illegal in Mexico in 1997 (Gavilán-García et al., 2004).
The more than 50 years of intensive agriculture in the northern and central parts of the state of Sinaloa are reflected in the high values of DDT, DDD and DDE determined in AEP, CE and NA, respectively, with 4.1, 119.3 and 205.7 ng g-1; the highest concentration of HCB (695 ng g-1) was that of Estero de Urías, while Mexcaltitán showed the lowest concentrations of all these compounds (Table 1). Until recent years, the production and use of several persistent pesticides were not restricted in Mexico and, even in the case of restrictions as a result of international pressure, these have not been fully implemented and adequately enforced (Albert, 1996).

This explains the data of 4.1 ng g-1 of DDT detected in AEP, which is two to three orders of magnitude higher than the 1.8 to 65 ng g-1 and the 5.6 ng g-1 reported by Gutierrez-Galindo et al. (1983, 1988) and Botello et al. (1994) for other areas of the NW Pacific coast and the Gulf of Mexico. The same applies to the concentrations of DDD and DDE, which were by far higher than those found in El Salvador by Michel and Zengel (1998). All the high values found in this lagoon may be due to pollutants accumulation generated locally or imported from surrounding areas, caused by its limited water exchange with the open ocean (Carbajal and Nunez-Riboni, 2002).
Only the DDE values found in EU and MX were lower than the 0.075-0.423 µg g-1 of DDE determined by Wade et al. (1998) in the coastal zone of SE USA, where HCB concentrations ranged from <0.25-2.4 ng g-1 that, with the exception of SC and MX lagoons, are by far lower than those of this study. Considering that these lagoons are important traditional fishing grounds, that all samples showed high levels of Pb and that the organic pollutants studied are likely to cause at least sublethal effects on a wide range of aquatic organisms at the ng g-1 level (Munn et al., 2006), our results show that more research is needed on the levels of contamination of the coastal ecosystems of NW Mexico, since the state of pollution of these water bodies of the Mexican Pacific could have already reached levels of serious concern.
ACKNOWLEDGMENT
Supported by CONACYT Project 0185P-T.
LITERATURE CITED
1 Albert, L.A. 1996. Persistent pesticides in Mexico. Rev. Env. Contam. Toxicol., 147: 1-44. [ Links ]
2 Berlanga, R. C. y A. Ruiz-Luna. 2007. Análisis de las tendencias de cambio del bosque de mangle del sistema lagunar Teacapán-Agua Brava, México. Una aproximación con el uso de imágenes de satélite Landsat. Universidad y Ciencia, 23: 29-46. [ Links ]
3 Botello, A.V., G. Díaz, L. Rueda and S.F. Villanueva. 1994. Organochlorine compounds in oysters and sediments from coastal lagoons of the Gulf of Mexico. Bull. Env. Contam. Toxicol., 53: 238-245. [ Links ]
4 Cantillo, A. Y. 1998. Comparison of results of mussel watch programs of the United States and France with worldwide mussel watch studies. Mar. Pollut. Bull., 36: 712-717. [ Links ]
5 Carbajal, N. and I. D. Núñez-Riboni. 2002. Dispersión de contaminantes pasivos en el complejo lagunar Bahía de Altata/Ensenada del Pabellón, Sinaloa. Rep. Inst. Potosino Invest. Cient. Tecnol., 1 (1): 23-38. [ Links ]
6 De la Lanza-Espino, G., J. J. Salaya-Ávila and E. Farsi. 1994. Aquaculture exploitation and management of coastal lagoons in Latin America and the Caribbean. Bull. Env. Contam. Toxicol., 83: 595-599. [ Links ]
7 FDA. 2001. Fish and fisheries products hazards and controls guidance. http://www.cfsan.fda.gov/~comm/haccp4.html. 20/01/08. [ Links ]
8 Frías-Espericueta, M. G., J. I. Osuna-López, D. Voltolina, G. López-López, G. Izaguirre-Fierro and M. D. Muy-Rangel. 2008. The metal content of bivalve molluscs of a coastal lagoon of NW Mexico. Bull. Env. Contam. Toxicol., 80: 90-92. [ Links ]
9 Frías-Espericueta, M. G., J. I. Osuna-López, M. I. Bañuelos-Vargas, G. López-López, M. D. Muy-Rangel, G. Izaguirre-Fierro, W. Rubio-Carrasco, P. C. Meza-Guerrero and D. Voltolina. 2009. The contents of Cd, Cu, Pb and Zn of the mangrove oyster Crassostrea corteziensis of seven coastal lagoons of NW Mexico. Bull. Env. Contam. Toxicol., 83: 595-599. [ Links ]
10 Gavilán-García, I., A. Gavilán-García and J. Castro-Díaz. 2004. Organometales. 201-243. In: Fernández Bremauntz, A., M. Yarto-Ramírez and J. Castro-Díaz. (Eds.). Las sustancias tóxicas persistentes en México. Secretaría de Medio Ambiente y Recursos Naturales Instituto Nacional de Ecología. Mexico, D.F. 260 p. [ Links ]
11 González-Farías, F., M. Hernández-Garza and G. Díaz-González. 2006. Organic carbon and pesticide pollution in a tropical coastal lagoon-estuarine system in Northwest Mexico. Int. J. Env. Pollut., 26: 234-252. [ Links ]
12 Green-Ruiz, C. and F. Páez-Osuna. 2003. Heavy metals distribution in surface sediments from a subtropical coastal lagoon associated with an agricultural basin. Bull. Env. Contam. Toxicol., 71: 52-59. [ Links ]
13 GUCE. 2006. Regolamento (CE) n. 1881/2006 della commissione che definisce i tenori massimi di alcuni contaminanti nei prodotti alimentari. Gazzetta Ufficiale dell'Unione Europea 20 dicembre 2006, L 364: 5-24. [ Links ]
14 Gutiérrez-Galindo, E.A., S.A. Sañudo-Wilhelmy and B.P. Flores-Báez. 1983. Variación espacial y temporal de pesticidas organoclorados en el mejillón Mytilus californiensis (Conrad) de Baja California. Ciencias Marinas, 9: 7-18. [ Links ]
15 Gutiérrez-Galindo E. A., G. Flores-Muñoz and J. A. Villaescusa-Celaya. 1988. Hidrocarburos clorados en moluscos del valle de Mexicali y alto golfo de California. Ciencias Marinas, 14: 91-113. [ Links ]
16 IDF. 1983. Milk and milk products. Recommended methods for determination of organochlorine pesticides residues. Provisional International IDF standard 75B. International Dairy Federation, General Secretariat, Brussels, Belgium. [ Links ]
17 Loganathan, P., M. J. Hedley and N. D. Grace. 2008. Pasture soils contaminated with fertilizer-derived cadmium and fluorine: livestock effects. Rev. Env. Contam. Toxicol., 192: 29-66. [ Links ]
18 Michel, J. and S. Zengel. 1998. Monitoring of oysters and sediments in Acajutla, El Salvador. Mar. Pollut. Bull, 36: 256-266. [ Links ]
19 Moody, J. R. and R. N. Lindstrom. 1977. Selection and cleaning of plastic containers for storage of trace element samples. Anal. Chem., 49: 2264-2267. [ Links ]
20 Mubiana, V. K., D. Oadah, J. Meys and R. Blust. 2005. Temporal and spatial trends in heavy metals concentrations in the marine mussel Mytilus edulis from the western Scheldt estuary (The Netherlands). Hydrobiologia, 540: 169-180. [ Links ]
21 Munn, M. D., R. J. Gilliom, P. W. Moran and L.H. Nowell. 2006. Pesticide toxicity index for freshwater aquatic organisms, 2nd Edition: U.S. Geological Survey Sci. Invest. Rep. 5148: 81 p. [ Links ]
22 Páez-Osuna, F., A. C. Ruiz-Fernández, A. V. Botello, G. Ponce-Vélez, J. I. Osuna-López, M. G. Frias- Espericueta, G. López-López and H. M. Zazueta-Padilla. 2002. Concentrations of selected trace metals (Cu, Pb, Zn), organochlorines (PCBs, HCB) and total PAHs in mangrove oysters from the Pacific Coast of Mexico: an overview. Mar. Pollut. Bull., 44: 1303-1308. [ Links ]
23 Rainbow, P. S. 1995. Biomonitoring of heavy metal availability in the marine environment. Mar. Pollut. Bull, 31: 183-192. [ Links ]
24 Soto-Jiménez, M., F. Páez-Osuna and A. C. Ruiz-Fernández. 2003. Geochemical evidences of the anthropogenic alteration of trace metal composition of the sediments of Chiricahueto marsh (SE Gulf of California). Environ. Pollut., 125: 423-432. [ Links ]
25 Szefer, P., J. Geldon, A. A. Ali, F. Páez-Osuna, A.C. Ruiz-Fernandez and S .Guerrero-Galván. 1998. Distribution and association of trace metals in soft tissue and byssus of Mytella strigata and other benthal organisms from Mazatlan harbour, a mangrove lagoon of the Northwest coast of Mexico. Environ. Int., 24: 359-374. [ Links ]
26 UNEP. 1988. Determination of DDTs and PCBs by capillary gas chromatography and electron capture detection. Reference Methods for Marine Pollution Studies No. 40. United Nations Environment Programme, Geneva. 18 p. [ Links ]
27 Wade, T. L., J. L. Sericano, P. R. Gardinali, G. Wolff and L. Chambers. 1998. NOAA's 'Mussel Watch' project: current use organic compounds in bivalves. Mar. Pollut. Bull., 37: 20-26. [ Links ]
FECHA DE RECEPCIÓN: 11/07/08 FECHA DE ACEPTACIÓN: 11/01/10