Services on Demand
Article
Indicators
Related links
Cited by Google
Similars in SciELO
Similars in Google
Share
---
Print version ISSN 0122-9761

Bol. Invest. Mar. Cost. vol.48 no.2 Santa Marta July/Dec. 2019  Epub Dec 11, 2019
http://dx.doi.org/10.25268/bimc.invemar.2019.48.2.768 
Research Articles
Characterization of coccolithophore assemblages in the offshore basins of the Colombian Pacific
0000-0002-7074-7287Esteban Osorio Gómez
1
2
*
, 0000-0002-0743-0906Diego Vallejo Hincapié
1
2
, 0000-0002-5684-2130Daniel Rincón Martínez
3
, 0000-0001-9678-6818Andrés Pardo Trujillo
1
2
, 0000-0002-1904-0892Sandra Restrepo Acevedo
3
, 0000-0003-1093-8492Raúl Trejos Tamayo
1
2
1. Instituto de Investigaciones en Estratigrafía IIES, Universidad de Caldas, Manizales, Colombia. osorio.gomez.esteban@gmail.com.
2. Departamento de Ciencias Geológicas Universidad de Caldas. Calle 65 N°26-10, Manizales, Colombia.
3. Centro de Innovación y Tecnología Instituto Colombiano del Petróleo, ICP-Ecopetrol, km 7vía Piedecuesta, Santander, Colombia.
This study was conducted on coccolithophores recovered from 39 piston-core samples taken offshore Chocó and Tumaco basins, on the Colombian Pacific. Qualitative and quantitative analyses of the coccoliths showed changes in the relative abundances and the state of preservation in the two basins. The examined sediments were characterized by the coccoliths Gephyrocapsa oceanica, Gephyrocapsa muellerae, Gephyrocapsa <3 μm, Emiliania huxleyi, Calcidiscus leptoporus and Helicosphaera carteri, which presented abundances higher than 2 %. We also identified a minority assemblage (<2%) constituted by Ceratolithus spp, Coccolithus pelagicus, Florisphaera profunda, Helicosphaera princei, Helicosphaera sellii, Helicosphaera wallichii and Pontosphaera spp. together with reworked specimens of Reticulofenestra spp, Sphenolithus spp. and Discoaster spp. The recovery of E. huxleyi as part of the assemblage indicates that the studied sediments are younger than the biozone NN21, covering an age range of Middle Pleistocene (Ionian). The number of coccoliths per gram (cc/g) was calculated, demonstrating an average of 5.7x106 cc/g and 1.2x107 cc/g for Chocó and Tumaco basins, respectively. In order to interpret the causes of this variance, we performed a multivariate redundancy analysis (RDA), showing that the distance to the coastline is the controlling factor of the fluctuations of the relative abundances and distribution of the coccoliths in both basins.
Key words: Coccolithophores; Colombian Pacific; Chocó basin; Tumaco basin; Quaternary
ACKNOWLEDGEMENTS
The authors are grateful to geologist Eduardo López, from the Vice-presidency of Exploration at Ecopetrol S.A for the description of the core, and to technologist Adrián Delgado for the samples taken aboard the ARC Providencia. We would also like to thank Commander Ferrero, the crew of ARC Providencia and the group of GEMS professionals who managed the acquisition of the piston core. Special thanks to Valentina Ramírez Valencia for her valuable contributions in the statistical analyses, and to Professor Gladys Bernal and the anonymous reviewers for their contribution to the manuscript.
APPENDIX A.
The following are the coccolithophore taxa that were identified in this study.
Calcidiscus leptoporus (Murray y Blackman, 1898) Loeblich y Tappan, 1978.
Ceratolithus cristatus (Kamptner, 1950).
Coccolithus pelagicus (Wallich, 1877) Schiller, 1930.
Discoaster brouweri (Tan, 1927) emend. Bramlette y Riedel, 1954.
Discoaster pentaradiatus (Tan, 1927).
Discoaster variabilis (Martini y Bramlette, 1963).
Emiliania huxleyi (Lohmann, 1902) Hay y Mohler en Hay et al, 1967.
Florisphaera profunda (Okada y Honjo, 1973) var. profunda Okada y McIntyre, 1979.
Gephyrocapsa muellerae (Bréhéret, 1978).
Gephyrocapsa oceanica (Kamptner, 1943) McIntyre y Bé, 1967; McIntyre et al. 1970.
Helicosphaera carteri (Wallich, 1877) Kamptner, 1954 var. carteri. McIntyre y Bé, 1967.
Helicosphaera princei (da Gama y Varol, 2013).
Helicosphaera sellii (Bukry y Bramlette, 1969) Jafar y Martini, 1975.
Helicosphaera wallichii (Lohmann, 1902) Okada y McIntyre, 1979.
Pontosphaera spp. (Kamptner, 1948) exDeflandre in Deflandre y Fert, 1954; Roth, 1970.
Reticulofenestra spp. (Hay et al., 1966).
Sphenolithus abies (Deflandre in Deflandre y Fert, 1954).
Sphenolithus heteromorphus (Deflandre, 1953).
Apendix B.
Counts of identified coccolith taxa in recovered samples. Species identified as reworked are shown in the shaded area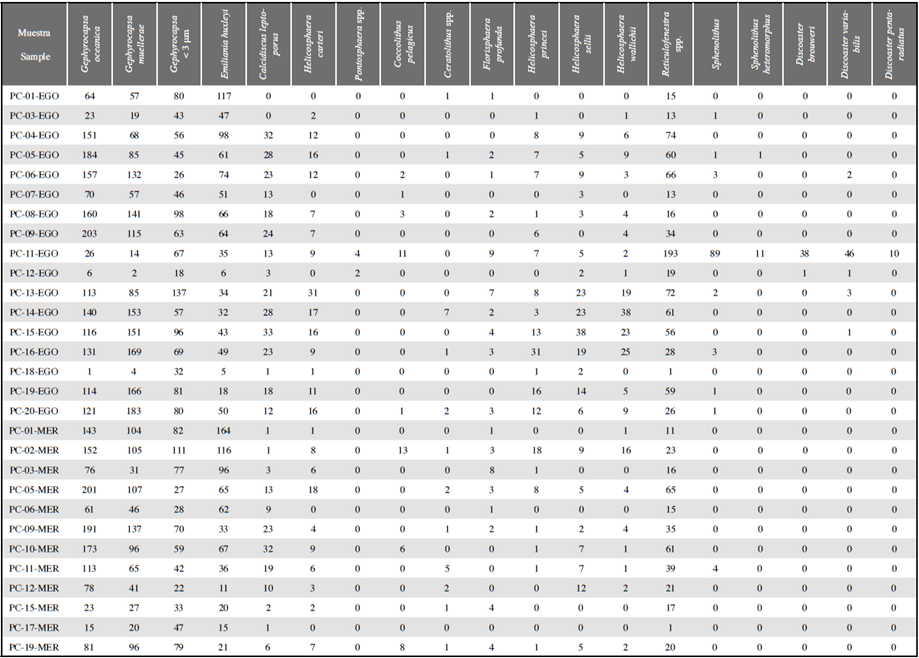 REFERENCES
Ahagon, N., Y. Tanaka and H. Ujiie. 1993. Florisphaera profunda, a possible nannoplankton indicator of late Quaternary changes in sea-water turbidity at the northwestern margin of the Pacific. Mar. Micropaleontol., 22: 255-273. [ Links ]
Antunes, R. L. 2007. Nanofósseis calcários do Quartenário da margem continental brasileira. Petrobrás, p. 75. [ Links ]
Backman, J., I. Raffi, D. Rio, E. Fornaciari and H. Palike. 2012. Biozonation and biochronology of Miocene through Pleistocene calcareous nannofossils from low and middle latitudes. Newslet. Stratigr., 45 (3): 221-244. [ Links ]
Balch, W. M. 2004. Re-evaluation of the physiological ecology of coccolithophores: 165-190. In Coccolithophores, Springer, Berlin, Heidelberg. [ Links ]
Bedoya, E. L., J.A. Flores y A. Pardo. 2013. Nanofósiles calcáreos y bioestratigrafía del Mioceno Tardío del SW de la Cuenca Tumaco onshore (Pacífico Colombiano). Bol. Geol. UIS, 35(1): 55-66. [ Links ]
Betancur, M. J. e I. Martínez. 2003. Foraminíferos bentónicos recientes en sedimentos de fondo de la Cuenca de Panamá (Pacífico Colombiano), como indicadores de productividad y oxigenación. Bol. Invest. Mar. Cost., 32: 92-123. [ Links ]
Borcard, D., F. Gillet and P Legendre. 2011. Numerical ecology with R. Springer, New York, p 435. [ Links ]
Borrero, C., A. Pardo , C.M. Jaramillo, J.A. Osorio, J.A. Cardona, J-A. Flores, J-A., S. Echeverry Rosero, J. García y H. Castillo. 2012. Tectonoestratigraphy of the Cenozoic Tumaco forearc basin (Colombian Pacific) and this relationship with the northern Andes orogenic build up. J. South Am. Earth Sci., 39: 75-92. [ Links ]
Bown, P. R. 1998. Calcareous nannofossil biostratigraphy: 315. Bown, P. (Ed.). Chapman and Hall. [ Links ]
Centro Control Contaminación del Pacífico CCCP. 2002. Compilación oceanográfica de la cuenca Pacífica colombiana. Serie Publ. Esp. CCCP, 107 p. [ Links ]
D'Croz, L. and A. O'Dea. 2007. Variability in upwelling along the Pacific Shelf of Panama and implications for the distribution of nutrients and chlorophyll. Est., Coast. Shelf Sci., 73: 325-340. [ Links ]
D'Croz, L . and A. O'Dea . 2009. Nutrient and chlorophyll dynamics in Pacific Central America (Panama): 335-344. In: Lang, M.A., I.G. MacIntyre and K. Ruetzler (Eds.), Proc. Smithsonian Mar. Sci. Symp. Smithsonian Institution Scholarly Press, Washington DC. [ Links ]
Dennison, J. M. and W.W. Hay. 1967. Estimating the needed sampling area for subaquatic ecological studies. J. Paleontol., 4: 706-708. [ Links ]
Fatela, F. and R. Taborda. 2001. Confidence limits of species proportions in microfossil assemblages. Mar. Micropaleontol ., 45: 169-174. [ Links ]
Fiedler, P. C. and L.D. Talley. 2006. Hydrography of the eastern tropical Pacific: A review. Progr. Oceanogr., 69 (2): 143-180. [ Links ]
Flores, J. A. and F.J. Sierro. 1997. Revised technique for calculation of calcareous nannofossil accumulation rates. Micropaleontology, 43: 321-324. [ Links ]
Flores, J.A. y F.J. Sierro . 2007. Paleoceanography, biological proxies Coccoliths. Elsevier, Oxford. 1646 p. [ Links ]
Flores, J. A ., F.J. Sierro , G. Francés, A. Vázquez, A. and I. Zamarreño. 1997. The last 100,000 years in the Western Mediterranean: sea surface water and frontal dynamics as revealed by coccolithophores. Mar. Micropaleontol ., 29: 351-366. [ Links ]
Flores, J. A ., R. Gersonde y F.J. Sierro . 1999. Pleistocene fluctuations in the Agulhas Current Retroflection based on the calcareous plankton record. Mar. Micropaleontol ., 37: 1-22. [ Links ]
Flores, J.A ., M.A. Bárcena and F.J. Sierro . 2000. Ocean-surface and wind dynamics in the Atlantic Ocean off Northwest Africa during the last 140 000 years. Palaeogeogr., Palaeoclimatol., Palaeoecol., 161: 459-478. [ Links ]
Giraudeau, J. 1992. Distribution of recent nannofossils beneath the Benguela system: southwest African continental margin. Mar. Geol., 108: 219-237. [ Links ]
Gómez, C. e I. Martínez . 2005. Nueva productividad biológica en el Pacífico oriental ecuatorial: respuesta al aporte de nutrientes por los ríos del Pacífico colombiano, surgencia costera y polvo atmosférico. Bol. Geol., 27 (2): 100-114. [ Links ]
Hammer, Ø., D. Harper and P. Ryan. 2001. Paleontological statistics software: package for education and data analysis. Palaeontol. Electron., 4: 1-9. [ Links ]
Jordan, R. W., A. Kleijne, B.R. Heimdal and J.C. Green. 1995. A glossary of the extant Haptophyta of the world. J. Mar. Biol. Ass. UK, 75 (4): 769-814. [ Links ]
Knauss, J. A. 1960. Measurements of the Cromwell Current. Deep Sea Res., 6: 265-286. [ Links ]
López, J. C. R. y P. Costeros. 2006. Aporte de caudales de los ríos Baudó, San Juan, Patía y Mira a la cuenca Pacífica colombiana. Bol. Cient. CCCP 13: 17-32. [ Links ]
Málikov, I. y N. Villegas. 2005. Construcción de series de tiempo de temperatura superficial del mar de las zonas homogéneas del océano Pacífico colombiano. Bol. Cient. CCCP 12: 79-93. [ Links ]
Martini, E. 1971. Standard Tertiary and Quaternary calcareous nannoplankton zonation: 739-785. In: Farinacci, A. (Ed.) Proceedings of the Second Planktonic Conference, Rome, 2. Tecnosciencia, Rome. [ Links ]
McIntyre, A. and A.W.H. Bé. 1967. Modern Coccolithophoridae of the Atlantic Ocean I. Placoliths and Cyrtoliths. Deep-Sea Res., 14: 561-597. [ Links ]
McIntyre, A ., A.W.H. Bé and M.B. Roche. 1970. Modern Pacific Coccolithophorida: a paleontological thermometer. Transact. NY Acad. Sci. Ser. II, 32: 720-731. [ Links ]
Okada, H. 1983. Modern nannofossil assemblages. [ Links ]
Okada, H. and S. Honjo. 1973. The distribution of oceanic coccolithophores in the Pacific. Deep-Sea Res ., 20: 355-374. [ Links ]
Okada, H . and A. McIntyre. 1979. Seasonal distribution of modern coccolithophores in the western North Atlantic Ocean. Mar. Biol., 54: 319-328. [ Links ]
Pak, P., Jr. and V. Zaneveld. 1974. Equatorial front in the Eastern Pacific Ocean. J. Phys. Oceanogr., 4: 570-578. [ Links ]
Patarroyo, G. D. y J. I. Martínez. 2013. Foraminíferos bentónicos recientes en las aguas profundas de la Cuenca de Panamá: ecología y su posible relación con las corrientes de fondo. Bol. Invest. Mar. Cost ., 42 (1): 31-55. [ Links ]
Patarroyo, G. D . y J. I. Martínez. 2016. Paleoxigenación y paleoproductividad en el Golfo de Panamá durante el Holoceno tardío. Bol. Geol ., 38 (2): 75-92. [ Links ]
Perch-Nielsen, K. 1985. Cenozoic calcareus nannofossils: 329-426. In: H. M. Bolli, J. B. Saunders and K. Perch-Nielsen (Eds.): Plankton stratigrafphy. Cambridge University Press, Cambridge. [ Links ]
Poulton, A. J., PM. Holligan, A. Charalampopoulou and T.R. Adey. 2017. Coccolithophore ecology in the tropical and subtropical Atlantic Ocean: New perspectives from the Atlantic meridional transect (AMT) program. Progr. Oceanogr ., 158: 150-170. [ Links ]
Poveda, G. and J. Mesa. 2000. On the existence of Lloró (the rainiest locality on Earth): enhanced ocean-land- atmosphere interaction by a low-level jet. Geophys. Res. Let., 27: 1675-1678. [ Links ]
Raffi, I. and J.A. Flores . 1995. Pleistocene through Miocene calcareous nannofossils from Eastern Equatorial Pacific Ocean (Leg 138): 233-286. In: N.G. Pisias, L.A., T.R. Mayer, A. Janecek, A. Palmer-Julson and T.H. van Andel (Eds.) Proceedings of the Ocean Drilling Program, Scientific Results, 138. College Station, US. [ Links ]
Restrepo, J. 2006. Aporte de caudales de los ríos Baudó, San Juan, Patía y Mira a la Cuenca Pacífica colombiana. Bol. Cient. CCCP , (13): 17-32. [ Links ]
Restrepo, J. D. e I.D. Correa. 2002. Geología y oceanografía del delta del río San Juan, litoral Pacífico colombiano. Universidad EAFIT, Medellín. 132 p. [ Links ]
Restrepo, J. D . and S.A. López. 2008. Morphodynamics of the Pacific and Caribbean deltas of Colombia, South America. J. South Am. Earth Sci ., 25: 1-21. [ Links ]
Restrepo, J. D ., B. Kjerfve, I.D. Correa and J. González. 2000. Morphodynamics of a high discharge tropical delta, San Juan River, Pacific coast of Colombia. Mar. Geol ., 192 (4): 355-381. [ Links ]
Rodríguez-Rubio, E.J., D.M. Guerrero y J.G. Rueda-Bayona. 2008. Caracterización oceanográfica de las corrientes costeras del Pacífico colombiano (Corriente Colombia-Corriente del Chocó), una revisión actualizada. Grupo Est. Oceanogr. Fen. El Niño. Área Oceanogr. Operac., Centro Control Contam. Pacífico (CCCP-DIMAR). Tumaco, Colombia. 2 p. [ Links ]
Roth, P. H. 1983. Jurassic and Lower Cretaceous calcareous nannofossils in the western north-Atlantic (site- 534)-biostratigraphy, preservation, and some observations on biogeography and paleoceanography. Init. Rep. Deep Sea Drill. Proj., 76: 587. [ Links ]
Roth, P. H. and H.R. Thierstein. 1972. Calcareous nannoplankton: Leg 14. Deep Sea Drilling Project. [ Links ]
Saavedra-Pellitero, M., J.A. Flores , K.H. Baumann and F.J. Sierro . 2010. Coccolith distribution patterns in surface sediments of Equatorial and Southeastern Pacific Ocean. Geobios, 43 (1): 131-149. [ Links ]
Saavedra-Pellitero, M ., J.A. Flores , F. Lamy, F.J. Sierro and A. Cortina. 2011. Coccolithophore estimates of paleotemperature and paleoproductivity changes in the southeast Pacific over the past~ 27 kyr. Paleoceanography, 26: 1-16. [ Links ]
Schneider, L. J., T.J. Bralower and L.R. Kump. 2011. Response of nannoplankton to early Eocene ocean destratification. Palaeogeogr., Palaeoclimatol., Palaeoecol ., 310 (3-4): 152-162. [ Links ]
Thierstein, H.R. and J.R. Young. 2004. Coccolithophores: from molecular processes to global impact: Springer Media Verlag, Berlin. [ Links ]
Thierstein, H.R ., K.R. Geitznauer, B. Molfino and N.J. Shackleton. 1977. Global synchronicity of late Quaternary coccolith datum levels: validation by oxygen isotopes. Geology, 5: 400-404. [ Links ]
Whitlock, M. C. and D. Schluter. 2009. The analysis of biological data. Roberts, Greenwood Village, USA. [ Links ]
Wyrtki, K. 1965. Corrientes superficiales del océano Pacífico Oriental Tropical. Comisión Interamericana del Atún Tropical, 9: 295-304, p 565. [ Links ]
Wyrtki, K. 1966. Oceanography of the Eastern Equatorial Pacific Ocean. Mar. Biol . An. Rev., 4: 33-68, p 704. [ Links ]
Young, J. R., M. Geisen, L. Cros, A. Kleijne , C. Sprengel, I. Probert and J. Østergaard. 2003. A guide to extant coccolithophore taxonomy. J. Nannoplank. Res., 125. [ Links ]
Zar, J. 1996. Biostatistical analysis. Prentice Hall, New Jersey. 940 p. [ Links ]
Received: November 17, 2018; Accepted: July 31, 2019
 Este es un artículo publicado en acceso abierto bajo una licencia Creative Commons