Servicios Personalizados
Revista
Articulo
Indicadores
Links relacionados
Citado por Google
Similares en SciELO
Similares en Google
Compartir
---
versión impresa ISSN 0123-3068
Bol. Cient. Mus. Hist. Nat. Univ. Caldas v.14 n.1 Manizales ene./jun. 2010
DEVELOPMENT OF THE AXIAL SKELETON DURING THE EARLY ONTOGENY OF PIMELODUS SP. (PISCES: PIMELODIDAE)*

DESAROLLO DEL ESQUELETO AXIAL DURANTE LA ONTOGENIA TEMPRANA DE PIMELODUS SP. (PISCES: PIMELODIDAE)
Luz Eneida Ochoa1, Geysson Javier Fernández2 y Luz Fernanda Jiménez-Segura1
* Recibido abril 26 de 2010, aceptado mayo 26 de 2010
1 Laboratorio de Ictiología, Facultad de Ciencias Exactas y Naturales, Instituto de Biología Universidad de Antioquia. Apartado postal 1226, Medellín, Colombia.
2 BCEI, Bilogia y Control de Enfermedades Infecciosas, Universidad de Antioquia.
Abstract
The knowledge on the somatic development during the early life stage of Colombian fish is scarce. Some meristic characteristics such as vertebrae and myomere number are considered good tools in the taxonomic identification of fish species. However, little is known on the development of these structures, their limits during the larval stages of development, and its conservation during the adult stage. The genus Pimelodus is distributed in South America and has commercial importance as a food resource for riverside human communities. Its species P. groskopffi and P. blochii reproduce with floods and its densities are the highest in ichthyoplankton conformation in the Magdalena River. By means of coloration and transparentation techniques recommended in bone and muscle studies in larvae, myomere and vertebrae quantification in three zones of the spinal cord (cephalic, pre-anal and post anal) and their relation to the three development phases in Pimelodus sp. Larvae are presented.
Key words: vertebrae, myomeres, larvae.
Resumen
El conocimiento del desarrollo somático durante las fases iniciales en la ontogenia de los peces colombianos está en su infancia. Algunas características merísticas de las larvas tales como el número de vértebras y miómeros, son consideradas como herramientas complementarias que apoyan la determinación de su especie; sin embargo, poco se sabe sobre el desarrollo de estas estructuras, sus límites durante el periodo larval de una especie y su conservación en el periodo adulto. El género Pimelodus se encuentra ampliamente distribuido en Suramérica, sus especies P. groskopffi y P. blochii tienen gran importancia comercial en la cuenca media del río Magdalena, y sus larvas son las más importantes tanto en frecuencia como en densidad dentro de la conformación del ictioplancton que deriva por el río Magdalena. Utilizando técnicas de coloración y transparentación recomendadas en estudios óseos y musculares en larvas, se presentan resultados de la cuantificación de miómeros y vértebras en tres zonas de la columna vertebral (cefálica, pre-anal y pos-anal) y sus relaciones en las tres fases de desarrollo larval del género Pimelodus.
Palabras clave: vértebras, miomeros, fases larvales.
*****
During the developmental postembrionary of the animals that present metamorphosis occurring abrupt changes in the form or structure between larval and juvenile periods (YOUSON, 1988). More than a change in form, the transformation also results in a change in physiology, behaviour and ecology, should be essential to the speciation process (FRITZCH, 1990; BALON, 1999). In Colombia, research about early ontogeny of freshwater fishes has been focused to morphological descriptions of early development of some fish species used in artisanal fisheries (ALCALÁ, 2002; NOVOA & CATAÑO, 2005) to detect the dam impact in the reproduction of migratory fish species en the Sinú river (OLAYA-NIETO et al., 2000). Recently, a long term research on ichthyoplankton densities in the Magdalena River had found more than forty larvae forms, so the way to recognize their fish species has become a challenge (JIMÉNEZ-SEGURA, 2007).
Myomeres number of fish larvae has been identified as a tool for taxonomic identification (ARAÚJO-LIMA & DONALD, 1988). In spite of the importance of Catfish species inside tropical fish communities and in the ichthyoplankton associations, this relation is unknown. In the Catfish species the number of vertebrae fused to conform the Weberian apparatus is about five or six (BUITRAGO, 2006) so this skeleton character may be confuse when used to define their numeric relation with myomeres number.
In the Magdalena River (Colombia), the genus Pimelodus is very important for artisanal fisheries and it is represented by two species: P. blochii and P. grosskopfii. The morphologic identification of the adults of these fish species relies on the dorsal fin and adipose fin length; nevertheless, similarities of specific traits during development make their identification unsuccessful. This problem on species determination is extended to their larvae. Catfishes represent more than the 50 percent of the ichthyoplankton in the Magdalena River and the genera Pimelodus is the most abundant in this drifting assemblage (JIMÉNEZ-SEGURA, 2007). To advance in the resolution of the taxonomic trouble in the larvae of this genus, we determined the numeric relation between myomeres and vertebrae number in Pimelodus larvae and discuss this proportion in adults.
Forty five larvae of Pimelodus spp. in different development phases (Preflexion, Flexion and Posflexion), were obtained of ichthyoplankton samples collected at Magdalena Rive, Puerto Berrío, Antioquia during the year 2004. Prior to the analyses, the larvae body was differenced in cephalic, pre-anal, and pos-anal regions as LEWIS & LALL (2006), and myomeres in each body region were counted (Table 1). Each individual were stained with alizarin red and with alcian blue according to SIMON & VAN HORN (1971) technique with modifications of TAYLOR & VAN DYKE (1985).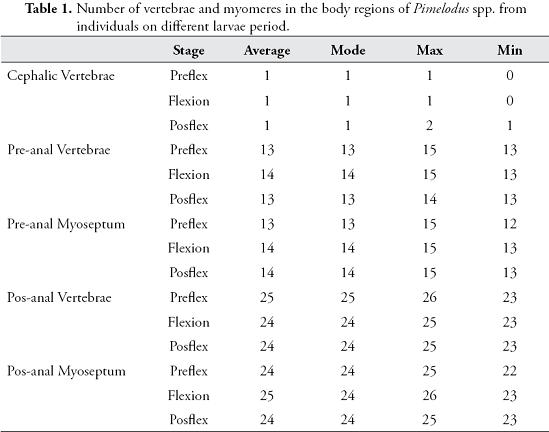 FOWLER (1970) suggested that Weberian apparatus in Catfishes is conformed in the ontogeny periods before adult. We found that the number cephalic and preanal vertebrae were the same in all larvae phases and there was a reduction in the pos-anal region number in the posflexion phase (Table 1). So, if there is fusion in the cephalic vertebrae to conform the Weberian Apparatus, it does not happen during the larvae period.
On the other hand, the number of vertebrae of Pimelodus sp. was equal to the myomeres number in all larvae phases and this proportion does not change in the larvae phases (Table 1). JIMÉNEZ-SEGURA & CANO (2007) noted that the number of preanal vertebra in adults of Pimelodus blochii (Valenciennes, 1840) is eleven, so the vertebrae number reduces in four units after the larvae period. We could propose that myomeres number minus four units can be used for identifying Pimelodus sp. larvae (as noted for Characiforms and Cypriniforms), however we must check Pimelodus grosskopfi (Steindachner, 1879) adults and catfish species.
ACKNOWLEDGMENTS
The authors are gratefully to the University of Antioquia for its logistic support. This research used founds from an International Foundation for Science grant.
*****
BIBLIOGRAFÍA
AMERICAN SOCIETY OF ICHTHYOLOGISTS AND HERPETOLOGISTS., 1983.- Ontogeny and Systematics of Fishes. Based on An International Synposium dedicated to the Memory of Elbert Halvor Ahlstrom. Special Publication and Herpetology. [ Links ]
ARAÚJO-LIMA, C.A.R.M. & DONALD, E., 1988.- Número de vértebras de Characiformes e seu uso na identificação de larvas do grupo. Acta Amazónica, 18 (1-2): 351-358. [ Links ]
BALON, E.K.,1999.- Alternative ways to become a juvenile or a definitive phenotype (and some persisting linguistic offenses). Environmental Biology of Fishes, 56: 17-38. [ Links ]
BUITRAGO-SUÁREZ, U.A., 2006.- Anatomía comparada y evolución de las especies de Pseudoplatystoma Bleeker 1862 (Siluriformes: Pimelodidae). Revista. Academia Colombina de Ciencias, 30 (114): 117-141. ISSN: 0370-3908. [ Links ]
FOWLER, L.A., 1970.- Control of vertebral number in teleosts -an embryological problem-. Quarterly. Review of Biology, 45: 148-167. [ Links ]
FRITZCH, B., 1990.- The evolution of metamorphosis in amphibians. Journal of Neurobiology, 21: 1011-1021. [ Links ]
JIMÉNEZ-SEGURA, L., 2007.- Ictioplancton y reproducción de peces migratorios en la cuenca media del Río Magdalena: Tesis de doctorado en Ciencias Biológicas, Facultad de Ciencias Exactas y Naturales, Universidad de Antioquia, Medellín. 265p. [ Links ]
JIMÉNEZ-SEGURA L. & CANO, J., 2007.- Número de vértebras y miómeros de adultos especies de peces migratorios: elementos para la identificación de larvas en el Río Magdalena (Colombia): Trabajo de pregrado en Ingeniería Acuícola, Facultad de Ingeniería, Universidad de Antioquia, Medellín. 20p. [ Links ]
LEWIS, L.M. & LALL, S.P., 2006.- Development of axial skeleton and skeletal abnormalities of Atlantic halibut (Hippoglossus hippoglossus) from first feeding through metamorphosis. Aquaculture, 257: 124-135. [ Links ]
NAKATANI, K.; AGOSTINHO, A.; BAUMGARTNER, G.; BIALETZKI, A.; SANCHES, P.; MAKRAKIS, M. & PAVANELLI, C., 2001.- Ovos e Larvas de peixes de água doce: desenvolvimento e manual de identificaçao. Editora da Universidade Estadual de Maringá. [ Links ]
NOVOA, J. & CATAÑO, Y., 2005.- Descripción del desarrollo embrionario y larvario del blanquillo Sorubim cuspicaudus (Littmann, Burr & Nass, 2000): Tesis de pregrado, Programa de Acuicultura, Facultad de Medicina Veterinaria y Zootecnia, Universidad de Córdoba. [ Links ]
OLAYA-NIETO, C.; MERCADO-FERNÁNDEZ, T. & ATENCIO-GARCÍA, V., 2000.- Estimación del ictioplancton en el Río Sinú, aguas arriba y aguas abajo de la presa. Nombre del proyecto: Estimación del ictioplancton en el Río Sinú, aguas arriba y aguas abajo de la presa. Disponibilidad: Restringido. En: Colombia. 91p. [ Links ]
ROJAS, M.; OLIVERA, R.; QUISPEL, R. & ORTEGA, H., 2007.- Estudio preliminar de ictioplancton de la Amazonia peruana con énfasis en la familia Pimelodidae. Revista Peruana de biología, número especial 13 (3): 263-265. [ Links ]
SIMONS, E.V. & VAN HORN, J.R., 1971.- A new procedure for whole-mount alcian blue staining of the cartilaginous skeleton of chicken embryos, adapted to the clearing procedure in potassium hydroxide. Acta Morphol. Neerl.-Scand., 8: 281-292. [ Links ]
TAYLOR, W.R. & VAN DYKE, G.C., 1985.- Revised procedure for staining and clearing small fishes and other vertebrates for bone and cartilage study. Cybium, 2: 107-119. [ Links ]
YOUSON, J.H., 1988.- First metamorphosis: 135-196 (in) HOAR, W.S. & RANDALL, D.J. (eds.) Fish Physiology, Vol. 11B. Academic Press, New York. [ Links ]