INTRODUCTION
Lactic acid (LA) is an important naturally-occurring hydroxycarboxylic acid used in industry today (Castillo Martinez et al., 2013). It is valuable because of its versatile applications, mainly in food as a preservative and as an acidulating agent, and to a lesser degree in the pharmaceutical, cosmetic, and chemical industries. Due to its carboxylic and hydroxyl groups, LA is highly reactive and participates in numerous chemical reactions, yielding important products such as pyruvic acid, acrylic acid, lactide, and lactate ester (C. Gao, Ma, & Xu, 2011). It exhibits optical activity with L (+) and D (-) isomers. However, it is mainly found in the inactive L and D form made up of equimolar fractions of each isomer (Boonpan, Pivsa-art, Pongswat, Areesirisuk, & Sirisangsawang, 2013). Given that humans have only the L(+) lactate dehydrogenase enzyme, the L(+) LA isomer is preferred for commercial applications involving human consumption (Bishai, De, Adhikari, & Banerjee, 2013). Some years ago, the potential of LA as a precursor of polylactic acid, a biopolymer that is biodegradable and biocompatible, was discovered. This polymer has been used in medical applications, 3D printing, and the fabrication of plastics (RedCorn, Fatemi, & Engelberth, 2018). Because of this, the LA market has grown considerably, and the global demand is expected to increase by around 14% to 19% per year up to 2020, generating expectations for the improvement of current production processes in order to meet this demand (Hu, Kwan, Daoud, Sze, & Lin, 201 7). Presently, the global production of lactic acid is achieved mainly through fermentation (Abdel-Rahman, Tashiro, & Sonomoto, 2011). Nev-ertheless, a big difficulty for the fermentation process is the high cost of the raw materials used as sources of energy and carbon, mainly pure sugars, representing an operational cost between 30% and 60% of total produc-tion costs (Marques, Santos, Francisco, & Roseiro, 2008; Oh et al., 2005). Biotechnological processes can help to reduce the production costs by using organic waste from agricultural and food industries or from households (Bilanovic, Chang, Isobaev, & Welle, 2011). In addition to increasing the economic feasibility of the process, the use of waste in the fermentation is also an alternative that allows minimizing the impact caused by the dumping of waste into the environment (RedCorn & Engelberth, 2016). This review gives an overview of industrial and household wastes for utilization in the biotechnological production of lactic acid, aspects of fermentation for each waste, mainly in submerged culture, the advantages and disadvantages of different types of treatments used for the transformation of waste into suitable substrates, and some recent strategies for improving yields. In addition, specific recommendations are given for enhancing the value of these raw materials.
FERMENTATIVE PATHWAY AND LA-PRODUCING MICROOORGANISMS
LA can be produced by fermentation in one or two stages, according to the feedstock and type of microorganism used. The use of refined sugars, the addition of enzymes, co-culture systems, and microorganisms with the enzymatic ability to degrade complex substrates may allow carrying out the fermentation in a single step. The process with agroindustrial and household wastes can also occur in two steps. First, a pretreatment must be carried out in order to release sugars into the medium, which is generally enzymatic or thermochemical, and second, these sugars are used in the bioreactor for the fermentation and production of LA (John, Anisha, Nampoothiri, & Pandey, 2009). Lactic acid bacteria (LAB) and filamentous fungi have proven to be the most attractive microorganisms for LA production because of their high productivity and high yield (Nuttha, 2005).
Lactic acid bacteria
LAB is a large group of benign microorganisms that produce LA during anaerobic fermentation. This group can be divided into homofermentative and heterofermentative bacteria, according to the nature of the final products, as is shown in figure 1. The homofermentative bacteria metabolize hexoses via the Embden-Meyerhof pathway (glycolysis), generating two molecules of LA for each molecule of glucose, but they do not ferment pentoses or gluconate.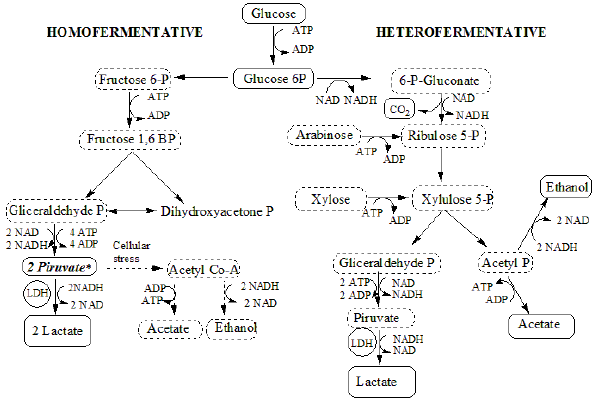 The heterofermentative lactic acid bacteria metabolize hexoses, pentoses such as xylose, and some other substances, following the phosphoketolase pathway (Panesar, Kennedy, Gandhi, & Bunko, 2007). The difference with the homofermentative route is the conversion of two of the six carbons of glucose to acetic acid, which limits yields and increases the costs of LA purification (Cock & Rodríguez, 2005). The proportion of the by -products is dependent on the redox potential of the system. In figure 1, it is shown that homofermentators can also generate mixed acids, but this only occurs when the microorganism is subjected to adverse culture conditions (Hofvendahl & Hagerdal, 2000).
Fungi
Filamentous fungi of the genus Rhizopus have been recognized for producing L(+) LA efficiently via aerobic metabolism and with lower nutritional requirements than LAB. These latter organisms need vitamin B complex, sev-eral aminoacids, and nucleotides for their growth (Abdel-Rahman, Tashiro, & Sonomoto, 2013; Watanabe et al., 2012). This fungus can produce other organic acids besides L(+) LA, such as fumaric acid, malic acid, and ethanol. Glucose is degraded to pyruvate through the Embden -Mayerhof-Parnas pathway, and it is used as a precursor for the different metabolites (Nuttha, 2005). The conversion of xylose to lactic acid has not been investigated as thoroughly as the conversion of glucose. However, it has been found that Rhizopus oryzae is also capable of metabolizing xylose via pentose phosphate to produce xylulose 5 phosphate, which subsequently can be metabolized via the Embden-Meyerhoff-Parnas pathway (Z. Y. Zhang, Jin, 6 Kelly, 2007).
These fungi can degrade more complex substrates than LAB, and their heterogeneous morphology enables easy separation of the biomass (Saito, Hasa, & Abe, 2012). Fungi in a submerged culture may take different physical forms: small pellet morphology is reported to be appropriate for LA fermentation, while the mycelial form causes problems of poor mass transfer and low production of LA (Liu, Liao, Liu, & Chen, 2006). Tools such as cell immobilization have been implemented in order to control the morphology and increase the production of LA (Wang, Wang, Yang, Wang, & Ren, 2010). In spite of the nutritional and separation advantages of LA in a bioprocess with fungi, we consider that the use of LAB on an industrial scale is more feasible, due to the easier operation of bioreactors. In addition, LAB have been more thoroughly studied, so they have relative advantages for increasing LA production through genetic transformations.
PRETREATMENT METHODS
One of the biggest problems for the use of agroindustrial and household wastes for the production of lactic acid at the industrial level is the difficulty of achieving an integral and efficient use of all the nutrients of these raw materials, because they have a complex structure. Therefore, it is necessary to perform a pre-pretreatment of the raw material before the fermentation. The main objec-tive of the pretreatment of substrates such as starch or lignin is the gradual breakdown of the recalcitrant polysaccharides and matrices into low-weight molecules easily digestible by microorganisms. Currently, various pre-treatments have been used, among them physical ones, such as milling and grinding; chemical ones, such as acid and alkaline hydrolysis; physicalchemical ones, such as steam explosion and hydrotermolysis; and biological ones, such as the use of fungi, bacteria, or enzymes (Maria & Valencia, 2011). Complex materials usually need a physical treatment in order to reduce the size of the particles, so that the residue will be manageable and have better exposure to subsequent pretreatments. Acid and enzymatic hydrolysis are the most-reported treatments in studies of residue utilization for application in fermentative processes. Due to this, two types of pretreatment will be analyzed.
CONCLUSIONS
The high content of cellulose, hemicellulose, starch, and lactose in agroindustrial and household wastes make them a replacement for expensive pure sugars as carbon sources. In some cases, they can also be utilized as a nutrient source for LA production by fermentation. However, the use of these materials in LA production has some drawbacks, due to the pretreatment required. SSF and the use of recombinant microorganisms have made a great contribution to the increase of LA production, overcoming some problems, such as high content of undesirable by-products and inhibition by sugars in the media. In the pretreatment of the wastes, enzymatic hydrolysis is considered to be more beneficial for the performance of the microorganism, this in spite of the higher cost of this treatment. Although both fungi and LAB are reported to give very good yields in the production of LA using these residues, LAB are considered more promising, due to their operational advantages and the greater facility of genetic transformation, which increases production. In spite of the commercial challenges that the generation of a new industry implies, the use of these raw materials for the production of LA in regions as Latin America and Africa is considered to be an opportunity for environmental and economic development.