INTRODUCTION
Mammals (Mammalia) comprise a diverse group of vertebrates represented by more than 6550 species (Burgin et al. 2020). They are recognized by the ecological interactions with other vertebrates and invertebrates, the diversity of habits, behaviors, shapes, and by the roles in the trophic web (Nowak & Walker, 1999; Nakagawa et al. 2007). Among these interactions, the role of mammals as vehicles of vectors and reservoirs of microorganisms is a key factor for understanding disease ecology (Williams & Barker, 2008).
In recent years, the development of molecular analyses has favored the advancement of DNA applications such as the genetic characterization of wild mammals and their pathogens (Rodrigues et al. 2019), detection of disease-causing agents (Schijman et al. 2011), biodiversity studies, diagnostics, and biomedicine (Cho et al. 2007; Tang et al. 2016). For mammal studies, DNA samples have been extracted from fur, feces, blood, and several tissues (Henry & Russello, 2011; Rey Fraile, 2013). For that reason, DNA extraction methods have been tested for different different preservation media (De Vries et al. 2009; Chakraborty et al. 2006; Gilbert et al. 2007; Hofreiter, 2012) and sample types including dry blood, environmental DNA (Ficetola et al. 2008), ancient DNA (Rohland & Hofreiter, 2007), and fossilized material (Willerslev et al. 2004).
Diverse technical and biological factors play an important role in the use of DNA for diagnostic practice. DNA preservation and extraction methods largely determine the quantity and quality of DNA recovered from a sample (Psifidi et al. 2015). These methods must maintain the integrity of the genetic material from the moment of sample collection until DNA extraction and downstream applications (Tan & Yiap, 2009; Demeke & Jenkins, 2010). Furthermore, the amount of extracted DNA is influenced by the presence of DNA in red blood cells, which is markedly different among non-nucleated (mammals) and nucleated (e.g., birds, reptiles, amphibians, and fish) erythrocytes (Al-Shuhaib, 2017). High-quality nucleic acids extraction from field-fresh organic samples is complex and is associated with adverse factors that can promote DNA degradation, such as sample collection method, type of tissue, storage conditions and time (i.e., degree and time of degradation) (Camacho-Sanchez et al. 2013). These factors affect DNA amplification methods, which display variable levels of sensitivity and specificity (Schijman et al. 2011). The variations depend on technical factors such as sample volume, preservation conditions, DNA extraction method, PCR conditions (selected primers, reagents, and thermocycling conditions), as well as the number of circulating parasites in the blood sample (Mtambo et al. 2006; Salgado et al. 2007; Metwally et al. 2008; Asadzadeh et al. 2010). The selection of DNA extraction methods and sample preservation is essential to evaluate the viability of the sample and its use, according to its study objective. In general terms, it refers to higher DNA concentration and quality (Minamoto et al. 2016). Furthermore, aspects such as efficiency, cost-effectiveness, storage, and collection should also be considered to determine the viability of the sample and its use in methodologies that require DNA extraction (Chacon-Cortes & Griffiths, 2014). Generally, high concentrations of ethanol (over 70% ethanol) are used for tissue preservation (Ma et al. 2007), although other solutions such as RNA laterTM Stabilization Solution (Thermo Fisher Scientific), guanidine hydrochloride (GuHCl), Longmire buffer, and NAP buffer are generically used to preserve diverse sample types (Camacho‐Sanchez et al. 2013; Mayta et al. 2019). Moreover, Whatman® FTA® cards have proven useful to preserve DNA from blood (Sant'Anna et al. 2008; Dove et al. 2011; Choi et al. 2014; Rahikainen et al. 2016).
Due to the wide variety of sample preservation and DNA extraction methods, they should be assessed before their use, to guarantee successful DNA extraction.
Considering this we compared the quantity and quality of DNA recovered from blood samples of wild mammals using two field sample preservation and seven DNA extraction methods.
MATERIALS AND METHODS
Sample collection and sample site. Between March and October of 2019, wild mammals were captured at localities in the municipalities of Arauca (07°05′25″N, 70°45′42″W) and Tame (06°27′30″N, 71°44′41″W), in the Department of Arauca, Colombia. Mammals were captured using 60 Sherman traps and 10 Tomahawk traps. The specimens were collected under the permit granted by the Autoridad Nacional de Licencias Ambientales (ANLA) to the Universidad de Caldas (Resolution # 02497, December 31, 2018) and the approval of the bioethics committee of the Faculty of Exact and Natural Sciences of Universidad de Caldas (June 2nd of 2017). Voucher specimens were deposited at the Natural History Museum of University of Caldas for taxonomic identification. The taxonomic identification of the small mammals was performed using taxonomic keys (Gardner, 2008; Patton et al. 2015; Díaz et al. 2016). Peripheral blood was collected through venipuncture with using 5mL-syringes or 25G needles with no coagulant for large and small mammals, respectively. All blood samples that yielded the minimum required amount were used to perform the extraction protocols. The samples were preserved using two methods: liquid and dry, using the same amount of blood (250µL). The liquid method consisted of one volume of blood with one volume of 5M guanidine hydrochloride (GuHCL); the samples were immediately stored at 4ºC in a portable refrigerator. The dry method involved adding the blood evenly to an area of 2.5cm2 on a Whatman® FTA® card (GE Healthcare) and storing it at room temperature.
DNA extraction. DNA was extracted from the samples preserved in GuHCl using the following commercial kits: Isolate II Genomic DNA (Bioline®), Genomic DNA Isolation Kit (Norgen®), PureLink™ Genomic DNA Mini Kit (Invitrogen®), Genomic DNA Purification Kit (Promega®), and DNeasy Blood and Tissue Kit (Qiagen®) (Table 1). All the extractions were done using the same amount of blood (250µL) and according to the manufacturers' protocols; however, some modifications were made for all the protocols in the lysis step, including the addition of 10µL of proteinase K 1mg/mL prior to the extraction process and 2 additional hours of incubation time using the lysis buffer.
The non-commercial DNA extraction protocols used were phenol-chloroform-isoamyl alcohol (25:24:1| v/v/v) (PC) (reagent from Thermo Fisher Scientific) and 4M guanidine thiocyanate (GIT) (reagent from Thermo Fisher Scientific) (Amaru et al. 2008). DNA extraction was done from the complete sampled area (2cm2) of the Whatman® FTA cards using both protocols. Since these non-commercial protocols require separation of buffy coat, these were modified to use a greater volume of proteinase K 1mg/mL (i.e., 30µL in total), a longer incubation time (6 hours), and two rounds of centrifugation for 30 minutes at 12000 RPM at room temperature. DNA was eluted using 50µL of elution buffer provided for each commercial kit and 50µL of 1X TE buffer (10mM Tris, 1mM EDTA, pH ~8.0) for non-commercial protocols.
DNA quality assessment and quantification. DNA quality was estimated using a Biochrom™ NanoVue Plus spectrophotometer; a 260 nm/280 nm absorbance (Abs) ratio was used to assess the purity of the extracted DNA. The amount of DNA recovered by the different methods was determined on a Quantus Fluorometer™ (Promega®) using the QuantiFluor® dsDNA System (Promega®).
Statistical analysis. A Kruskal-Wallis test was performed to determine significant differences in DNA quality and quantity among the two sample groups: 1. Bioline, GIT, Invitrogen, Norgen, PC, Promega, and Qiagen DNA extraction methods; 2. GIT and PC with GuHCl and Whatman FTA sample preservation methods. Boxplots were graphed to interpret the variation in the data. The graphs and data were generated and analyzed respectively in R software v4.0.3.
RESULTS AND DISCUSSION
In total, 264 blood samples were collected from wild mammals, namely bats, marsupials, and rodents of the orders Chiroptera, Didelphimorphia, and Rodentia. The marsupials belonged to the species Didelphis marsupialis (5 blood samples). The bats included species of the families Noctilionidae (Noctilio albiventris: 2 samples), Phyllostomidae (genera Artibeus: 19; Carollia: 20; Phyllostomus: 6; Platyrrhinus: 12; Sturnira: 32; and Uroderma: 21), Molossidae (genera Molossus: 64; and Cynomops: 16), and Vespertilionidae (Myotis: 34). The rodents belonged to the families Cricetidae (Oecomys sp.: 15 samples), Echimyidae (Proechymis sp.: 5), Dasyproctidae (Dasyprocta fuliginosa: 1), Caviidae (Hydrochoerus hydrochaeris: 10), and an exotic species of Muridae (Rattus rattus: 2). None of the species or genera are listed in any national threatened category.
DNA quantification indicated that non-commercial protocols PC and GIT yielded the highest amounts of extracted DNA, yet these methods also showed the highest variation. The commercials kit, such as Promega, yielded the third highest concentration of DNA, while Norgen, Invitrogen, Qiagen, and Bioline showed similar DNA yields (Table 1). Regarding DNA quality, Abs 260/280 ratio (nm/nm) measurements indicated that GIT and the commercial kit by Norgen achieved the highest DNA qualities. Moreover, the commercial kits by Qiagen, Bioline, and Invitrogen, and the non-commercial protocol using PC showed similar and optimal results ranging from Abs 1.6 - 1.8 (considered as a pure DNA). Conversely, Promega showed quality scores below the required values (Figure 1, Table 1). The Shapiro-Wilks test showed that the data were not normal; consequently, a Kruskal-Wallis test was performed. The Kruskal-Wallis test revealed significant differences (P<0.01) in DNA quantity and quality among extraction methods.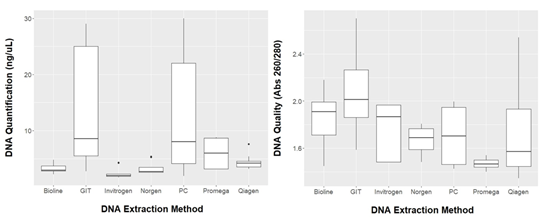 ** Kruskal-Wallis test revealed significant differences (P<0.01) in DNA quantity and quality among extraction methods for GuHCl, and extraction methods, and for Whatman ®FTA® -GuHCl and, PC -GIT.
The comparison between GuHCl and Whatman-FTA preservation methods using PC and GIT-based protocols showed that GuHCl promoted higher DNA concentrations but had higher variation (PC x̄: 12.33±9.71| GIT x̄:13.79±9.68). Conversely, samples preserved in Whatman® FTA® cards yielded the lowest DNA concentrations but showed fewer variable values (PC x̄:3.2±1.27| GIT x̄:2.01±0.32). Regarding DNA quality, lower quality was obtained for DNA extracted with PC (GuHCl A260/280 x̄: 1.31±0.21 and Whatman® FTA® A260/280 x̄: 1.04±0.14). Moreover, GIT extraction from samples preserved in Whatman® FTA® (x̄:2.09±0.32) showed variation outside of the acceptable range of quality values compared with GuHCl (x̄:1.69±0.29) (Figure 2, Table 1). The Shapiro-Wilks test showed that the data were not normal; consequently, a Kruskal-Wallis test was carried out. The Kruskal-Wallis test determined significant differences (P<0.01) in DNA quantity and quality between the two extraction methods using different sample preservation METHODS.
The non-commercial phase-based protocols (i.e., PC and GIT) showed the highest amount of extracted DNA, as well as the highest variation. The variability in DNA recovered from liquid samples, such as blood, during the manual recovery of the leukocyte layer (i.e., buffy coat) is due its contamination and variable concentration or volume; consequently, this method is affected by human manipulation (Desquesnes & Tresse, 1996). These findings agree with variations reported in previous studies, as well as reports of higher total DNA yields and PCR confirmation (Albariño & Romanowski, 1994; Malferrari et al. 2002; Kravchenko et al. 2006; Tang et al. 2006; Asadzadeh et al. 2010; Di Pietro et al. 2011; Karthikeyan et al. 2020). These non-commercial protocols might not be efficient because of the number of steps required for DNA extraction; however, they are inexpensive, easy to prepare, and accessible (Ibrahim et al. 2018).
In contrast, commercial column-based kits yield lower amounts of DNA with higher quality and lower variation. Given this low variability, these methods are used in automatization lines and, therefore, display greater efficiency regarding time, manipulation, and yield for standardized and continuous extraction of a large number of samples (Tan & Yiap, 2009; Demeke & Jenkins, 2010). Likewise, the low variation in DNA yield using Qiagen, Norgen, Invitrogen, and Bioline commercial methods is attributed the standardized methodology based on silica columns, which guarantee DNA integrity and are more effective (Esser et al. 2006). An exception to this is the Promega commercial kit, which does not use a silica column but instead standard phase separation that generates higher variation in total DNA quantity and lower quality.
Whatman® FTA® cards provided the lowest DNA quantities for both extraction methods and highly variable quality values. The low yields could be attributed to sample fixation errors since the blood must be evenly distributed to allow all cells to be lysed. Furthermore, during this process, the card is impregnated with blood contaminants or adjacent samples (Borman et al. 2010). Nevertheless, Whatman® FTA® cards are widely used in research on blood parasites in birds and wild mammals and in field sample collection due to easy storage, rapid drying, and direct use in PCR (Dove et al. 2011; Choi et al. 2014; Rahikainen et al. 2016). This preservation method is useful for the collection of small volume samples such as those from birds and small mammals (e.g., bats and rodents).
The variable DNA concentration obtained from samples preserved in GuHCl may have been due to the use of liquid-based methodologies for both sample preservation and DNA extraction (e.g., PC and GIT). This liquid sample preservation method dilutes the blood in GuHCl, which limits and reduces the concentration of blood used for DNA extraction. Moreover, sample collection for DNA extraction should be normalized using a vortex to avoid precipitations, which adds more steps to the DNA extraction protocol and reduces its efficiency (Ibrahim et al. 2018). The use of GuHCl could be indicated mainly for large sample volumes obtained from large mammals. On the other hand, there are some limitations provided by differences between organisms, species, and individuals that lead to variations in the number of nucleated cells (Hawkey, 2017) and the availability of DNA in the sample for extraction. Although these variations can hardly be avoided in the field, a more adequate comparison is recommended using livestock animals.
In conclusion, column-based methods allow optimizing quality, as well as automatizing the DNA extraction process. Similarly, non-commercial protocols enable higher DNA yields through rigorous steps. DNA preservation in the field will depend on the adverse conditions and precautions taken. Both GuHCl and Whatman-FTA cards can be used for the preservation of blood in the field. Furthermore, the choice of the commercial kit or non-commercial protocol for the DNA extractions is relevant and depends on factors such as the successful standardization of the amount of DNA required for adjacent processes, automated methods, and research costs.