After more than half year with the ongoing pandemic of the Coronavirus Disease 2019 (COVID-19) in all the continents, there are still many concerns regarding this emerging di sease 1,2). The World Health Organization (WHO) declared COVID-19 as a pandemic in March 11, 2020, but it was on December 31, 2019, when a pneumonia of unknown cause was reported to WHO China Office.
One of the most recent concerns about COVID-19 is the pos sibility of reinfection. Although experimental studies with animals suggested early in August 2020, that primary SARS-CoV-2 exposure protects against subsequent reinfection in rhesus macaques 3, recent clinical case reports are showing that reinfection is possible4.
Up to October 5, 2020, at least eight cases have fully documen ted reinfection, one from Hong Kong4, three from United States of America5-7, one from Belgium 8, one from Ecuador9, and two from India (Table 1) (10. An additional case from Brazil has been reported, but it was not sequenced nor phylogenetically analy zed11. These well documented cases of SARS-CoV-2 reinfection range from 25 to 69 years old, being 6 out of 8 symptomatic during the first episode. The two asymptomatic cases remained that way, while one of the symptomatic cases, the case from Hong Kong, had an asymptomatic second infection (Table 1). The interval of time between first episode and the reinfection, ranges from 48 to 142 days, with a median of 101 days.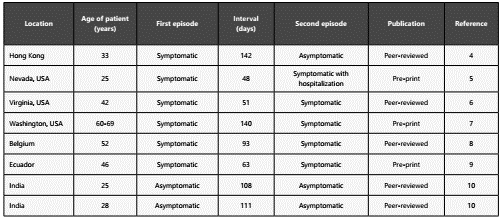 Given these cases, multiple scenarios and questions would be raised. First, we are still learning about the immune respon se in COVID-19, the kinetics of neutralizing antibodies, the clinical consequences and other implications1,12-14). Moreover, the full consequences of the genetic variability of the SARS-CoV-2, are not well understood. And even more important, yet the frequency of asymptomatic, presymptomatic and re infection are still to be defined in molecular epidemiology studies to be widely performed in different countries of the world. After more than 35 million cases of COVID-19 repor ted worldwide (October 5, 2020), reinfection seems to be an infrequent event, but still deserving careful studies.
As recently stated by the European Centre for Disease Pre vention and Control (ECDC) 15, reinfection is an emerging area which will impact on the way in which countries respond to and monitor COVID-19. Then, urgently, national guidelines, as those developed by the Colombian Association of Infec tious Diseases (ACIN) 14, should also include and discuss the implications of these findings, in the context of the clinical practice and public health of the country, given the current and future epidemiological scenarios of COVID-19 transmis sion. These include appropriate testing to differentiate bet ween persistent positive RT-PCR, that only identify the RNA presence, with virus isolation16. Some data suggest that pro tection can last at least three months, but still many research gaps are need to be filled. Also, there is uncertainty about the potential role of consequences derived from the possible occurrence of antibody-dependent enhancement, also to be further elucidated. Certainly, multiples consequences can be derived from this evidence, and still further research on this topic is urgently needed, globally, nationally and regionally.