Sapajus cay is a species of capuchin monkey which is distributed across South America, occurring in northern Argentina, south-eastern Bolivia, eastern Paraguay, and Brazil (Júnior et al., 2020). In Brazil, Azara's capuchin is distributed from the southwest of the Amazon, south to the states of Mato Grosso and Mato Grosso do Sul and to the southeast of Goiás state (Júnior et al., 2020). This species has diurnal habits, and it is considered vulnerable to extinction in Brazil due to habitat loss and fragmentation of habitat (ICMBio and Ministério do Meio Ambiente, 2018). Azara's capuchinmoves in groups, and the alpha male is usually responsible for locating food resources (Júnior et al., 2020). The species is considered omnivorous and opportunistic; feeding on fruits, invertebrates, seeds, parts of plants and vertebrates (Fragaszy et al., 2004; Júnior et al., 2020; Pinto, 2006).
Birds represent one of the groups of vertebrates with the greatest game importance worldwide (Bezerra et al., 2012), while parrots (Psittacidae) are among the birds that show the highest environmental plasticity, as they are normally able to establish at least one reproductive population outside their range of natural distribution (Menchetti and Mori 2014). Psittaciforms are known to potentially affect the economy and human well-being (e.g., damage to croplands, electrical infrastructure, noise pollution and transmission of pathogens), as well as population dynamics of native species (e.g., transmission of pathogens, direct competition and indirect in nesting, and changes in the food chain) (Menchetti and Mori, 2014; Vitousek, 1990). The budgerigar, Melopsittacus undulatus (Shaw, 1805) (Psittaciformes, Psittacidae), is a parrot of Australian origin (Wydham, 1980), whose introduction as a captive species is known along several countries worldwide, such as South Africa, Brazil, United States of America, Japan, New Zealand, Puerto Rico, and Switzerland (Binks, 2006; Juniper, 1998). In Brazil, this species was introduced in captivity in 1850, and since 1998 it has been recognized as a domestic bird (IBAMA, 1998). Melopsittacus undulatus is a very popular small pet parrot (18-20 cm long), which exhibits diurnal activity. In the wild, this species exhibits gregarious behaviour, in addition to being considered a potential explorer of ground food resources (e.g., seeds) and water resources, being able to compete with native species (Wydham, 1980).
The establishment of populations of exotic species can causes several impacts to the ecosystems being the second main factor promoting the loss of biodiversity (Menchetti and Mori, 2014; Paz et al., 2013). The replacement of native species and the generation of hybrids (Crooks, 1998; Huxel, 1999) in principle, is one of the major concerns of the existence of an exotic species. The interaction between native and exotic species can also cause a reduction in the diversity of species existing in the environment (Lodge, 1993), alteration of habitat (Castilla et al., 2004; Crooks, 1998), parasitism and changes in the food chain (e.g., competition and predation) (Vitousek, 1990). Although predatory events are common in nature, the records of these events are generally casual, and can provide essential data on the trophic interaction of the species involved (Fadel et al., 2019). Here we present the first report of trophic interaction between a species of exotic parrot, M. undulatus and a species of native primate, S. cay.
The event was observed during a daytime field activity in the reserve of the Centro Educacional e Social Marista (22°13'58.95"S and 54°46'00.89"W) in the municipality of Dourados, state of Mato Grosso do Sul, Brazil (Figure 1). The reserve has an area of ​​approximately 1.2 ha of Atlantic Forest with formation of the Submontana Semideciduous Seasonal Forest type (Bosa and Aderlan, 2011). The Centro Educacional e Social Marista is located within the urban area. There are residences around the reserve and some countryside areas with some trees. The primate population resides in the reserve, but eventually moves around the reserve. People visit the reserve frequently, with environmental education work on the reserve's grounds. The observation was carried out from distance the 10 m to do not interfere the predatory behavior, while also being recorded through a digital camera.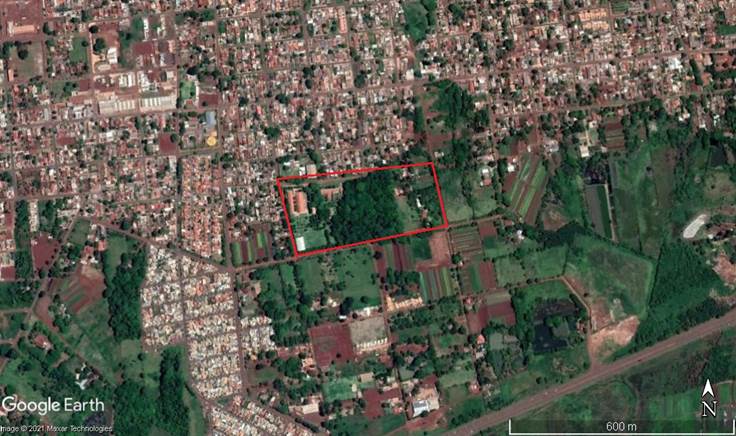 On February 16th, 2020 at 11:00 am, we observed an individual adult female Azara's capuchin monkey feeding on an adult individual of budgerigar on a branch of a tree within the reserve (22°13'58.95"S and 54°46'00.89"W) (Figure 2). Away from the group, the adult female was seen pulling out the feathers of the budgerigar M. undulatus. We approached the animal to observe its predatory behaviour and the monkey appeared unperturbed. The Azara's capuchin monkey continued to pluck out the budgerigar feathers, and then began to tear its prey apart, feeding on the meat and offal. The observation lasted 10 minutes, after which which the monkey began to move back into the woods, carrying the prey and alternatively gripping M. undulatus in the hand or mouth while moving through the bush. We do not know whether Azara's capuchin captured budgerigar or had found the budgerigar dead already. The image of this event was deposited in the UFMS Collection at ZUFMS (ZUFMS-MNV00150). Capuchin monkeys of the Sapajus genus are known to have a generalist diet (Costa et al., 2020). Behavioural and ecological flexibility allows species of capuchin monkeys to exploit a wide range of food items (Júnior et al., 2020), and at the same time they manage to select their prey according to size and age (e.g.,Rose et al., 2003; Sampaio and Ferrari, 2005). Opportunistic predation is also common, and they can feed on injured or dead animals regardless of their size and age (e.g.,Carretero-Pinzón et al., 2008). According to research by Resende et al (2003) predation of vertebrates by monkeys generally occurs when there is a scarcity of food or as the result of intraspecific social learning. Capuchin monkeys have been recorded feeding on a wide variety of vertebrates including frogs (Izawa, 1978), lizards (Canale et al., 2013), birds (Canale and Bernardo, 2016; Rose et al., 2003), small mammals (Milano et al., 2009; Palmeira and Pianca 2012; Resende et al., 2003; Rose et al., 2003) and even other species of monkeys (Albuquerque et al., 2014; Costa et al., 2020; Sampaio and Ferrari, 2005). The predation of vertebrates by capuchin monkeys is attributed to males when there is a shortage of food and/or because of intraspecific social learning (Júnior et al., 2020; Resende et al., 2003). The same occurs with the species Azara's capuchin, where the diet of the females consists basically of fruits and invertebrates, while dominant males consume fruits, invertebrates, and vertebrates as food items (Júnior et al., 2020).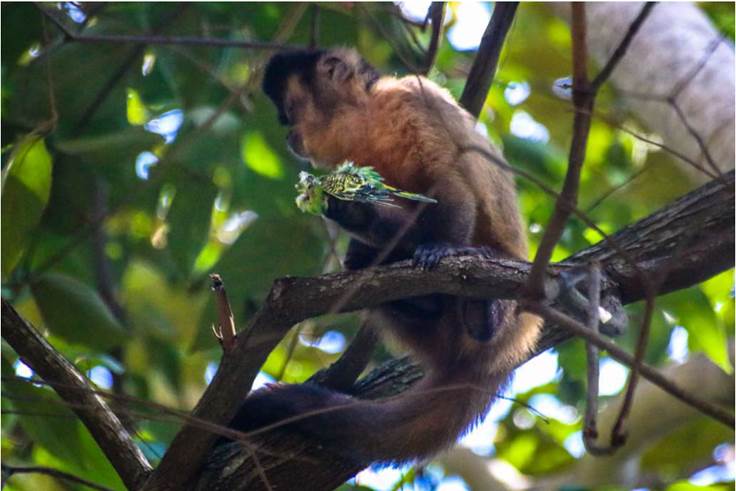 Despite not appearing on the list of invasive alien species in Brazil, M. undulatus has populations established in Curitiba, Paraíba and São Paulo, and in these states, it is considered as a species of invasive exotic bird (Fontoura et al., 2013; Paz et al., 2013). So far, there are no records of the population establishment of budgerigar (M. undulatus) in the state of Mato Grosso do Sul, which may mean an isolated case of domestic escape. It is recognized that invasive alien species have a competitive potential due to their great capacity of proliferation and invasion of ecosystems, as they are favoured by the absence of natural conspecifics or predators (Ziller et al., 2004). Considering that we have not found any record in the literature that proves the establishment of a population of budgerigar for the state of Mato Grosso do Sul, and consequently for the area where the predation event occurred, it is necessary that ecological studies be carried out in the study area to identify if our observation was an isolated case or if there really is a population of parakeets established in the reserve. In addition, future studies that aim to evaluate the wealth offered by domestic animals and invaders when being preyed upon by native species can help to understand if there is and what is the impact of this trophic interaction.