Services on Demand
Journal
Article
Indicators
Related links
Cited by Google
Similars in SciELO
Similars in Google
Share
---
On-line version ISSN 1900-9607
Ces. Med. Vet. Zootec. vol.9 no.1 Medellín Jan./June 2014
Levels of nitrates in a urea fertilized Kikuyu (Cenchrus clandestinus (Hochst. ex Chiov.) Morrone) pasture on the high plains of Antioquia, Colombia¤
Niveles de nitrato en pasto Kikuyo (Cenchrus clandestinus (Hochst. ex Chiov.) Morrone) fertilizado con urea en el antiplano de Antioquia, Colombia
Niveles de nitrato en pasto Kikuyo (Cenchrus clandestinus (Hochst. ex Chiov.) Morrone) fertilizado con urea en el antiplano de Antioquia, Colombia
Jhon Didier Ruiz Buitrago1*, MV, MSc, PhD; David Villar Argaiz2, MV, PhD; Héctor Jairo Correa3, Zoot. PhD; Jorge Mario Noreña Grisales1, Ing. Agr, Econ, Esp; Manuela Roldán1, Est. MVZ; Juan Camilo Ríos1, Est. MVZ.
*Autor para correspondencia: Jhon Didier Ruiz Buitrago. Calle 10ª No 22-04. Medellín Colombia. jdruiz@ces.edu.co
1Grupo de Investigaciones en Ciencias de los Animales (INCA-CES), Facultad de Medicina Veterinaria y Zootecnia, Universidad CES, Medellín, Colombia.
2Grupo de Investigación Vericel. Facultad de Ciencias Agrarias. Universidad de Antioquia. Medellín, Colombia.
3Grupo de Investigación Interacciones Nutricionales, Metabólicas y Reproductivas en Rumiantes. Facultad de Ciencias Agrarias de la Universidad Nacional, sede Medellín. Colombia.
¤Para citar este artículo: Ruiz Buitrago JD, Villar Argaiz D, Correa HJ, Noreña Grisales JM, Roldán M, Ríos JC. Levels of nitrates in a urea fertilized Kikuyu (Cenchrus clandestinus (Hochst. ex Chiov.) Morrone) pasture on the high plains of Antioquia, Colombia. Rev CES Med Zootec. 2014; Vol 9(1): 52-57
(Recibido: 1 de abril, 2014; aceptado: 6 de junio, 2014)
---
Abstract
Fertilization is one of the factors that can contribute to build-up of nitrates in kikuyu (Cenchrus clandestinus) pastures of the tropics. Field studies to evaluate the influence of nitrogen fertilization on yield and nitrate concentrations were conducted between December 2012 and June 2013 at the Agricultural Station of the National University at Santa Elena (Antioquia). The experimental design was a 4 x 4 block design with four replications in a monoculture paddock of kikuyu grass. Treatments were four levels of nitrogen applied as topdressing urea granules (0, 50, 100 and 200 kg/ha per plot). Whole grass samples (blades and stems) were collected at 42 days post-fertilization to mimic cattle grazing exposure. Biomass was estimated as dry matter yield per hectare and nitrates were measured by ion chromatography and expressed as parts per million (ppm) on dry matter content. No significant difference in biomass was observed between urea application rates; however, all treated plots produced more biomass than non-treated plots (mean 2.14 vs 1.12 Tons/ha, p<0,05). Mean ± SEM concentrations of NO3 for all time intervals combined increased from 369 ± 216 ppm with no fertilization, to 878 ± 881 ppm at the highest application rate. In spite of the large variation within each group, the highest NO3 level attained was 5600 ppm NO3, which are considered safe for cattle consumption. It can be concluded that nitrate levels in kikuyu pastures fertilized with 4 times the usual rate of nitrogen did not accumulate to pose a health risk in cattle; however, other factors that could also influence nitrate accumulation were not determined in this study.
Key words: Cenchrus clandestinus,kikuyu, nitrogen fertilization, nitrites, nitrates.
---
Resumen
La fertilización es uno de los factores que contribuye a la acumulación de nitratos en el pasto kikuyo (Cenchrus clandestinus) en el trópico. Este estudio, realizado entre diciembre de 2012 y junio de 2013 en la Hacienda Paysandú de la Universidad Nacional, ubicada en Santa Elena-Medellín (Antioquia), evaluó la influencia de la fertilización con nitrógeno sobre la producción y las concentraciones de nitratos. El diseño experimental fue en bloques de 4 x 4 con cuatro repeticiones de parcelas monocultivo de pasto kikuyo. Los tratamientos fueron cuatro niveles de nitrógeno aplicado como gránulos de urea sobre la superficie (0, 50, 100 y 200 kg/ha por corte). Las muestras de pasto completo (hojas y tallos) se colectaron a los 42 días posfertilización, con el fin de simular la exposición al pastoreo con ganado. La biomasa se midió como la producción de materia seca por hectárea; los nitratos se midieron por cromatografía iónica, expresada en partes por millón (ppm) sobre el contenido de materia seca. No hubo diferencia significativa en la producción de biomasa entre las diferentes tasas de aplicación de urea; sin embargo todas las parcelas tratadas produjeron más biomasa comparadas con las parcelas no tratadas (promedio 2.14 vs 1.12 ton/ha, p<0,05). Las concentraciones promedio ± SEM de NO3 para todos los tiempos de muestreo combinados, se incrementaron de 369 ± 216 ppm sin fertilización a 878 ± 881 ppm con la más alta tasa de fertilización aplicada. A pesar de la gran variación dentro de cada grupo, los niveles más altos de NO3 obtenidos fueron de 5600 ppm NO3, los cuales se consideran seguros para el consumo en ganado. Se puede concluir que los niveles de nitrato en el pasto kikuyu fertilizado con cuatro veces la tasa normal de nitrógeno, no se acumulan como para plantear un riesgo para la salud en el ganado. Sin embargo, es importante señalar que otros factores que pueden influir en la acumulación de nitratos no se evaluaron en este estudio.
Palabras clave: Cenchrus clandestinus, fertilización, kikuyu,nitratos, nitritos, nitrógeno.
---
Resumo
A adubação é um dos fatores que contribuem na acumulação de nitratos da pastagem kikuyo (Cenchrus clandestinus) do trópico. Este estudo foi realizado entre dezembro de 2012 e junho de 2013 na fazenda Paysandu da Universidade Nacional da Colômbia, localizada no corregimento Santa Elena da cidade de Medellín, Antioquia. Avaliou-se a influência da adubação com nitrogênio sobre a produção e as concentrações de nitratos. O desenho experimental foi de blocos de 4 x 4 com quatro repetições nas parcelas da monocultura de pastagem kikuyo. Os tratamentos foram quatro níveis de nitrogênio aplicado como grânulos de uréia sobre a superfície (0, 50, 100 e 200 kg/ha por safra). As amostras da pastagem completa (folhas e talhos) coletaram-se aos 42 dias após adubação, com o intuito de simular a exposição ao pastoreio com gado. A biomassa mediou-se com a produção de matéria seca por hectare; os nitratos mediram-se por cromatografia iônica, expressada em partes por milhão (ppm) sobre o conteúdo de matéria seca. Não houve diferença significativa na produção de biomassa entre as diferentes taxas de aplicação de uréia; embora, todas as parcelas experimentais produziram maior biomassa comparada com as parcelas não tratadas (media 2.14 vs 1.12 ton/ha, p<0,05). As concentrações medias ± SEM de NO3 para todos os tempos de amostragem combinadas, se incrementaram de 369 ± 216 ppm sem adubação até 878 ± 881 ppm com a maior adubação aplicada. Ainda que houve grande variação dentro de cada grupo, os níveis maiores de NO3 obtidos foram de 5600 ppm NO3, os quais se consideram seguros para o consumo do gado. Pode-se concluir que os níveis de nitrato na pastagem kikuyo adubado com quatro vezes a taxa normal de nitrogênio, não apresentam acumulação como para ter um risco de saúde quando é consumido pelo gado. Embora, outros fatores são importantes para ter em conta, pois eles podem influir na acumulação de nitratos que não foram avaliados neste estudo.
Palavras chave: Adubação, Cenchrus clandestinus, fertilização, kikuyu, nitratos, nitritos, nitrogênio.
---
Introduction
In Colombia, urea is extensively applied as a fertilizer on pastures used by dairy cattle 15. However, when crude protein content exceeds 22%, the excess nitrogen tends to buildup as nitrate salts that upon ingestion by the ruminant can be converted to potentially toxic levels of nitrites in the rumen 2, 4, 5, 12. Most cattle extension services of North American Agricultural Colleges have some type of recommendations for managing forages with high nitrate content. In spite of the lack of agreement with regards to the levels of nitrate that may cause adverse health effects in cattle, almost all services agree that pastures with concentrations above 1.5% (on a dry matter basis for NO3 ion) are potentially lethal, and their consumption should be avoided. Between 0.8-1.5% NO3, the common recommendation is to limit consumption by mixing with other sources of feed. Although there is consensus among the toxicologists of the American Board of Veterinary Toxicology (Villar 2014, personal communications) that levels of NO3 below 1% are safe, a 0.5% margin of safety is usually added due to the wide variation that can be found in the same bale of hay, resulting in a recommended cutoff level of 0.5% for all cattle rations.
Kikuyu grass (Cenchrus clandestinus) constitutes around 90% of pastures on the high tropics of Antioquia3. Despite being a good fodder plant for the tropics, it has been associated with acute poisonings of cattle in Australia and South Africa 1. So far, the toxic principle of such poisonings remains unidentified, but a toxin known as "wortmannin" produced by the fungus Fusarium tolurosum is the main suspect 14. Studies in South Africa showed that, when the proportion of stem tissue is high in fertilized old Kikuyu pastures, the concentration of nitrates could reach potentially dangerous levels for cattle above 1% DM. Considering the high levels of fertilization that kikuyu pastures receive in many areas of Antioquia, experimental studies that mimic some common fertilization practices are warranted to evaluate the potential accumulation of nitrate to hazardous levels. Thus, the objective of this study was to determine the effects of four levels of nitrogen fertilization on dry matter yield and the potential for nitrate accumulation in kikuyu grass.
Materials and methods
The experiment was carried out at the Agricultural Station of the National University of Colombia at Santa Elena (Antioquia), located at 2500 meters of altitude, and considered a highly humid tropical climate. The field was a long-established kikuyu pasture and Holstein cattle had been grazing with vacant periods of 42 days to allow recovery of biomass. Sixteen plots of 12 m2 were measured in the paddock and assigned to receive topdressing urea with one of four treatments per plot as follows:
T0: no fertilization (control),
T1: recommended fertilization (50 kg N/ha)
T2: 2-fold recommendation (100 kg N/ha)
T3: 4-fold recommendation (200 kg/ha)
Each treatment was replicated four times at the end of the growing period between December 2012 and June 2013. The collection of grass samples was performed at the end of the 42 day growing period and meant to represent cattle grazing exposure. Whole grass (leaves and stems) were hand mowed from each plot and used to determine dry biomass and chemical analysis. Dried kikuyu samples were sent to the Veterinary Diagnostic Laboratory of Iowa State University for chemical analysis. Nitrate and nitrites were simultaneously determined by ion chromatography as described by Kissner and Koppenol (2005). Briefly, 2 g of ground samples were extracted in duplicate into water at a 1:10 dilution factor. The centrifuged extracts were again diluted using another 1:10 dilution factor or more (1:200) when concentrations were too high. The analysis was performed using a Dionex ICS 3000 with a AS22 4mm guard and analytical column combination. The eluent was 4.5 mM sodium carbonate/1.4 mM sodium bicarbonate. A standard curve with potassium nitrate containing 0.1, 1, 5, 10, 20, 50, and 100 ppm was used for comparison.
Mean values for each urea treatment were compared by analysis of variance for repeated measures (Statistica, StatSoftware, version 7). All data were checked for normal distribution by the Shapiro-Wilks' W-test. Homocedasticity was verified with the Levene's test, and the data were log transformed when these conditions were not met.
Results
There was a statistically significant (p≤0,05) greater dry matter yield in all urea treated plots compared to untreated ones, and the combined yields of all experimental periods for each application rate is shown in figure 1. Unexpectedly, no correlation was observed between biomass production and increased application of urea at any of the four experimental periods.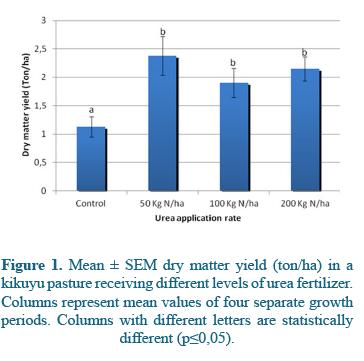 With respect to the effect on nitrate concentrations, there was a significant (p≤0,05) effect of urea application rates and a positive dose vs time interaction (p≤0,05) on the overall concentration of nitrate in Kikuyu grass samples. When all four month samples for each urea application rates were combined, the mean ± SEM concentration of nitrates significantly (P≤0,01) increased from 369 ± 216 ppm with no fertilization, to 881 ± 208 ppm at the highest rate of 200 kg N/ha (Figure 2). However, there was a large variation of concentrations within each treatment, and only 1 sample in a plot receiving urea at 100 kg N/ha barely exceeded the 5000 ppm threshold limit for making recommendations of limited consumption.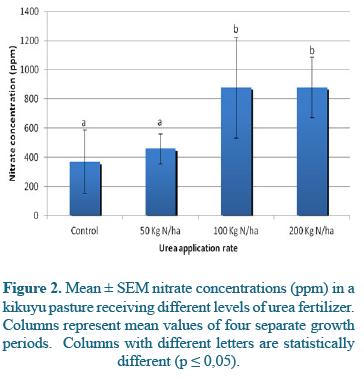 Discussion
The results of this study disproved a common belief that over-fertilization with urea on a typical old kikuyu pasture in Antioquia could elevate nitrate concentrations to potentially toxic levels. All nitrate levels obtained in this experiment were very low. A similar study conducted in South Africa in old kikuyu pastures, but using limestone ammonium nitrate as the source of nitrogen, showed that with applications of 100 and 200 kg N/ha, nitrate concentration in complete tiller cuts were below 1000 ppm, and just at the highest level of 500 kg N/ha, the concentrations exceeded 3000 ppm . However, their study showed that when tillers were separated into leaves and stem tissue, mean concentrations of 1.6% (=16.000 ppm) were obtained in the stems of fertilized samples. Although such high concentrations in stem tissues could initially raise alarms, stem tissue only constitutes a relatively low fraction of the dry mass of the tiller. Assuming the worst case scenario that animals were exposed to such high concentrations of nitrate in a kikuyu pasture, the speed of consumption under grazing conditions would be too slow to cause a rapid increase of nitrites in the rumen. Experiments in the 70´s showed that at equal nitrate intakes, the higher speed of consumption with hay, as compared with fresh roughage, was enough to form toxic concentrations of nitrite in the rumen that would cause methemoglobin formation in the blood 6, 7. In addition, those studies showed that the speed at which nitrates are released in the rumen is much faster with hay than fresh grass, which again, makes grazing conditions more unlikely to reach toxic nitrate concentrations in the rumen at any given time.
With regards to the effect on DM production, our results showed that the application of urea caused a significant increase from 1194 kg DM/ha with no fertilization, to overall means of between 1867 and 2249 kg DM/ha with 50 to 200 kg N/ha (Figure 1). However, no greater production was attained with levels above 50 kg N/ha, suggesting that plant demands for nitrogen were already adequate and further application rates would result in nitrogen environmental losses. Furthermore, in a previous study conducted on the same field plots of the present study15, it was concluded that the effect of cutting age and nitrogen fertilization had no significant effects on the nutritional quality of the kikuyu grass, reinforcing the need to base any fertilization program on specific demands for each particular field and type of forage. The overall kikuyu mass production attained here was similar (≥2000 kg DM/ha) to that reported for the high Colombian tropics, following recovery methods such as mechanical soil loosening and treatment with compost or other sources of fertilization 10, 13.
---
References
1. Bourke CA (2007) A review of kikuyu grass (Pennisetum clandestinum) poisoning in cattle. Aust. Vet. J. 85:261-267. [ Links ]
2. Burrows GE, Horn GW, McNew RW, Croy LI, Keeton RD, Kyle J (1987) The prophylactic effect of corn supplementation on experimental intoxication in cattle. J. Anim. Sci. 64: 1682-1689. [ Links ]
3. Carulla JE, Cárdenas E, Sánchez N , Riveros C 2004. Valor nutricional de los forrajes más usados en los sistemas de producción lechera especializada de la zona andina colombiana; En: Eventos y Asesorías Agropecuarias EU (ed.), Seminario Nacional de Lechería Especializada: "Bases Nutricionales y su Impacto en la Productividad". Medellín, septiembre 1 y 2: 21 - 38. [ Links ]
4. Correa CHJ, Pabón RML, Carulla FJE. 2008. Valor nutricional del pasto kikuyo (Pennisetum clandestinum Hoechst Ex Chiov.) para la producción de leche en Colombia (Una revisión): I - Composición química y digestibilidad ruminal y posruminal. Livestock Research for Rural Development. Volume 20, Article #59. Retrieved July 4, 2008, from www.cipav.org.co/lrrd/lrrd20/4/corra20059.htm. [ Links ]
5. Farra PA, Satter LD. 1971. Manipulation of the ruminal fermentation. III. Effect of nitrate on ruminal volatile fatty acid production and milk composition. J Dairy Sci 54: 1018-1024. [ Links ]
6. Geurink JH, Malestein A, Kemp A, Th Van´t Klooster A 1979. Nitrate poisoning in cattle. 3. The relationship between nitrate intake with hay or fresh roughage and the speed of intake in the formation of methemoglobin. Neth J Agric Sci 27:268-276. [ Links ]
7. Kemp A, Geurink JH, Haalstra RT, Malestein A. 1977. Nitrate poisoning in cattle 2. Changes in nitrate in rumen fluid and methemoglobin formation in blood after high nitrate intake. Neth J Agric. Sci. 25:51-62 [ Links ]
8. Kissner R, Koppenol WH. 2005. Qualitative and quantitative determination of nitrite and nitrate with ion chromatography. Methods Enzymol 396:61-68. [ Links ]
9. Marais JP, Figenschou DL Dennison C. 1987. The accumulation of nitrate in Kikuyu grass (Pennisetum clandestinum Hochst). S. Afr. Tydskr. Plant Grond. 4(2): 82-88. [ Links ]
10. Mila A y Corredor G. 2004. Evolución de la composición botánica de una pradera de kikuyo (Pennisetum clandestinum) recuperada mediante escarificación mecánica y fertilización con compost. Revista Corpoica.Vol 5:1. 70-75 [ Links ]
11. Peet RL, Dickson J, Hare M. (1990) Kikuyu poisoning in goats and sheep. Australian Veterinary Journal 67(6):229-230. [ Links ]
12. Read J W and Fulkerson W J. 2003. Managing kikuyu for milk production; Agfact P2.5.3, third edition. State of New South Wales, NSW Agriculture. 4 p [ Links ]
13. Rincon-Carruyo X, Montilla M, García-Aguilar L, González B. 1998. Respuesta del pasto Kikuyo (Pennisetum clandestinum, Hochst), a diferentes dosis de nitrógeno. Revista Científica FCV-LUZ. Vol 8:4. 308-311. [ Links ]
14. Ryley MJ, Bourke CA, Liew ECY, Summerell BA. 2007. Is Fusarium torulosum the causal agent of kikuyu poisoning in Australia? Australian Plant Disease Notes 2:133-135. [ Links ]
15. Soto C, Valencia A, Galvis RD y Correa HJ. 2005. Efecto de la edad de corte y del nivel de fertilización nitrogenada sobre el valor energético y proteico del pasto kikuyo (Pennisetum clandestinum). Revista Colombiana de Ciencias Pecuarias. Volume 18 (1): 17 - 26. [ Links ]
16. Urbano D 1997. Efecto de la fertilización nitrogenada sobre el rendimiento y calidad de tres gramíneas tropicales; Revista de la Facultad de Agronomía. (LUZ). 14: 129-139. [ Links ]