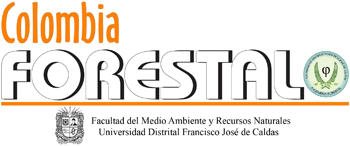 Search
Publication of
Proyecto Curricular de Ingeniería Forestal, Facultad del Medio Ambiente y Recursos Naturales, Universidad Distrital Francisco José de Caldas.

Print version ISSN 0120-0739
Mission
The journal Colombia Forestal publishes original contributions in topics related to forestry, natural resources and environment. Its content is intended to a wide public in a national and international level, particularly to professionals related to the forestry field.