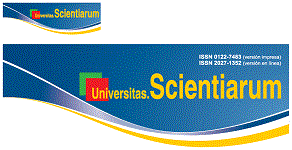 Search
Publication of
Facultad de Ciencias de la Pontificia Universidad Javeriana de Bogotá.

Print version ISSN 0122-7483
Mission
Universitas Scientiarum (Univ. Sci.) is registered at the ISSN National Centre (ISSN 0122-7483 printed version, ISSN 2027-1352 online version) and indexed in Scopus, Chemical Abstracts (CA), SciELO, Google scholar, ULRICHS-WEB, Latindex, Periódica, Redalyc, Indice Bibliográfico Nacional (Publindex), and Directory of Open Access Journals (DOAJ). Universitas Scientiarum is a refereed scientific journal and is edited at the Faculty of Sciences of the Pontificia Universidad Javeriana (Bogotá, Colombia) and has been published continuously since 1987. Universitas Scientiarum publishes original papers, reviews, brief communications, editorials, letters to the Editor, and reviews of books, handbooks and meetings. The journal receives manuscripts in Spanish, Portuguese or English. The journal will accept papers on any subject of natural, physical or exact sciences.