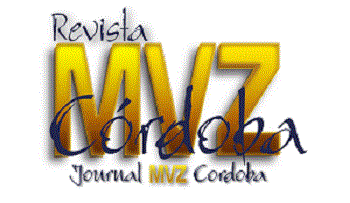 Search
Publication of
Universidad de Córdoba - Facultad de Medicina Veterinaria y Zootecnia.

Print version ISSN 0122-0268On-line version ISSN 1909-0544
Mission
The Journal MVZ Cordoba is the official organ of diffusion of the Facultad de Medicina Veterinaria y Zootecnia of the Universidad de Cordoba, is a biannual publication and circulates in the international environment. The magazine publishes (sections) original articles of investigation, technical articles, literature reviews, topic revisions, brief communications, inform of cases and, others that to opinion of the Editorial Committee are from general interest. The topics that the Journal MVZ Cordoba publishes are related with the veterinary medicine and zootechny, aquaculture, biology, biotechnology, biomedical basic sciences and other topics of interest in the agricultural sciences.